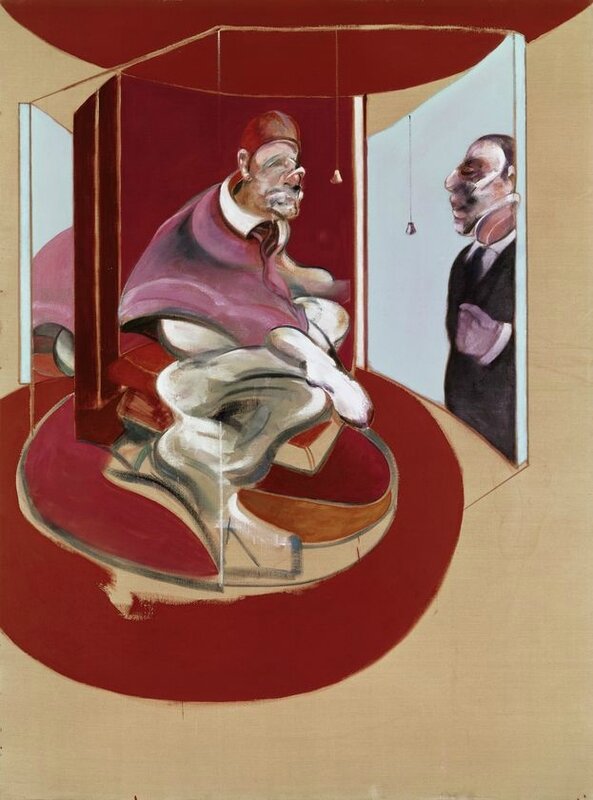 Francis Bacon, Study of Red Pope, 1962, 2nd Version, 1971. Oil on canvas. 78 x 58⅛ in (198 x 147.5cm). Estimate on Request. © Christie's Images Limited 2017.
LONDON.- This October, during London's Frieze Week, Christie's will present Francis Bacon's landmark painting Study of Red Pope 1962. 2nd version 1971, unseen in public for 45 years. It stands as the grand finale to his celebrated body of Papal portraits and is the only painting that unites the Pope with his greatest love George Dyer, who is depicted as the Pope's reflection. First exhibited on 26 October 1971, in the legendary retrospective of Francis Bacon's work at the Grand Palais in Paris, Study of Red Pope 1962. 2nd version 1971 was executed six months earlier in April 1971. The painting represents the first and only time in his oeuvre that Bacon united his two greatest obsessions: the Pope and George Dyer – his great muse and lover. The canvas became a tragic premonition of Dyer's fateful end when, less than thirty-six hours before the opening of the career-defining exhibition, Dyer was found dead. Acquired by the family of the present owner in 1973 this work has appeared in all the major publications dedicated to Bacon's work but never exhibited publicly. Francis Bacon's Study of Red Pope 1962. 2nd version 1971 will come to auction as the centerpiece of Christie's Post-War and Contemporary Art Evening Auction on 6 October 2017 and will be on view at Christie's King Street from 30 September.
The Republican Guard on the steps to the Grand Palais at the opening of the exhibition, Francis Bacon, in Paris, 26 October 1971. Photo: André Morain
Francis Outred Chairman and Head of Post-War and Contemporary Art, Christie's EMERI: "'This painting is quite simply Art History. If Bacon's oeuvre was shaped by his devotion to George Dyer and the aftermath of his death provided his darkest and most celebrated triptychs, then this painting represents the ultimate landmark. Painted six months before George Dyer would commit suicide on the eve of Bacon's major retrospective at the Grand Palais, it is a tragic premonition which unites Bacon's two greatest muses, the Pope and George Dyer for the first and only time. Against a background of naked canvas, an extraordinary outburst of controlled expression produces a maelstrom of activity, drawing the eye first to the sumptuous symphony of rounded red forms and then to the Pope at the centre of the composition whose own reflection appears in the back of the mirror and George Dyer's in the front. Dyer's hand is poised ready to turn off the light. Rarely have I seen a single panel carry so much power and profundity, the swipes of colour and scumbling which realise the heads are a sight to behold. This painting gives me a shiver down my spine and I am extremely excited to be sharing it with the public his October."
Revisiting the 1962 canvas Study from Innocent X, the work offers a deeply poignant conclusion to one of the twentieth-century's most important bodies of work. Inspired by Diego Velázquez's Portrait of Pope Innocent X, Bacon's output of the 1950s and early 1960s had been dominated by visions of the Il Papa: a man tortured by the weight of his own authority. As the years progressed, his face was replaced by that of Dyer: an equally conflicted character, whose sharp, handsome exterior belied a troubled past. The tension that Bacon identified in the Papal condition – a combination of power and vulnerability – was one that he also saw in his beloved muse. In Study of Red Pope 1962. 2nd version 1971, the two figures are bound together like twisted alter-egos: icons of the spirit and the flesh – the sacred and profane – juxtaposed in the manner of a devotional diptych.
Francis Bacon's studio at 7 Reece Mews, London, 1998. © The Estate of Francis Bacon. All rights reserved, DACS/Artimage 2017. Photo: Perry Ogden
In the autumn of 1963, Bacon and Dyer had met for the first time: a now-legendary encounter that took place in a Soho pub. 'I was drinking with John Deakin, who had just done some photographs for me, and lots of others', recalled Bacon. 'George was down the far end of the bar and he came over and said, "You all seem to be having a good time. Can I buy you a drink?" And that's how I met him. I might never have noticed him otherwise' (F. Bacon, quoted in M. Peppiatt, Francis Bacon: Anatomy of an Enigma, London 1996, p. 259). The two men quickly struck up a rapport, and over the next few years Dyer became Bacon's lover, muse and dependent.
Bacon's Papal portraits are widely regarded as the paragon of his artistic enquiries. From the early screaming phantoms to silent, demented creatures that followed, Bacon repeatedly cast the Pope as a victim of his own status, tormented by his position as God's messenger on Earth. 'It is true, of course, the Pope is unique', he explained. 'He's put in a unique position by being the Pope, and therefore, like in certain great tragedies, he's as though raised onto a dais on which the grandeur of this image can be displayed to the world' (F. Bacon, quoted in D. Sylvester, The Brutality of Fact: Interviews with Francis Bacon, London 1975, p. 26)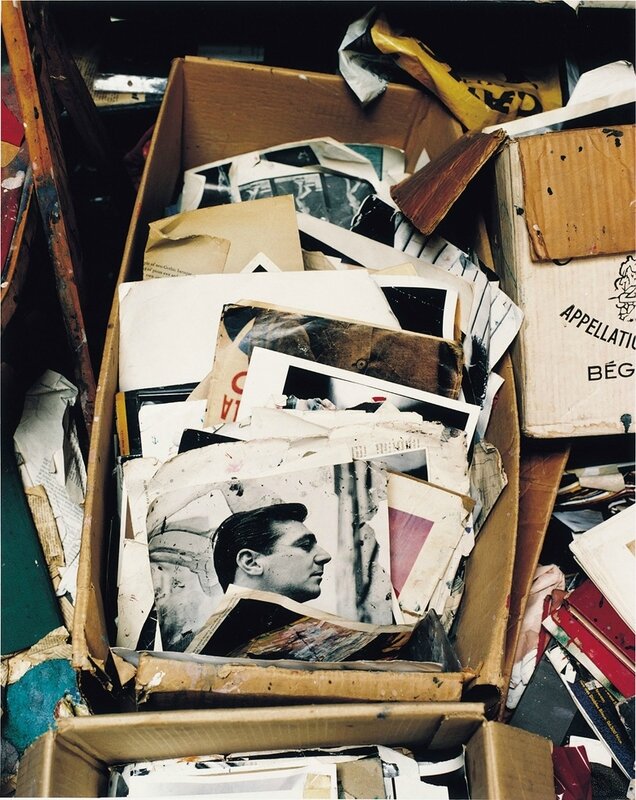 Francis Bacon's studio at 7 Reece Mews, London, 1998. © The Estate of Francis Bacon. All rights reserved, DACSArtimage 2017. Photo Perry Ogden