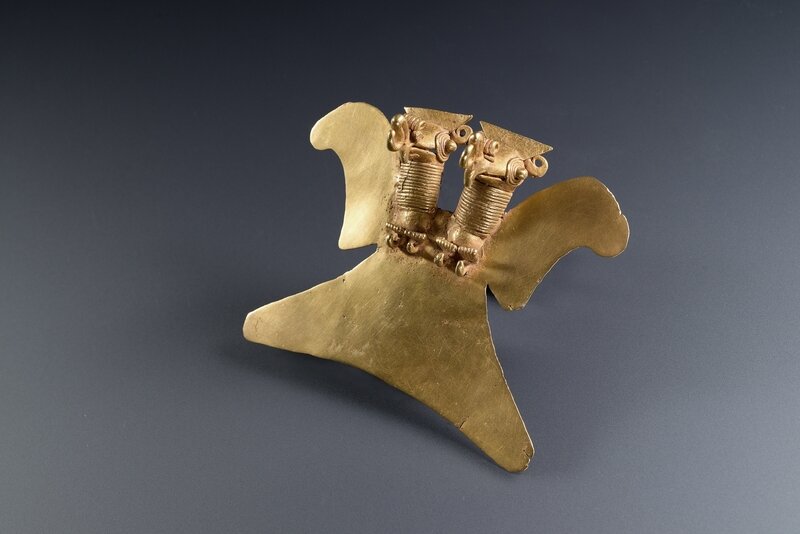 Lot 50. Pendentif aigle à deux têtes en or, Diquis, fin de la période V – début de la période VI, Costa Rica, 700-1520 après J.-C. Estimation : 25 000 € / 35 000 €. © Millon et Associés Paris.
Important pectoral représentant un aigle harpie (Harpia Harpyja) bicéphale. Cet oiseau mythique est représenté en plein vol, les ailes déployées. Les yeux sont ornés d'un motif concentrique. Les serres sont en avant, prêtes à fondre sur leur proie. L'ensemble des formes est équilibré et chacune des têtes est agrémentée d'un ornement à plusieurs rangs sur leur cou. Or, fonte à la cire perdue; 10 x 12,2 cm. Poids : 178 grammes
Ce pendentif symbolise le plus grand aigle vivant des forêts tropicales de cette région. Il figure la métamorphose mythique du chamane sous la forme d'un oiseau à deux têtes messager du soleil. Il s'agit d'un motif courant dans l'art de l'Amérique précolombienne, où de nombreux jumeaux, humains ou animaux, apparaissent dans les mythes magico-religieux. Il devait sans nul doute orner le torse d'un seigneur de premier plan.
Diquis gold double-headed eagle pendant; 4 x 4 3/4 in.

Provenance: Ancienne collection Ron Messick, Sante Fe, Nouveau Mexique, Etats-Unis.
Bibliographie: « Pre-Columbian Art of Mexico and Central America », Hasso Von Winning, Edition Harry N. Abrams Inc. New-York, 1973, page 382 fig. 578 pour une oeuvre de ce type.
Art Pré-Colombien : Collection Berjonneau-Muñoz chez Millon et Associés Paris, 75009 Paris, le 20 Septembre 2017 à 14h00