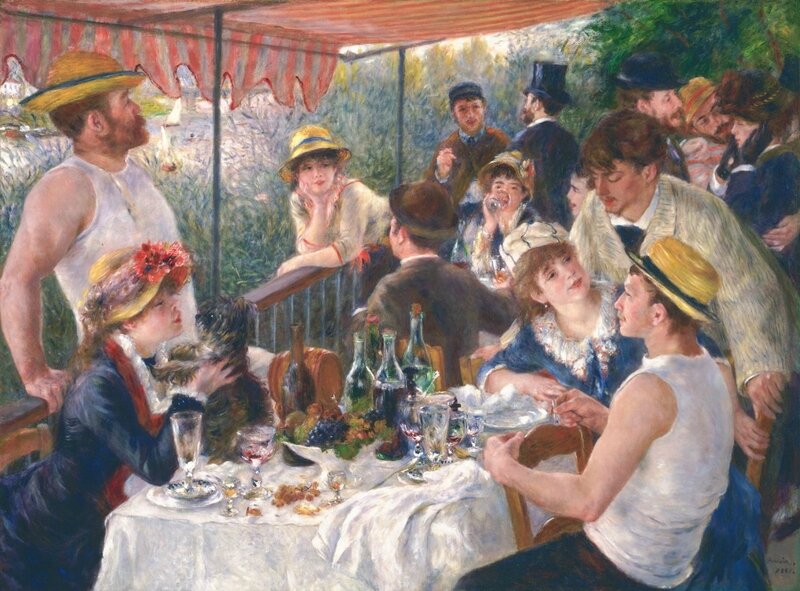 Pierre-Auguste Renoir, Luncheon of the Boating Party, 1880–81. Oil on canvas, 51 1/4 x 69 1/8 in. The Phillips Collection, Washington, DC, Acquired 1923.
Washington DC - Opening this fall on October 7, The Phillips Collectionpresents an exceptional exhibition inspired by the museum's celebrated Luncheon of the Boating Party (1880–81) by Pierre Auguste Renoir. Comprised of more than 40 carefully chosen works from private and public collections around the world, Renoir and Friends: Luncheon of the Boating Party explores the process by which the artist created his masterwork, while also recounting and illustrating stories of the diverse circle of friends who inspired it.
"As the Phillips draws closer to our centennial year, it is a very fitting time to shed new light on one of the gems of our permanent collection," said Phillips Director Dorothy Kosinski. "I am delighted that Renoir's masterwork will be displayed alongside numerous other works by the artist and his contemporaries, helping further contextualize this remarkable painting."
Recognized today as one of the greatest achievements of the artist's career, the work is a marvel of plein-air painting on a grand scale. While no known preparatory studies exist for this masterwork, the years before Renoir completed Luncheon of the Boating Party were marked by encounters with riverside locations along the Seine west of Paris and with specific individuals who helped him realize his ambitious undertaking. No other large-scale painting by Renoir with the exception of the Dance at the Moulin de la Galette (1876) comprises as many figures as Luncheon of the Boating Party. While never intended as a group portrait, the 14 individuals depicted in the painting appear nonetheless highly individualized and based on specific people in Renoir's life.
"Luncheon of the Boating Party represents so much more than a diverse group of friends having a lovely time," said Phillips Chief Curator Emerita, and project director, Eliza Rathbone. "Much has been written about Renoir and his work. Our project seeks to separate fact from fiction and to uncover as much specific detail and evidence as possible in order to bring to life this group of journalists, critics, models, collectors, and world travelers. By looking closely at these individuals who inspired Renoir, we find ourselves in a fascinating backstory that sheds light not only on this great enterprise and its models but on the artist himself."
A room in the exhibition dedicated to research on the masterwork will feature an in-gallery interactive that uses findings from x-radiographic and infrared images and paint cross-sections. "Drawing upon a recent technical study on Luncheon of the Boating Party, I am excited to share new discoveries made about the painting," said Phillips Head of Conservation Elizabeth Steele. "Inspection of the surface in raking light compared to the same passages in x-radiographic and infrared images reveal numerous changes that the artist made while completing the painting, and scientific analysis of the paint layers further illuminates these revisions. Through richly illustrated text panels and a groundbreaking in-gallery interactive, visitors will for the first time be able to track Renoir's development of the composition on their own."
Only on view at The Phillips Collection, this single-venue exhibition opens October 7, 2017, and closes January 7, 2018.
Founder Duncan Phillips first encountered Pierre-Auguste Renoir's Luncheon of the Boating Party in 1911 while he was in Europe and the painting was owned by the artist's dealer Paul Durand-Ruel. A few years later in a 1914 essay, Phillips was still taken by the masterpiece and wrote that it captured the essence of "life's vivacity" and the pleasures of "men and women lunching up the river on a hot holiday, the fitful breeze flapping the awnings and the general discussion becoming of more importance than the dessert." While preparing to establish a museum of modern art and its sources, Phillips started an acquisition strategy that identified significant masterworks to serve as the collection's foundation. Duncan Phillips's journals reveal that Renoir's painting was at the top of his wish list.
By July 9, 1923, only 18 months after the museum opened and just over a decade since Phillips first saw the painting, the Phillips Memorial Gallery reached a deal to purchase the work for $125,000. The very next day, Phillips shared his excitement: "The big Renoir deal has gone through with Durand-Ruel and the Phillips Memorial Gallery is to be the possessor of one of the greatest paintings in the world. The Déjeuner des Canotiers [Luncheon of the Boating Party] is the masterpiece by Renoir and finer than any Rubens—as fine as any Titian or Giorgione….Its fame is tremendous and people will travel thousands of miles to our house to see it. It will do more good arousing interest and support for our project than all the rest of our collection put together. Such a picture creates a sensation wherever it goes."
Just as Phillips imagined it would be when he bought the painting in 1923, Luncheon of the Boating Party by Renoir remains the best known and most popular work of art at The Phillips Collection. The painting captures an idyllic atmosphere as Renoir's friends share food, wine, and conversation on a balcony overlooking the Seine at the Maison Fournaise restaurant in Chatou. Parisians flocked to the Maison Fournaise to rent rowing skiffs, eat a good meal, or stay the night. The painting also reflects the changing character of French society in the mid- to late 19th century. The restaurant welcomed customers of many classes, including businessmen, society women, artists, actresses, writers, critics, seamstresses, and shop girls. This diverse group embodied a new, modern Parisian society.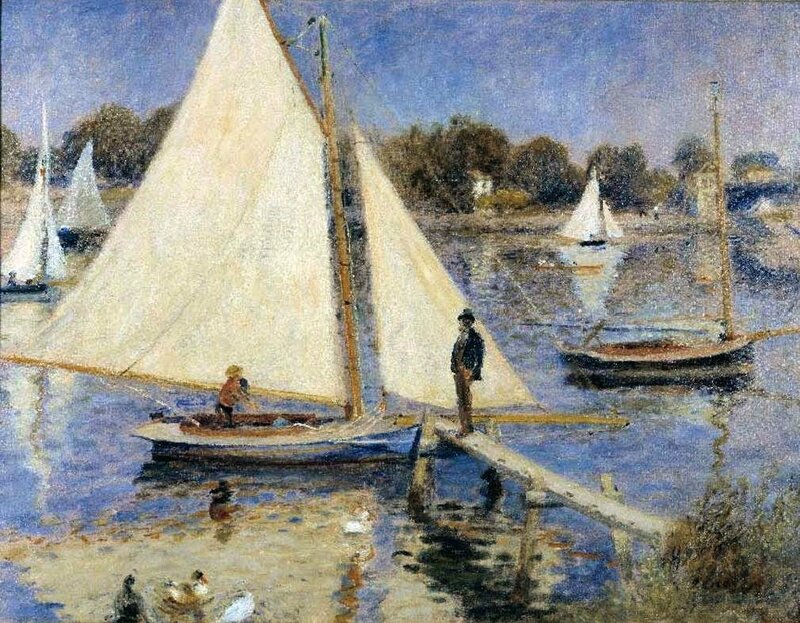 Pierre-Auguste Renoir, The Seine at Argenteuil, 1874. Oil on canvas, 19 3/4 x 25 3/4 in. Portland Art Museum, Oregon, Bequest of Winslow B. Ayer.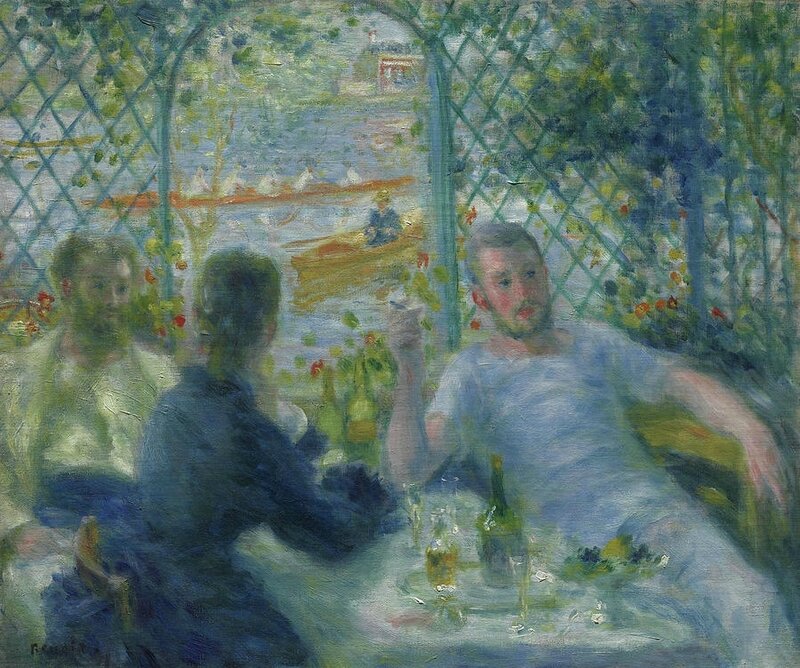 Pierre-Auguste Renoir, Lunch at the Restaurant Fournaise (The Rower's Lunch), 1875. Oil on canvas, 21 5/8 x 25 15/16 in. The Art Institute of Chicago, Potter Palmer Collection.
Gustave Caillebotte, A Man Docking His Skiff, 1878. Oil on canvas, 29 x 36 1/2 in. Virginia Museum of Fine Arts, Richmond, Collection of Mr. and Mrs. Paul Mellon. Photo: Katherine Wetzel © Virginia Museum of Fine Arts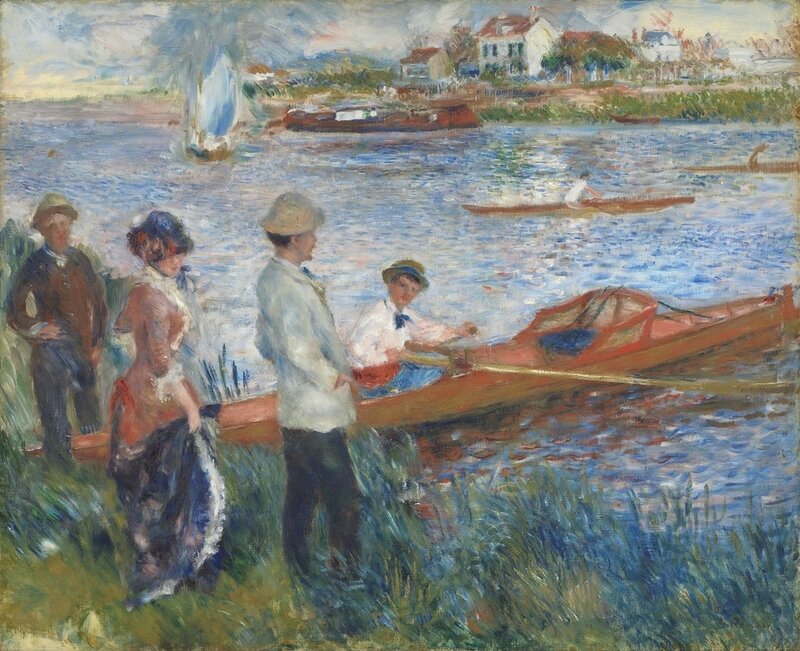 Pierre-Auguste Renoir, Oarsmen at Chatou, 1879. Oil on canvas, 31 15/16 x 39 7/16 in. National Gallery of Art, Washington, DC, Gift of Sam A. Lewisohn.
Pierre-Auguste Renoir, Young Woman Reading an Illustrated Journal, 1880. Oil on canvas, 18 1/4 x 22 in. Museum of Art, Rhode Island School of Design, Providence, RI, Museum Appropriation Fund 22.125.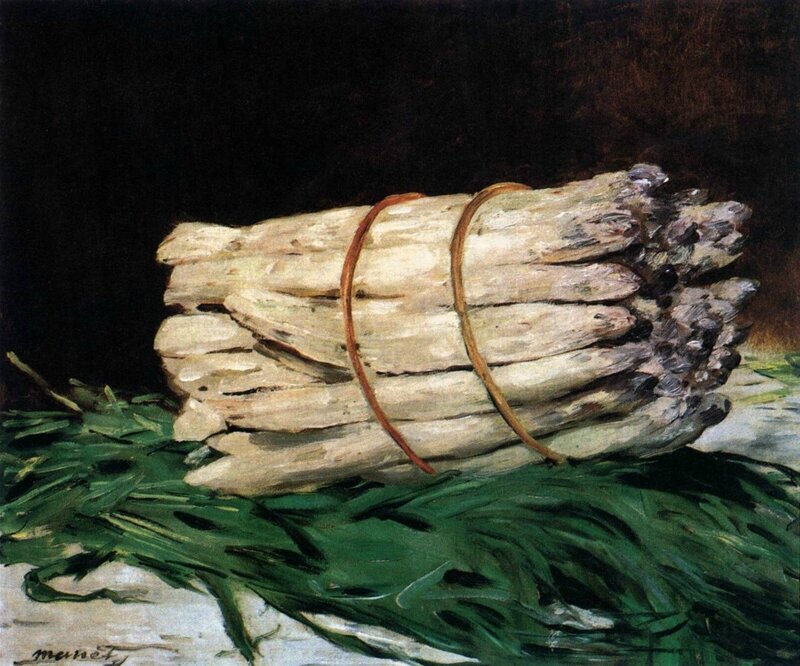 Édouard Manet, A Bunch of Asparagus, 1880. Oil on canvas, 18 1/9 × 21 13/20 in. Wallraf-Richartz-Museum & Fondation Corboud, Cologne.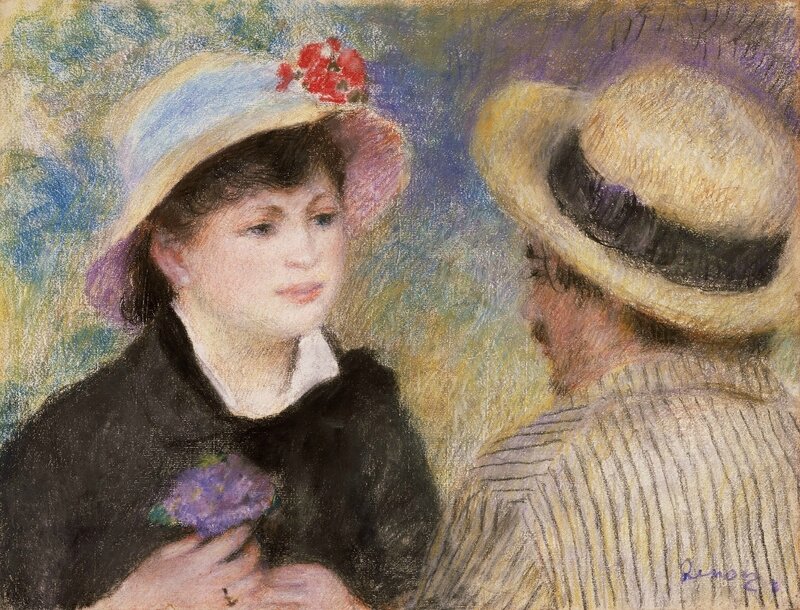 Pierre-Auguste Renoir, Boating Couple [said to be Aline Charigot and Renoir], 1880–81. Oil on canvas, 17 3/4 x 23 in. Museum of Fine Arts, Boston, Given in memory of Governor Alvan T. Fuller by the Fuller Foundation.
Pierre-Auguste Renoir, Dance in the Country, 1883. Brush and brown, blue, and black wash over black chalk or graphite, 19 1/2 x 12 in. Yale University Art Gallery, Bequest of Edith Malvina K. Wetmore.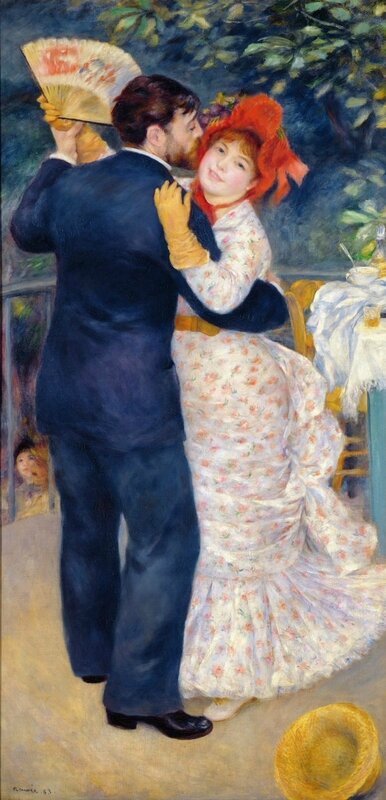 Pierre-Auguste Renoir, The Dance in the Country, 1883. Oil on canvas, 70 7/8 x 35 7/16 in. Musée d'Orsay, Paris / Bridgeman Images.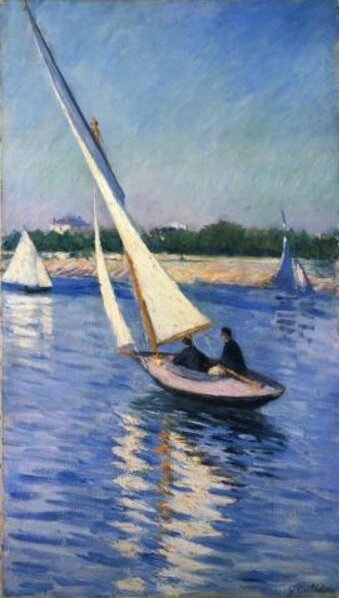 Gustave Caillebotte, Sailboats on the Seine at Argenteuil, 1893. Oil on canvas, 28 7/8 x 17 in. Private collection.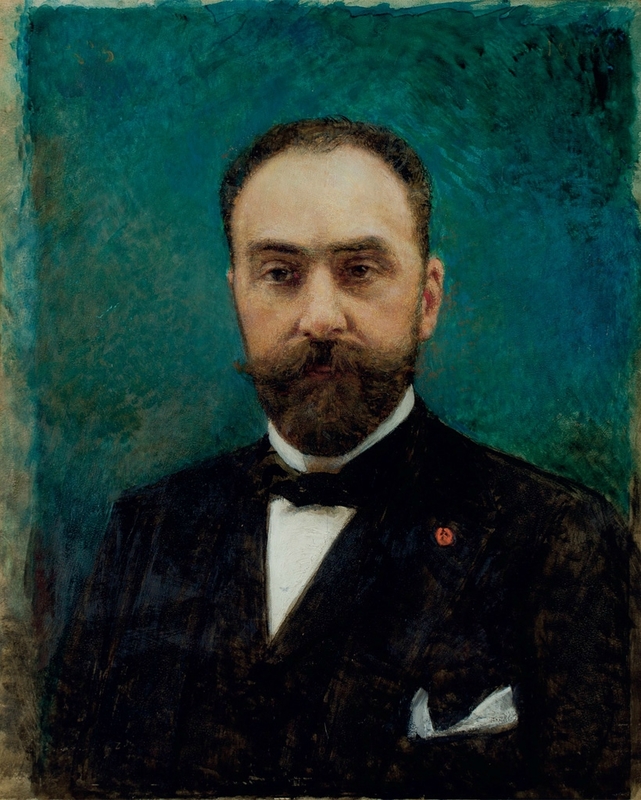 Léon Bonnat, Portrait of Charles Ephrussi, 1906. Oil on canvas, 18 x 15 in. Private collection. Photo: Vincent DUFOURNIER