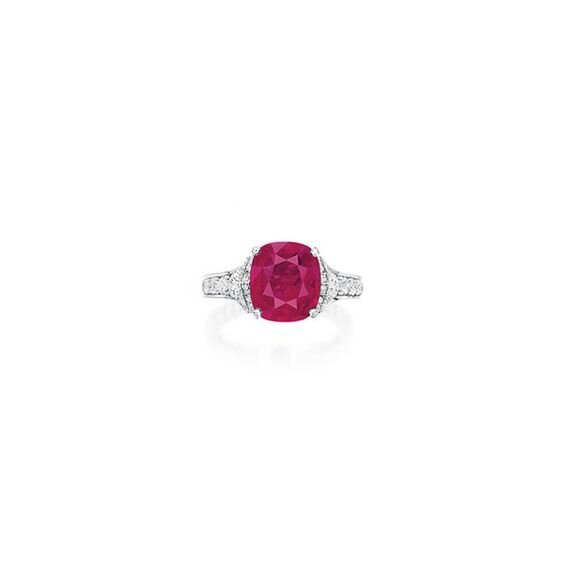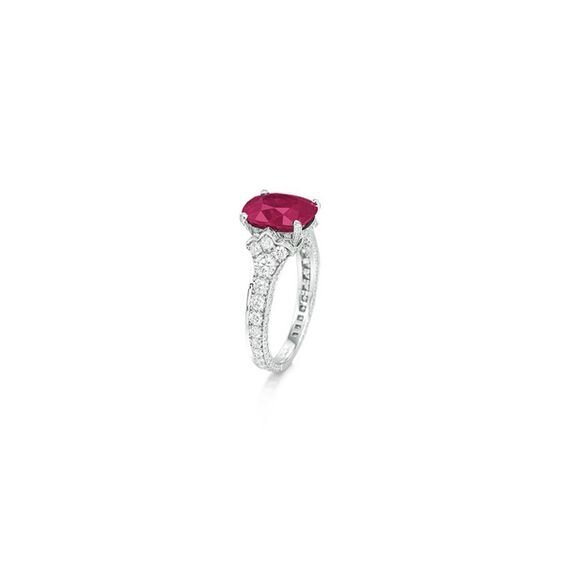 Lot 61. 4.08 carats Burmese Mogok Valley Ruby and diamond ring, Cartier. Estimate HK$1,500,000 - 2,500,000 (US$192,000 - 320,000). Photo Tiancheng International
Centring on a cushion-shaped ruby weighing 4.08 carats, to a stylised mount decorated with brilliant-cut diamonds together weighing approximately 1.60 carats, mounted in platinum, signed and numbered 5643841A. Ring size: 7¾.
Accompanied by Gübelin report numbered 17067439, dated 29 June 2017, stating that the 4.08 carat ruby is natural, Red colour, of Burmese origin, with no indications of heating; along with two information sheets, stating that 'The demand for natural, unheated rubies kept growing while the supply of such gems remains highly limited, making large, natural rubies and gem-quality from all major sources, such as Burma (Myanmar)...difficult to find'...'Burma has long been recognised as the locality associated with the most desirable rubies in the world. Within Burma (Myanmar), the most famed region is the Mogok Valley...Mogok-type rubies typically possess a red body colour and red UV-fluorescence. In addition, they may contain tiny amounts of light-scattering rutile silk and a swirl-like growth pattern. It is this combination of features which gives these rubies their characteristic appearance.';
SSEF report numbered 93222, dated 26 June 2017, stating that the 4.08 carat ruby is natural, Red colour of medium strong saturation, of Burmese origin, with no indications of heating.
CARTIER
The founder, Louis-François Cartier, established Cartier in Paris in 1847. His grandsons, Louis, Pierre, and Jacques, took over the brand and brought it to international fame.
In 1899, Louis relocated the Paris branch to Rue de la Paix where the prestigious location and cosmopolitan hub helped attract famous nobilities and aristocrats from all over the world. Shortly after, Jacques led the British branch and developed ties with Indian royalty such as the Maharaja of Patiala and King Edward VII of England; in fact, for his coronation in 1902, King Edward VII ordered 27 tiaras and in 1904 issued a royal warrant to Cartier. Various other warrants across courts in Europe soon followed. In 1909 and 1911, Maison Cartier opened stores in New York and India, beginning its rise to global status.
With royal and celebrity clientele, Cartier has produced countless memorable pieces, such as the Patiala Necklace made for Maharaja of Patiala. This piece was made with Burmese rubies and 2,930 diamonds including the seventh largest diamond in the world, the 'De Beers', as a centrepiece. The 'De Beers' diamond weighed 428 carats pre-cut, and 234.65 carats after being set.
Tiancheng International. MID-SEASON AUCTION, Jewellery and Jadeite, 2 Oct 2017 · 1 pm