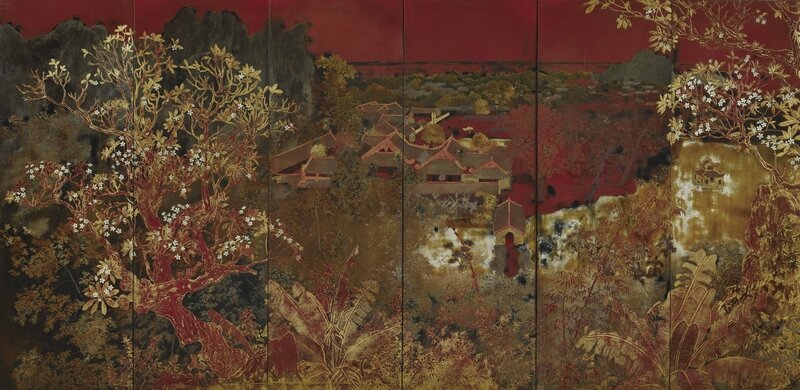 Lot 1029. Nguyễn Gia Trí (Chương Mỹ, Hà Tây 1909 - 1993), Paysage (Landscape), signed and dated 40, lacquer on wood, in 6 parts; each: 97.5 by 33 cm; 38 1/4 by 13 in. (6); overall: 97.5 by 198 cm; 38 1/4 by 78 in. Estimate 700,000 — 900,000 HKD. © Sotheby's
Provenance: Private Collection, France.
Note: Revered as a master of modern Vietnamese painting, Nguyễn Gia Trí is best known for his lacquer works. Born in 1908 in Hà Tây province (North Vietnam) to a family of imperial craftsmen, Gia Tri was trained in L'Ecole des Beaux-Arts de L'Indochina in Hanoi. From the inception of his career, Gia Tri's devotion to the art of lacquer was unparalleled—committing his time entirely to perfecting the technique, he succeeded in revolutionizing this traditional Asian material from a decorative handicraft into a medium of artistic expression.
Gia Tri's creations are best known for their hybrid quality. Combining foreign engraving and inlaying methods, modernist abstract composition, principles of European painting with traditional lacquer techniques, Gia Trí produced numerous paintings that adorned the salon of the French Governor of Indochina in Hanoi. The present lot, entitled Paysage (Landscape), is characteristic of Gia Trí's creations during his artistic golden period. A formidable six-panel lacquer painting, Paysage (Landscape) captures the idyllic setting of rural Vietnam and the diversity of its landscape. Of particular note is Gia Trí's ingenious use of colour to establish pictorial depth and illusion. The spellbinding use of gold, silver and warm ochres in the foreground is contrasted against the bold shades of maroon that color the background of the work, giving rise to the illusion of space. The work is also exemplary of Gia Trí's keen eye for detail and attachment toward the bucolic countryside of his youth: the palm trees, bamboos and shrubs are painstakingly rendered in loving detail.
Paysage (Landscape) is a testament to Gia Trí's commitment to pushing the boundaries of the medium. Faced with a limited range of colors, Gia Trí drew from a range of raw materials—from crushed and inlaid eggshells to gold, silver and mother-of-pearl—to achieve a wider palate. The shimmering roofs of the pagodas and houses in the present work, for example, are a brainchild of Gia Trí's innovative and skillful placement of charred eggshells. Visually reminiscent of the imperial architecture of North Vietnam's Lê Dynasty in their elevated hip rafters, the buildings that form the focal point of the work bespeak the artist's tender nostalgia and familiarity with traditional Vietnamese art forms.
As a whole, there exists an undeniably charming richness to the painting, which reimagines a quintessentially indigenous landscape through the frame of Western linear perspective. A realization of the medium's greatest artistic potentials, Paysage (Landscape) stands as an example of Gia Trí's masterful experimentations with Western and Vietnamese techniques.