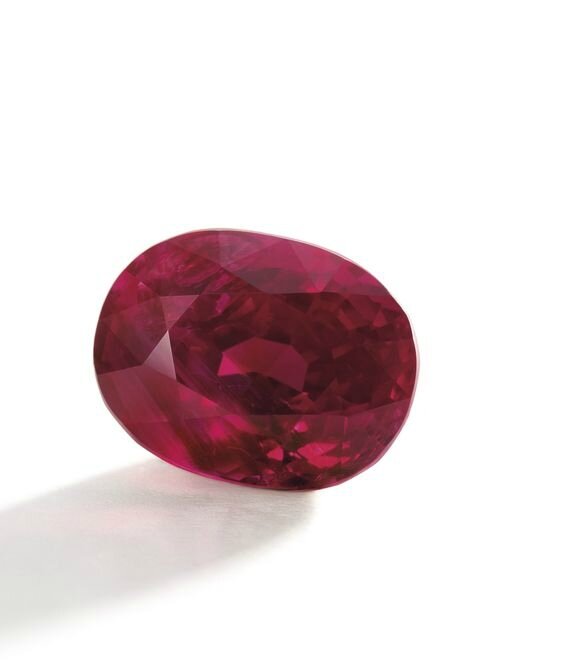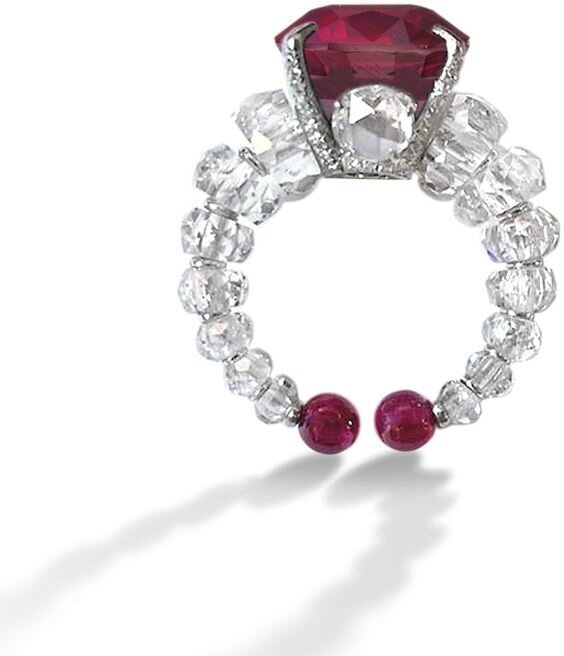 Lot 1857. Very Rare and Impressive 13.26 carats Burmese 'pigeon blood red' Ruby and Diamond Ring, Designed and Mounted by BHAGAT. Estimation 68,000,000 — 88,000,000 HKD. Lot sold for HK$81,662,500. © Sotheby's
Set with an oval ruby weighing 13.26 carats, embellished with two rose-cut diamonds on the side and diamond-set prongs, to the graduated open sprung hoop set with calibrated faceted diamond beads, highlighted by two ruby bead terminals, the diamonds weighing approximately 10.50 carats in total, mounted in platinum. Ring size: 5¾, illustrated unmounted.
Note: Accompanied by Gübelin and SSEF reports numbered 17051095 and 92156, dated 17 May 2017 and 22 May 2017 respectively, stating that the 13.26 carat ruby is natural, of Burmese (Myanmar) origin, with no indications of heating, both Gübelin and SSEF stating that the colour of this ruby may also be called 'pigeon blood red'; the Gübelin report is additionally accompanied by a Gemmological Profile, together with history and chemical analysis of the stone.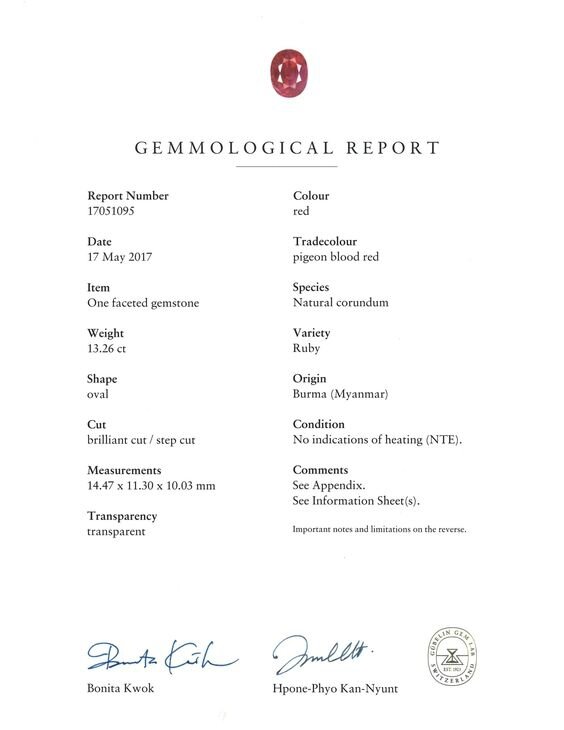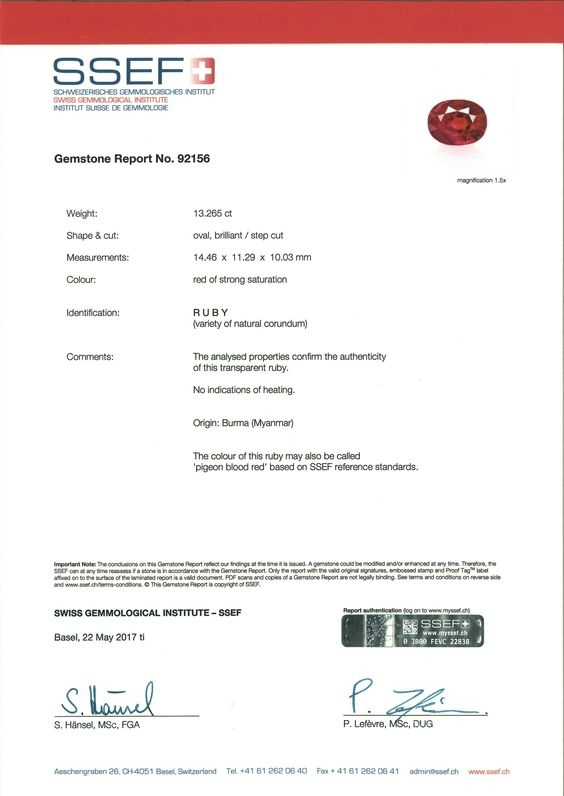 Also accompanied by SSEF Appendix letter stating 'The natural ruby...possesses extraordinary characteristics and merits special mention and appreciation. Based on these excellent qualities, this gem has been named poetically 'Maniraja (King of Jewels).' A natural ruby from Burma of this size and quality is very rare and exceptional, and thus this ruby can be considered a true treasure of time.'
Further accompanied by Gübelin Appendix letter stating 'The 13.26ct ruby...is an extraordinarily large gem from these famed Burmese mines and possesses a combination of outstanding characteristics. It displays a homogenous and richly saturated colour, which typifies the finest of these gems. In addition, this remarkable gemstone has been spared of thermal treatment, making this ruby a truly unique rarity.'
Sotheby's. Magnificent Jewels and Jadeite, Hong Kong, 03 oct. 2017, 01:30 PM