Double Portrait of Mughal Emperor Shah Jahan (1592-1666) and Empress Mumtaz (1593-1631), India, late 19th century, Colors and gold on ivory, Bequest of J. Ackerman Coles, 1926, Collection of the Newark Museum 26.1133.
HOUSTON, TX.- Bringing together both historic and contemporary objects from Asia, Africa, the United States, and Europe, Asia Society Texas Center's exhibition, Wondrous Worlds: Art & Islam Through Time & Place, showcases the global history and breadth of Islamic art. The exhibition opened September 23, 2017 and runs through February 25, 2018.

Organized by New Jersey's Newark Museum, the exhibition at Asia Society features more than 100 works that reflect aspects of faith, culture, and everyday life of Muslims across the world and throughout the ages.
"Islamic art exhibitions usually focus on works from the Middle East, North Africa or South Asia, but Wondrous Worlds expands the map by featuring works from Southeast Asia, the Americas, and East and West Africa as well," explains Bridget Bray, the Texas Center's Nancy C. Allen Curator and Director of Exhibitions. "By including these often overlooked regions, the exhibition highlights the vast geographic reach and material diversity of Islamic art."

Wondrous Worlds introduces visitors to the Five Pillars of Islam—Declaration of Faith, Daily Prayers, Charity, Fasting for Ramadan, and the Haj Pilgrimage—to provide context and a distinctive view into the function, artistry, and cultural histories of the objects.

On view are works in nearly all media, including carpets, costumes, jewelry, ceramics, glassware, metalwork, prints, paintings, and photographs. Contemporary works from artists such as Lalla Essaydi and Victor Ekpuk, and calligraphy by Hassan Massoudy, are being shown with pieces dating back to the 9th century. Highlights range from dazzling wares from Iran, Spain, and China to delicate prayer rugs from Turkey and India.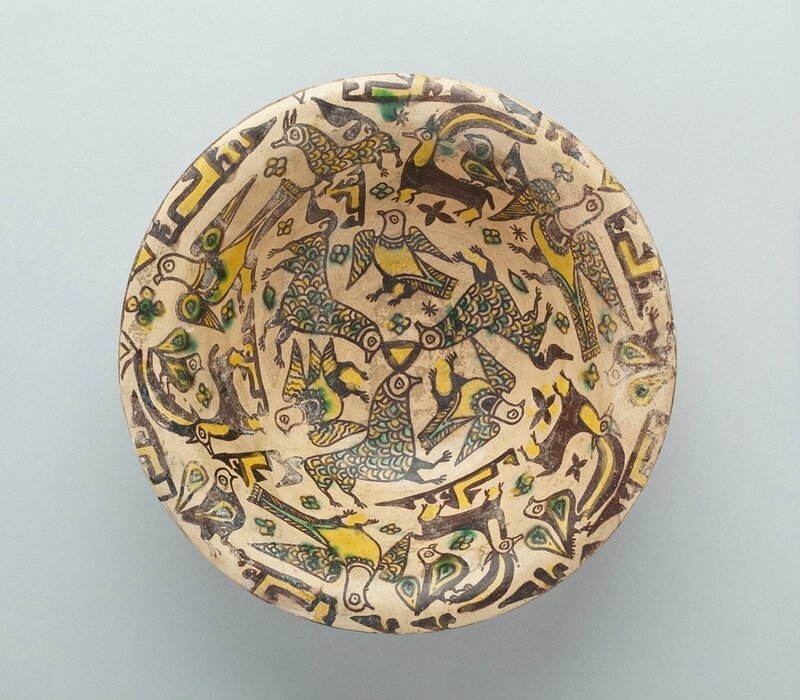 Bowl with Birds, Ibex, Floral, Calligraphic and Geometric Motifs, Nishapur, Iran, 9th-10th century, Abbasid Period (750-1258), Buff clay body with dark brown slip and yellow, green and clear glazes, Purchase 1970 John O'Neill Fund, Collection of the Newark Museum 70.16.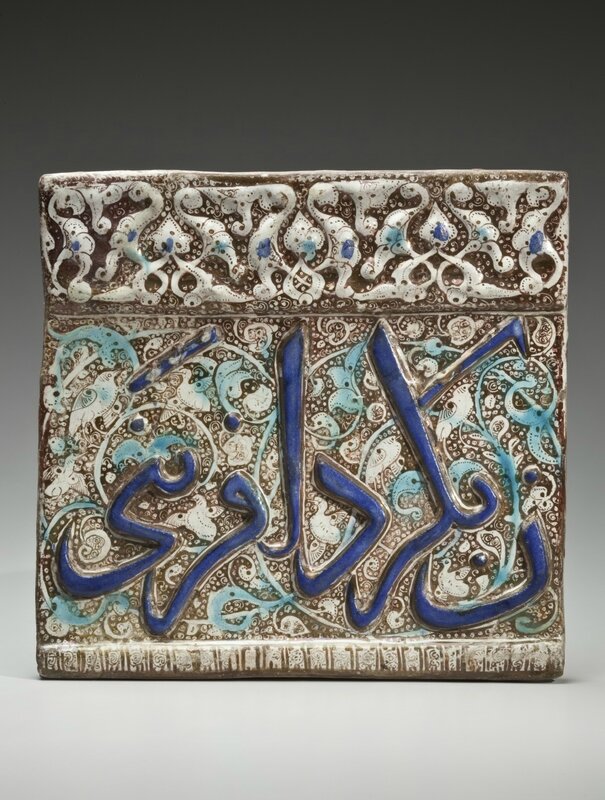 Molded Tile with Calligraphic, Floral and Geometric Motifs, Kashan, Iran, first half of the 13th century, late Abbasid Period (750-1258), White paste clay body with white, blue, turquoise and luster glazes, Gift of Herman A. E. Jaehne and Paul C. Jaehne, 1938, Collection of the Newark Museum 38.242.
Ewer in the Shape of a Mythic Goose and Makara with Floral Motifs, India, 17th-18th century, Brass, Gift of Dr. David R. Nalin, 1991, Collection of the Newark Museum 91.451.
Jhumar Hair Ornament with Hand of Fatima, Crescent, Eight-Pointed Stars, Peacock, and Floral Motifs (and presentation case), Jaipur, India, 18th century, Mughal Period (1526-1857), Basra pearls, emeralds, spinels, diamonds, enamel and gold, Purchase 2014 Helen McMahon Brady Cutting Fund, Collection of the Newark Museum 2014.31.1.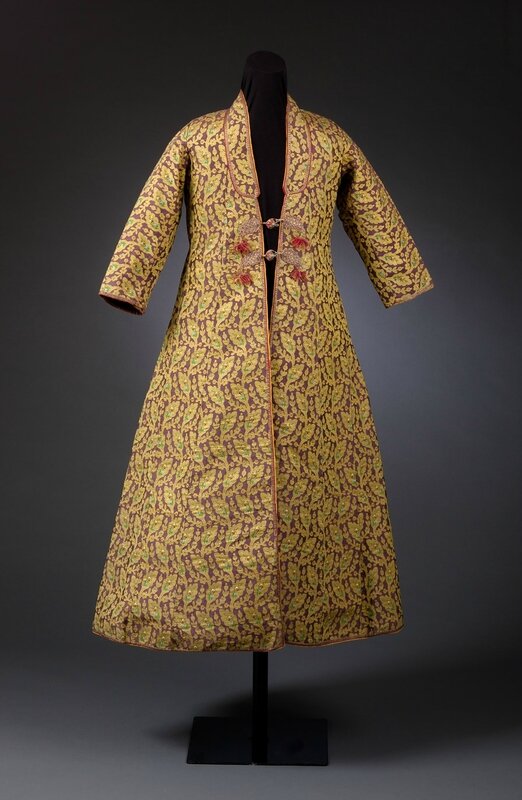 Man's Sawari Coat with Boteh and Woven Floral Motifs, Kashmir, India, late 18th and early 19th century, Mughal Period (1526-1857), Tapestry-woven silk, metal-wrapped threads, Gift of Mrs. August Gilbert Buse, 1965, Collection of the Newark Museum 65.67.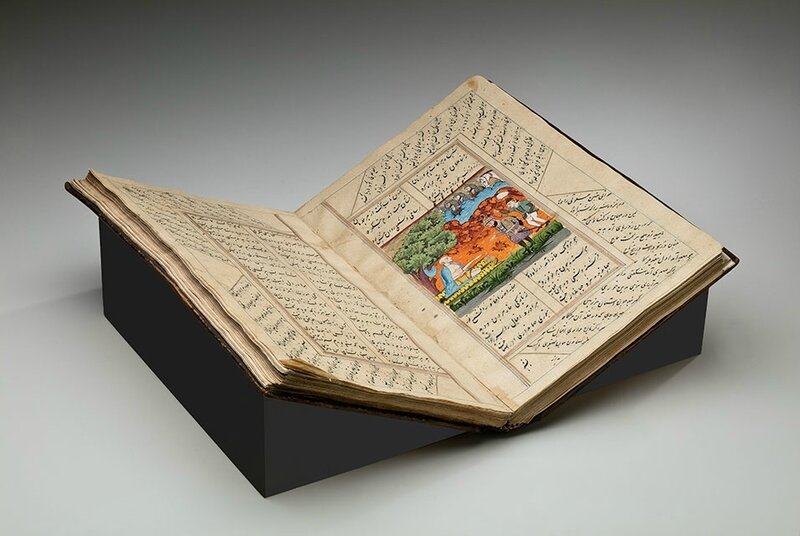 Illustrated Portions of the Khamsa Nizami Iskandar Nama and Makhzan al-Asrar, Written in Farsi Language with Nasta'liq Script, India, late Mughal Period (1526-1857), Leather ink, colors and gold, Gift of the Society for Foreign Mission Welfare, 1955, Collection of the Newark Museum 55.270.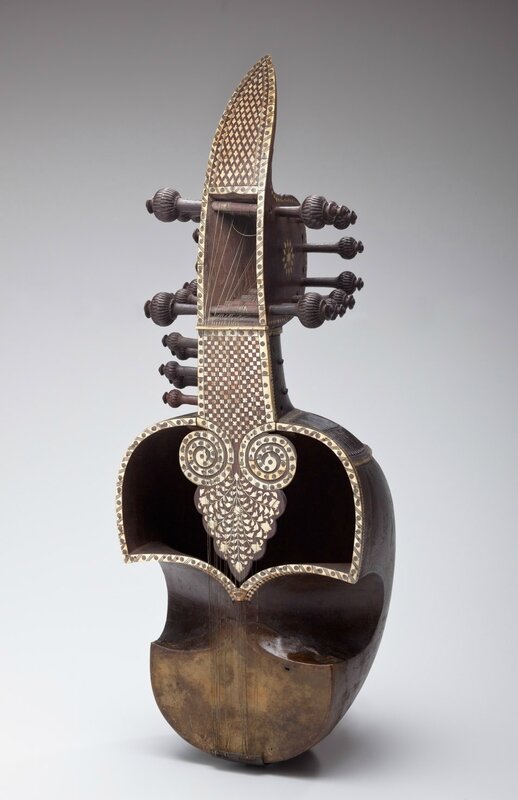 Sarinda with Waq-Waq Tree, Avian, Floral and Geometric Motifs, India, 19th century, late Mughal Period (1526-1857), Wood, bone, skin and sinew, Bequest of Rusell Barclay Kingman, 1959, Collection of the Newark Museum 59.340.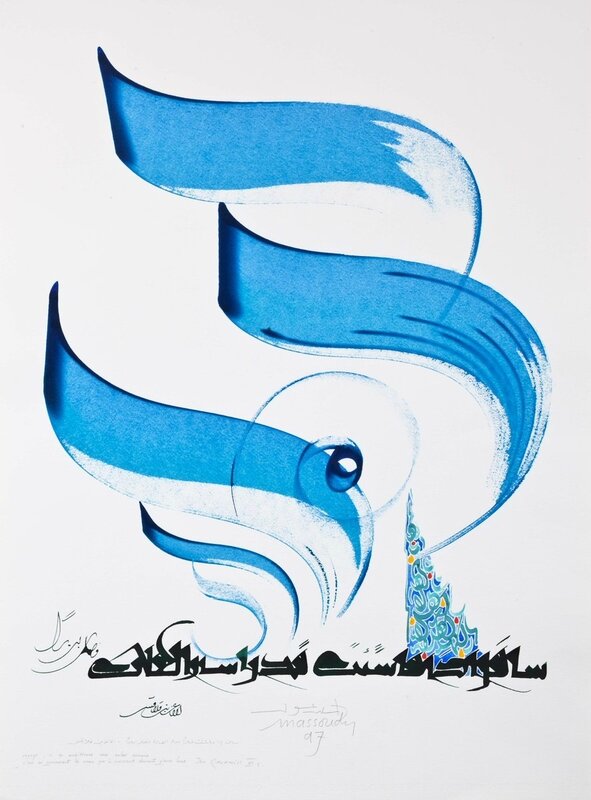 Hassan Massoudy, "Travel, if you aspire to a certain renown. It is in roaming the heavens that the crescent becomes the full moon". Ibn Qalaqis, 11th century, 1997, Watercolor on Paper, Purchase 2016 Contemporary Art Society of Great, Collection of the Newark Museum 2016.2.1, © Hassan Massoudy.