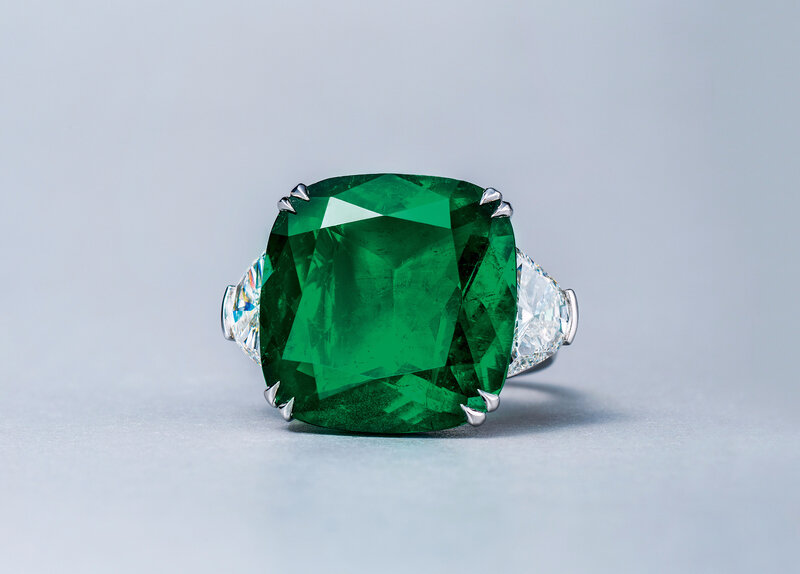 Lot 2114. A 19.36 carat 'no oil' Colombian emerald and diamond ring. Estimate HKD 22,500,000 - 26,500,000 (USD 2,880,000 - 3,392,000). © Poly Auction
Set with a cushion-shaped emerald weighing 19.36 carats, flanked on either side by half-moonshaped diamonds, mounted in platinum, ring size 6 1/2 .
Accompanied by report no. 0803655 dated 17 March 2008 from the Gübelin stating that the 19.36 carat emerald is of Colombia origin, with no indications of clarity enhancement Accompanied by report no. 80724 dated 29 June 2015 from the SSEF stating that the 19.366 carat emerald is of Colombia origin, with no indications of clarity modification.
Along with rubies, sapphires, and diamonds, emerald is one of the world's most highly prized gemstones. Its vibrant green hues have captivated people's imaginations through the centuries, from ancient Pharaohs to Spanish and Portuguese Conquistadors. Today, Colombian emeralds prevail in market dominance with its unprecedented color and fine quality. It provides a quality standard which all other emeralds are judged against. Due to the extreme conditions where emeralds crystalize and its internal structure, it is almost impossible for emerald crystals to appear large and clear. They tend to have inclusions of many forms such as liquid and gas bubbles. The liveliness they represent is even romantically described by gemologists as "Jardin" (French for "Garden"). The clarity grading standards for emeralds are thus different from that of diamonds or other colored stones. It is commonly accepted in the gem trade that an emerald would have been treated with oil by filling in surface-reaching cracks so that clarity and stability are enhanced. The emerald presented in LOT 2114 weighs 19.36 carats, and it has delivered all exceptional qualities that a Colombian emerald would have and moreover, the exceptional crystal-clear transparency is a characteristics less than rarely seen in emeralds. Gemological evidence shows that it has never been brought for any clarity enhancement treatments, marking it truly collector's gem.
Poly Auction. Magnificent Jewels, 2 October 2017 1:30pm, Grand Hyatt Hong Kong