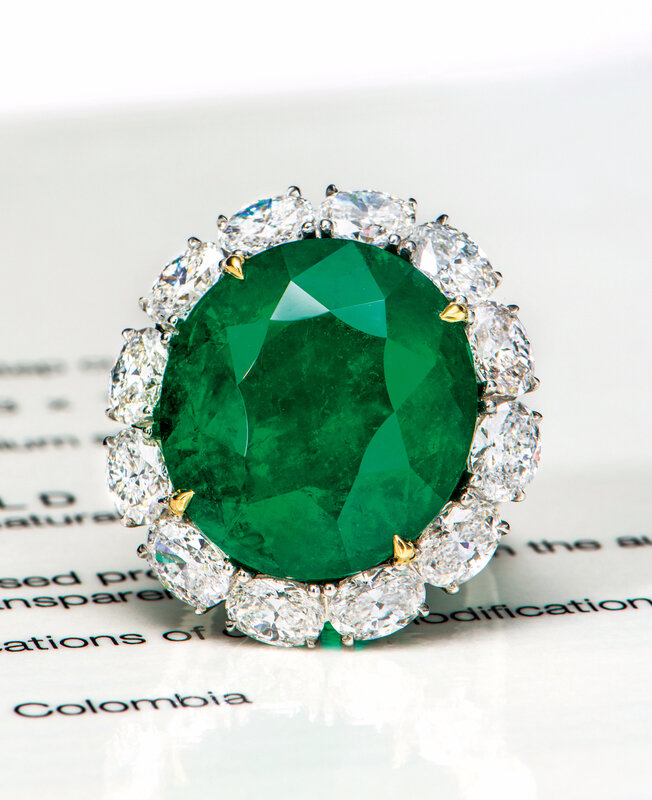 Lot 2027. A 37.06 carat no oil Colombian emerald and diamond ring. Estimate HKD 12,000,000 - 18,000,000 (USD 1,536,000 - 2,304,000). © Poly Auction
Centering upon an oval-shaped emerald weighing 37.06 carats, surrounded by twelve ovalshaped diamonds, to the brilliant-cut diamond shoulders, mounted in platinum, ring size 6.
Accompanied by report no. 90798 dated 8 March 2017 from the SSEF stating that the 37.063 carat emerald is of Colombia origin, with no indications of clarity treatment Accompanied by report no. 17038078 dated 24 March 2017 from the Gübelin stating that the 37.06 carat emerald is of Colombia origin, with no indication of clarity enhancement.
The characteristic green hue of emerald has been a fascination for mankind over six thousand years. It is always associated with the lushest landscapes and the richest greens. It remains one of the rarest and most valuable gemstones from as early as 3500BC when they began to be mined by Egyptians. During the extreme complex and violent processes of geological formations, rare crystallization processes of otherwise unrelated earthly elements occur. Due to this complexity of emerald's forming condition and process, it is very rare for emerald to appear as large and clear formations. They tend to have inclusions of many forms and clarity treatment is necessary for the absolute majority of all emeralds unearthed. Cutting and polishing of a finished emerald gem also require well-trained expertise to navigate through emerald's intricate interior, and to enhance its color and brilliance. LOT 2026 and LOT 2027 are both rare and unique pieces in their own right. LOT 2026 presents two sizable Colombian emeralds weighing 10.45 and 11.29 carats, the color of which are perfectly-matched. LOT 2027 is a ring set with a single oval-shaped emerald weighing a remarkable 37.06 carats. They are amongst the best specimens of what Colombian emerald mines are capable of producing. They have also been spared of any clarity enhancement so that unlike most other emeralds, within its internal environment there is neither temporary nor permanent oil or resin fillings. The existence of such a rare treasure is in effect extraordinary, making it a true connoisseur's gem.
Poly Auction. Magnificent Jewels, 2 October 2017 1:30pm, Grand Hyatt Hong Kong