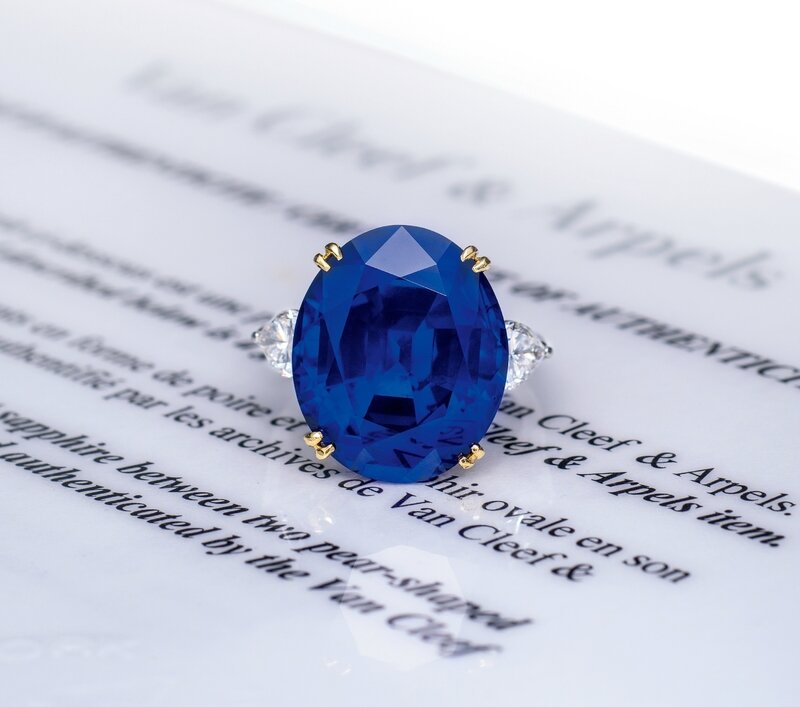 Lot 2024. A very fine and rare 23.49 carat Burmese 'Royal Blue' sapphire and diamond ring, by Van Cleef & Arpels. Estimate HKD 6,800,000 - 9,800,000 (USD 870,400- 1,254,400). Sold for HKD 7,670,000 (USD 981,760). © Poly Auction
Centering upon an oval-shaped sapphire weighing 23.49 carats, flanked by two pear-shaped diamonds, mounted in platinum, ring size 6 3/4. Signed Van Cleef & Arpels, no. 127732.
Accompanied by report no. 13025090 dated 18 February 2013 from Gübelin stating that the 23.49 carat sapphire is of Burma(Myanmar) origin, the blue color is described in the trade as 'Royal Blue', with no indications of heating Accompanied by report no. 66579 dated 29 January 2013 from SSEF stating that the 23.495 carat sapphire is of Burma(Myanmar) origin, with no indications of heating Also accompanied with a Certificate of Authenticity from Van Cleef & Arpels.
Lot 2024 is a unique sapphire ring set by the exquisite French jeweler - Van Cleef & Arpels. For over a century, Van Cleef & Arpels has been combining unparalleled craftsmanship, technical prowess and innovation in all its creations. The Maison select its materials using to the most stringer criteria. In colored stones, intensity and consistency of color, elegance of cut, fine proportion and the clarity and brilliance of the material are all carefully evaluated by Van Cleef & Arpels' expert gemologists. This rigorous quality control and craftsmanship could also be seen in the examination of this astonishing sapphire of Burma. With the eye and taste unique to the Maison, they have carefully ascertained the life and character of the stone, designed the piece in the way that reflect their unique taste and savoir-faire, and more importantly, reveals and enhance center stone's everlasting beauty. The story of Van Cleef & Arpels began with the marriage of Alfred Van Cleef and Estelle Arpels, in Paris in 1895. In 1906, the Maison was founded in an 18th century mansion at 22 Place Vendome. Since its creation, the Maison creates High Jewellery collections that associate rare gems and dazzling color combinations. The center stone of this piece is a 23.49 carat sapphire from Burma. Burmese sapphires can command some of the highest prices on the sapphire market. Color is the single most influential quality factor affecting the value of a sapphire. Due to trace elements iron and titanium, Burma's deposits produce sapphires of rich and intense hue, which stones from other sources are judged against. The most treasured color is 'Royal Blue', a deep yet intensely vivid hue with very strong saturation, a color that has always been the most desired by royal families across the world. This sapphire is one of the most extraordinary examples of such quality. Remarkably, the stone has not gone through any heat treatment to enhance its color and clarity, a quality that marks its rareness and extremely high market value, stranding out from all its peers.
Poly Auction. Magnificent Jewels, 2 October 2017 1:30pm, Grand Hyatt Hong Kong