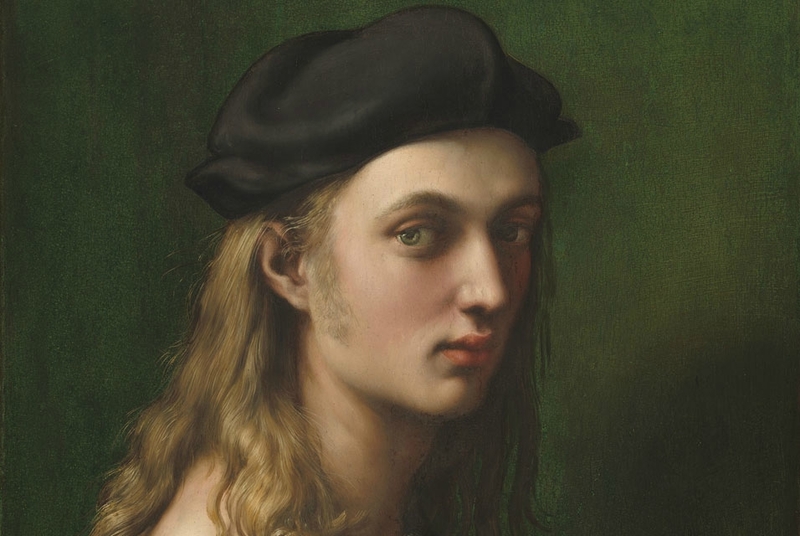 Raphael, Portrait of Bindo Altoviti, detail, ca. 1514–1515. Oil on wood © National Gallery of Art, Washington
VIENNA.- Together with Leonardo da Vinci and Michelangelo, Raphael completes the triumvirate of Italian Renaissance artists. Moreover, the world-famous drawings of this prematurely deceased master (1483–1520) make him one of art history's great draftsmen. The Albertina Museum is now paying tribute to Raphael with a major exhibition of 150 paintings and drawings.

Starting from the Albertina Museum's own significant holdings and rounded out by the most beautiful and important drawings from prominent museums such as the Uffizi, the Royal Collection of the British Royal Family, the British Museum, the Louvre, the Vatican Museums, and the Ashmolean Museum, this monographic presentation places Raphael's thinking and conceptual process front and center: featured works range from initial spontaneous artist's impressions to virtuosic detail studies, compositional studies, and the completed paintings themselves.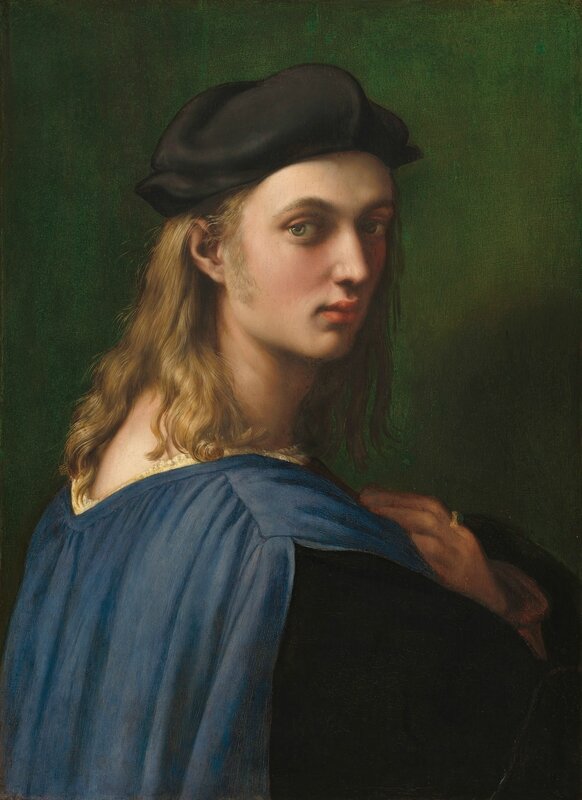 Raphael, Portrait of Bindo Altoviti, ca. 1514–1515. Oil on wood © National Gallery of Art, Washington
Harmony and Ideal
As a painter who worked in Umbria, Florence, and Rome and could count princes and popes among his patrons, Raphael was a true universal genius of the High Renaissance who constantly sought to strike a balance between naturalist imitation and idealization. This exhibition shows around 130 drawings and 18 paintings that amount to a representative survey encompassing all of the artist's important projects: from his early Umbrian period (up to 1504) to his years in Florence (1504–1508) and on to his time in Rome (1508/1509–1520), during which he dealt closely with antiquity, the impressive selection covers Raphael's entire artistic career.

In a way that is truly universal, Raphael expresses the quintessentially human aspects of his figures: their character, their nature, their feelings, and the motivating forces behind their actions. Even if he does observe them with great accuracy, he also idealizes them and lends them universal meaning. Through their actions, his figures enter a web of relationships in which contradictions and tensions are clarified, reconciled, and joined together in a wonderful compositional unity.
Raphael, Madonna with pomegranate, around 1504 © The Albertina Museum, Vienna
Raphael is a master of beauty and of harmony, and his works are filled with an auspicious message that remains just as pertinent today as it was at the time. More than either Leonardo or Michelangelo, Raphael comes to terms with the art of his contemporaries and predecessors, adopts it, adapts it, and ultimately arrives at solutions that are entirely his own.

One of the basic pillars of his artistic viewpoint is the observation of nature and the study of the human model, in reference to which he examined each movement and every posture of his figures. What's more, Raphael's examination of the ideals of antiquity lent his creations monumentality, dignity, and grandeur, for which reason he became known as one of the most important history painters in the grand classical style.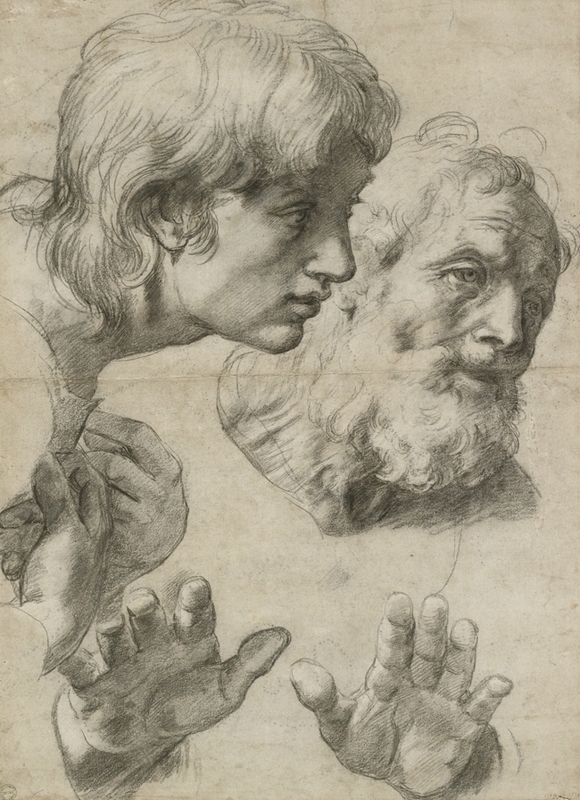 Raphael, Study of head and hand, 1519-20, Ashmolean Museum, Oxford © Ashmolean Museum, University of Oxford
A Busy Master
Raphael's drawings provide the most immediate insight into his spontaneous thoughts and intentions. The viewer has the feeling of looking over the artist's shoulder as he quickly draws a line, adds hatching in black or red chalk, or corrects one of his motifs.

Raphael's drawings were made strictly for specific purposes that were always related to the final execution of an artwork. He conceived his projects in a series of individual design steps, from the prim o pensiero [first thought] to studies of individual figures and groups, overall compositional designs, studies of (often nude) live models, and on to the modello and cartoon. This systematic and procedural character of Raphael's approach to designing his works testifies to the great care with which he prepared them.

Especially in his later career, Raphael was positively overwhelmed with commissions: he worked on the painted decoration of the individual Stanze in the Vatican, created designs for the tapestry series in the Sistine Chapel and the Vatican loggias, and also worked at Villa Farnesina.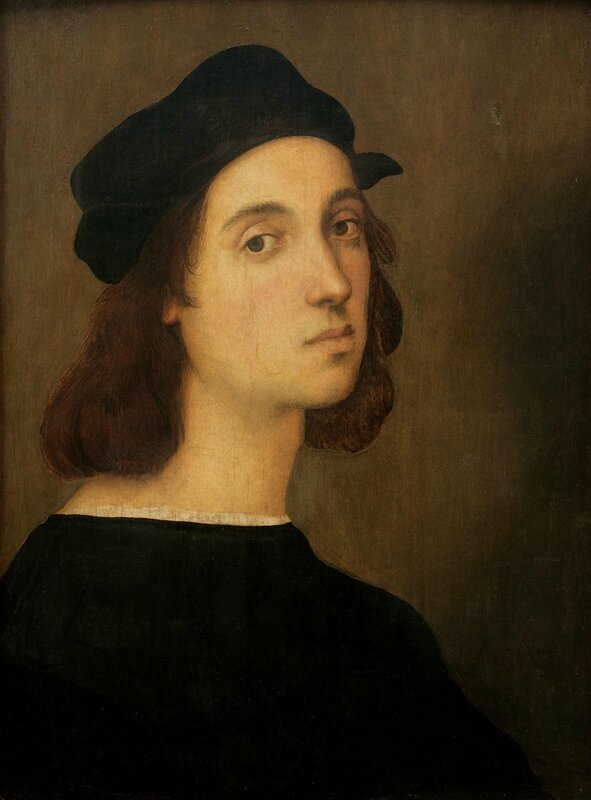 Raphael, Self-Portrait, 1506.

Oil on wood
© Galleria degli Uffizi Florenz, Gabinetto Fotografico delle Gallerie degli Uffizi
Finally, after the death of Bramante in 1514, he was put in charge of the construction of St. Peter's Basilica and appointed as architect for the Vatican Palace. His archaeological research culminated in the project to draw a map with the buildings of ancient Rome. Alongside the papal commissions for frescos and panel paintings, Raphael also worked extensively for a variety of ecclesiastical and secular patrons, of whom the wealthy banker and entrepreneur Agostino Chigi (1466–1520) was the most important. In order to fulfill all these obligations, Raphael availed himself of pupils and assistants. Since the late 19th century, researchers have attempted to attribute drawings from this late phase to the people in his employ, but most of them have since been shown to indeed be works by Raphael—for which reason some of the works in this exhibition have now been reattributed to the master himself.

The present selection of impressive drawings demonstrates all of the techniques and materials used by the artist including pen-and-ink, chalk, charcoal, metal- and silverpoint, white heightening, and wash, and the great number of paintings affords the exhibition's visitors a unique opportunity to experience Raphael's multifaceted artistic personality as a painter and a draftsman.
Raphael, Apostle Head (Study for 'Transfiguration'), 1519 - 1520 © The Albertina Museum, Vienna
Raphael, Two Studies of Male Nudes, 1515 © The Albertina Museum, Vienna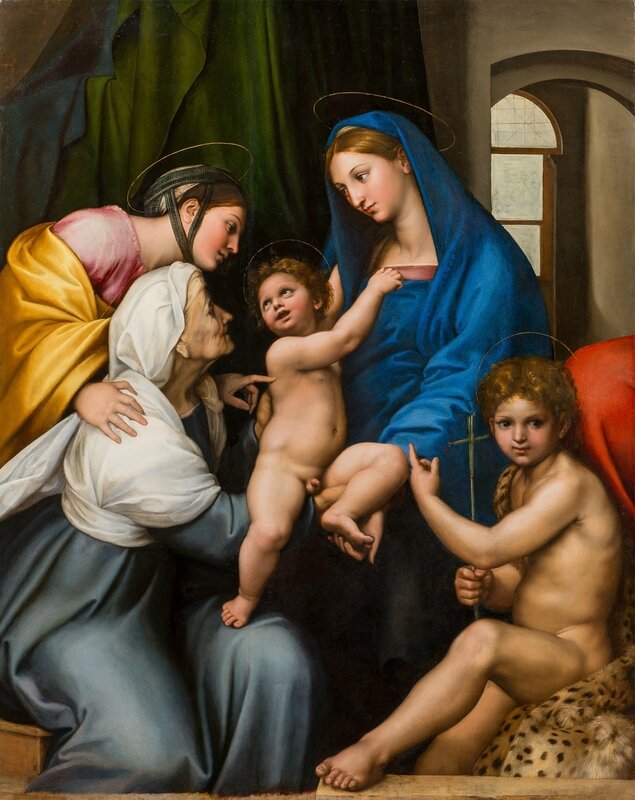 Raphael, Madonna dell'Impannata, 1511 © Galleria Palatina, Palazzo Pitti, Uffizi, Florence: Opificio delle Pietre Dure, Florence
Raphael, The Cumaean Sibyl (Study for the Sibyls fresco in Santa Maria della Pace, Rome), around 1511 © The Albertina Museum, Vienna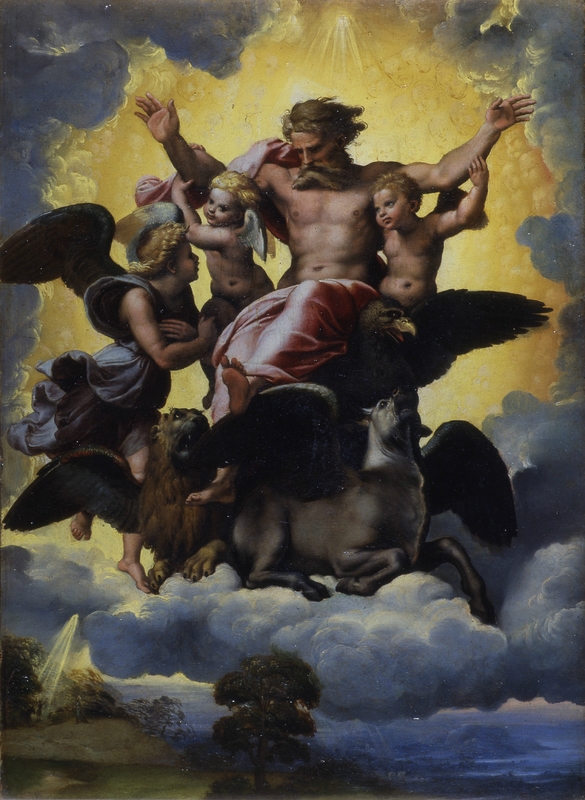 Raphael, The Vision of Ezekiel, 1516–1517 © Galleria Palatina, Palazzo Pitti, Uffizi, Florenz: Gabinetto Fotografico delle Gallerie degli Uffizi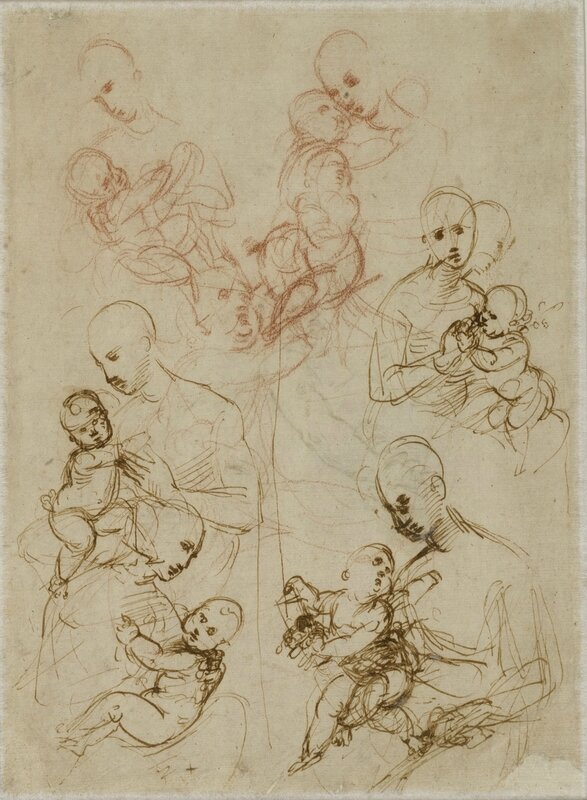 Raphael, Madonna studies, 1506-1507 © The Albertina Museum, Vienna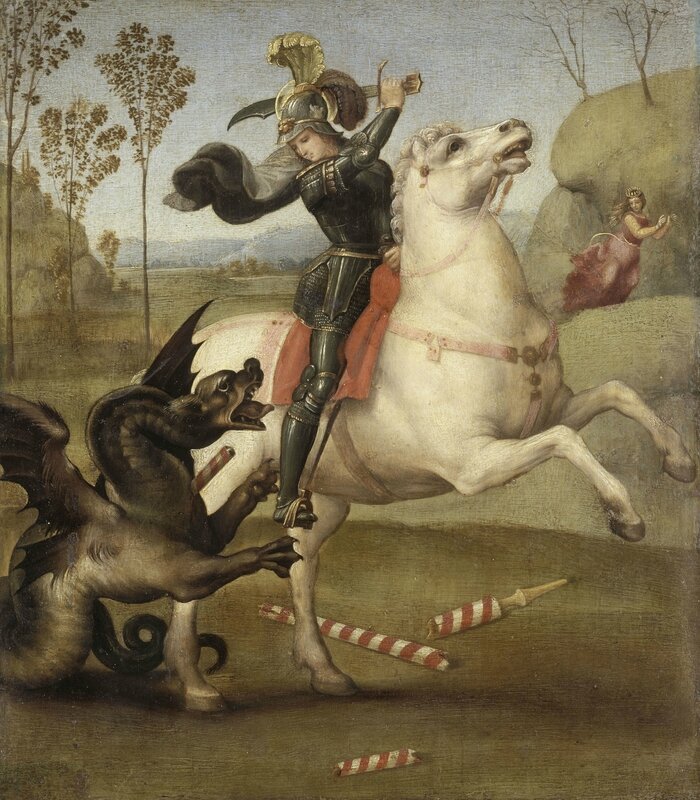 Raphael, Saint George, 1505, Musée du Louvre, Paris © RMN-Grand Palais / Jean-Gilles Berizzi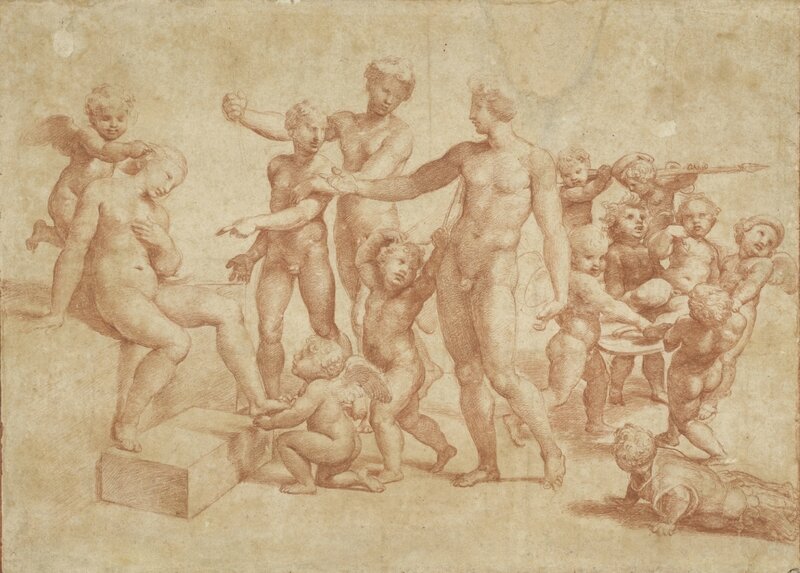 Raphael, The marriage of Alexander and Roxane, around 1517 © The Albertina Museum, Vienna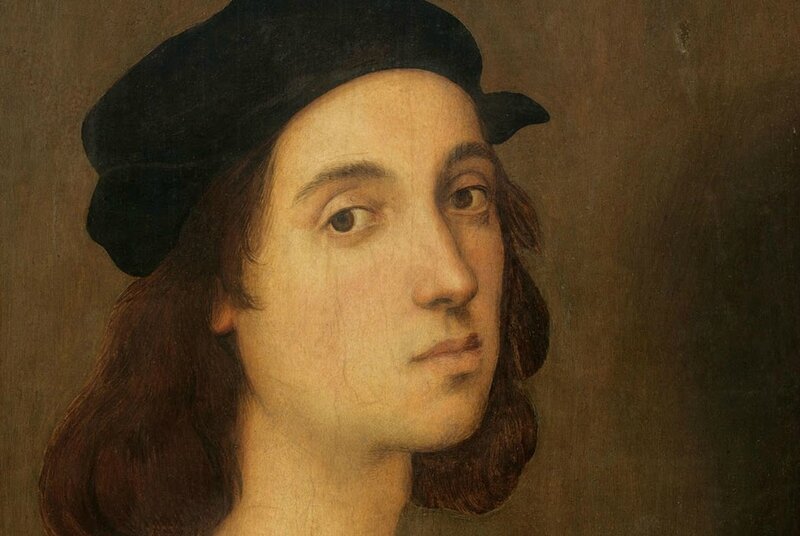 Raphael, Self-Portrait, detail, 1506. Oil on wood © Galleria degli Uffizi Florenz, Gabinetto Fotografico delle Gallerie degli Uffizi