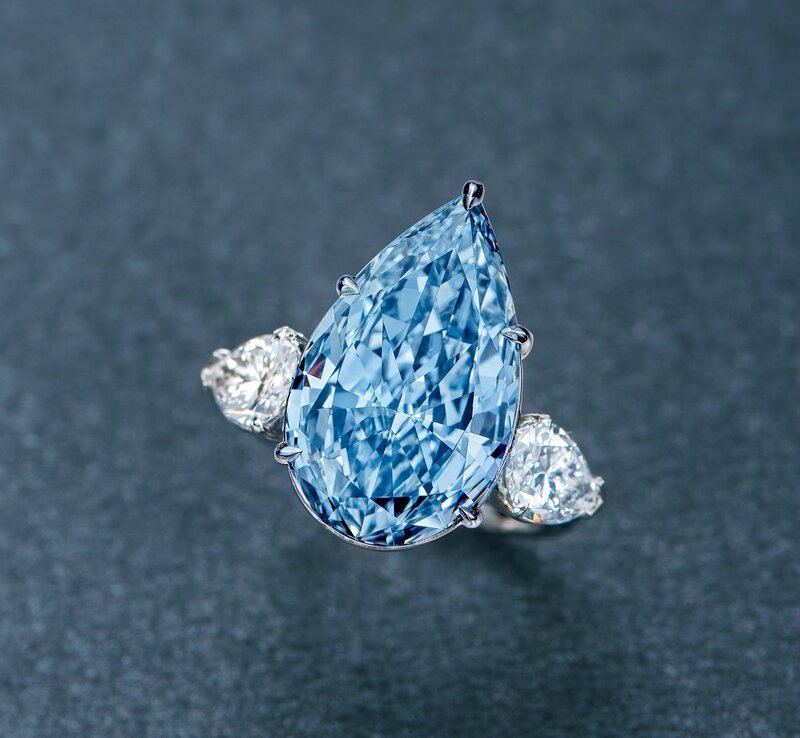 Lot 2149. A magnificent 8.26 carat fancy intense blue diamond and diamond ring. Estimate Upon Request. Lot sold HKD 120,360,000 (USD 15,406,080) © Poly Auction Hong Kong Limited.
Set with a pear-shaped fancy intense blue Type IIb diamond weighing 8.26 carats, flanked on either side by pear-shaped diamonds weighing 0.90 and 0.98 carats, mounted in platinum, ring size 5 1/2
Accompanied by report no. 2171412514 dated 7 April 2016 from the GIA stating that the 8.26 carat diamond is natural Fancy Intense Blue color, VS2 clarity, with excellent polish Accompanied by a letter titled 'Diamond Type Classification for GIA Colored Diamond Grading Report 2171412514' stating that the 8.26 carat Pear Brilliant diamond has been determined to be a Type IIb diamond. Type IIb diamonds are very rare in nature (from our experience, less than one half of one percent) and contain small amounts of boron that can give rise to a blue or grey coloration. Accompanied by report no. 5161845073 dated 30 January 2015 from the GIA stating that the 0.90 carat diamond is D color, VS1 clarity Accompanied by report no. 2165845076 dated 5 February 2015 from the GIA stating that the 0.98 carat diamond is D color, SI1 clarity
Blue diamonds originated f rom the Kollur mines near Golconda in the Indian state of Hyderabad. The famous 45.52 carat Hope Diamond and the 42.92 carat Tereschenko were mined from Kollur. The history of blue diamond began by a French traveler Jean-Baptiste Tavernier who brought back to Europe a very large blue diamond from the Indian mines and sold it to Louis XIV in 1642. This blue diamond has been polished twice and became a 45.52 carat cushion-shaped blue diamond which was l a ter collected by a British banker Henry Philip Hope. These Indian deposits have since been exhausted, and today all the blue diamonds on the market today are from the Premier mine near Pretoria in South Africa.
Natural blue diamonds are among the rarest of colored diamonds existing in the world today. The Smithsonian Museum of Natural History estimates that only 1 in 200,000 diamonds discovered has any hint of blue at all. It is the unusual formation from billions years of geological coincidences and structural composition that makes the blue diamonds rare and unique. Almost all the blue diamonds fall into the rarest Type II category, structurally the purest of all diamonds. Free f rom the more common nitrogen impurities within the crystal lattice found in Type I diamonds. Type IIa diamonds contain almost no impurities at all, while Type IIb diamonds, trace qualities of the element boron exist. It is this existence o f boron atoms within the carbon crystal structure that gives these diamonds unusual semiconducting properties, the rare blue color.
Lot 2149 is an 8.26 carats fancy intense blue diamond ring, a rare and exclusive beauty that carries a pure blue hue. For various reasons, most natural blue diamonds exhibit a gray color modifier. However, the effect of a secondary color is non-existent in this case, which adds to its rarity. This fancy intense blue diamond is important not only because of its color, but also the size of 8 carats is very rare in the market that can hardly be found over the past 10 years.
Poly Auction. Magnificent Jewels, 2 October 2017 1:30pm, Grand Hyatt Hong Kong