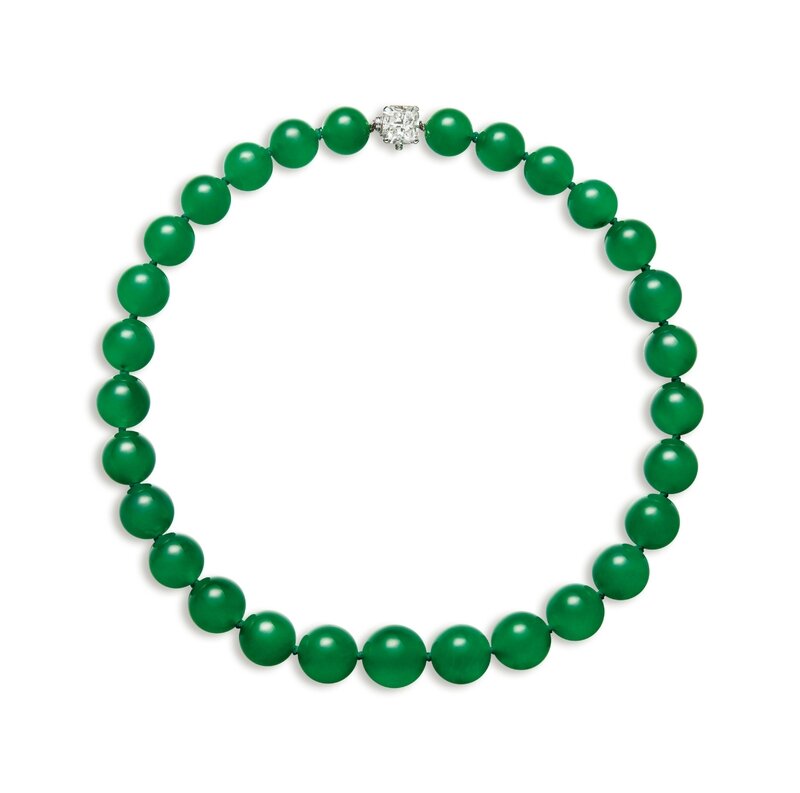 Lot 2073. A highly impressive jadeite bead and diamond necklace. Estimate Upon Request. Lot sold HKD 47,200,000 (USD 6,041,600) © Poly Auction Hong Kong Limited.
Composed of twenty-nine impressive jadeite beads of old-mine emerald green color and exceptional translucency, diameter measuring approximately 17.06-13.50mm, completed by a clasp set with a cushionshaped diamond weighing approximately 5.00 carats, mounted in 18K gold, length approximately 47.0 cm.
Accompanied by report no. KJ96162 dated 4 August 2017 from the Hong Kong Jade & Stone Laboratory stating that the jadeite tested is natural, known in the trade as "A Jade"
Composed of 29 natural graduated translucent jadeite beads, with the largest bead diameter measuring approximately 17.06mm, Lot 2073 is a brilliant strand of jadeite beads that stands out from its peers. The delicacy of its design doesn't imply the production of the necklace is simple. For the unity of its look and the consistency of its color, it requires a rough large enough to withstand the great deal of weight loss during production, more importantly, it also requires inconceivable patience and luck to find such stone that carries a wide enough band of vivid green color. The rough is cut by well-trained and experienced jadeite experts into most economical number and size of cubic shapes. Then the cubes are polished into round beads. Of this complicated procedure, meticulous planning, steady hands, attention to detail and well-practiced expertise are required at every stage, which marks the extremely high value associated with an outstanding piece like jadeite bead necklace.
Back in imperial China, the royal court China once had a standing order for all available material of this kind. Ownership of Imperial Jadeite was reserved only for the Emperor family. In modern history, jadeite had accompanied the First Lady of the Republic of China, Soong Mei-ling, to many occasions, as the best compliment to her grace and elegance.
Poly Auction. Magnificent Jewels, 2 October 2017 1:30pm, Grand Hyatt Hong Kong