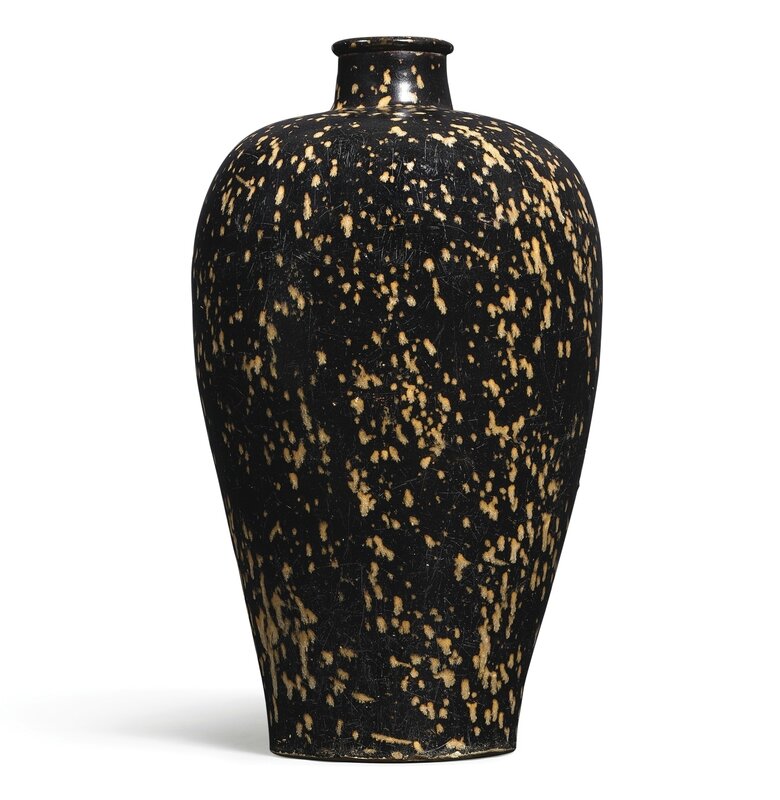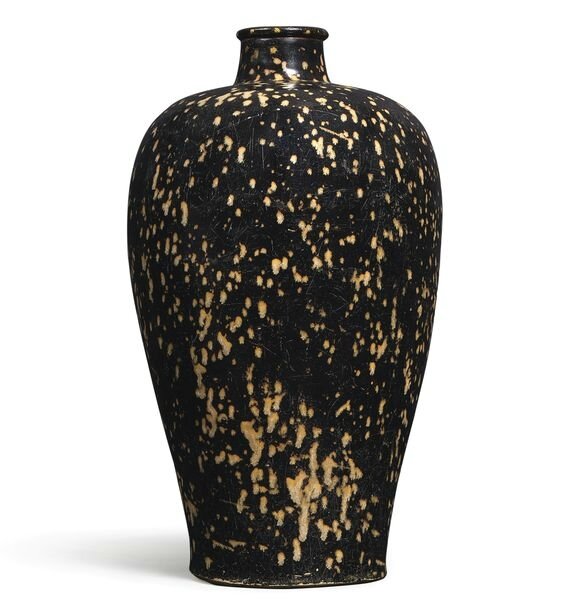 Lot 15. A superb large Jizhou 'partridge feather' meiping, Southern Song dynasty, 35.8 cm, 14 1/8 in. Estimate 1,000,000 — 1,500,000 HKD. Lot sold 3,700,000 HKD. Photo: Sotheby's.
robustly potted with a tapering body rising to broad round shoulders, sweeping up to a short neck with rolled lip, the body liberally decorated with variegated cream-coloured splashes against a dark brown ground mimicking partridge feathers, save for the knife-pared footring unglazed revealing the buff body, the base covered in a dark brown matte glaze.
Provenance: Collection of the Chang Foundation, Taipei.
Literature: James Spencer (comp.), Selected Chinese Ceramics from Han to Qing Dynasties, Chang Foundation, Taipei, 1990, cat. no. 54.
Zhongguo gu ci yao daxi. Zhongguo Jizhou yao/Series of China's Ancient Porcelain Kiln Sites. Jizhou Kiln of China, Beiing, 2013, p. 313, fig. 12.
Note: This meiping can be considered one of the major masterpieces of the Jizhou kilns in Jiangxi province. Although the serene shape of this vase and the mottled glaze, with its irregular cream and russet-coloured markings on a lustrous dark brown ground, are characteristic of the kilns' production, the patterned glaze has rarely turned out as successfully as on this piece, and vases of this type are rarely as large and superbly proportioned. This glaze pattern, in China generally known as 'partridge' (zhegu) or, with more amber-coloured splashes, 'tortoiseshell' (daimei) mottling, is one of the highly creative and technically challenging decorative techniques developed at the Jizhou kilns by evenly covering the surface of the vessel with an irregular pattern of ash-rich glaze splashes to achieve a naturalistic effect reminiscent of the spotted pattern of partridge feathers or hawksbill turtle shells. Such techniques, inspired by nature, appealed to the predilections of the Southern Song (1127-1279) literati.
Although bowls formed the largest output of wares from the Jizhou kilns, a small number of upright vessels was produced in the later years of the Southern Song and into the Yuan (1279-1368) dynasty. The slight degradation of the proportions towards that later period can be observed when comparing an example recovered from the Shinan ship that sank off the coast of Korea around 1323 while on its way to Japan with a large load of fine Chinese ceramics on board; see The Shinan Wreck II, National Maritime Museum of Korea, Mokpo, 2006, p. 289, pl. 08; and Da Yuan fan ying: Hanguo Xin'an chenchuan chuchui wenwu jinghua/Sailing from the Great Yuan Dynasty. Relics Excavated from the Sinan Shipwreck, Zhejiang Provincial Museum, Hangzhou, 2012, p. 46.
Compare also a slightly smaller meiping decorated with similar flecks as the present vase, from the collection of Mrs Samuel T. Peters, in the Metropolitan Museum of Art, New York, included in the Museum's exhibition Treasures from the Metropolitan Museum of Art, China House Gallery, New York, 1979, cat. no. 36; a meiping of this type, but with a short straight neck and a greater profusion of splashes, from the Qing Court collection and still in Beijing, published in The Complete Collection of Treasures in the Palace Museum. Porcelain of the Song Dynasty (II), Hong Kong, 1996, pl. 216; a smaller version from the collection of Mr and Mrs Janos Szekeres, sold in our New York rooms, 7th December 1983, lot 210, and included in the exhibition Hare's Fur, Tortoiseshell and Partridge Feathers. Chinese Brown and Black-Glazed Ceramics, Harvard University Art Museums, Cambridge, 1995, cat. no. 91; and another sold in our New York rooms, 16th March 2016, lot 262.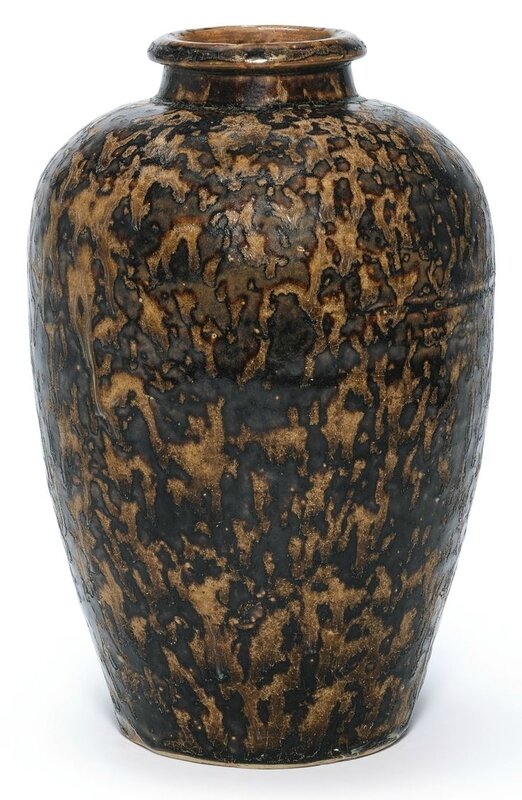 Lot 262. A rare 'Jizhou' 'tortoiseshell'-glazed meiping, Song Dynasty, Height 8 1/8 in., 20.7 cm. Estimate 120,000 — 150,000 USD. Unsold. Photo: Sotheby's.
Cf. my post A rare 'Jizhou' 'tortoiseshell'-glazed meiping, Song Dynasty
Sotheby's. Song – Important Chinese Ceramics from the Le Cong Tang Collection, Hong Kong, 03 oct. 2017, 10:20 AM