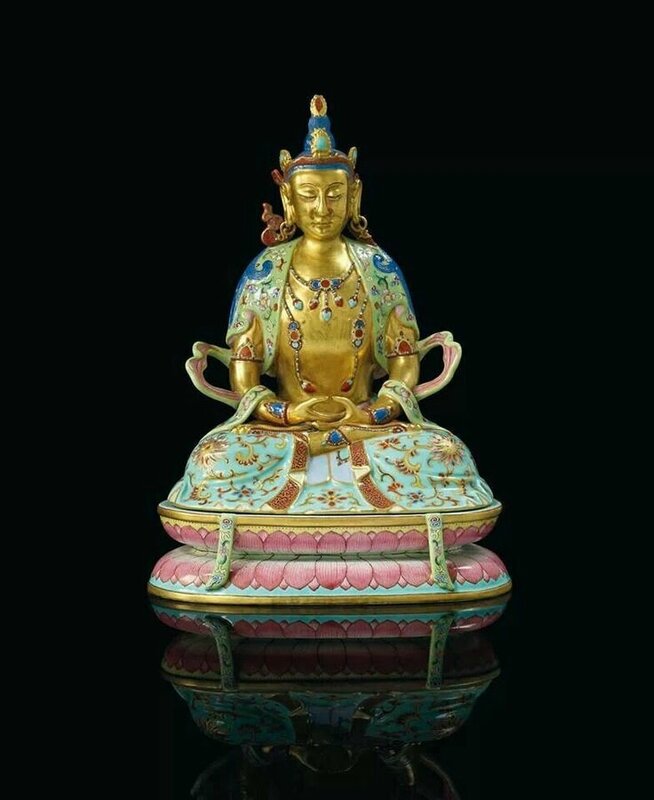 Lot 176. Rare statue d'Amitayus en porcelaine de la famille rose, Chine, dynastie Qing, époque Qianlong (1736-1795). Hauteur: 29,5 cm. (11 5/8 in.). Estimate EUR 60,000 - EUR 80,000. Price realised EUR 361,500. © Christie's Images Ltd 2013
Il est représenté assis en vajrasana, ses mains en dhyanamudrasoutenaient le kalasha à l'origine. Il est vêtu d'un dhoti souple orné d'élégantes volutes de lotus sur fond turquoise et corail. Sa peau or est soulignée de bijoux aux couleurs chatoyantes. Ses épaules sont recouvertes d'un châle vert rehaussé de fleurs et nuages en forme deruyi. Deux pans flottent de part et d'autre de ses coudes pour retomber sur ses cuisses. Son visage est serein, son front ceint d'une tiare ouvragée. Ses cheveux sont maintenus en un haut chignon, deux mèches retombant de part et d'autre. La base conçue séparément est ornée de pétales de lotus ; éclats et petits manques.
Provenance: From a private collection, Belgium, acquired in the French market in the 1980s.
Note: Amitayus (Tibetan: Ts'e dpag med) is known as the 'Buddha of Infinite Life' and the 'One who grants long life'. As one of the most popular deities from the Tibetan Buddhist pantheon, its typical iconography is recognised by the seated full-lotus posture, vajrasana, with hands in meditation supporting the kalasha which holds the elixir of immortality.
It is interesting to note the sculptural depiction of the present ceramic figure especially the detailing of the facial features, and in particular the naturalistic rendition of the eyes behind the half-closed eyelids. The careful use of enamels and gilt to decorate the floral garment, and a subtle sepia tone to suggest the body tone, all indicate that its production would have been immensely time consuming and costly.
Compare with enamelled ceramic Buddhist images modelled as Amitayus: the first included in the Exhibition of Chinese Arts, Messrs C. T. Loo & Co., New York, 1941-1942, no. 750; and the other sold at Sotheby's Hong Kong, 29 October 2001, lot 606. Smaller versions of these Amitayus figures are known such as the pair illustrated in Qingdai Ciqi Shangjian, Hong Kong, 1994, no. 232 (18 cm. high); and another from the Hellene Terrien Collection, sold by Christie's Hong Kong, 31 October 2000, lot 924 (15.9 cm.).
As the deity is associated with longevity, imagery of the Buddha of Infinite Life found much favour with the Emperor Qianlong. A large number of cyclically-marked gilt-bronze Amitayus figures were commissioned by Qianlong as gifts to his mother, the Empress Dowager who was a devout Buddhist, in commemoration of her sixtieth and seventieth birthdays. A pair of such figures dated to the gengyin year (1770), was sold by Christie's Hong Kong, 26 April 1998, lot 616; and another figure from the same group in the Asian Art Museum, is illustrated by T. Bartholomew, 'Sino-Tibetan Art of the Qianlong Period from the Asian Art Museum of San Francisco', Orientations, June 1991, p. 42, fig. 13.
Ceramic Buddhist images of such large size are extremely rare, and were probably specifically commissioned for ritual display in temples situated within the imperial palace precincts, either in Beijing or Chengde. Figures of Amitayus were made for the Zhongzhendian, The Hall of Purity, where this deity was mainly worshipped. The Hall was used for ritual celebration during birthdays of empress dowagers or emperors, where a total of thirty-six monks were reputed to have recited the Amitayus Sutra for a total of ten days, cf. Cultural Relics of Tibetan Buddhism Collected in the Qing Palace, Forbidden City Press, 1992, p. 231. The Hall of Purity was destroyed by fire in 1923 but a photograph taken by K. Ogawa in 1906 shows an array of Buddhist sculptures, paintings and ritual objects arranged on an altar, illustrated in La Cité Interdite, Musée du Petit Palais, 1996, p. 175.
The sculptural form also appear in other materials that were much treasured by the Qing court such as carved turquoise, white jade, lapis lazuli and sandalwood. One is illustrated in Treasures of Imperial Court - The Complete Collection of Treasure in the Palace Museum, Hong Kong, 2004, p.203, pl.182.
Christie's. Art D'Asie, 11 December 2013, Paris