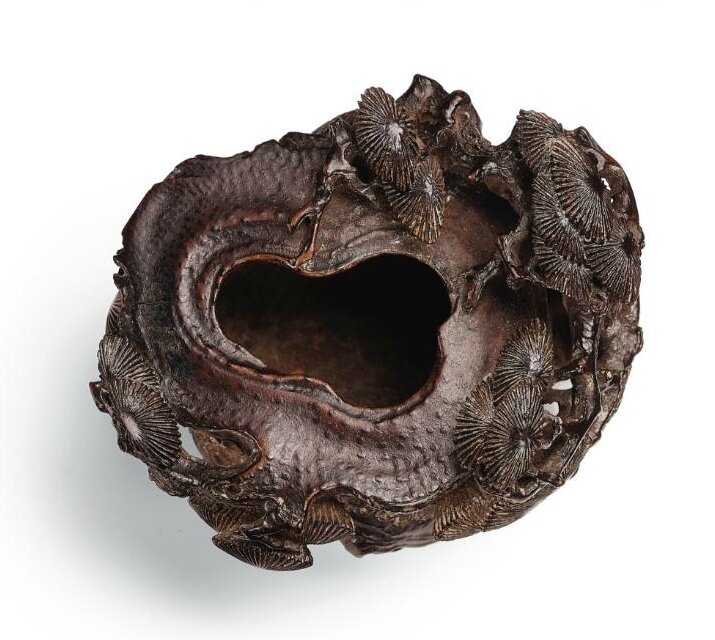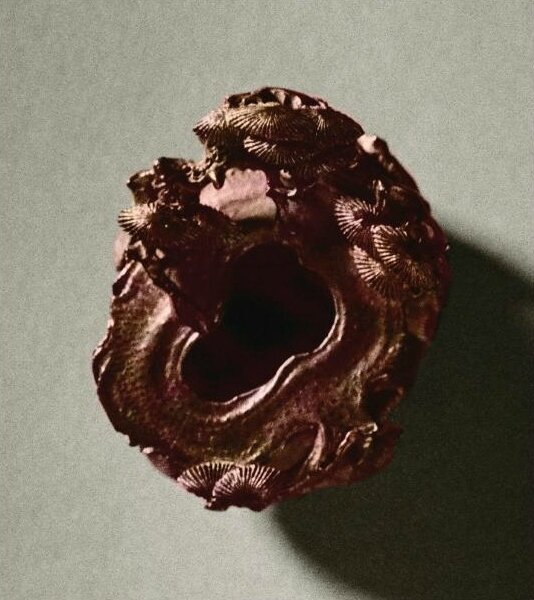 Lot 3005. A superbly carved bamboo-root 'Pine tree' waterpot, attributed to Zhu He, Jiading School, Late Ming dynasty, l. 6.5 cm, 2 1/2 in. Estimate 400,000 — 600,000 HKD. Lot sold 1,625,000 HKD. Photo: Sotheby's.
delicately carved as a hollowed-out trunk section of a burled pine tree, the exterior further well rendered in openwork with gnarled branches bearing clusters of pine needles, the stippled grained surface of a dark reddish-brown colour, wood stand.
Provenance: Bluett & Sons Ltd, London, June 1968.
Exhibited: Ip Yee and Laurence C.S. Tam, Chinese Bamboo Carving, pt. 1, Hong Kong Museum of Art, Hong Kong, 1978, no. 7 and col. pl. 4 (first from the left).
Gerald Tsang and Hugh Moss, Arts from the Scholar's Studio, Fung Ping Shan Museum, University of Hong Kong, Hong Kong, 1986, cat. no. 79.
Note: Exquisitely carved in the round with openwork, this bamboo-root waterpot is realistically modelled to form a gnarled trunk with bark openings under dense layers of pine needles. With its delicate form and naturalistic subject matter, the waterpot would have been used on a scholar's desk to give inspiration and pleasure while its owner meditated on aspects of life and nature. It is aesthetically pleasing and also small enough to be held in one's palm.
The composition of the vigorous branches and lively needles is completed with the gnarls and openings of the bark, subtly revealing the age of the tree, illustrating its symbolism of longevity. In terms of carving style, the present piece evokes that of the famous bamboo brushpot signed by Zhu He in the collection of the Nanjing Museum. The Nanjing brushpot, also carved in high relief as a pine tree trunk, detailed with similar gnarls and openings, together with a pair of cranes as well as the Three Friends of Winter, is incised with a long inscription and dated to 1511. The famous Nanjing brushpot has been repeatedly published, for example, in Wang Shixiang and Wan-go Weng, Bamboo Carving of China, New York, 1983, p. 19, figs 5, 5a and 5b and Literati Spirit: Art of Chinese Bamboo Carving, Shanghai, 2012, cat. no. 001. Although without a signature, the present waterpot from the late Ming dynasty is clearly carved in the style of Zhu He.
Zhu He (ca. 1497-ca. 1550), zi Zhiming, hao Songlin, was from a family that originated from Anhui but later moved to the Jiading district in Jiangsu. Zhu was a trained seal carver, but also acquired general carving techniques from his family. He was said to "have carved small playthings such as brushpots, perfumiers, cups and waterpots". In spite of the rarity of objects attributable to Zhu, he is recognised for his exquisite carving and considered to be the pioneer who laid the keystone of the Jiading School of bamboo carving.
See a small bamboo waterpot carved in a comparable style with high-relief flowering prunus, from the Collection of King Gustaf VI Adolf of Sweden, exhibited in Chinese Art from the collection of H. M. King Gustaf VI Adolf of Sweden, British Museum, London, 1972, cat. no. 179. Its mouth-rim is similarly modelled to imitate a natural opening of the bark with a wrinkled rim.
Sotheby's. Water, Pine and Stone Retreat Collection – Treasures, Hong Kong, 03 Oct 2017