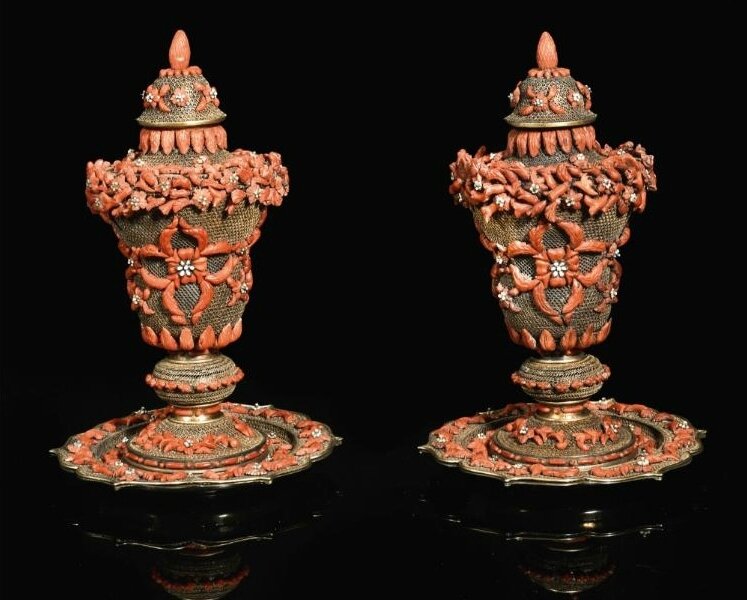 Lot 710.
A pair of Chinese silver-gilt filigree vases, covers and stands, with contemporary embellishment in coral and white enamel, the filigree probably Canton, the applied coral and enamel probably Trapani, Sicily, circa 1750. Estimate

30,000

—

50,000
GBP. Lot sold

37,500 GBP.

Photo: Sotheby's.
constructed in a number of detachable sections, fitted over a solid ground with filigree cagework of distinctive circles and simulated tiles, applied by wires with red coral leafage and flowers, set with white enamel beads in silver mounts, the stands armorial engraved, unmarked except for later French import marks; 21.8cm., 8 1/2 in. high.
Provenance: Tradition records these vases coming from the collection of the Prince Lanza di Trabia, Palermo.
Note: The filigree is largely made up from a series of circular motifs which include a distinctive extra scroll in the middle of the circle. This `signature' identifies a Chinese origin for the filigree. It can be found for example on the toilet set made for the Empress of Russia, Catherine the Great, believed to have been made in Canton around 1740-50 and which is recorded in the Entresol of the Winter Palace in 1789. The motif is visible in a number of pieces of that toilet set but particularly on one of the pairs of rosewater sprinklers which like these vases is constructed from a series of filigree sleeves laid onto a solid silver-gilt ground. The rosewater sprinklers additionally include panels of simulated roof tiles, like the vases. (See: Marina Menshikova et al. Silver Wonders from the East Filigree of the Tsars, Aldershot, 2006, no. 14-26.)
Chinese Export Silver filigree caskets from the toilet set made for the Empress of Russia, Catherine the Great, Canton around 1740-50, State Hermitage Museum in St Petersburg.
A smaller pair of Chinese parcel-gilt silver filigree vases, covers and stands were sold at Christies, 10 June 2008 lot 174, `marked under stands with Chinese characters'. Another pair without stands was sold at Dreweatts, 26 February 2014, lot 801. Those vases appear to be identical to the present pair, except that their applied filigree flowers and foliage, has been identically replaced in coral by Sicilian workmen, in Trapani.
A pair of Chinese-export parcel-gilt silver vases with covers and stands, late 18th century; 7½ in. (19 cm.) high; 26 oz. (820 gr.) (2). Sold for GBP 21,250 at Christies, 10 June 2008 lot 174. © Christie's Images Ltd 2008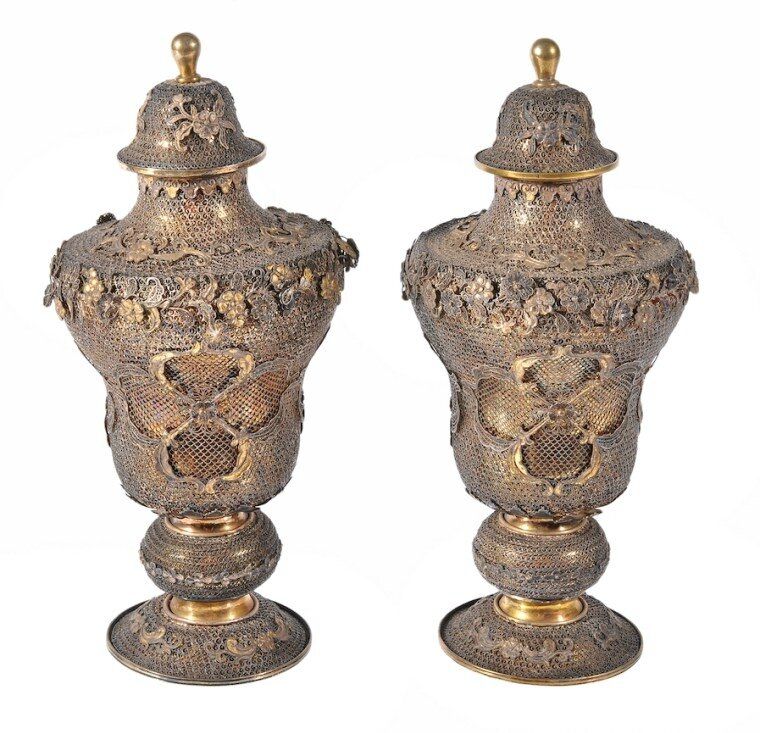 A pair of Qianlong Chinese export silver gilt filigree vases and covers,unmarked, late 18th century. Sold for £19000 at Dreweatts, 26 February 2014, lot 801. Courtesy Dreweatts
Sotheby's. From Earth to Fire, London, 01 Nov 2017, 02:00 PM