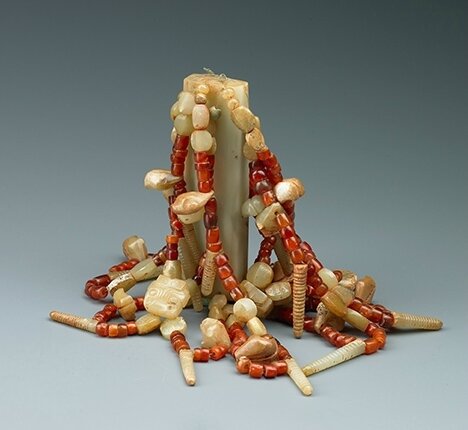 Jade and agate ensemble, early Spring & Autumn period.
HONG KONG - In collaboration with the Oriental Ceramic Society of Hong Kong, Liang Yi Museum is pleased to invite Dr. Tsai Ching-Liang to present a lecture on the Rui State tombs. Though the Rui was only a minor state during the Zhou dynasty that would eventually be conquered by the Qin, the excavation in 2006-2007 of its richly endowed and untouched tombs revealed many previously unseen treasures and ritual methods. The tomb occupants were nobles and kings; even an ancient jade collector, buried with jade carved as far back as the Hongshan Period. Dr. Tsai had previously spent two years on-site documenting and studying the excavation of jades, gold and bronzes from the Rui State tombs (a few artifacts of which were included in the recent History of Gold exhibition at the Art Museum of CUHK). In addition to describing his experience, Dr. Tsai will share theories he developed about the details of design in jades of the Shang and Western Zhou periods.
Dr. Tsai Ching-Liang is a researcher in the Department of Ancient Artifacts of the National Palace Museum (Taiwan). His research focusses on archaic jades (up to Han dynasty) and Shang and Zhou dynasty archaeology and bronzes. He has edited and authored numerous exhibition catalogues; archaeological reports; and books on ancient jades, including Selected Bronze, Jade and Gold Treasure from the Rui State of Early Spring and Autumn Period. He received his PhD in archaeology and museum studies from Peking University.
23rd October, 2017, 23rd October, 2017. 181 - 199 Hollywood Road, Sheung Wan, Hong Kong