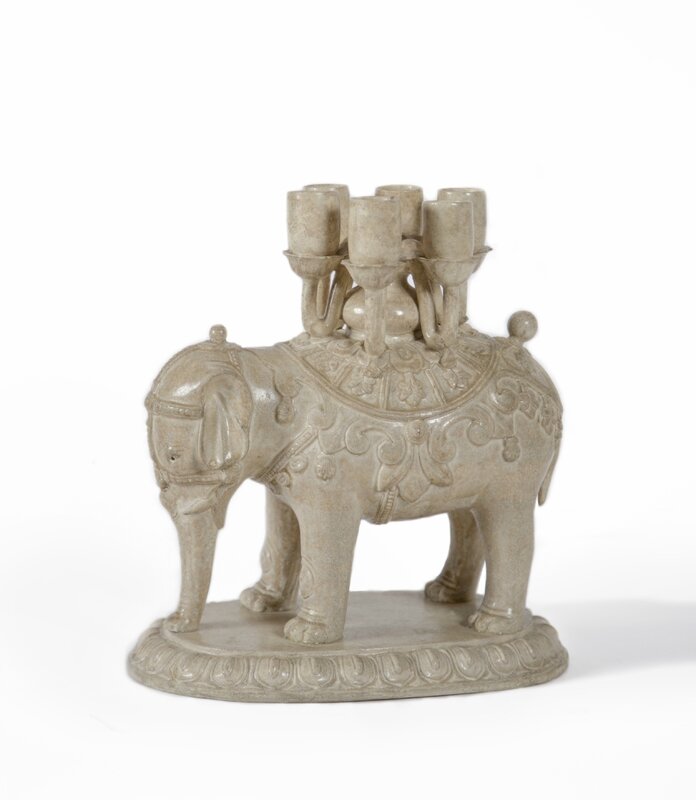 An elephant candelabrum, China, Tang Dynasty (618-907). White-glazed (10.5 x 10 in.) © Maria Kiang Chinese Art

Provenance: Jakob Goldschmidt (1882-1955), Berlin, acquired prior to 1929.
Literature: Jörg Trübner on memory: results of his last Chinese journeys , Berlin 1930, plate no. 74.
Exhibition: Berlin, Prussian Academy of Arts, exhibition of Chinese art , 12 January to 2 April 1929, cat. no. 364.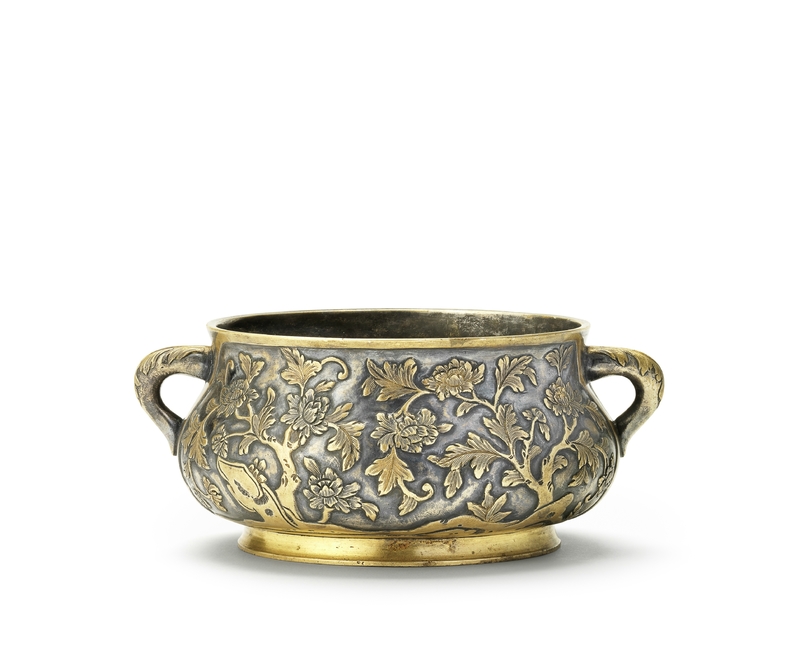 François-Simon-Alphonse Giroux (1776-Paris-1848), A censer, 18th century. Parcel-gilt bronze. © Maria Kiang Chinese Art
The censer is of compressed bombé section flanked by loop handles and rests on a flared foot. The sides are cast and gilt with flowering peony bushes on a silver ground, while the handles are decorated with a stylised peony leaf design. The base is gilt in silver and decorated with an apocryphical 'Da Ming Xuande Nianzhi' mark within a rectangular cartouche on the base. The words 'ALPH GIROUX PARIS' are etched upside down above the Xuande mark. The 'Alph Giroux' inscription refers to François-Simon-Alphonse Giroux, a Paris-based French art restorer and cabinet maker active in the late 18th to 19th century and was one of the official restorers of the Notre Dame Cathedral in Paris. He established Maison Alphonse Giroux in 1799 and aside from selling his cabinetmaking works, he also sold a variety of luxury goods and artwork, which attracted clientele including French royalty and nobility.
Provenance: François-Simon-Alphonse Giroux, Paris (1775/6-1848).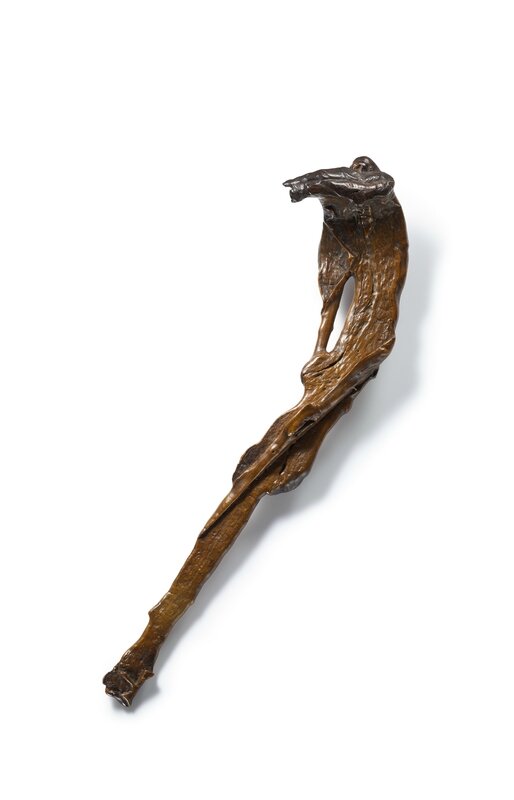 Large Scrollrest, China, Qing Dynasty (1644-1911). Rootwood. Length 55.3 cm (21.8 in.). © Maria Kiang Chinese Art
The scrollrest is of naturally tapered form with the top gently curled forward and to the left forming an overhang resembling the shape of a ruyi sceptre. The surface is well patinated to a glossy russet tone.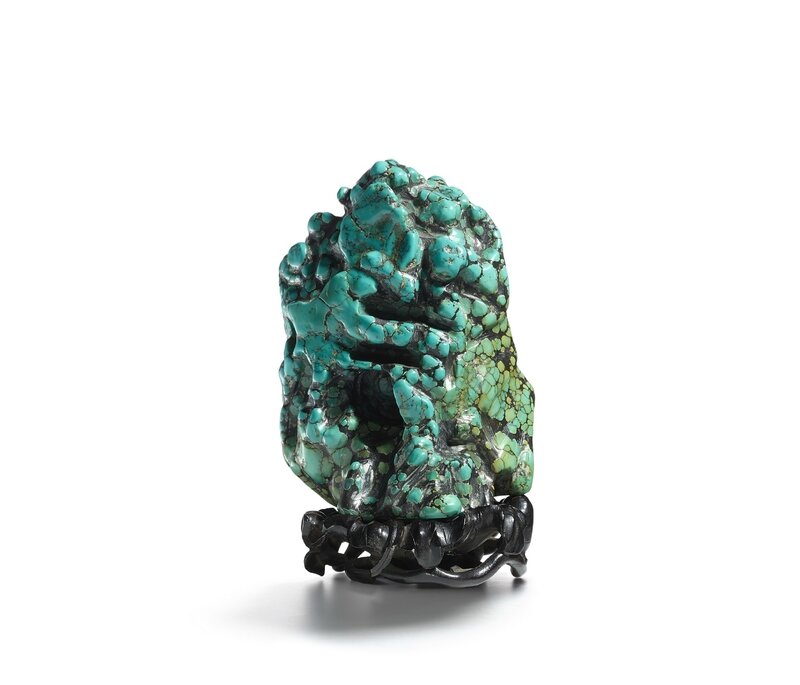 Scholar's Rock, China, Qing Dynasty, 18th century. Turquoise. Height (Excluding Stand) 11 cm (4.3 in.). © Maria Kiang Chinese Art
The naturally formed vertical turquoise sculpture is enhanced with holes and jagged peaks after a scholar's rock. The rock is well patinated and covered with veins and a dark grey matrix and rests on an original hardwood base carved with lotuses along a lotus pad design.
Provenance: Collection of Mme Florine Langweil (1861-1958), Paris, no. 266; Galerie Charpentier Auction House, Paris, 5 June 1959; Drouot Auction House, Paris, 17th and 19th November 1959, lot 266.
An iron ox, China, Southern Song Dynasty (1127-1279) and calligraphic scroll by Tomioka Tessai, circa 1921. © Maria Kiang Chinese Art
The piece is cast in the form of an ox, forward facing with its horns gently pulled back and head turned slightly upward revealing a gentle smile. The ox rests on a deeply patinated hongmu stand with an inscription which reads:

Of objects from the Southern Song era, people mostly esteem iron coin cash — but how much more should they esteem this ox calf! When the calf was obtained from a grave mound this very year, it was discovered with one of its front hooves broken off, apparently long ago, but the Ruan family finds it endlessly delightful. Inscription made at the Zhuhu caotang (Pearl Lake Cottage) by Ruan Heng of Yizheng.

Ruan Heng's note implies that the grave could be dated to the Southern Song era. "Pearl Lake Cottage" was a building on the Ruan clan estate, now within the city of Yangzhou, which served as a study and library. Yizheng is the name of a county district that now lies within greater Yangzhou. An account of the Pearl lake Cottage is contained in Yangzhou fuzhi (Gazeteer of Yangzhou Prefecture) 31:44b.

Ruan Heng (1783-1859) was the younger paternal cousin of the prominent later Qing literatus Ruan Yuan (1764-1849). His extensive literary works in various genres were published as the Chun caotang congshu (Collectanea from the Springtime Cottage), as well as a separate collection of classical verse, the Zhuhu caotang shichao (Draft Collection of Verse from the Pearl Lake Cottage), the Qinyan ji, and the Yingzhou bitan (Brush Talks [miscellaneous jottings] from the Boat to the Fairy Isles), among others. He also edited an enormous work on the study of the Mencius, as well as several anthologies of contemporary regional poets.
The ox is in compendium with a calligraphic scroll by its previous owner, Tomioka Tessai, and consists of a painting of the ox on the stand and a running script calligraphic prose entitled "Draft Record of the Ancient Figure of an Iron Ox." The record is an account of his relationship with the "Iron Ox", in which he states that he first saw the object some "fifty years earlier" in Kyoto,that is during the late 1860s, a time that he then goes on to reminisce about. He then says it had various owners before he himself acquired it, but unfortunately does not say when this happened or where. He and its previous owners greatly admired and treasured the "Iron Ox" considering that though rustic, it had a rare elegance. The record is signed at the end "At the age of eighty-six, Old Man Tessai, Hyakuren." Since Tessai was born in 1836, the record can be dated to 1921. Signature followed by one of Tessai's seals.
Tomioka Tessai (1836-1924) was born and raised in Kyoto, and spent most of his adult life there. Tessai received an excellent literatus education, which stressed traditional Japanese National Learning, Buddhism, Confucianism, especially the tradition of Wang Yangming. At the transition from the shoganate to imperial rule (the Meiji Restoration) in the 1860s he became an ardent supporter of the new movement. After the restoration in 1868, he traveled extensively throughout Japan, observing customs, studying geography, local history, and served at various places as chief priest of Shinto shrines.
In 1881 he returned to Kyoto, where he devoted himself full-time to painting, and gradually acquired a prominent reputation, making a good living from his art. He had studied painting seriously from the age of nineteen, and was especially influenced by Ming and Qing literati painting, though he also liked painting directly from nature, so developed a real individual style of his own. Tessai is generally considered the last great Japanese Nanga "Southern-style" painter, associated with Southern Song literati painting and its later Ming resurgence. His paintings and calligraphic pieces are treasured in Japan and are held in many museums. An entire museum is dedicated to his works in Takarazuka.
Provenance: Tomioka Tessai (1837-1924); Ruan Heng (1783-1859).
Black 'Ying' Scholar's Rock, China, Qing Dynasty (1644-1911). Black rock. Height (Including Stand) 18.1 cm © Maria Kiang Chinese Art
The black ying limestone is vertically oriented and perforated throughout. The rock is elegantly elevated on a deeply patinated Suzhou-type stand.
Provenance: Private collection, Japan.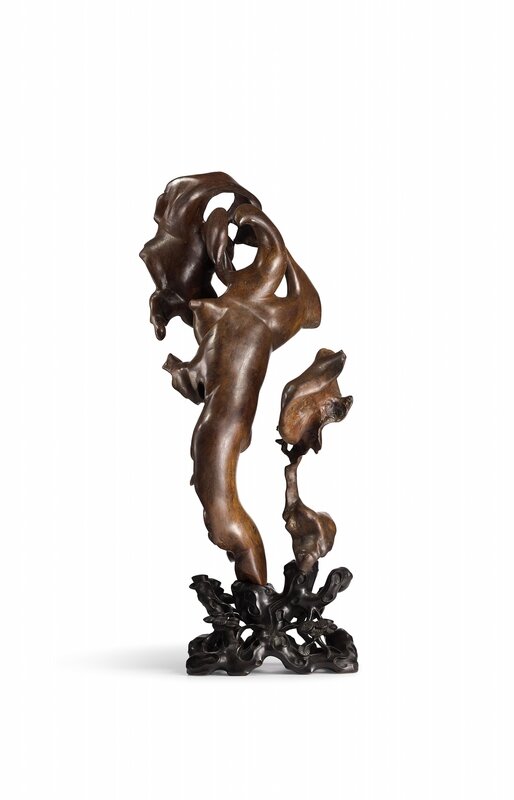 Large 'Grandfather-Grandson' sculpture, China, Ming-Qing Dynasty. Burlwood © Maria Kiang Chinese Art
Provenance: Jean-Michel Beurdeley, Paris
Literature: Beurdeley & Cie, Dans la tradition Zen, Paris 1966, cat. no. 3.
'Prunus' Brushpot, China, Qing Dynasty, 18th Century. Bamboo. Height 15.5 cm. © Maria Kiang Chinese Art
The brushpot is of slight ovoid form and depicts a section of a prunus tree trunk, naturalistically carved with details of the gnarled bark and knots. Flowering branches issue from the sides and curl along the vessel and the rim of the brushpot. The bamboo is patinated to a deep brown colour.
Literature: An ivory brushpot dated to the early Qing dynasty carved with a similar design of a prunus tree section in the collection of the Palace Museum is published in Bamboo, Wood, Ivory and Rhinoceros Horn Carvings in the Collection of the Palace Museum: Classics of the Forbidden City 故宮經典 故宮竹木牙角圖典, 2010, p. 205, 清十
Large Head of a Bodhisattva, China, 14th century. Bronze. Height 40 cm (15.7 in.). © Maria Kiang Chinese Art
The large bronze head is detached above the chest, revealing parts of a floral hem that would have lined the deity's robe. The deity wears a ruyi-shaped diadem, surmounting the face with serene, downcast eyes framed by the eyebrows which converge to form the nose. The serene moon-shaped eyes and the rounded features are stylistically related to wooden Guanyin sculptures from the Song Dynasty. The distinctive crown, with its ruyi-shaped elements, closely resembles crowns found on Guanyin and Manjushri figures in porcelain and bronze from the Yuan and Ming dynasties.
Literature: A wooden example of Guanyin with a similar serene expression and downcast eyes dated to the Song Dynasty is in the collection of the Victoria & Albert Museum, London and is published in Hai-Wai Yi-Chen, Chinese Art in Overseas Collections – Buddhist Sculpture II, Taipei 1990, cat. no. 150, p. 156. An example of a gilt-bronze Bodhisattva Manjushri with a ruyi-shaped crown dated to 13th century Song dynasty was published in The Crucible of Compassion and Wisdom: Special Exhibition Catalogue of the Buddhist Bronzes from the Nitta Group Collection at the National Palace Museum, Taipei 1987, cat. no. 103, p. 199.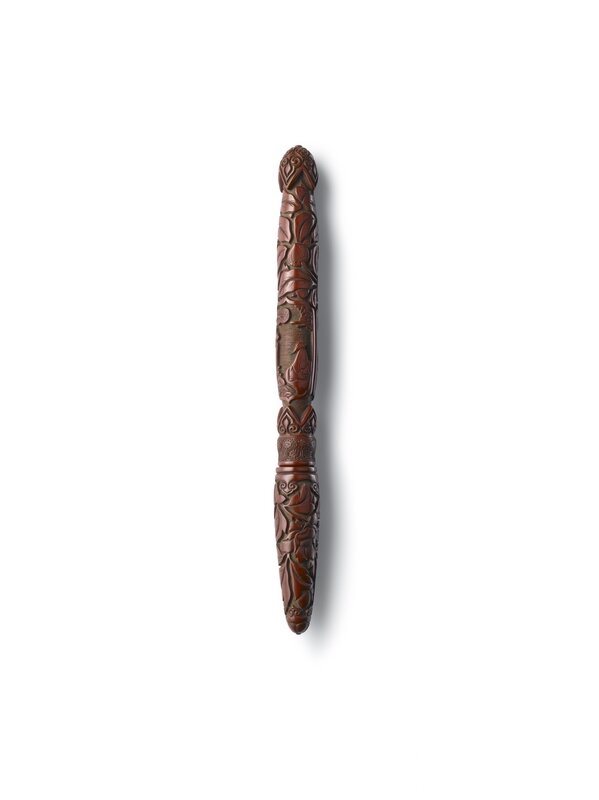 Cinnabar Brush and Cover, China, Ming Dynasty, 15th Century. Lacquer. Length (Including Cover) 21.5 cm (8.5 in.). © Maria Kiang Chinese Art
The brush is deeply carved from a single section covered with layers of vermillion lacquer. The lower handle of the brush depicts two scenes within bracketed registers above a diaper ground. One scene shows an elderly bearded scholar meditating against a cliff overlooking a waterfall landscape. The reverse scene shows two attendants, one holding a qin wrapped in cloth followed by a younger attendant carrying a basket.
The upper handle and the brush cap are carved in similar fashion. The brush cap depicts a perched bird and a camellia within a shroud of thick, leafy foliage, extending to the upper handle carved with budding camellia flowers. The tip and neck of the brush are decorated with a guri design carved in high relief.
A cinnabar lacquer brush of similar shape and carving style depicting a scholar and his acolyte is published in Chugoku Bijutsu no Iki: Bunbo Seika 中国美術の粋:文房精華, Tokyo 2007, pp. 16-17.
Maria Kiang established Maria Kiang Chinese Art in 2006. Over the past decade, she has developed an international reputation as one of the leading specialists in Chinese Antiques, notably in the field of Scholar's Objects, Buddhist art and Song ceramics. Maria Kiang has regularly exhibited at major international fairs in Hong Kong, New York and Beijing.
Maria Kiang Chinese Art at TEFAF New York Fall 2017, Stand 44. Primary Address: 35EF Palatial Crest, No. 3 Seymour Road, 0 Mid-Levels, Hong Kong SAR. T +85297614961 - info@mariakiangchineseart.com - http://www.mariakiangchineseart.com