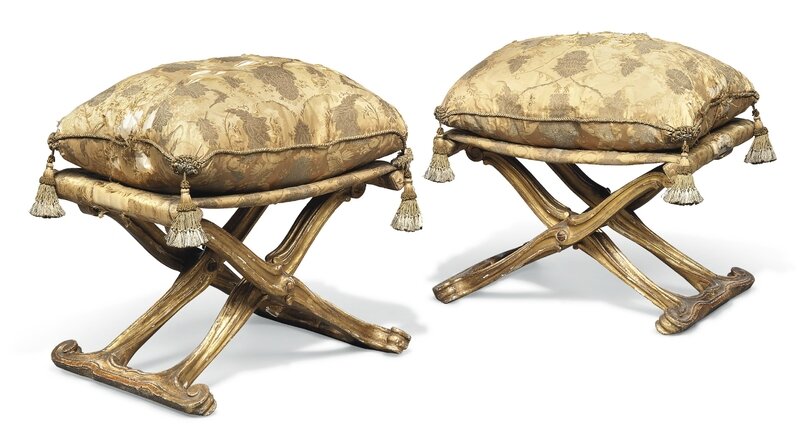 Nicolas-Quinibert Foliot, Pair of Royal Louis XV Pliants, Circa 1755-59. Giltwood, 69 x 71 x 52 cm (27 x 27.9 x 20.5 in.). © BURZIO
Each with a loose cushion upholstered in yellow damask above a turquoise silk damask probably original, on a folding X-form molded and scrolling frame branded with crowned 'ML' in a circle, incised respectively with inventory numbers '10820' and '10822', red painted numbers '6522' and '6520', and with black painted inventory number '473', one with an inventory number 'C. 110' and with further inventory marks and labels.
This pair of pliants, or folding stools, is of a specific model which was almost exclusively supplied to the Royal court. The crowned 'ML' brands and various inventories numbers, allow us to trace their provenance back to one of the most iconic patrons during the reign of Louis XV, his daughter Madame Louise-Elizabeth, Madame Infante, Duchess of Parma (1727-1759).

Madame Louise-Elizabeth de France was the eldest daughter of Louis XV, who in 1739 married Infant Don Philippe of Spain. In 1748, as a result of the Treaty of Aix-la-Chapelle, she became duchess of Parma and she and her husband established their court in the most fashionable French taste. Madame Infante made three visits to Paris - in 1749, from September 1752 until September 1753 and from September 1757 until her death in December 1759 - each time making extraordinary purchases, both in quailty and quantity of bronzes d'ameublement and mobilier to furnish her palaces in Parma. The best known examples being the two chandeliers by Jacques Caffieri delivered to her favourite residence at Colorno, now in the Wallace collection (Num. F83 and F84). On her return from the first two visits she was followed by thirty-four and fourteen wagons respectively. such as the pair stamped by him at Versailles (inv. V4949; V4950) and the pair he probably supplied to the Royal Court of Sweden, subsequently sold Christie's, Paris, 24 June 2002, lot 160. It is also known that numerous French craftsmen were working in Parma for the court.
This pair of stools are branded ML, a mark placed on all furniture in the Royal palaces of the Duchy of Parma during the governorship of Archduchess Marie-Louise of Austria between 1816 and 1847, who inherited the palaces and their contents previously furnished by Madame Elizabeth. Another group of pliants of this model, part of a set of six and almost certainly originally from the same suite, is now in the Palazzina di Stupinigi near Turin, and is illustrated in A. González-Palacios, Gli Arredi Francesi, Milan, 1995, p.56. This set also bears the brand of Marie-Louise of Austria as well as the brand CR separated by a crown. This latter brand was applied in 1855 on the orders of the duchesse Louise Marie Thérèse d'Artois, widow of Carlo III, to the furniture in the ducal palaces in the duchy of Parma. When not followed by a further letter, such as a C for Colorno, the pieces in question were probably either located in the Ducal Palace in Parma or in the Garde-Meuble. In all likelihood the present pair of stools was originally part of this suite, remaining in Parma throughout the reign of Marie-Louise but presumably having left before the 1855 inventory was carried out which would explain the presence of the ML brand and the absence of the CR brand. Another pair of related pliants, of similar shape but carved with entwined floral garlands, probably from the same workshop, also bear the ML brand. This pair is marked 'C. 1313' indicating they were originally placed at Colorno and was part in the 20th century of the collection of Arturo López Willshaw, sold at Sotheby's, Monaco, 23-24 June 1976, lot 107. The 'C. 110' mark visible on the present stools, could possibly indicate they were originally placed at the Palace Colorno.
Provenance: Almost certainly delivered circa 1755-59 to Madame Louise-Elizabeth (1727-1759), Madame Infante, Duchess of Parma and daughter of Louis XV, for one of her palaces in the Duchy of Parma; Marie-Louise of Austria (1791-1847), wife of the Emperor Napoleon I, Duchess of Parma; Acquired from Giuseppe Rossi, Turin, 1968.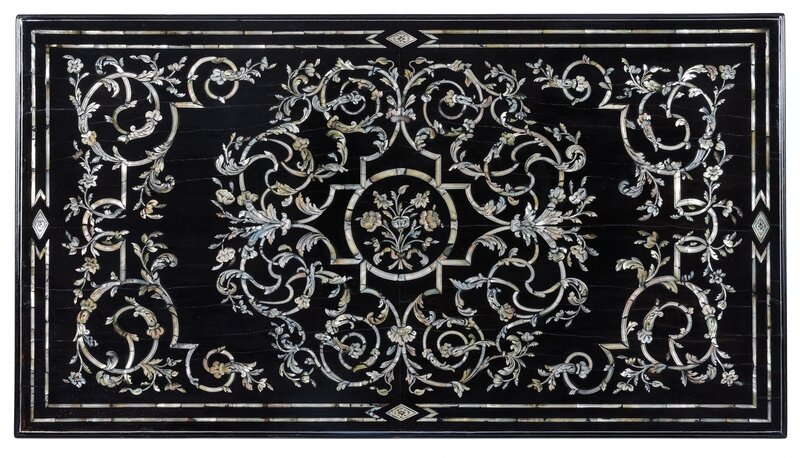 Venitian Barque table top. Ebony mother of pearl and metal inlaid. © BURZIO
Burzio family has been dealing in fine art for the last three generations, with a specialisation in european decorative arts, Laura and Luca desire is to share their expertise and passion for the subject with both major institutions and private collectors. As last year we are very proud to partecipate at Tefaf Fall second edition.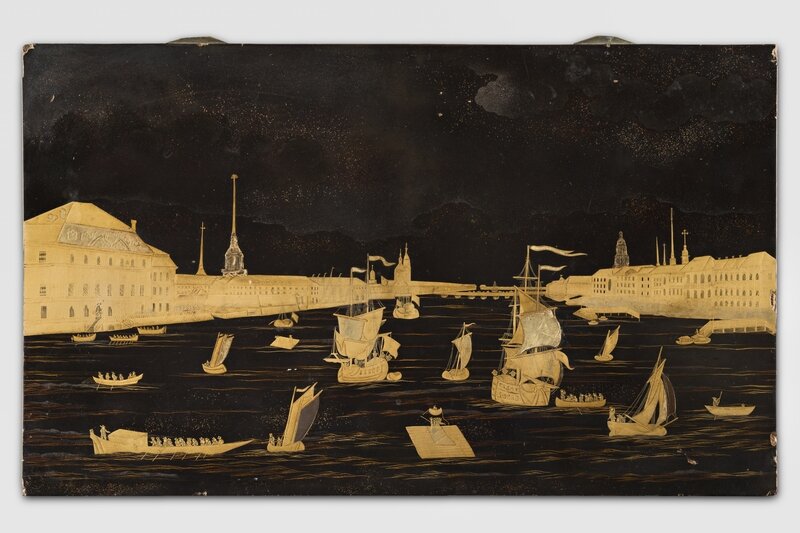 A Very Fine Makie lacquer-work plaque of St. Petersburg view. Japanese export, Late XVIII Century. Height: 9in. (23cm). Width: 15,3 in. (39 cm). © BURZIO
St.Petersburg view, in the foreground the Neva river, on the left the Winter Palace and on the right the Academy of Science; in the back side on center of the plaque there is an inscription in gold relief written in French that reads "Vue Perspective des Bords de la Neva en descendant la Rivière entre la Palais d'hyver de sa Majesté Impériale et les batimens de l'Académie des Sciences à St Petersburg",surrounded by mother-of-pearl branches inlaid.
Provenance: French private collection
Literature: ● Published in O.Impey, Ch. Jorg, Japanese export lacquer 1580-1850, ed. Jorge Welsh, 2005, p.52.
● Another lacquered copper panel example depicting the scene of St. Petersburg is in the collection of the National Museum of Japanese History in Sakura, Chiba, Japan, it is recorded in their periodical magazine Rekihaku No. 120, 'A Witness to History'.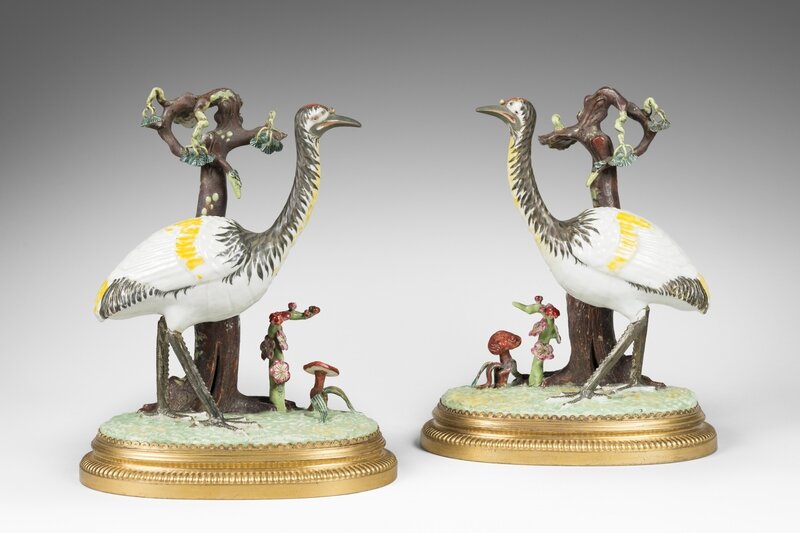 A very rare pair of Louis XVI ormolu-mounted Chinese Qianlong porcelain cranes (1736-1795). Height: 10,23 in. (26 cm). Width: 7,9 in. (20 cm). © BURZIO
With French cold parcel painted over decoration, as models of crane birds, each with plumage rendered in a very naturalistic way with white, black, yellow and red crest that are typical of these animals, resting on a green lawn base, decorated with mushrooms, flowers and tree trunk in various colours above an oval Paris ormolu Louis XVI base.
Provenance: French private collection
Literature: Another pair of chinese porcelain cranes are exhibited in Jacquemart André museum
A related similar pair without ormolu mounts Christie's, Paris, 13 April 2010, n°229.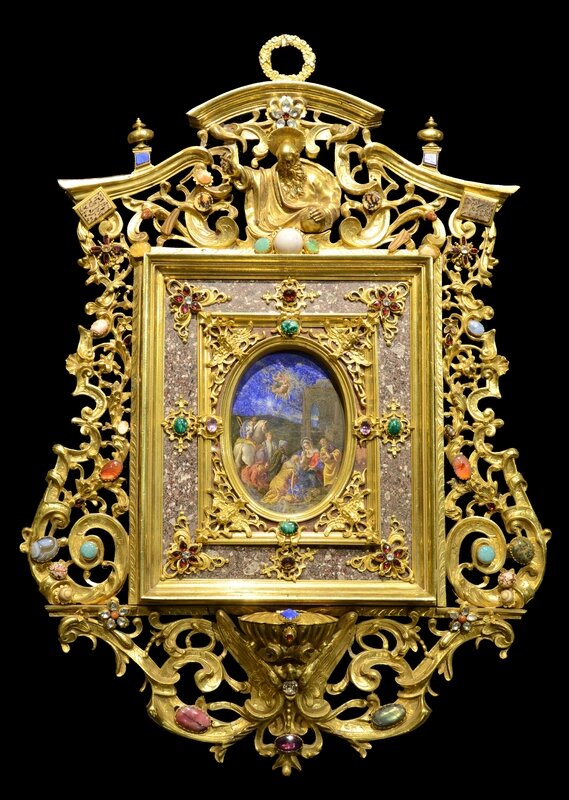 After Jacopo Bassano (1510-Bassano del Grappa-1592), Bassano Family Workshop, Holy Water Stoup showing The Adoration of The Magi, Circa 1600, Rome. Oil painted on oval Lapis, Ormolu richly pietre dure mounted frame, 47 x 51 cm (18.5 x 20 in.) © BURZIO
BURZIO at TEFAF New York Fall 2017, Stand 47. Primary Address: 38, Dover Street. At R+V. London, W1S4NL, United Kingdom. T +447502571587 - info@lucaburzio.com - www.lucaburzio.com