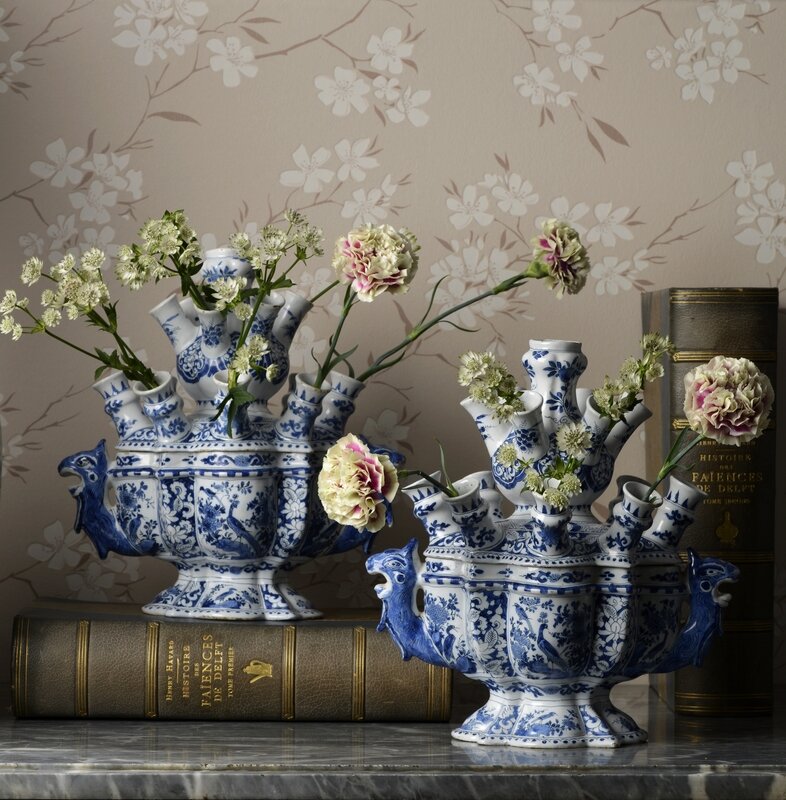 Pair of blue and white bowl and cover flower vases, Delft, circa 1695. Delftware, 29.2 x 29.5 cm (11.5 x 11.6 in.). Each marked 'AK' in blue for Adrianus Kocx, who was the owner of De Grieksche A (The Greek A) factory from 1686 to 1701. © Aronson Antiquairs
Provenance: A Dutch Noble collection
Pair of Polychrome Figures of Seated Dogs, Delft, circa 1770. Delftware. Heights 20.1 and 20.4 cm (7.9 and 8 in.). © Aronson Antiquairs
Provenance: Private collection, Belgium
Pair of Polychrome Figural Candlesticks, Delft, circa 1780. Delftware. Each marked 'A / i vd B / 106' in blue for Jan van den Briel, the owner of De Grieksche A (The Greek A) factory from 1768 to 1783, or his widow Petronella van der Laan from 1783 to 1796. © Aronson Antiquairs
Provenance: Collection Nijstad, Lochem
Literature: Meesterwerken uit Delft, exh. cat., Delft 1962, p. 79, no. 219
Exhibition: Delft, Museum Het Prinsenhof, Meesterwerken uit Delft, June 2 - August 15, 1962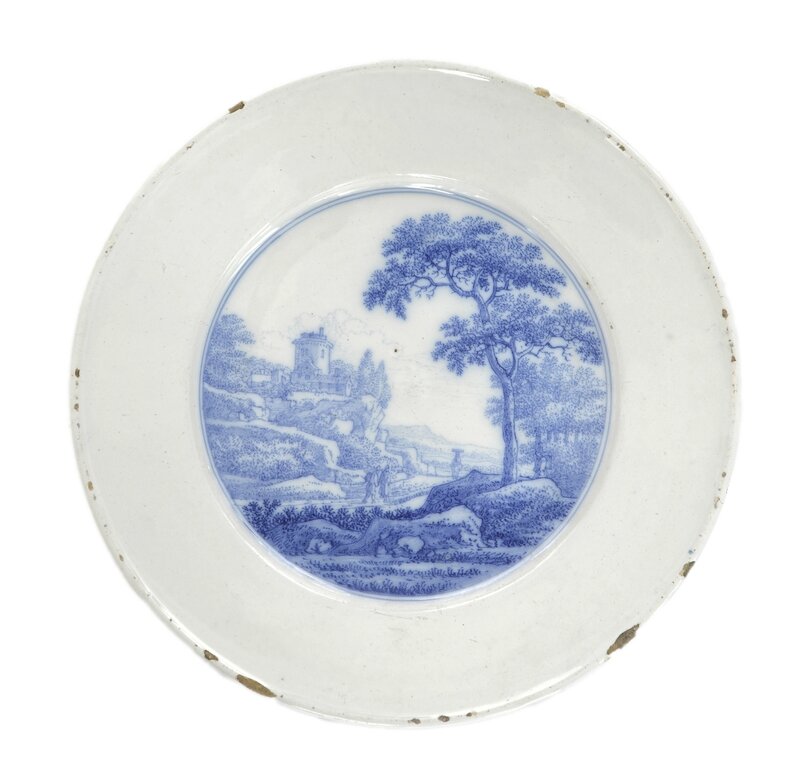 Attributed to Frederik van Frijtom (1632-1702), Two Blue and White Plates, Delft, circa 1680. Delftware. © Aronson Antiquairs
Frederik van Frijtom is Holland's most renowned painter of seventeenth century Delftware. These two plates display characteristic details of Frederik van Frijtom's painting style. With broad white borders, a result of the double white method, the attention is drawn towards the depth and light of the blue and white landscape scene. In a manner unique to Van Frijtom, he painted landscapes with various shades of blue, using fine outlines and thousands of minuscule dots. His precise landscapes were strongly inspired by the etchings and drawings of artists who undertook the Italian Grand Tour. They show, rather symbolically, the traces of mankind amongst the grandeur of nature. Van Frijtom's landscapes are composed from several different planes and scenery to create the suggestion of space. Often, the foreground is painted with a tree or shrubbery using small pointillist touches, with ancient ruins or buildings on a hill in the distance. In between these scenes, small and graciously draped figures are passing through the landscape by foot or horse. By painting the hills on the horizon in a very light, almost vanishing blue, Van Frijtom achieved the unusual sense of depth in this panoramic hill landscape. These two plates fit so well within his oeuvre that they can be attributed to Frederik van Frijtom with certainty.
Provenance: One in an anonymous sale; Sotheby's London, 26 December 1983, Lot 29; the other in an anonymous sale; Sotheby's London, 8 December 1981, Lot 133.
Since 1881 and over five generations Aronson Antiquairs has shared the passion for Dutch Delftware with private collectors and museum and corporate curators around the world. The Aronson family members have strived to gain and maintain the confidence of its clientele to collect the finest Delftware available.
Aronson Antiquairs at TEFAF New York Fall 2017, Stand 57. Primary Address: Nieuwe Spiegelstraat 45-b, P.O.Box 15556, AMSTERDAM, Netherlands. T +31206233103 - mail@aronson.com - www.aronson.com