NEW YORK - After a successful debut show last year TEFAF returns to New York this fall. The Fair provides a vital, transatlantic meeting ground for a global community of dealers, collectors, curators, interior designers and art-and-antique enthusiasts.
Lewis Smith, Director of Koopman Rare Art said: "As a long-standing exhibitor at TEFAF Maastricht, we were extremely pleased to have been selected as one of the 94 world class art dealers to take part in TEFAF's first ever Fair outside Europe. New York responded enthusiastically to this illustrious new Art fair, with its immaculate European pedigree. The result was exciting, interesting and definitely positive drawing new clientele from around the world.
"Interestingly very few of the visitors to the new TEFAF New York had ever been to TEFAF Maastricht so it proved to be an excellent shop window into this major European art event. With no exception, the breadth, variety and above all superlative museum quality of the works of art on display surprised and delighted the appreciative audience.
"From our own perspective the combination of sales, interest and important access to potential new clients at all levels made exhibiting at the debut TEFAF NY Fair an extremely positive, encouraging experience and we are looking forward to exhibiting again this year."
Highlights to be shown at TEFAF New York Fall on the Koopman Rare Art stand include: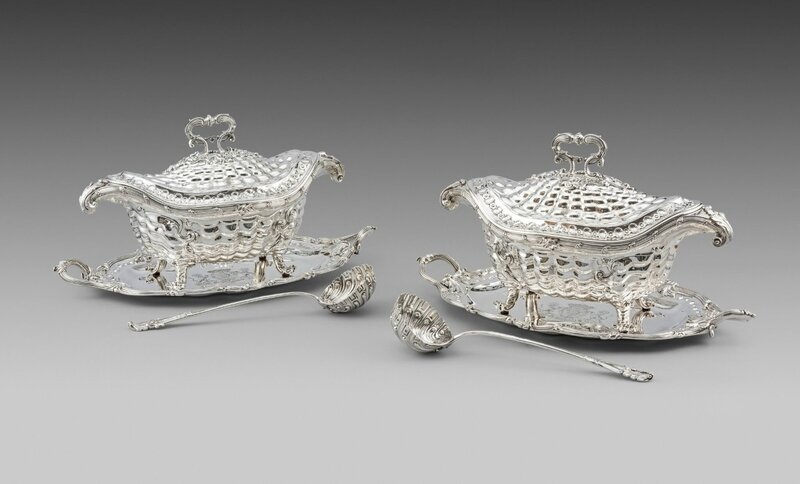 An outstanding pair of fabulous George II silver soup-tureens, each with a cover, stand and ladle. Dated London, 1755 the tureens bear the maker's mark of Edward Wakelin and were supplied by George Wickes & Samuel Netherton, who were among the leading goldsmiths and retailers of the day. They were commissioned by the 9th Earl of Exeter for Burghley House. Asking price in the region of £575,000. © Koopman Rare Art
They were commissioned by the 9th Earl of Exeter, who is recorded as having ordered more than 5,000 ounces of silver and silver-gilt in the mid 1750s for his country seat, Burghley House. Some of the silver still remains at Burghley to this day.
The tureens are oval in shape and are chased overall with a strikingly original wave and scroll pattern with foliage-capped scroll handles. The stands of the tureens are engraved with a coat-of-arms, the ladles engraved with a crest.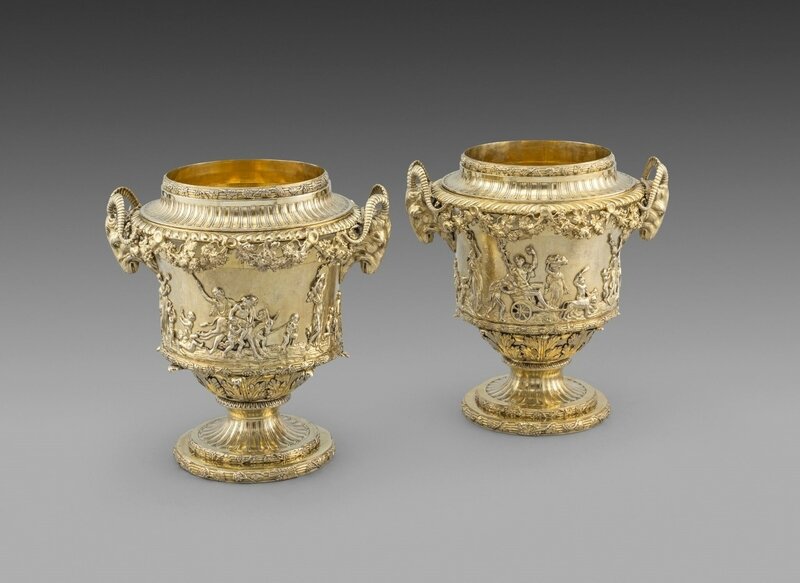 A highly important pair of Royal George III silver-gilt wine coolers bearing the maker's mark of Joseph Preedy. The bases are engraved with the Royal garter below a Royal Ducal coronet for Ernest Augustus the Duke of Cumberland (1771-1851), who became the King of Hanover in 1838. Asking price in the region of £135,000. © Koopman Rare Art
Each of the heavily cast wine coolers is elaborately chased with fluted and laurel bases and the bodies are decorated with acanthus leaves, friezes of bacchanals, together with openwork grapevine garlands and the rim linking rams' head handles.
The bases are engraved with the Royal garter below a Royal Ducal coronet for Ernest Augustus the Duke of Cumberland (1771-1851), who became the King of Hanover in 1838. He was the fifth son of George III and Queen Charlotte, and like many of his brothers, including the Prince of Wales, was an avid patron and collector of fine silver.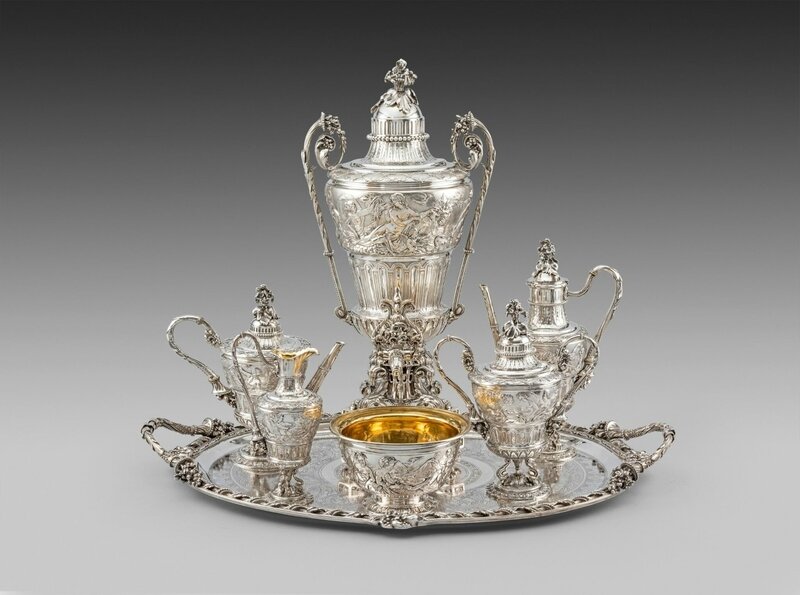 A magnificent six-piece silver tea & coffee service together with a tray by the famous French silversmith Gustave Odiot, made in Paris circa 1870. Asking price in the region of £125,000. © Koopman Rare Art
Each of the six pieces (tea urn, coffee pot, teapot, covered sugar bowl, cream jug and waste bowl) is decorated with fantastical scenes of Poseidon, Amphitrite, and their children abreast of dolphins. The looping handles terminating in cornucopia, while the finials are formed as a floral spray.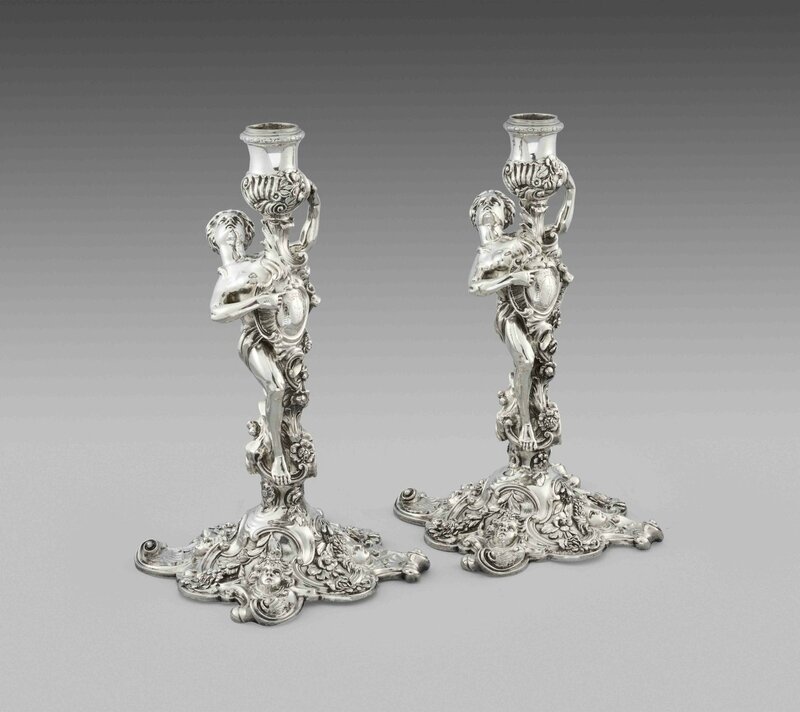 An exceptional pair of George II figural silver candlesticks made in London in 1747 by Charles Frederick Kandler. Asking price in the region of £58,000. © Koopman Rare Art
Not much is known about the silversmith Kandler, but there is a suggestion that he was related to the Meissen porcelain sculptor Johann Joachim Kandler, which would explain the fabulous sculptural quality of these candlesticks.
The candlesticks sit on square cast bases with rocaille shell and floral decoration together with four masks depicting the seasons, while the stems are formed of figural maidens looking skyward towards the flames and holding a cartouche engraved with crest and motto of Wemyss Charteris Douglas (1772–1853), the 8th Earl of Wemyss and the 4th Earl of March.
A pair of Victorian figural vases by Paul Storr (1771-London-1844) and John Samuel Hunt, London, 1838-1849. Silver. Height 38.8 cm (15.3 in.). Weight 11,983 g (385oz 5dwt). Maker's mark of Paul Storr & Hunt and Roskell, stamped with the retailer's mark of 'HUNT & ROSKELL, LATE STORR & MORTIMER'. © Koopman Rare Art
The cast rocky triangular bases each with four tritons, the bowls formed as overlapping water lily pads embellished with buds and blooms, the figures Paul Storr, London, circa 1838, each figure engraved on the right arm: 'Published as the Act directs by Storr & Mortimer 156 New Bond Street London Octr. 17 1838' and each right hand engraved: 'No. 130,' the bases stamped: 'HUNT & ROSKELL LATE STORR, MORTIMER & HUNT 4158'
The bowls of these vases are of the same lily pad design as those of a pair of wine coolers made at Hunt & Roskell in 1848 for presentation to Edward, 1st Earl of Ellenborough (1790-1871). Instead of tritons, their bases supported figures illustrative of life in India in commemoration of the Earl's tenure as Governor-General there between 1842 and 1844. The coolers were part of a service which Queen Victoria and Prince Albert were shown at Hunt & Roskell in February 1848, for which they 'were graciously pleased to express their high admiration.' (The Morning Chronicle, London, 16 February 1848, p. 6d)
Although Hunt & Roskell employed the services of several artists at this time, including Frank Howard (1805-1866) and Alfred Brown, both of whom began their association with the firm in the mid-1840s, they worked under the superintendence of the sculptor Edward Hodges Baily (1788-1867). It is he to whom the design of these and the Ellenborough coolers has been attributed. The concept was not new, however; a book of miscellaneous prints of designs for vases inscribed 'No. 202 Storr & Mortimer 13 New Bond Street,' which must have been known to Baily, includes an engraving after Jacques-François Saly (1717-1776) in which a shell-like vase is supported by tritons. In 1841 Mortimer & Hunt , Hunt & Roskell's predecessors, produced a very similar caviar pail for the Russian Prince Worontsov-Dashkov (Sotheby's, London, 3 July 1969, lot 249; Carnegie Museum of Art, Pittsburgh, Joan B. Lappe-Bowman Bequest). These naturalistic forms, so brilliantly adapted for silver at Hunt & Roskell during the 1840s, probably found their most extreme expression in the shell and coral pattern tea and coffee set, London, 1849, which they showed at the Great Exhibition of 1851 (John Culme, Nineteenth-Century Silver, London, 1977, pp. 158 and 159)

E.H. Baily began working under John Flaxman for Rundell, Bridge & Rundell while still a student and when Flaxman died in 1826 he became Rundell's chief designer and modeller. In this post he inevitably worked most closely with Paul Storr, who until February 1819 was in charge of the firm's silver manufactory in Dean Street, Soho. Storr subsequently set up his own factory in addition to going into partnership two years later with John Mortimer to form the retail business of Storr & Mortimer, goldsmiths and jewellers, in Bond Street. Baily joined the new firm and continued to work with Storr and his successors until 1857.
Provenance: Sotheby's, New York, 27 April 1992, lot 256; private collection, UK.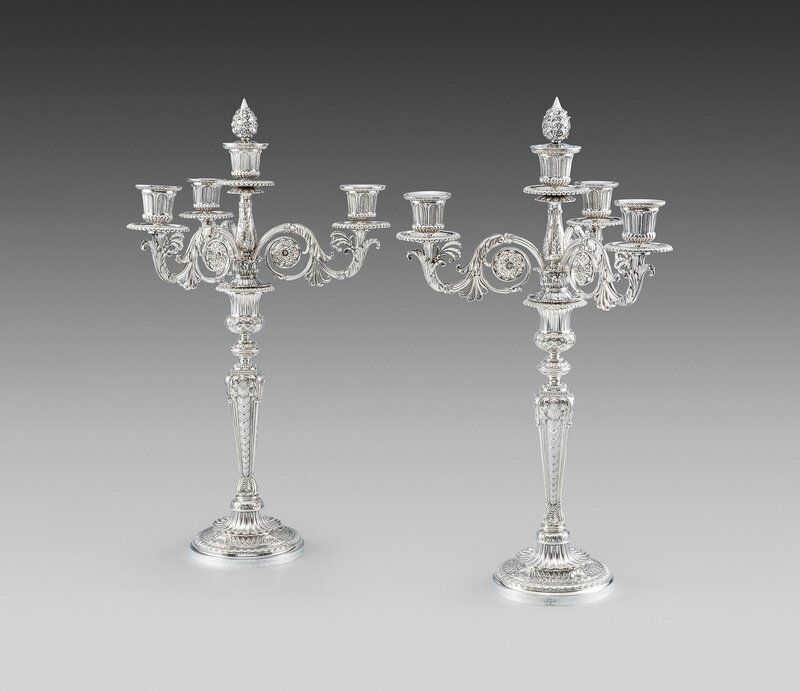 A pair of George III Four-Light Candelabra by Paul Storr (1771-London-1844), London, 1811. Silver. Height 69.8 cm (27.5 in.). Weight 11,480 g (369oz 2dwt). Maker's mark of Paul Storr. © Koopman Rare Art
Each candelabra on circular base with tongue-and-dart border and foliate diaperwork with shells at intervals, the fluted base supporting a tapering square stem with lappet band and shell and acanthus shoulder, the fluted campana-form socket with conforming foliate diaperwork, the detachable three-arm branch with reeded, acanthus-clad stems with paterae, supporting three tongue-and-dart waxpans, leaf-clad sockets and gadrooned nozzles, the central baluster-form standard supporting a conforming socket, with detachable ivy and berry bud finial, each drip pan, sconce and base engraved with the crest of a bee. The bases also stamped with the inscription 'RUNDELL BRIDGE ET RUNDELL AURIFICES REGIS ET PRINCIPIS WALLIAE LONDINI FECERUNT', fully marked. The bases and branches with model no. 724.
These candelabra represent one of Paul Storr's most successful models. The earliest surviving pair of Storr candelabra with bases of this design was made for the 9th Duke of Bedford in 1807, the year that Storr became the director of the workshops of Rundell, Bridge & Rundell (illustrated in N.M. Penzer, Paul Storr, 1954, p. 126, and sold Christie's, London, 14 June 1950, lot 117). Other examples, all dating to 1808, include a silver-gilt pair, sold at Christies 22 May 2008, lot 145, and those in the collections of Morrie Moss, the 1st Earl Beauchamp, Koopman Rare Art, the 5th Earl of Chesterfield, and the Estate of Charles and Yvette Bluhdorn (illustrated, respectively, in The Lillian and Morrie Moss Collection of Paul Storr Silver, 1972, p. 97; Sotheby's, London, 11 February 1971, lot 243; Koopman Rare Art, Silver from a Gilded Age, 2005, p. 35; Sotheby's, London, 15 February 1988, lot 118, with branches by Garrard; and Sotheby's, New York, 13 October 2007, lot 27). Another pair of 1808 was sold anonymously at Christie's, London, 10 December 1958, lot 70.
Award-winning Koopman Rare Art, founded by Jacques and Eddy Koopman in 1952, are the pre-eminent dealers in antique silver. They have traded from their luxurious premises in the City of London since 1969. Over the years they have helped form some of the most celebrated collections of silver in the world, including those of His Excellency Mahdi Mohammed Altajir, the Whiteley Trust and the private collection of Australian businessman Kerry Packer. They have also sold important silver to major museums including the Metropolitan Museum of Art in New York and the Victoria and Albert Museum in London.
Koopman Rare Art stock a wide range of antique silver for all requirements from tea and coffee services, trays, salvers and coasters, through to important centrepieces, candelabra and garnitures. Smaller items such as sweetmeat baskets, punch strainers, babies rattles and amusing Victorian novelty salts
are also represented, in addition there is a choice selection of gold boxes and objets de vertu. All the great names in the history of European silversmithing are featured and the silver can be viewed in Koopman's galleries situated at the entrance to the famous London silver vaults on Chancery Lane.
Koopman Rare Art at TEFAF New York Fall 2017, Stand 89. 53-64 Chancery Lane, London WC2A 1QS. Tel: 0207 242 7624 -
info@koopmanrareart.com - www.koopman.art