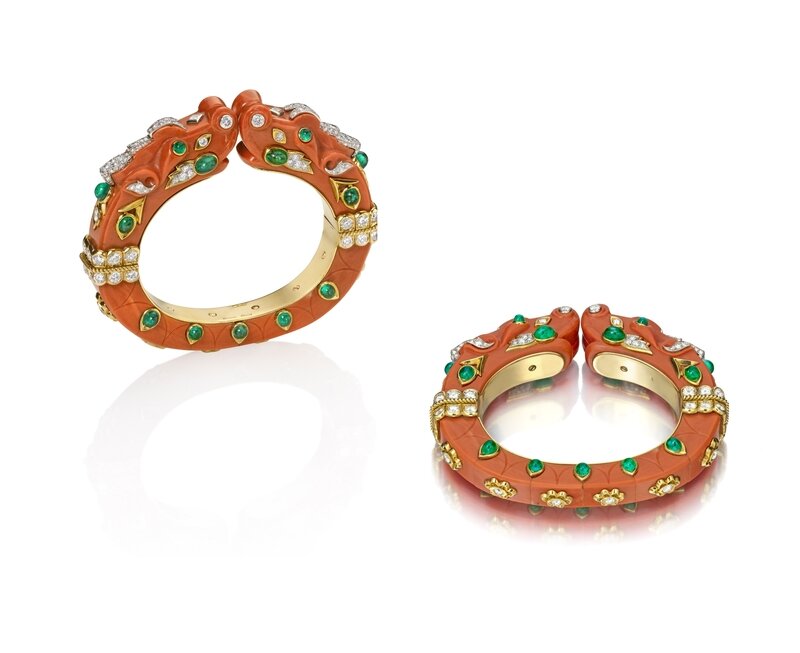 Cartier, Carved Chimera bangle, Paris, 1954. Coral, 24 cabochon emeralds, yellow gold and 116 mixed-cut diamonds, 8.4 x 7.1 x 2 cm (3.3 x 2.8 x 0.8 in.). Signed 'Cartier Paris', numbered N6648 and with French assay marks © Siegelson
A bracelet designed as two carved coral chimera heads set with round and oval cabochon emeralds and square, round, and circular-cut diamonds, the hinges set with round diamonds in yellow gold and each swivels open in the opposite direction; mounted in platinum and yellow gold,
In 1923, Louis Cartier created a cliquot pin with a pink coral chimera head studded with diamonds and emeralds set in gold and platinum. This important pin was the first of the Art Deco chimeras and what would become an iconic Cartier form. The Chimera is a mythological figure with roots in many ancient civilizations typically depicted with the head of a lion, body of a goat, and tail of a dragon. The Chinese chimera, the figure that most closely relates to the Cartier form, is a symbol of longevity and success interchangeable with a dragon. Cartier went on to create several chimera bracelets from 1927 to 1929.
In 1933 Jeanne Toussaint took over as director of the luxury jewelry department. She moved the company away from the structured jewels of the Art Deco and into more figurative pieces that brought playfulness to the dark times of World War II. Toussaint remained deeply connected to the design roots of the company—after all she was the inspiration for the panthère—and looked back to the important chimera bangles, reviving the design in the late 1940s when the Duchess of Windsor purchased a pink coral chimera bangle very similar to this one. Daisy Fellowes purchased an example in 1961 that is now in the Cartier Collection.
Designed as a cuff with two chimera heads, this piece recalls the antique form of bangles terminating in animal heads found in many ancient Middle Eastern and Mediterranean civilizations from Assyria to Greece. Louis Cartier combined the ancient bracelet form with the Chinese chimera mythology, and Toussaint modernized the design with oversized decorative motifs of Indian inspiration encrusted with diamonds and emeralds providing pops of color. According to Hans Nadelhoffer, this bracelet would have taken 250–300 painstaking hours for skilled artisans to create. Cartier designers created precise drawings for the Durand lapidary workshop where the bangle was carved from a particular pink coral stalk available from Japan only through the Italian dealer Borelli. The bracelet was then taken to the Lavabre workshop for jewel setting and the swivel mechanism. The completed jewel, uniting mythology, precious materials, and fine craftsmanship is a magnificent piece created for a woman of self-assurance and refinement.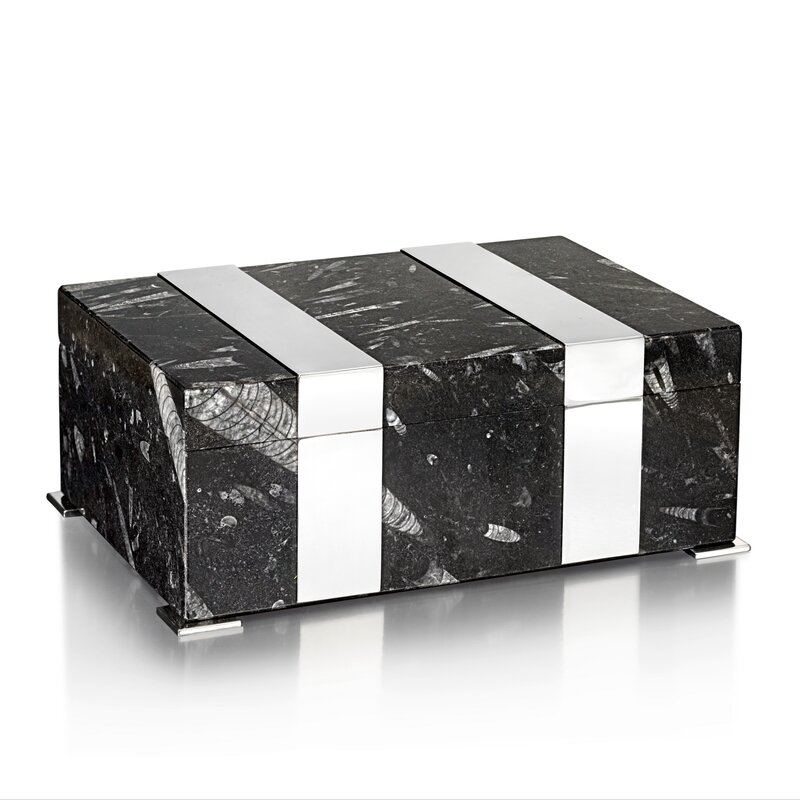 Cartier, Art Deco Boxby, Circa 1925. A box composed of panels of Orthoceras fossils (an ancient cephalopod related to the squid) banded by straps of polished sterling silver and with sterling silver feet, 9.7 x 23.6 x 16 cm (3.8 × 9.3 × 6.3 in.). Stamped 'Cartier' and with assay marks © Siegelson
Following the First World War a revolution in design occurred that allowed for an illustrious period of enlightenment and creativity. The ideal jewels and objects of the late 1920s rejected mass-production, strived for originality, and introduced the use of symmetry, geometry, and boldness in color and form.

The 1925 Paris Exposition Internationale des Arts Décoratifs et Industriels Modernes became the platform for all major jewelry firms to contribute to the definitive style of the Art Deco movement. For this exposition Cartier produced some of their greatest pieces and embraced modernism not only in their jewelry but in their objects as well.

For this casket, Cartier created a sleek rectangular form that embodies the Art Deco style of geometry and boldness in form. The box is created from the unusual hardstone material of orthoceros fossils. An ancient cephalopod related to the current-day squid, the fossils present with a unique needle-like geometric pattern. The polished sterling silver straps and feet embellishing the box pick up on the shimmering grey of the fossils and play against the texture of the stone.

Prior to the Art Deco era, Cartier created exquisite objet d'art from hardstones in the form of miniature plants and animals that were delicate and meant for display. After the war, discerning collectors sought out items that were functional as well as beautiful. By 1925, a more modern aesthetic required small useful pieces such as boxes, clocks, vanity cases and cigarette cases, seen as functional yet sophisticated with bold textures and clean lines. Cartier focused on including these items in their repertoire and Louis Cartier believed, "We must make it our business to build up our inventory that responds to the mood of the public by producing articles which have a useful function but which are also decorated in the Cartier style." With this orthoceros box, Cartier created an exquisite functional object, a true work of art.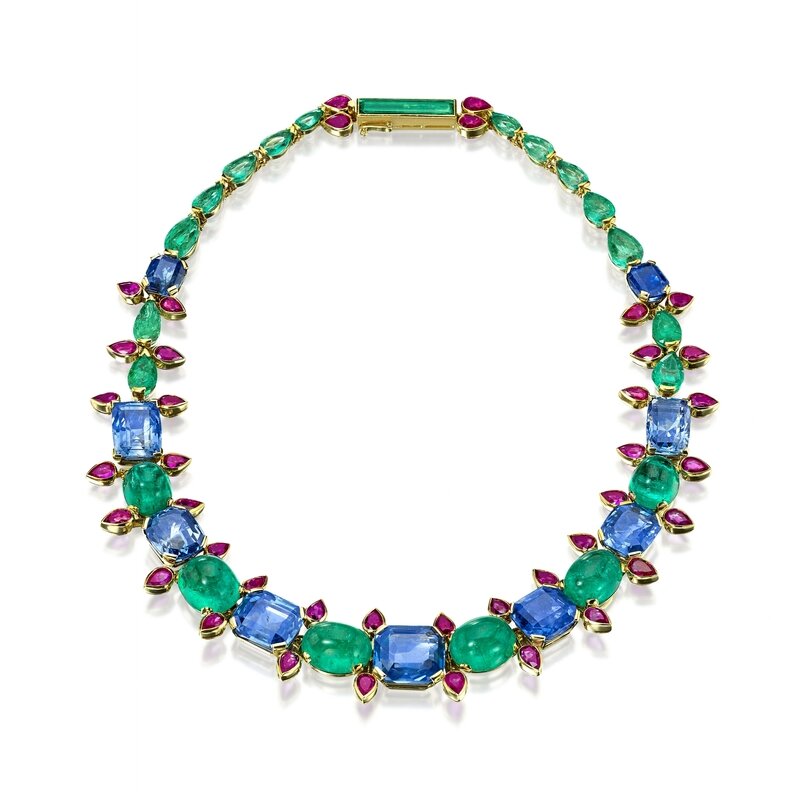 Suzanne Belperron, Hindu Necklace, Paris, circa 1948. 9 Emerald-cut sapphires, 6 cabochon-cut emeralds, 40 pear-shaped rubies, 14 pear-shaped emeralds and 1 baguette-cut emerald. Lenght 38.1 cm (15 in.). With maker's mark and certification, Olivier Baroin Certificate of Authenticity, no. 161221d Belp/PG/LS, dated December 21, 2016, stating the Hindu. © Siegelson
A necklace composed at the front of a graduated line of emerald-cut sapphires alternating with cabochon emeralds and set with pearshaped rubies at the corners of each stone, the back of the necklace completed with graduated pear-shaped emeralds and pear-shaped rubies, and a baguette-cut emerald on the clasp; mounted in yellow gold. The necklace was manufactured by Groené & Darde workshop for Suzanne Belperron.

India's influence on European jewelry grew out of the country's position as the center of the global gem trade during the Mughal period. Until the 18th century, India was the world's only source of diamonds, and the central hub for Columbian emeralds, Burmese rubies, and Sri Lankan sapphires. Traveling to India was a treacherous journey undertaken only by explorers and merchants, until after World War I, when advances in technology improved to accommodate affluent travelers from the West. In the early 20th century, Maharajahs brought their extraordinary gems to Parisian jewelers for mounting in modern designs. This interaction inspired many jewelers to incorporate the exotic motifs, vibrant color combinations, and ancient gem-cutting techniques of India in their designs.

Jewelry houses such as Cartier, Boucheron and Suzanne Belperron created outstanding jewels in the Indian style that are highly coveted today. Composed of a graduated series of sapphires and emeralds complemented with rubies, this Belperron necklace explores the aesthetic influences of India while modernizing the traditional approach. The color combination of blue and green was popularized in the 1920s by Cartier in their pieces incorporating Indian stones, but Belperron asserted her own style by juxtaposing the shapes and cuts of the stones in unexpected ways. The faceted sapphires and cabochon emeralds, stunning in color and texture, are enclosed by the leaf-like collet-set rubies, evoking the Indian boteh (paisley) form, based on the cypress tree, adding a hint of nature and alluding to the Tree of Life.

Belperron's design combines bold color and simplicity of shapes without over embellishment. The essence of India is felt in this necklace combined with Art Deco-era geometry and Belperron's signature use of bold curvaceous forms. Belperron, one of the most important jewelry designers of all time, created jewels for the most fashionable women from the Duchess of Windsor to Grace Kelly and Elsa Schiaparelli. She had her choice of commissions, and, once accepted, she worked closely with the workshops to make sure her vision for each client was perfectly realized. Her unusual style is still sought after by the most fashionable and knowledgeable collectors.
Literature: Raulet, Sylvie, and Olivier Baroin, Suzanne Belperron. Woodbridge, Suffolk: Antique Collectors' Club, 2011, p. 224.
Bulgari, Serpenti bracelet-watch, Italy, circa 1960. Coral, onyx and 98 diamonds, 7.1 x 5.8 cm (2.8 × 2.3 in.). Signed 'Bvlgari no. 585307' © Siegelson
A coiled snake bracelet of flexible sprung form composed of scales set with marquise-shaped diamonds and cabochon onyx and coral sections, the eyes set with pear- shaped diamonds and the hinged jaw opening to reveal a circular dial with baton and dot hour markers, within a diamond bezel; mounted in 18-karat gold; mechanical movement; with signed Bulgari leather case.

Considered one of Bulgari's most iconic designs, the Serpenti snake jewels are a stunning reinterpretation by the Italian jewelry rm of a ancient motif that embodies many notions such as power, wisdom, rebirth, healing, and eternity. Continually reworking the design, Bulgari began creating Serpenti jewels in the 1940s with their innovative tubogas links solely made of gold with their heads and tails encrusted in diamonds. By the 1960s, their designs evolved into more realistic creatures with scale links and they introduced the use of polychrome enamel and gemstones that quickly became highly sought after. Diana Vreeland, editor to Vogue and Harper's Bazaar, owned a Serpenti snake belt of cream and pink enamel, and Elizabeth Taylor wore a Serpenti bracelet- watch of gold and diamond in photo taken of her on set in her lm Cleopatra in 1962.

For this bracelet-watch by Bulgari, the sinuous reptile is a brilliant combination of goldsmithing, watch making, and the use of gem-set stones. Set throughout with diamonds, coral, and onyx, the array of materials is quite unusual and bold for a Serpenti. e complexity of the design requires each scale to be hand sculptured, gem-set and assembled together by gold pivots screwed together around a white gold spring resulting in the highly exible body. e Serpenti quickly coils around the wrist as though alive, which is achieved by the use of the spring inside. e watch face is cleverly hidden under the head and hinged jaw opens to reveal the dial. Each element of this jewel is exquisitely designed and impeccably made producing a wearable work of art.

Bulgari created fewer than 100 of these jewels from the 1940s to the 1960s, emphasizing the rarity of each one. While typical examples feature enamel, the most unique variations including hardstones command the highest prices and are highly coveted. is Serpenti bracelet-watch of coral, diamond and onyx is incredibly rare and exempli es the signature style of Bulgari.
Literature: Martin Chapman and Amanda Triossi, Art of Bvlgari: La Dolce Vita and Beyond, 1950–1990, New York 2013, pp. 60, 64–67, 124.
Siegelson is the most important dealer of 20th-century jewelry design in the world. A third generation American gallery, Siegelson has amassed the most beautiful and important collection of iconic works of art, attracting the best and most discerning institutional and private clients. Vogue Paris proclaimed "Lee Siegelson, New York's King of Jewelry."

The only gallery bridging the gap between fine art and jewelry design, Siegelson attracts an emerging generation of international buyers. The Financial Times said that "Lee Siegelson is at the vanguard . . . bringing antique and period jewelry out from its exquisitely carved ivory tower, and presenting it in a contemporary context . . . making it more relevant to fashion, style and today's international design and art?collecting community." President of Christie's Asia Francois Curiel said, "Siegelson demonstrates that at this level, the traditional barriers between jewelry and art disappear, and jewels which are one-of-a-kind become true works of art."

Siegelson is the jeweler museums turn to when mounting their most prolific shows, loaning more than 100 pieces to 25 museum exhibitions in the past decade, more than any other dealer in the world. In the exhibition "The Jazz Age" at Cooper Hewitt, Smithsonian Design Museum, more than 17 seminal examples of Art Deco design were loaned by Siegelson, or had been sold by the company to private or museum collection.

With a century of experience and an unparalleled collection of masterpieces, Siegelson represents uncompromising quality and design presented in a fresh way.
Siegelson at TEFAF New York Fall 2017, Stand 79. Primary Address: 589 Fifth Avenue, Suite 1501, New York, NY 10017, United States. T 212-832-2666 - info@siegelson.com - https://www.siegelson.com