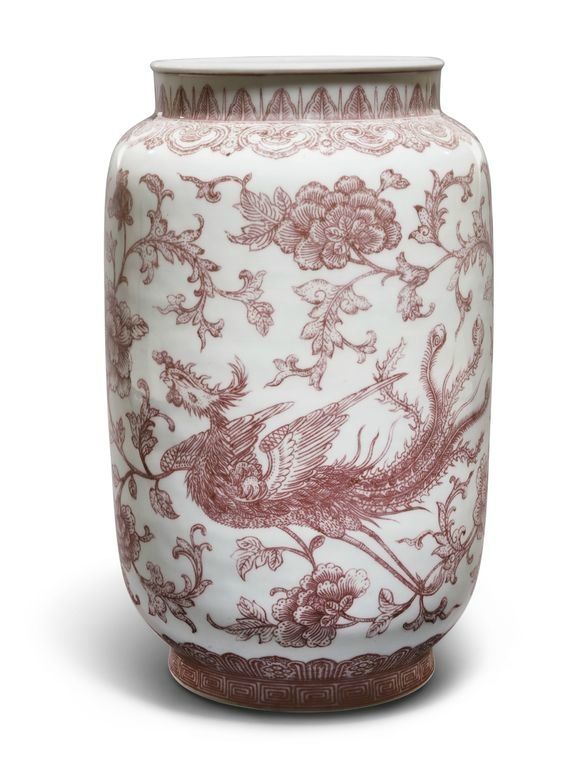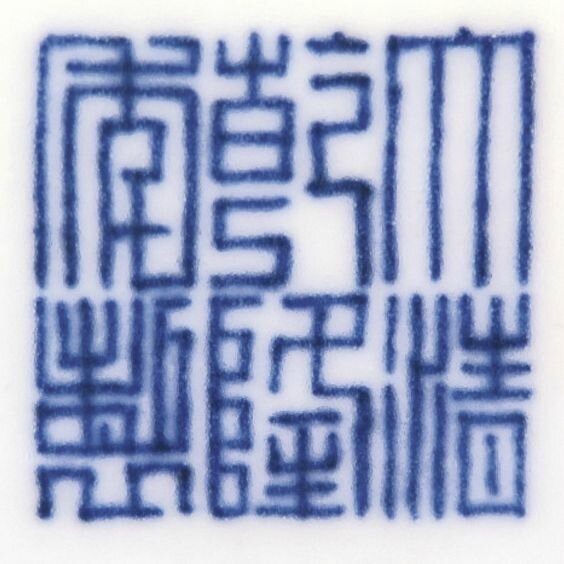 Lot 4. A copper-red 'Dragon and Phoenix' lantern vase, Qianlong seal mark and period (1736-1795), 25.5 cm, 10 1/16 in. Estimate 200,000 — 300,000 GBP. Unsold. © Sotheby's.
well potted with the cylindrical body rising to a short waisted neck and supported on a straight foot, superbly painted around the exterior with a lively writhing dragon and flying phoenix gazing at each other with claws and wings outstretched, their respective scales and feathers finely detailed, amidst an elaborate continuous meandering peony scroll, the foot skirted with a band of keyfrets and upright lappets, the neck and shoulder with a border of leaves and ruyi heads, the base with a seal mark in underglaze blue.
Provenance: European private collection, purchased in London between 1950 and 1975, by repute.
Note: The finely potted cylindrical body is endowed with a vitality through the superbly painted five-clawed dragon and phoenix, which represent the Emperor and Empress. The motif is rendered with extremely fine, almost pencilled, lines in underglaze red, which displays the technical advances made at the imperial kilns in Jingdezhen from the early Qing dynasty through to the Qianlong reign. A notoriously difficult pigment to apply and fire with success, copper red required extremely precise control of the firing temperature and the atmosphere inside the kiln. The resulting tone of the red was particularly important to the Qianlong Emperor, possibly due to the auspicious connotation of the colour, as evidenced in a court record of 1738, where the Emperor rated the colour of a copper-red meiping with dragon design, as not good enough (Feng Xianming, Annotated Collection of Historical Documents on Ancient Chinese Ceramics, Taipei, 2000, p. 232).
In both its decoration and form, this vase references China's glorious porcelain tradition. The dragon and phoenix rank as one of the earliest symbolic motifs from antiquity which continue to have resonance until today. These motifs of rank, importance and auspiciousness were formalised in the Yuan period (1279-1368) when three-clawed (princely), and five-clawed (imperial) dragons were used to decorate imperial objects. By the Ming dynasty the dragon and phoenix were joined in a symbolic imperial union, an image that continued to prevail at the Qing court and was commonly used on vessels made in various media. The cylindrical form derives from an early-Ming prototype, which was painted with a geometric design in underglaze-blue, such as one in the Freer Gallery of Art, Washington D.C., discussed by John Alexander Pope in Chinese porcelain from the Ardebil Shrine, Washington, 1956, pl. 138A, where he mentions its similarity to the ceramic 'albarello' shape first found in the Near East in the eleventh century.
The popularity of this design and the craftsmen's previously unattained command over the copper-red medium is evident in its use on vases of various forms from the Qianlong period; two unmarked pear-shaped vases were sold in these rooms, the first, 12th December 1989, lot 383, and the second, 11th November 2015, lot 49, also previously sold in our Hong Kong rooms, 27th/28th April 1993, lot 114; a meiping was sold in these rooms, 10th November, 2010, lot 84; and another from the Cunliffe collection, was sold at Bonhams London, 11th November 2002, lot 83, and at Christie's Hong Kong, 1st June 2011, lot 3925. Compare also Qianlong mark and period vases of facetted hu form, painted with phoenix among peony scrolls in underglaze-red; one from the Qing Court collection and still in Beijing, is illustrated in The Complete Collection of Treasures in the Palace Museum. Blue and White Porcelain with Underglaze Red (III), Shanghai, 2000, pl. 176, together with a lantern-shaped vase attributed to the preceding Yongzheng reign, painted in copper red and underglaze blue with phoenix among flowers, pl. 201; and another sold in our Hong Kong rooms, 29th November 1978, lot 281, and again in our New York rooms, 21st September 2006, lot 333.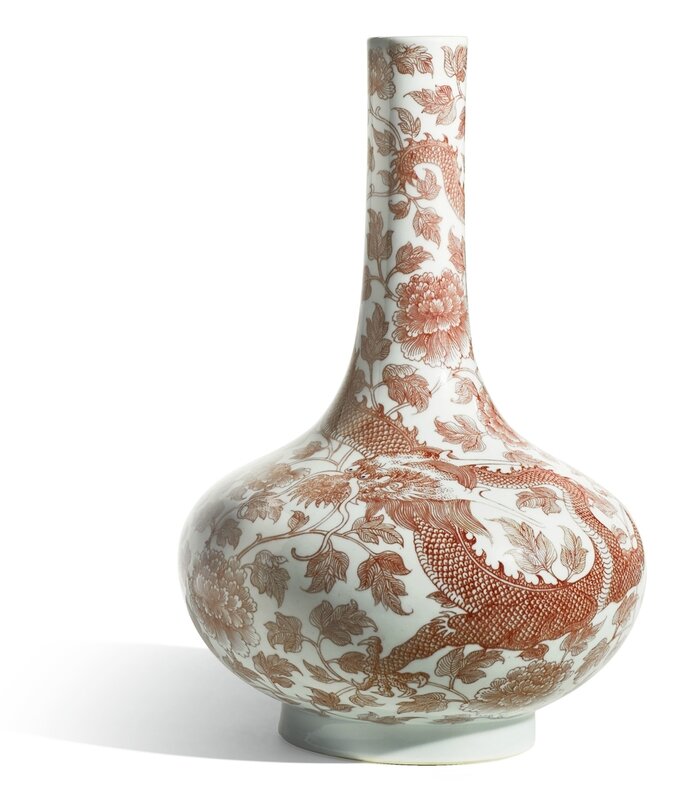 A rare copper-red 'Dragon and Phoenix' vase, Qing dynasty, Qianlong period (1736-1795). Sold for 100,000 GBP at Sotheby's London, 11th November 2015, lot 49. Photo Sotheby's.
Cf. my post: A rare copper-red 'Dragon and Phoenix' vase, Qing dynasty, Qianlong period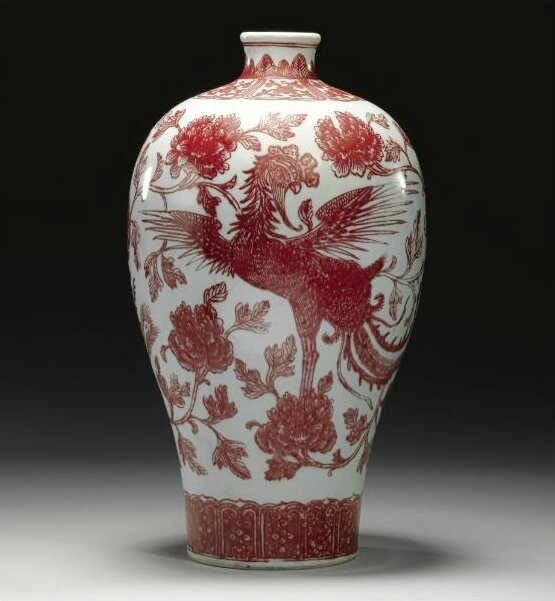 A rare underglazed copper-red 'Phoenix' meiping, Qing dynasty, 18th century, 35.5cm, 14in. Sold for 37,250 GBP at Sotheby's London, 10th November, 2010, lot 84. © Sotheby's.
Cf. my post: A rare underglazed copper-red 'Phoenix' meiping, Qing dynasty, 18th century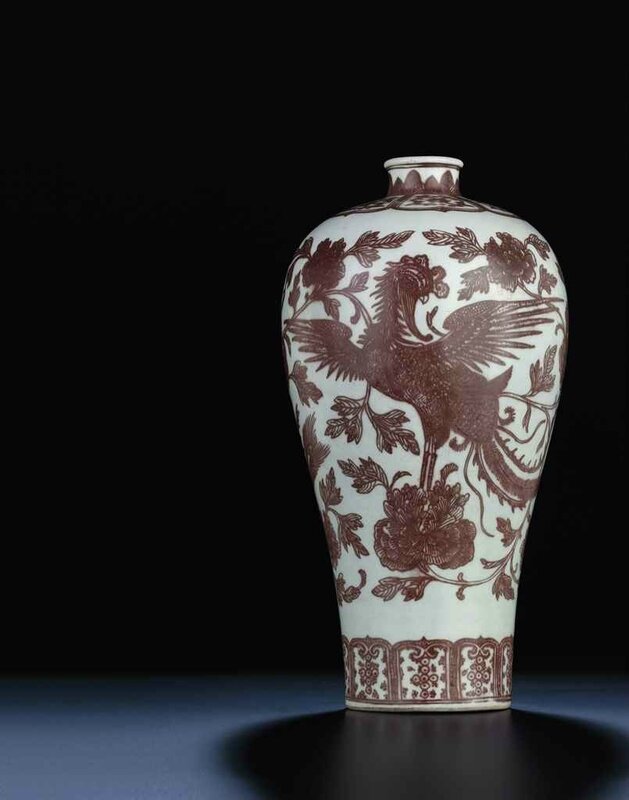 A fine and rare copper-red decorated baluster vase, meiping, Qing dynasty, 18th century, from the Cunliffe Collection, , 14 3/4 in. (37.5 cm.) high. Sold for 920,000 HKD at Christie's Hong Kong, 1st June 2011, lot 3925. © Christie's Images Ltd 2011
Cf. my post: A fine and rare copper-red decorated baluster vase,meiping, Qing dynasty, 18th century
Sotheby's. Important Chinese Art, London, 08 nov. 2017, 11:00 AM