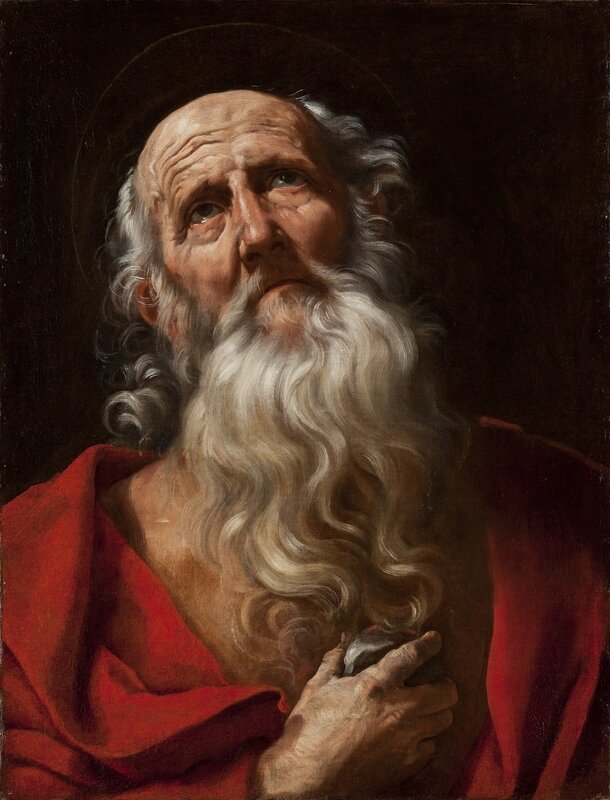 Guido Reni (1575-Bologna-1642), Saint Jerome, Circa 1605-1610. Oil on canvas, 65.1 x 50 cm (25 5/8 x 19 11/16 in.) © Galerie Canesso
The work was painted early in the artist's career, during the artist's Roman sojourn. Reni arrived in Rome at the end of 1601. In 1605 he paid early tribute to Caravaggio (1571-1610) in the Crucifixion of Saint Peter (Rome, Vatican Picture Gallery) painted for Cardinal Pietro Aldobrandini. This is the language used for the Saint Jerome, at a point when Reni, struck by the revolution brought about by the great Lombard painter, aimed to approximate his style as closely as possible.

The skilful use of chiaroscuro supports the figure's expressive and monumental aspects.
The artist's youthful style is reflected in the painterly freedom of handling, especially fluid in the hands and the great flowing beard and locks of hair, as well as in the swiftly-rendered stone. Carefully-studied light is mainly applied to the face: the saint seems bathed in his faith, and the sense of spirituality is accentuated by the bust-length format.
Provenance: London, Christie's sale, 8 December 2005, lot 45 (as Guido Reni); Private collection, Europe.
Literature: Véronique Damian, La Vierge enfant de Francisco de Zurbaran. Trois portraits par Simon Vouet, Pietro Martire Neri et Angelika Kauffmann. Tableaux bolonais, vénitiens et napolitains du XVIe et XVIIe siècle, Paris 2014, pp. 26-31; Francesca Candi, D'après le guide. Incisioni seicentesche da Guido Reni, Bologna 2016, p. 252; Carlo Cesare Malvasia, Felsina pittrice: Lives of Bolognese Painters, Volume 9: The life of Guido Reni, Elisabeth Cropper, Lorenzo Pericolo and Mattia Biffis, eds., London 2018, forthcoming.
Saint James the Greater. Oil on canvas, 74 x 64 cm (29.3 x 25.3 in.) © Galerie Canesso
Saint James the Greater, shown half-length and tending to a three-quarter profile, but with his gaze fixed decisively at the beholder, is here presented as a pilgrim, as indicated by his emblematic cockle shell – almost unobtrusively attached near his right shoulder – and by the solid staff on which he leans.
In our canvas, the Spanish painter, who had resided in Naples since 1616 and was at the summit of his technical brilliance and fame, lends a new, brighter tone to this religious icon by modulating the tenebrist manner that was so dear to him. This new psychological dimension in Ribera's oeuvre is simultaneously balanced by the strong architectural form of the red robe that half-clothes the saint, providing a strong illusion of his mass. We can already sense the artist's evolution towards what would culminate around 1635 in his espousing the light-filled trend in Neapolitan painting – a "neo-Venetian" manner, as it has been defined – that emanated from Rome. It seems to us that the face, described with a loaded brush in pinks and bright whites, already testifies to that evolution.
Provenance: London, Helikon Gallery; private collection,
Literature: Nicola Spinosa, Ribera. L'opera completa, Naples 2003, p. 278, under no. A88; second ed., 2006, p. 302, under no. A106; third ed., Madrid, Fundación Arte Hispánico, 2008, p. 377, under no. A127; Véronique Damian, Sweerts, Tanzio, Magnasco et autres protagonists du Seicento italien, Paris 2009, pp. 26-29.
Fête by a Riverbank. Oil on canvas, 99 x 120.5 cm (39 x 47.5 in.) © Galerie Canesso
Although Mastelletta's career is that of a seventeenth-century artist, he is strongly related to the sixteenth century in inspiration. His style was influenced by the most atypical Mannerist painters, from Nicolò dell'Abate (1509 or 1512-1571) to Jacopo Zanguidi, called Bertoja (1544-1574), and his oeuvre was one of the last expressions of "European Mannerism".
His grand, open-air fêtes champêtres, combining landscape and slender, silhouette-like figures, often arranged around tables laden with food and depicted through a simplified, expressionistic design, lie at the root of his fame and originality. The mystery and energy of his landscapes, which were so novel compared to the direct precedents established by the Carracci – one only has to recall pictures such as the Fishing Party and the Hunting Party in the Musée du Louvre by Annibale Carracci (1560-1609). We should remember that Mastelletta was trained in the Carracci school, where he was a friend of Guido Reni (1575-1642), his exact contemporary, but also that he chose to express himself in a completely personal manner by creating a synthesis of landscape painting, combining the styles of Nicolò dell'Abate, Dosso Dossi (c. 1489-1542), Bertoja and the Bolognese classical landscape as developed by Annibale Carracci, Domenichino (1581-1641), and Albani (1578-1660).
Provenance: Cornette de Saint-Cyr sale, Paris, Drouot, 19 April 1991, lot 9; with Hazlitt, Gooden & Fox, London; private collection, Bologna.
Literature: Éric Moinet, Peintures des musées de la région Centre, exh. cat., Tours, musée des Beaux-Arts, Orléans, musée des Beaux-Arts, Chartres, musée des Beaux-Arts, 1996, p. 168, under no. 43, note 2, ill. (Reproducing the painting instead of the one formerly in the Zeri collection in Mentana; see note 5); Véronique Damian, Deux tableaux de la collection Sannesi, Tableaux des écoles émilienne et lombarde, Paris 2006, pp. 40-45.
Exhibition: London, Hazlitt, Gooden & Fox, Italian Paintings, January-February 1992, no. 2.
The Galerie Canesso was founded in 1994 in Paris by Maurizio Canesso who has many years of experience in Italian old master paintings. The gallery focuses exclusively on works from the 15th to the 18th centuries by Italian artists or foreigners who sojourned in Italy. The paintings selected, most of them unpublished, encompass a wide range of figurative art: historical subjects, genre paintings, portraits with a focus on still lifes and landscapes. The Gallery organizes exhibitions on its premises, and has published up to 25 catalogues, including catalogues published on the occasion of art fairs where we exhibit. One of the gallery's key principles is to provide advice and guidance for art collectors, while close contact with art historians and museums curators demonstrates the gallery's worldwide success.
Galerie Canesso at TEFAF New York Fall 2017, Stand 96. Primary Address: 26 rue Laffitte, 75009 Paris, France. T +33140226171 - contact@canesso.com - www.canesso.art