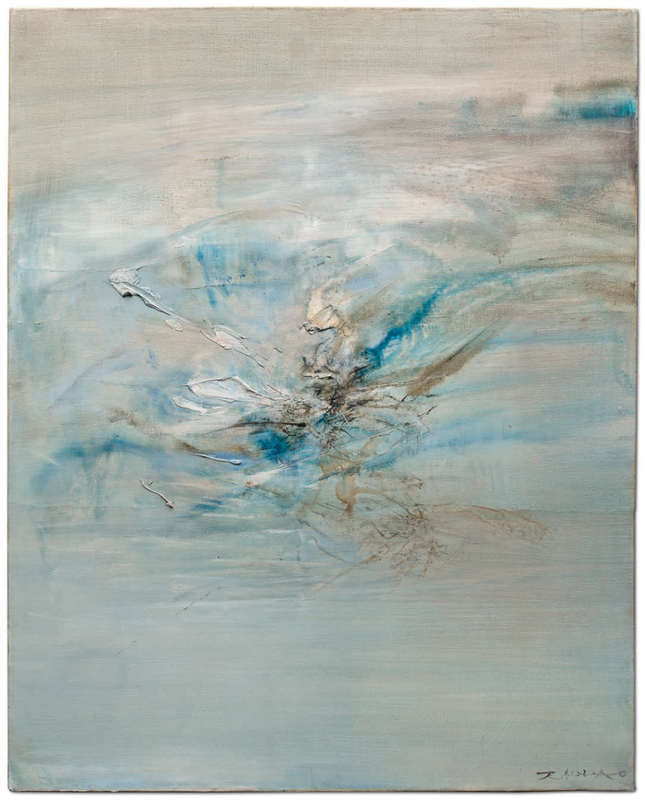 Lot 17. Zao Wou-Ki (1920-2013), 5.6.65, 1965, . signé en Chinois et en Pinyin 'ZAO' (en bas à droite); signé de nouveau et titré 'ZAO WOU-KI 5.6.65' (au revers), huile sur toile, 100 x 81 cm. Peint en 1965 Estimate EUR 700,000 - EUR 1,000,000. Price realised EUR 679,500. © Christie's Images Ltd 2017
signed in Chinese and in Pinyin 'ZAO' (lower right); signed again and titled 'ZAO WOU-KI 5.6.65' (on the reverse), oil on canvas, 39 3/8 x 31 7/8 in. Painted in 1965
Provenance: Galerie de France, Paris.
Acquis auprès de celle-ci par les propriétaires actuels, en 1973.
Provenant d'une collection particulière de Charente-Maritime
Literature: J. Leymarie, Zao Wou-Ki, Paris, 1986, p. 172, no. 121 (illustré en couleurs).
Exhibited: Los Angeles, Frank Perls Gallery, Zao Wou-Ki, février-mars 1968.
San Francisco, San Francisco Museum of Art, Paintings by Zao Wou-Ki, mai-juin 1968.
L'authenticité de cette oeuvre a été confirmée par la Fondation Zao Wou-Ki.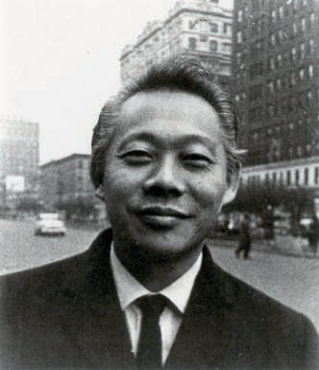 Zao Wou-ki, dans les années soixante. Photographe anonyme. © Tous droits réservés.
« La musique du ciel est formée par les sons combinés de mille façons dont chacun n'émane que de soi-même mais parvient à déclencher la spontanéité universelle »

"The music of the heavens is composed of sounds combined in a thousand ways, each of which emanates only from itself but manages to trigger universal spontaneity"

Tchouang-tseu.
Les mots du philosophe chinois antique Tchouang-tseu font écho à 5.6.65 de Zao Wou-Ki, peinture à la fois intime et universelle. .Intime, parce qu'elle est mue par l'émotion de son créateur. Depuis quelques années, Zao Wou-Ki s'est échappé du carcan de la narration et s'attache à apprivoiser la traduction plastique des soubresauts de son esprit : « je compris peu à peu que ce que je peignais ressemblait à ce qui se passait en moi. Je me surpris à imaginer, en regardant les tableaux terminés, qu'ils exprimaient de la colère, de la tranquillité ou de la violence puis de nouveau le calme » (cité in Zao Wou-Ki et Françoise Marquet, Autoportrait, Paris, 1988, p. 119). 5.6.65 est ainsi l'expression d'une émotion intense, impénétrable, dont Zao va se libérer au contact du pinceau. Au cœur de la toile, une explosion de texture colorée laisse d'abord entendre une dissonance musicale : des touches de blanc nacré s'échappent de lignes noires brisées, d'où s'enfuient également les nervures d'un bleu opalescent et des fuites de lavis brun, préférant la projection dans le vide à l'enfermement. Puis, par à-coups, le trouble se dissout dans la surface brumeuse dégradée qui passe de bas en haut d'un gris épais à un blanc crémeux, couvert à droite par un nuage translucide de bistre. De la confrontation rythmée entre l'agitation du noyau centrifuge et le calme du fond aérien émerge ainsi une symphonie harmonieuse. La peinture devient dès lors catharsis et les années 1960, marquées pour l'artiste par la maladie de May, sa deuxième épouse, se retrouvent figées dans l'intimité de 5.6.65.
En ce qu'elle porte, presque malgré elle, un mouvement naturel qui transcende la subjectivité du peintre, l'œuvre est aussi ouverte sur l'univers tout entier. Les couleurs telluriques et le mouvement qui naît du dialogue entre espaces vide et plein enferment ainsi dans la toile la force expressive d'un fleuve en crue, d'une cascade qui chute ou d'un tonnerre qui se dissipe. Zao Wou-Ki, artiste chinois devenu français, mêle ce faisant les deux cultures qui ont forgé son art : il tire de ses racines l'évocation de la nature et la recherche d'une harmonie ; de Matisse et Picasso une grande liberté dans la gamme chromatique et un rejet des formes. 5.6.65, à l'image d'un rêve, laisse à la conscience la possibilité d'une flânerie. Les mots du poète Henri Michaux résonnent alors avec la peinture : « vide d'arbres, de rivières, sans forêts, ni collines, mais pleine de trombes, de tressaillement, de jaillissement, d'élans, de coulées, de vaporeux magmas colorés qui se dilatent, s'enlèvent, fusent. (…) Les toiles de Zao Wou-Ki – cela se sait – ont une vertu : elles sont bénéfiques » (cité in Jean Leymarie, Zao Wou-Ki, Paris, 1986, p. 41-42).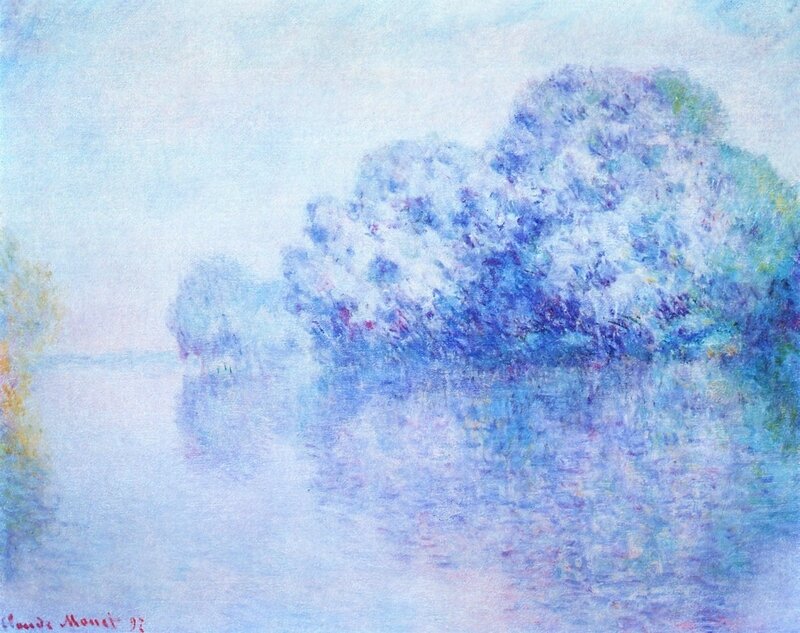 Claude Monet, L'ële aux Orties, Giverny, 1897. Columbia Museum of Art, Columbia, Caroline du Sud. © Tous droits réservés.
The words of the ancient Chinese philosopher, Tchouang-tseu are echoed by Zao Wou-Ki's 5.6.65, a painting both intimate and universal. Intimate, because it is transformed by the emotion of its creator. For some years Zao Wou-Ki avoided the constraint of narration and endeavoured to tame the visual translation of the convulsions of his mind: "I gradually came to understand that what I painted resembled what was happening within myself. I surprised myself by imagining, when looking at finished pictures, that they expressed anger, serenity or violence and then calm once more" (quoted in Zao Wou-Ki & Françoise Marquet, Autoportrait, Paris, 1988, p. 119). 5.6.65 is therefore the expression of an intense, unfathomable emotion from which Zao would be liberated on contact with the brush. At the heart of the canvas an explosion of coloured texture initially suggests a musical dissonance: touches of pearly white escape from broken black lines, from which opalescent blue veins and runs of brown wash also break free, preferring projection into the void rather than confinement. Then, in fts and starts, the murkiness dissolves into the hazy, gradually fading surface, which migrates bottom to top from a thick grey into a creamy white, covered on the right-hand side by a translucent cloud of bistre. Thus from the rhythmic confrontation between the agitation of the centrifugal core and the calm of the ethereal background a harmonious symphony emerges. From this date, Zao's painting becomes cathartic and the 1960's, overshadowed by his second wife May's illness, are frozen in intimacy as characterised by 5.6.65.
In that it bears within it, in spite of itself, a natural movement that transcends the subjectivity of the painter, the work is just as open to the entire universe. Thus the telluric colours and the movement born of the dialogue between filled and unfilled spaces confine within the canvas the expressive force of a river in spate, a tumbling waterfall or a passing thunderstorm. In so doing, Zao Wou-Ki, a Chinese turned French artist, blends the two cultures that shaped his art: from his roots he draws the evocation of nature and the search for harmony; from Matisse and Picasso great freedom in his colour palette and a rejection of forms. 5.6.65, like a dream, allows consciousness the possibility of meandering. The words of the poet Henri Michaux resonate with the painting: "devoid of trees, of rivers, without forests, or hills, but full of torrents, shuddering, water spouts, surges, mudslides, misty coloured magmas that dilate, rise, burst forth. (…) Zao Wou-Ki's canvases – this is well known – have one virtue: they are good for you" (quoted in Jean Leymarie, Zao Wou-Ki, Paris, 1986, p. 41-42).
Christie's. Paris Avant-Garde, 19 October 2017, Paris