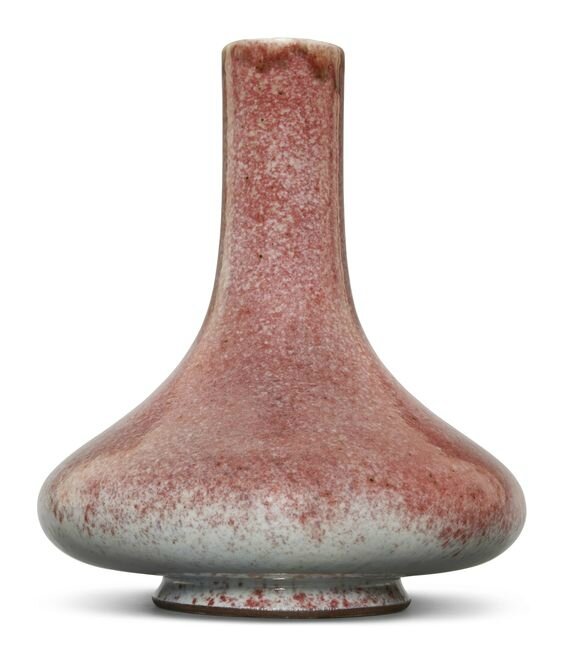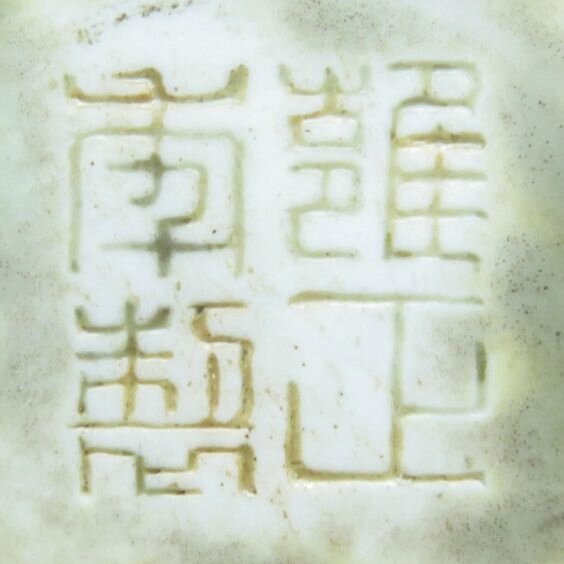 Lot 14. An extremely rare 'Jun-imitation' vase, Yongzheng seal mark and period (1723-1735), 21.5 cm, 8 1/2 in. Estimate 80,000 — 120,000 GBP. Unsold. © Sotheby's.
of compressed pear shape, the broad rounded sides rising from a spreading foot to a tall cylindrical neck, covered with a mottled copper-red glaze, thinning to an underlying pale blue glaze towards the foot, the base incised with a four character seal mark.
Provenance: Collection of Ambassador and Mrs Joseph Verner Reed.

Note: Highly elegant in its deceptively simple form and glaze, this rare vase embodies the essence of the Yongzheng Emperor's aesthetic and the technical developments that were made to materialise his vision. It has been created to simulate the celebrated Jun ware of the Song dynasty, a ware that Yongzheng held in particularly high regard and thus commissioned copies to be produced. Moreover, under his keen eye, he encouraged the development of new glaze variations based on Jun prototypes from the imperial collection.
The technical ingenuity and high level of experimentation of the potters working at the imperial kilns in Jingdezhen is evident in the official list from 1735 as recorded on the Taocheng jishi bei ji [Commemorative Stele on Ceramic Production] inscribed by Tang Ying (1682-1756), the greatest Superintendent of the imperial kilns. This important work records no less than nine varieties of Jun glazes inspired by ancient specimens, of which five were based on Song originals that had been sent from the palace in Beijing to the imperial kilns in Jingdezhen. Tang Ying is known to have gone to considerable lengths to emulate Jun wares of the Song, even sending his secretary, Wu Yaopu, and selected craftsmen to Junzhou in 1729 to work with local potters and thus obtain the recipe for producing Jun glazes.
The exaggerated compressed pear-shape of this vase which hovers slightly above the short foot is also an exceptional display of technical achievement. Absolute precision was required to prevent the body from sagging during the potting and firing stages, and as such only two other closely related examples are known, in the National Palace Museum, Taipei, published on the Museum's website, accession nos 005410-N000000000 and 005411-N000000000 (Fig. 1).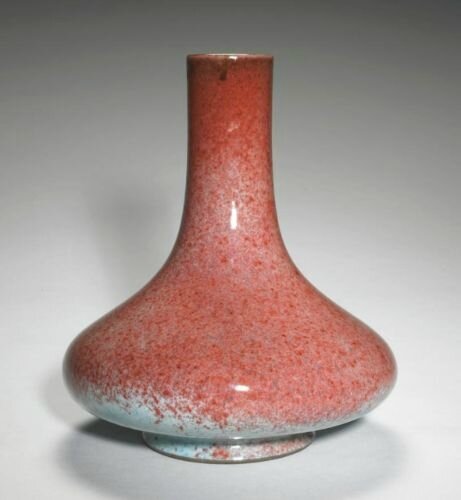 Jun-type vase, Yongzheng mark and period. The Collection of the National Palace Museum, Taipei, accession nos 005410-N000000000 and 005411-N000000000.
The glaze on these vases, with the attractive speckled, copper pigment that has been sprayed on the surface, appears to have been limited to vases inspired by archaic bronze forms; see a hu-shaped vase from the Qing Court collection and still in Beijing, illustrated in Qingdai yuyao ciqi [Qing porcelains from the imperial kilns preserved in the Palace Museum], Beijing, 2005, vol I, pt. II, pl. 128, together with an ovoid example, pl. 166; a zhaodou published in Lu Minghua, Qingdai Yongzheng-Xuantong guanyao ciqi [Qing dynasty official wares from the Yongzheng to the Xuantong reigns], Shanghai, 2014, pl. 3-30; two hu-inspired pear-shaped vases sold in our Hong Kong rooms, the first, 30th October 2002, lot 230, and the second, 7th October 2015, lot 3615; and a third, but with an apocryphal Xuande mark, in the Baur collection, illustrated in John Ayers, Chinese Ceramics in the Baur Collection, vol. 2, Geneva, 1999, pl. 263, together with a similarly glazed Jun-style flower pot and narcissus bowl, pls 261 and 262.
Joseph Verner Reed (1937-2016) was an American banker and diplomat. Born in New York City, he graduated from Deerfield Academy and Yale University in 1961, before going on to work for the World Bank. In 1981 he was appointed by Ronald Reagen as Ambassador of the United States to Morocco. He later served a number of appointments at the United Nations, as well as the position of Chief Protocol of the White House under George H. W. Bush (1989-1991).
Sotheby's. Important Chinese Art, London, 08 nov. 2017, 11:00 AM