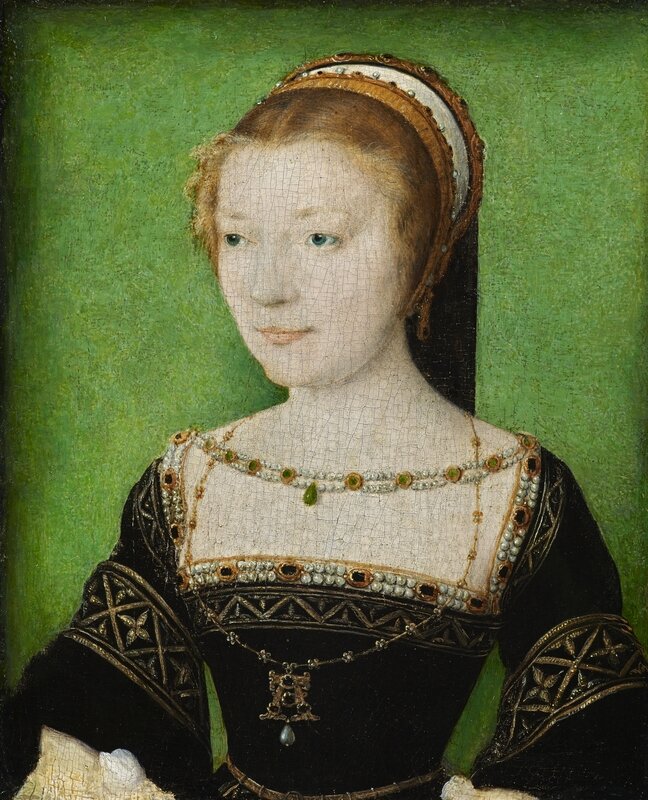 Corneille de Lyon (The Hague 1500-1575 Lyon), Portrait of Madame de Pisseleu. Oil on panel, 17 x 14 cm © De Jonckheere
Provenance: Georges de Monbrison (1830-1906) Collection, Castle Saint-Roch, Le Pin, Tarn-et-Garonne, before 1913; probably Eugène Kraemer, Paris; Galerie Kleinberger, Paris; Leopold Hirsch (1857-1939) Collection, London; Jacques Bacri Collection, Paris.
Literature: J. Frayssinet, 'La Galerie de portraits de M. de Monbrison', Bulletin mensuel de la Société historique de Gascogne, vol. 25, 1884, pp. 30-31; F. Kenner, 'Die Portätsammlung des Erzherzogs Ferdinand von Tirol', Jahrbuch der kunsthistorischen Sammlungen in Wien, vol. XIX, 1898, p. 70-71; L. Dimier, Le portrait du XVIe siècle aux Primitifs français, Paris 1904, no. 175; L. Dimier, Histoire de la peinture de portrait en France au XVIe siècle, Paris and Brussels 1924-1926, t. II, no. 243; A. Defries, 'The French Exhibition at Burlington House', The French Quarterly, vol. 13, 1931, p. 151; W. G. Constable, P. Léon, Exhibition of French Art. 1200-1900, exh. cat., Burlington House, 1932, p. 52, cat. 96; A. de Groër, 'Nouvelles recherches sur Corneille, à la lumière du Portrait de Pierre Aymeric', Revue du Louvre et des musées de France, 28, no. 1, 1978, p. 42, no. 32; A. Dubois de Groër, Corneille de La Haye dit Corneille de Lyon, Paris 1996, p. 133, cat. 28A, repr.; A. de Wismes, Les Grandes favorites royales, Sainte-Luce-sur-Loire, 2012, p.17, repr.
Exhibition: Paris, musée du Louvre, Les Primitifs français, no. 175 (dated circa 1548), 1904; London, Royal Academy of Arts, Burlington House, French Exhibition, 1931; London, Royal Academy of Arts, Burlington House, Exhibition of French Art, no. 96, 1934
De Jonckheere at TEFAF New York Fall 2017, Stand 43. Primary Address: rue de l'Hôtel de ville 7, 1204 Geneva, Switzerland. T +41223108080 - geneve@dejonckheere-gallery.com - www.dejonckheere-gallery.com
27 avenue Princesse Grace, Monaco, Monaco. T +377 92 16 71 17 - monaco@dejonckheere-gallery.com - www.dejonckheere-gallery.com