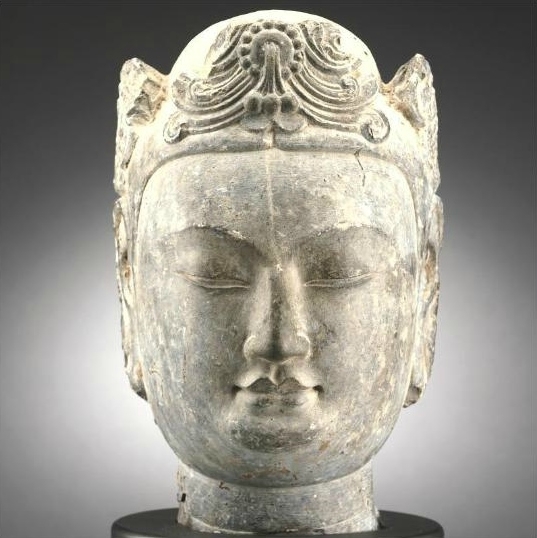 Lot 90. A limestone head of a bodhisattva, Northern Qi Dynasty (550-577). Estimate 18,000 — 25,000 USD. Lot sold 18,000 USD. Photo: Sotheby's.
the serene face with narrow almond eyes between a thin arched brow and tight bud lips, framed by a crown set with three roundels, the center small jeweled roundel with flowing ribbons curling above the forehead, the other two set on the side of the head, just above the ears, each with a double ring of beading and small indentations possibly for inlaid stones, with traces of gilt remaining, the back of the head cut with a small slot, (stand); 7 1/2 in., 19 cm.
Note: Bodhisattva figures with such elaborate crowns are known from a hoard at the Longxing Temple site of Qingzhou in Shandong province; compare, for example, a Northern Qi standing figure with a related, but more complete crown, included in the exhibition Masterpieces of Buddhist Statuary from Qingzhou City, The National Museum of Chinese History, Beijing, 1999, catalogue p.134; or a seated figure in the Poly Art Museum, Beijing, illustrated in Baoli cangzhen: Shike fojiao zaoxiang jingpin xuan, Guangzhou, 2000, pp.154-8.