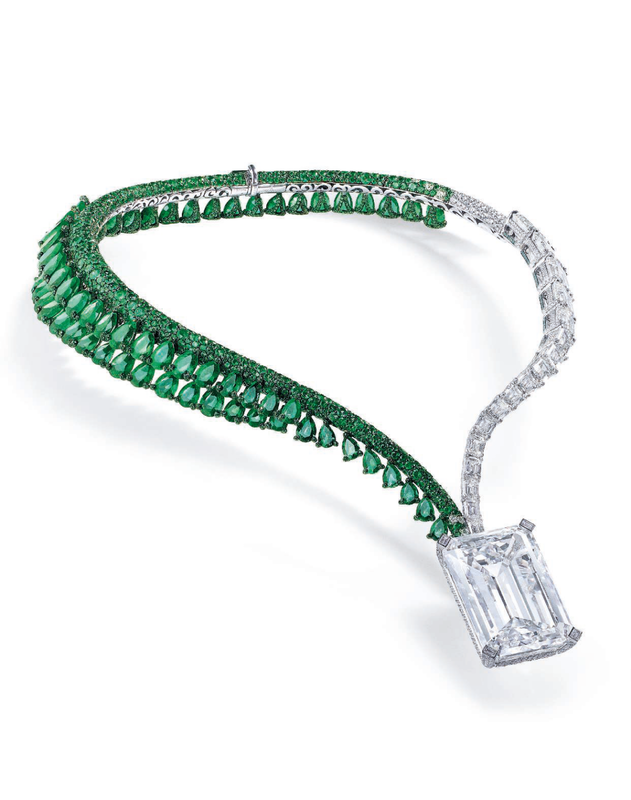 The Art of de GRISOGONO, Creation I, is revealed, a journey from mine to masterpiece of a one-of-a-kind High Jewellery necklace featuring the largest 163.41 carat D-Colour Flawless diamond ever to come to auction.
Peerless diamonds, unparalleled craftsmanship, superlative jewels and a unique partnership for historical gems, as Christie's and de GRISOGONO set a new standard for sublime luxury. A dazzling new chapter in which historically signifcant diamonds in the most spectacular settings take centre stage.
de GRISOGONO proudly presents an asymmetric necklace starring the 163.41-carat diamond as its centrepiece. The magnifcent gem is framed to the left by 18 emerald-cut diamonds; a nd to the right by two rows of pear-shaped emeralds set against a darkened gold background creating the Maison's signature chiaroscuro efect.
François Curiel said: "In my long career, I have had the privilege of handling many exceptional stones, some of them truly phenomenal, a few absolutely spell binding. The magnifcence of this 163.41 carat D Flawless diamond by de Grisogono has got to be one of the highlights of my 48 years in the business.
And how would one describe a dream like this? Already a miracle at birth, it was a 404.20 carat rough of immaculate colour and clarity. It is then transformed by an elite international team of cutters, designers and craftsmen into a stunning necklace set with emeralds and diamonds, as an icon of perfection, a symbol of the best of de Grisogono.
At 163 carats and 41 points, it will be the largest D Flawless diamond ever to appear for sale at auction, a ftting tribute to de Grisogono on the eve of its 25th anniversary. It will also be a shining star at Christie's 'Magnifcent Jewels' auction in Geneva on November 14, 2017.
Christie's is exceedingly honoured to present this unique, incomparable natural wonder of a diamond to the world."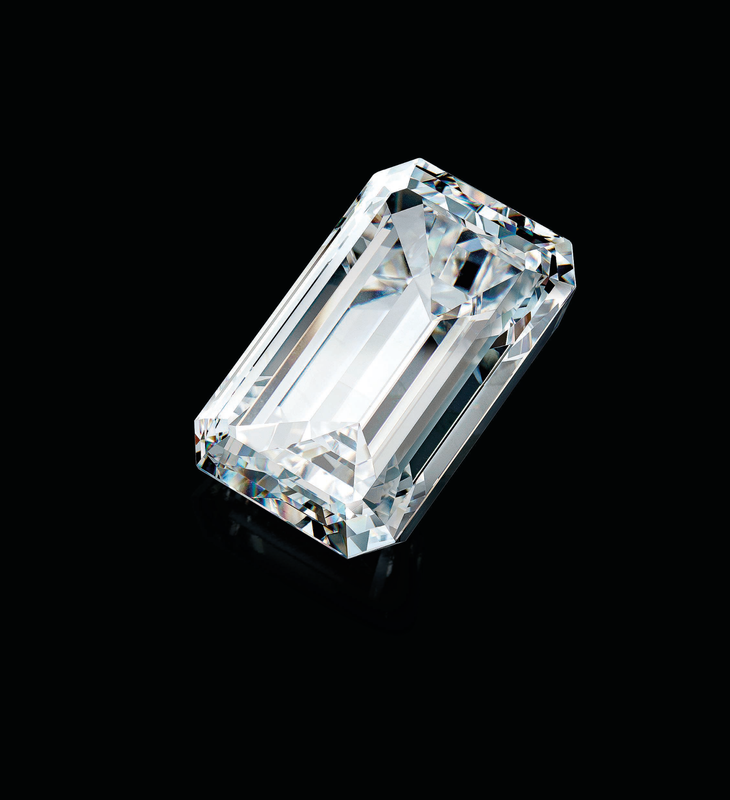 Lot 505. The largest D flawless diamond ever offered at auction. A sensational diamond and emerald necklace, by DE GRISOGONO. Estimate On Request. Price realised CHF 33,500,000. © Christie's Images Ltd 2017
Set with a rectangular cut-cornered diamond, weighing approximately 163.41 carats, to the rectangular cut-cornered diamond and pavé-set emerald necklace, one side enhanced by two rows of pear-shaped emeralds, together with a shagreen and diamond-set bangle, 2017, 44.0 cm, mounted in gold. Signed de Grisogono, numbered.
Accompanied by report no. 2185058201 dated 15 December 2016 from the GIA Gemological Institute of America stating that the 163.41 carat diamond is D colour, Flawless clarity, with excellent polish and excellent symmetry; and a Diamond Type Classification letter stating that the diamond has been determined to be Type IIa.
Further accompanied by hardbound monograph from the GIA Gemological Institute of America featuring additional photography, data collection charts and gemmological research, attesting to the rarity of this diamond.
Note: The beauty of the project lay in conveying the spirit of de GRISOGONO through a jewel worthy of this magnifcent stone while ensuring a wearable piece of jewellery of the utmost comfort. Here, inspired by the majesty of the historic stone, Fawaz Gruosi's unstoppable search for beauty in audacious and exciting new forms rises to fresh heights of mastery.
Produced by the unparalleled expertise of 14 master craftspeople in de GRISOGONO's high jewellery atelier, the result is Creation 1, a sensational asymmetric necklace with the 163.41-carat diamond as the centerpiece, enhanced with emerald-cut diamonds and emeralds, propelling de GRISOGONO into a class of its own.
Renowned for its signature audacious glamour, rich colours, large volumes, baroque opulence and exquisite attention to detail, de GRISOGONO prides itself on its uncompromising approach to craftsmanship.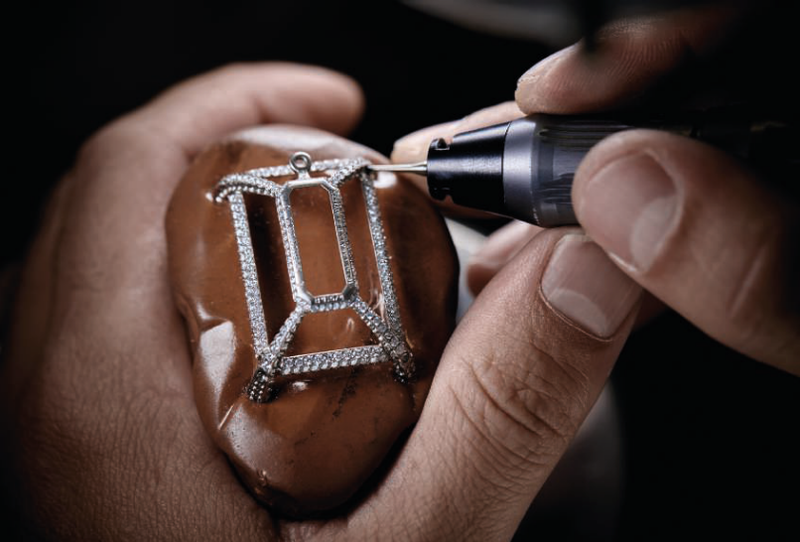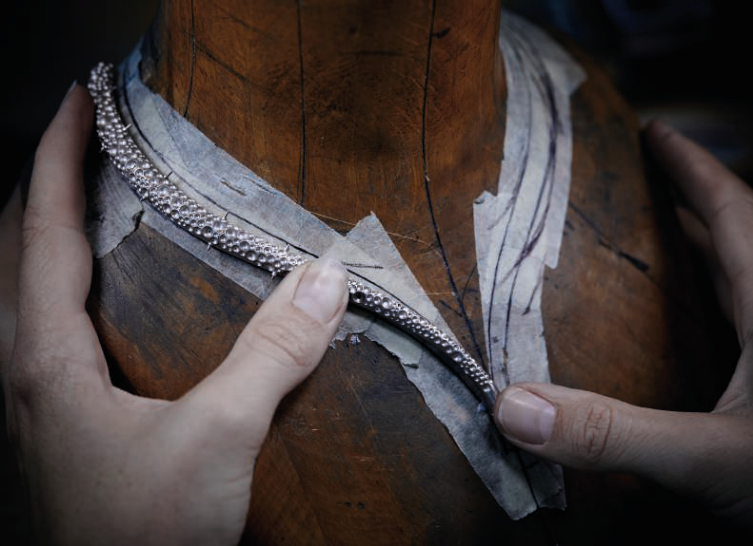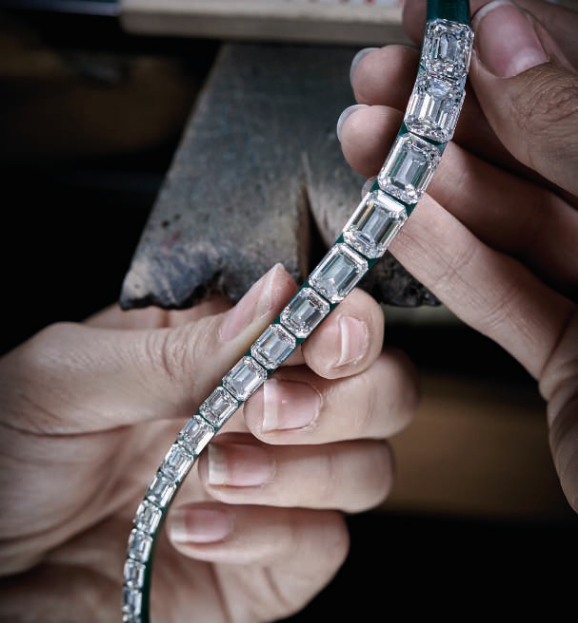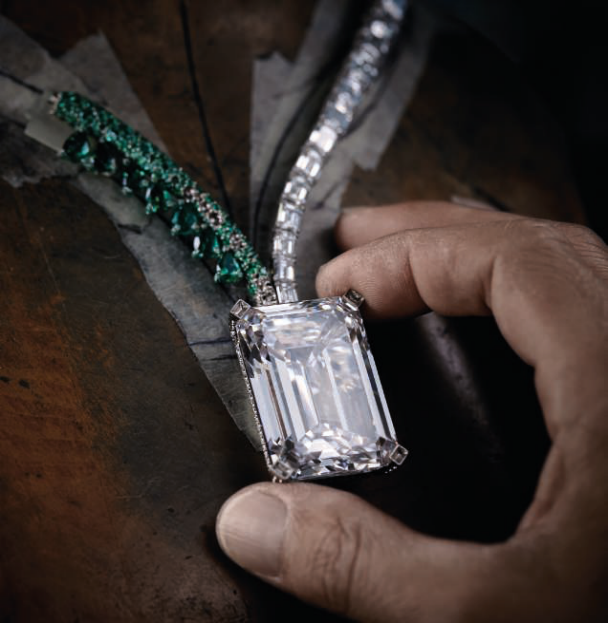 Christie's. Magnificent Jewels, 14 November 2017, Geneva