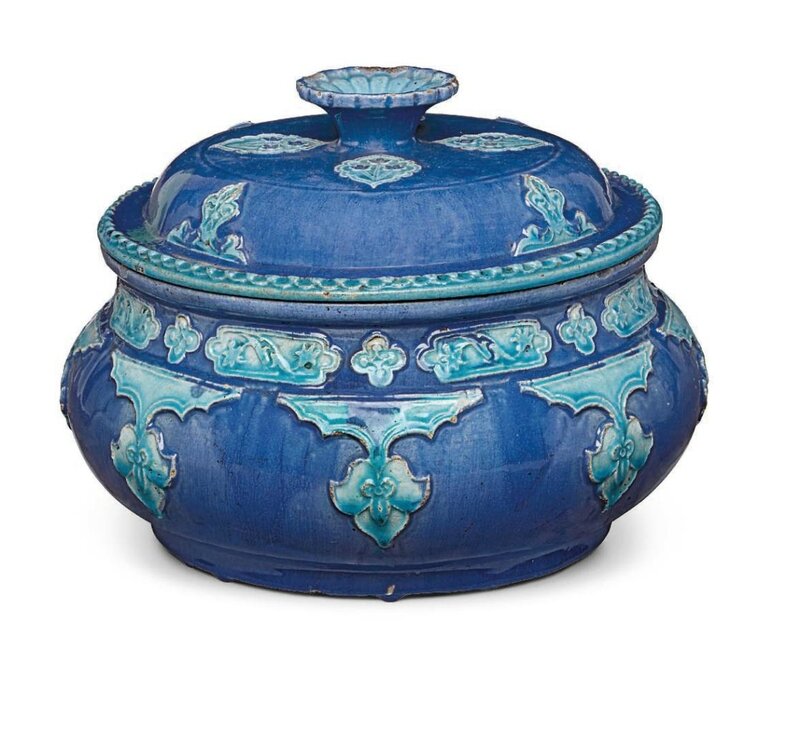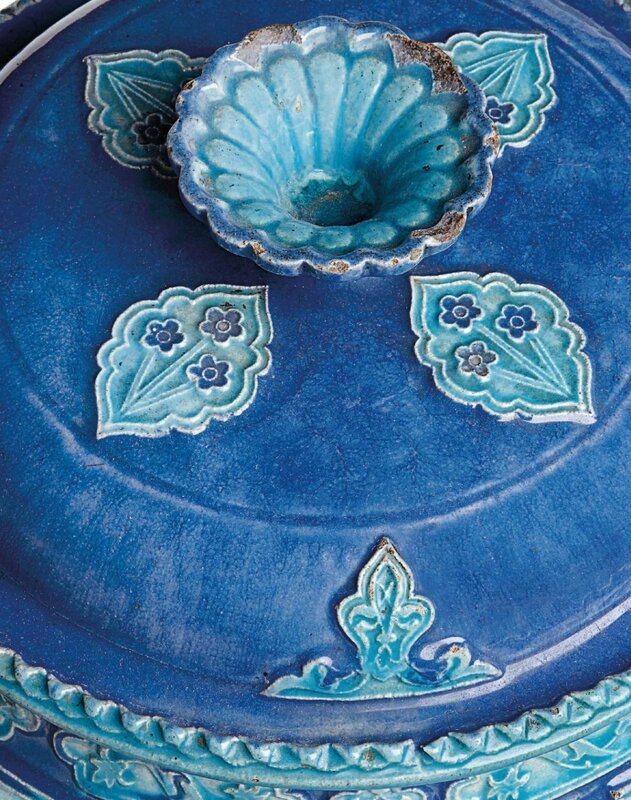 Lot 94. A rare Safavid blue-glazed pottery covered bowl (tas), Iran, 17th century. 9¾in. (25cm.) high; 12 5/8in. (32cm.) diam. Estimate GBP 40,000 - GBP 60,000. Price realised GBP 68,750. © Christie's Images Ltd 2017
The cobalt-blue surface with moulded turquoise-glazed decoration, minor areas of chipping, otherwise intact.

Note: This covered bowl is amongst the most impressive examples of a small, distinctive group of Safavid pottery. Although they were designed to imitate the Chinese Fahua techniques and glazes of the late 15th and early 16th centuries, the known examples are all of forms that follow typically Persian models. The group is characterised by moulded decorations which serve to keep apart rich opaque coloured glazes. As on our bowl, 'thin smears of 'golden syrup' glaze [are] commonly applied under the foot, whatever the colour of the rest of the vessel' (Lane, 1957, p.108).
The form of our tas, whilst difficult to parallel elsewhere in pottery, can be closely compared to Safavid metalwork, notably tinned-copper, of the 17th century. A tinned-copper tas of the same form is published by Melikian-Chirvani (Melikian-Chirvani, 1982, no.155, pp.336-37). That is dated to 1678-79, but is said by Melikian-Chirvani to be a version of a bowl commissioned by Husayn Chalabi in the 16th century. Our tas is remarkable for the fact that it retains its original lid, particularly notable given the fragility of the medium. A painting of Musicians in a Garden from the Tuhfat al-Ahrar, attributed to Bukhara and dated 1558, shows an attendant holding forth a covered tas of similar form to ours (Binyon, Wilkinson and Gray, 1971 reprint, pl.LXXVIII-A, no.112). Whilst it is difficult to tell the medium with certainty, the lower section is a much lighter colour than the upper section, indicating that it may be pottery, perhaps glazed in different colours as our bowl.
Although completely different in form, a dish in the Royal Ontario Museum, attributed to the second half of the 17th century, has a very similar glaze to ours (Golombek, Mason, Proctor and Reilly, 2014, pp.414-15, cat.no.62). The interior of the Ontario dish is covered with an opaque blue, closely comparable to the body of our bowl, while the exterior is painted in turquoise, similar to that of our moulded decorative elements. The attribution of the Ontario dish to the later 17th century is largely down to the practice of painting the interior and exterior of a dish in completely different colours, which is found on a number of Safavid wares from that period (see for example a Kirman dish in the Sarikhani Collection, The Sarikhani Collection. An Introduction, 2012, pp.106-08).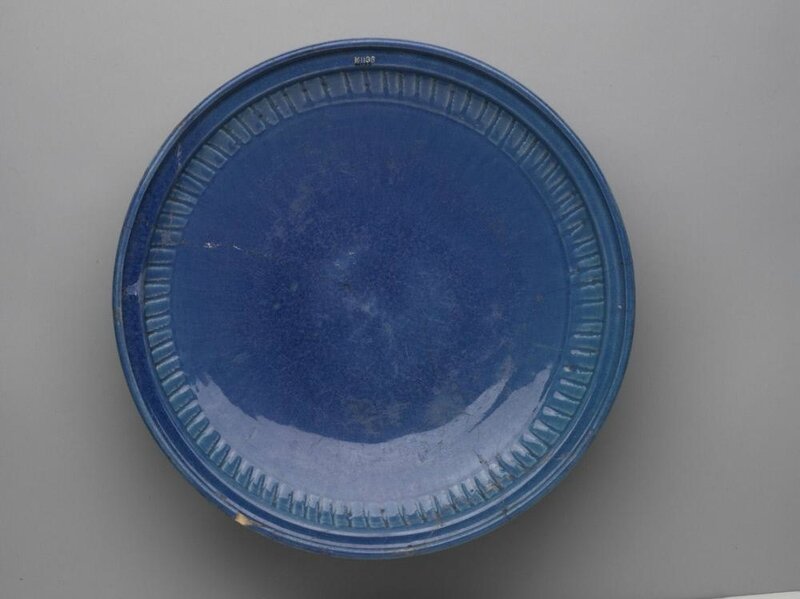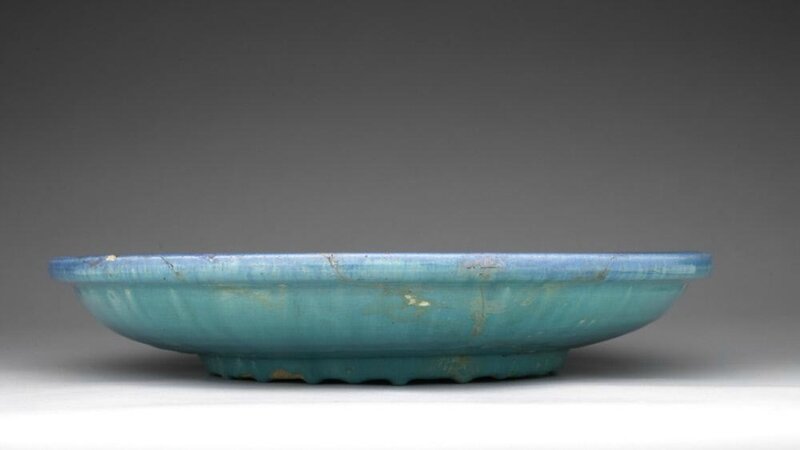 Plate, Isfahan, Iran, 2nd half of 17th century AD. Ceramic (stonepaste), monochrome carved, 7.6 x 40.5 cm, 907.9.6 © Royal Ontario Museum.
Only a small number of similar vessels from this distinctive group are published. One is a ewer in the British Museum (OA 78.12-30.627, published in Canby, 1999, cat.no.11). Another is a vase in the Victoria and Albert Museum (inv.no.LNS 1095C; Watson, 1994, p.477, cat.U.33). Other examples in the Victoria and Albert Museum were published by Arthur Lane (Lane, op.cit., figs.92-93). A related vase was recently sold at Bonham's, 7 October 2014, lot 104. All are dated to the 17th century.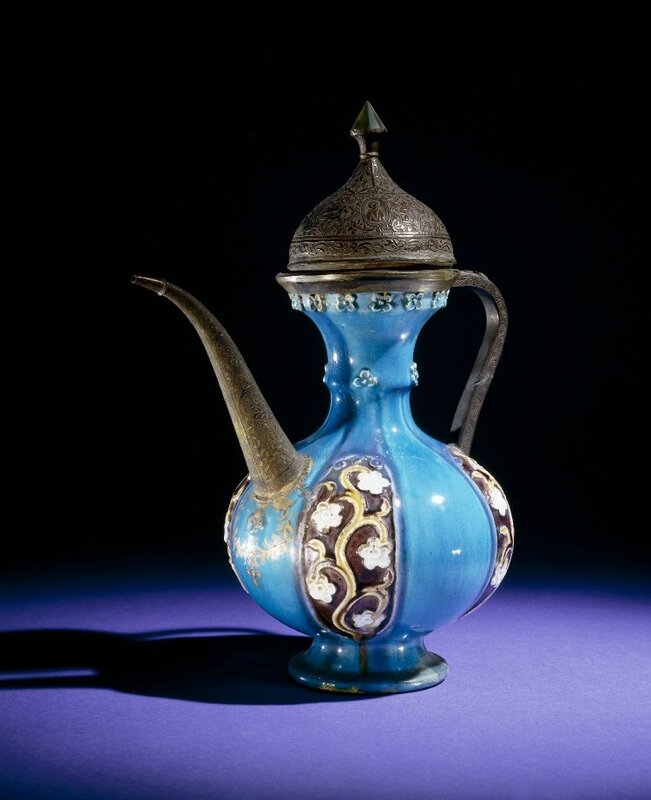 Ceramic ewer with metal mounts, Safavid Iran, based on Chinese Fa Hua ware, Safavid dynasty, 1600-1650; lid, spout, handle Qajar dynasty, 18thC-19thC. 1878,1230.627. © The Trustees of the British Museum.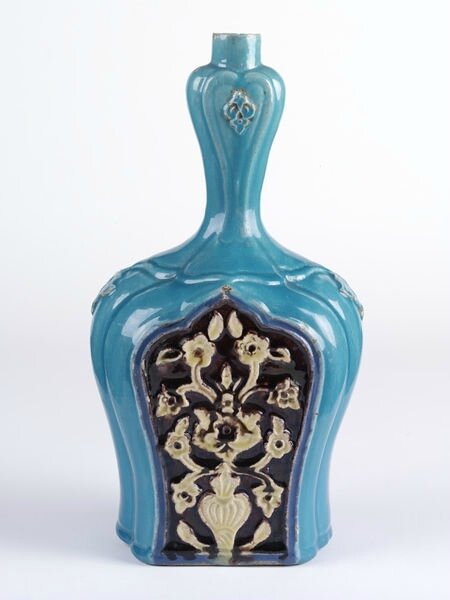 Bottle, fritware, relief-moulded, turquoise glaze with details in cobalt, maroon and yellow; Iran, 1650-1725. 634-1889 © Victoria and Albert Museum, London 2017.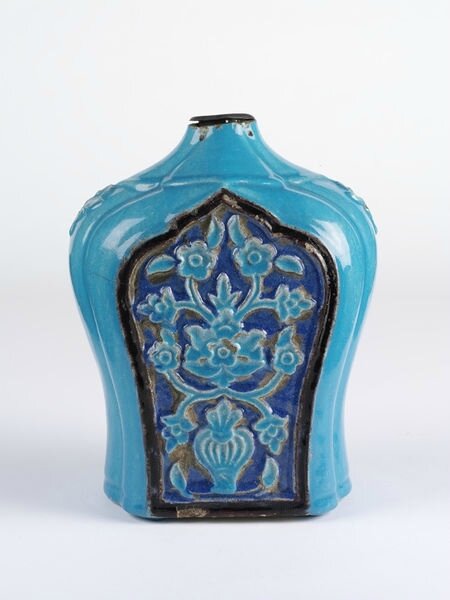 Flask, coarse fritware, of flattened baluster shape relief moulded panels of flower-filled vases, covered with an opaque turquoise glaze, with details in blue and maganese; Iran, 1650-1725. 711-1896 © Victoria and Albert Museum, London 2017.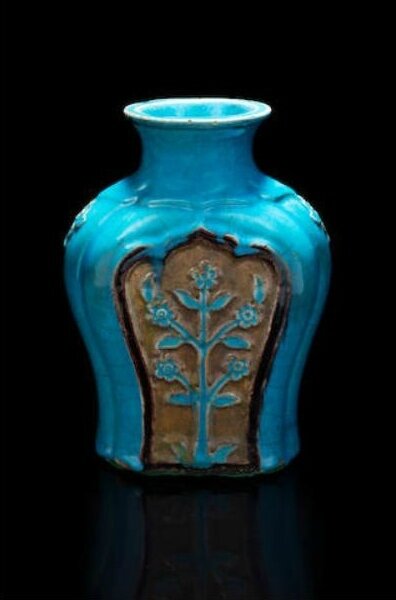 A moulded turquoise and purple glazed Safavid Vase, Persia, first half of the 17th Century. 19 cm. high. Sold for £9,375 (€10,570) at Bonham's, 7 October 2014, lot 104. Photo: Bonhams.
Christie's. Art of the Islamic and Indian Worlds Including Oriental Rugs and Carpets, 26 October 2017, London