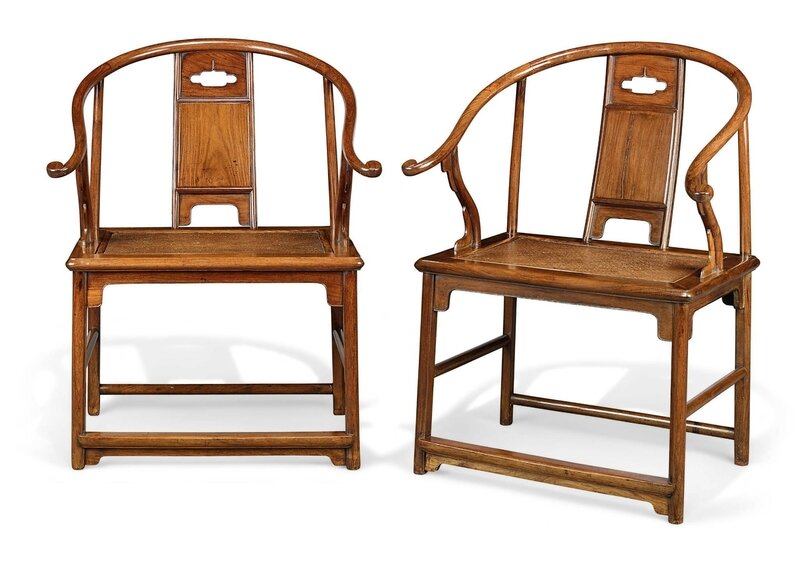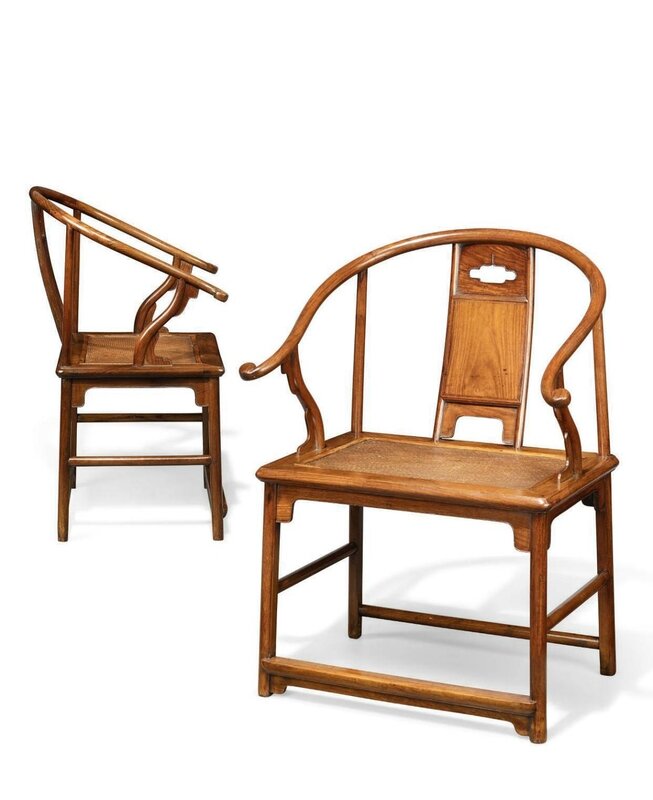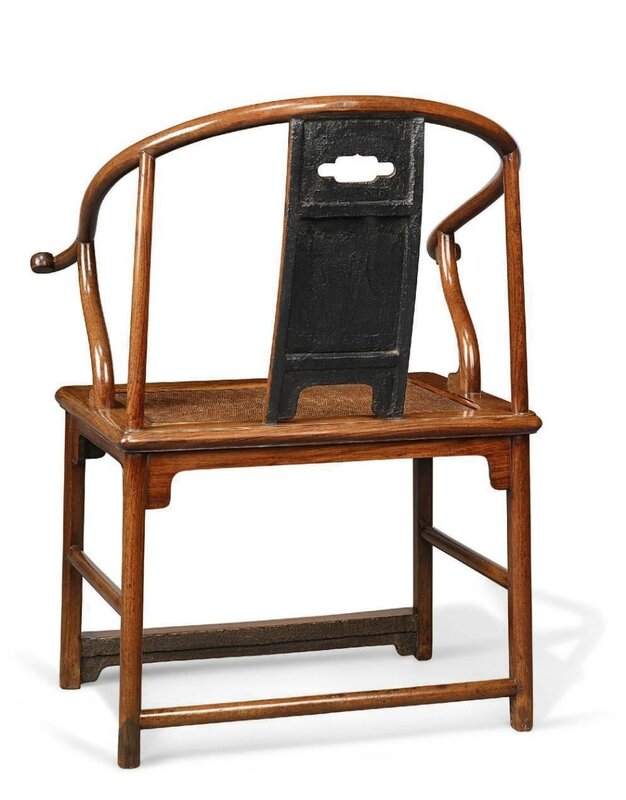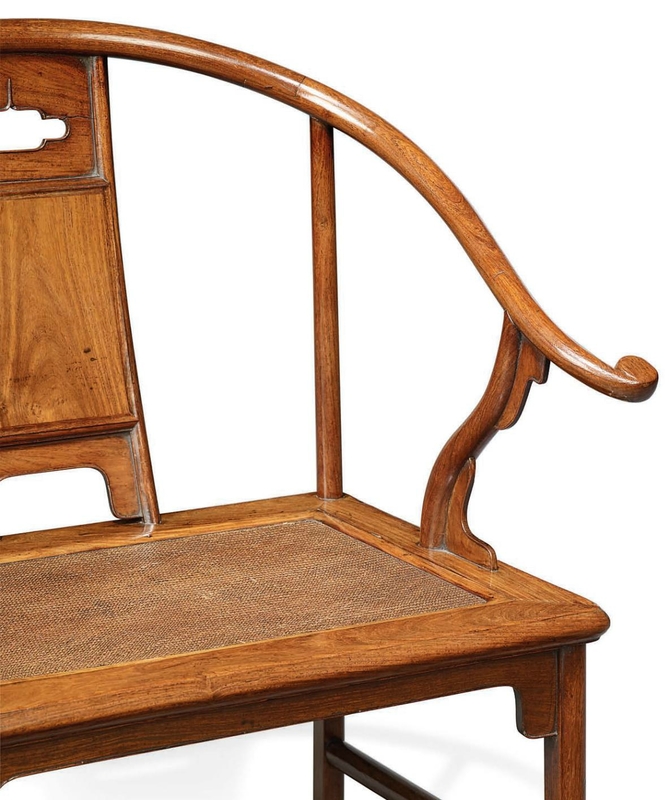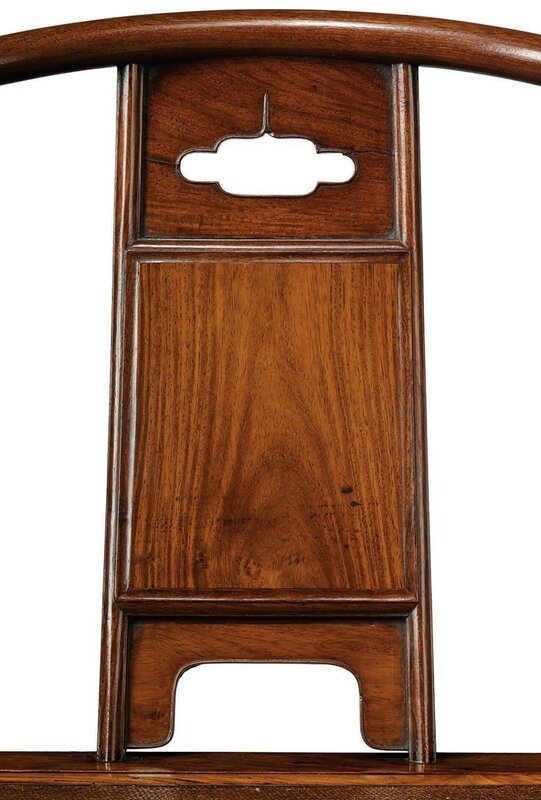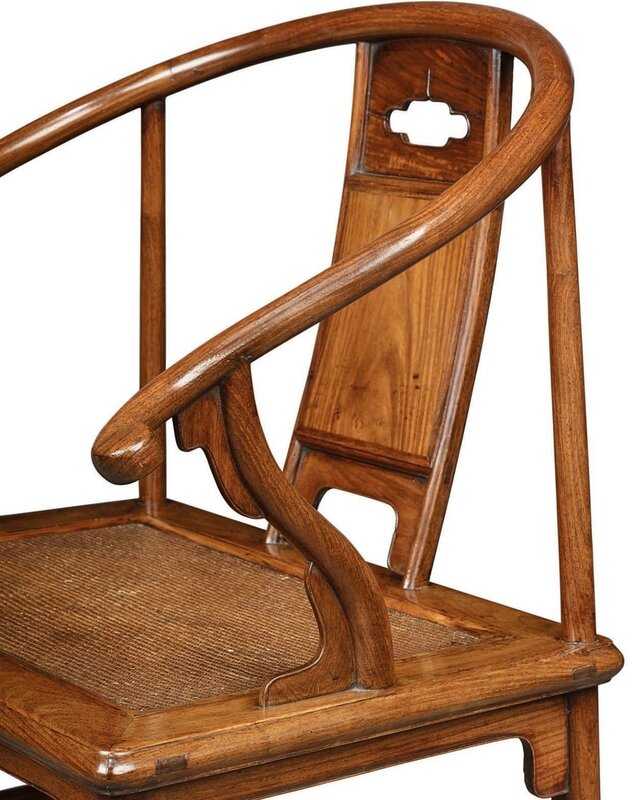 Lot 150. An extremely rare and important pair of Huanghuali horseshoe-back armchairs, Quanyi, Ming dynasty, 17th century. Estimate GBP 800,000 - GBP 1,200,000 (USD 1,043,200 - USD 1,564,800). Price realised GBP 908,750. © Christie's Images Ltd 2017
On each chair the sweeping crest rail terminates in outswept hooks above shaped spandrels, and forms an elegant curve above the back splat decorated with an openwork four-lobed cartouche. The rear posts continue to form the back legs below the rectangular seat frame which has plain shaped aprons. The legs are joined by stretchers and a foot rest above a plain apron. Each 26 ¾ in. (68 cm.) wide, 21 in. (53.3 cm.) deep, 36 in. (91.5 cm.) high

Provenance: With Grace Wu Bruce.
Property from a Distinguished Private Collection.
Uniquely Styled and Elegantly Crafted: A Pair of Huanghuali Round-Back Chairs
The round-back chair emerged simultaneously with other high-back chairs during the late Tang and Song dynasties. The form may well have been developed through a fusion of two more ancient forms—the platform dais and the curved armrest (pinji) with three short legs, the latter which was also placed upon platforms as an accessory backrest (cf. fig. 1). Early evidence from Song period paintings reveals large ponderous chairs with a comb-like arrangement of vertical posts supporting a curved armrest with scrolling ends; such form appears in a detail from Breaking the Balustrade(fig. 2) where upon a Han emperor is seated. Others also depict more ethereal forms with slender cabriole legs and delicately balanced armrests; such is the drawing of an abbots chair as well as the elegant seat depicted in the portrait of the Zen master Dao Yuan (figs. 3-4). By the late Ming and Qing dynasties, streamlined hardwood versions had developed into one of the most graceful forms of traditional Chinese furniture. Notwithstanding, stylistic innovations continued to be experimented with, and archaistic expressions drawn from early forms were also revisited. Such are the uniquely styled and exquisitely crafted pair of round-back armchairs offered in this sale.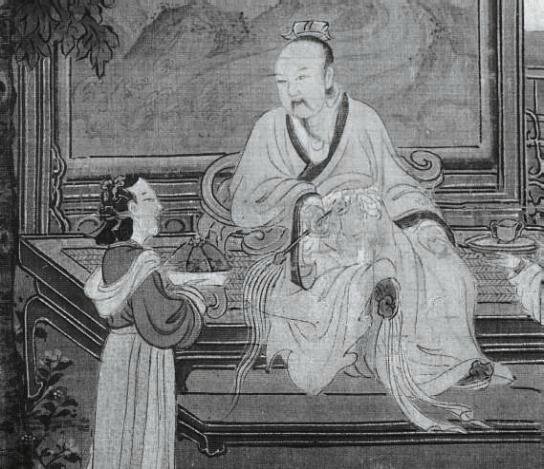 Fig. 1 Detail from Shi Xianzu, anonymous, album leaf painting, attributed Song dynasty, National Palace Museum, Taipei.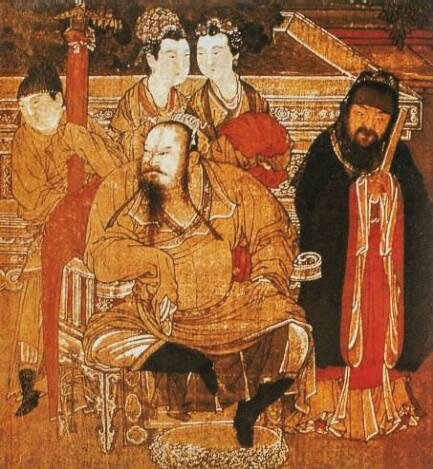 Fig. 2 Detail from Breaking the Balustrade, anonymous, hanging scroll, Song dynasty, National Palace Museum, Taipei.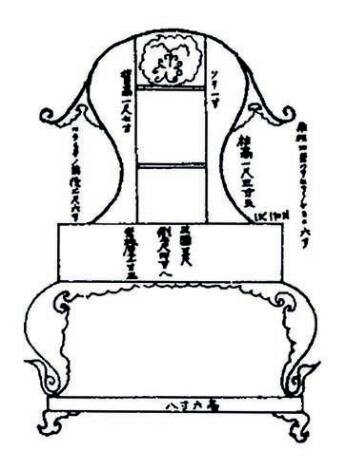 Fig. 3 Abbots chair, wood cut from Wushan shicha tu, Song dynasty.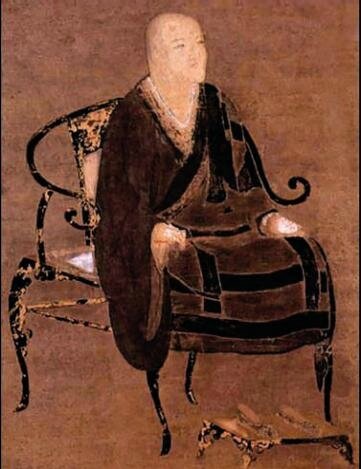 Fig. 4 Portrait of Daoyuan, anonymous, hanging scroll, Song dynasty, Japanese collection.
Decorative art with archaistic characteristics was often favored by the literati class. Wen Zhenheng, a late Ming arbiter of taste, repeatedly cites a preference for furniture styled according to the old patterns from the Song and Yuan dynasties. Several archaistic features may be seen in the chairs offered by Christies. Firstly, the armrests terminate with large scroll-shaped handgrips, a characteristic that is even more pronounced in early illustrations. Secondly is the wide back splat (fig. 5), which is constructed as a tri-sectional panel as illustrated in the Song drawing above. Finally, the acute angle of the "goose-neck" front armrest posts, which is fitted with bracket-like spandrels above and below (fig. 6), recalls those ethereal forms depicted in Song and Yuan paintings.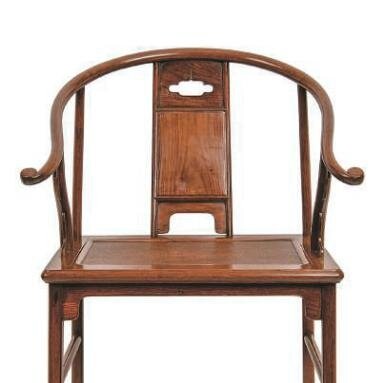 Fig. 5 Detail of lot 150, huanghuali round-back armchair, armrest and backrest.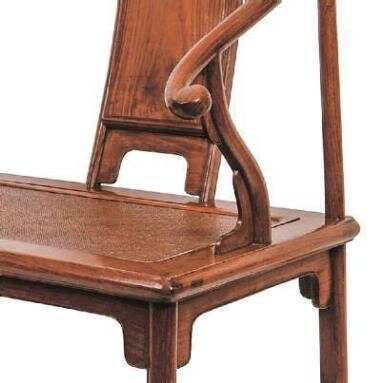 Fig. 6 Detail of lot 150, huanghuali round-back armchair, gooseneck support.
Elegant design aside, the exquisite craftsmanship typical of the Jiangnan region is also apparent in the details of these chairs. The armrest is shaped with three pieces joined with half-lap joints utilizing blind tenons; the use of unique pressure pegs, which are intelligently set at an angle to impart compression, fixes the joint tightly together (fig. 7); this technique, which has been noted on several other chairs from the region, may also indicate the signature of a common workshop. Delicate beading, which is traced around the back-splat medallion, aprons and spandrels, also reflects the refinement typical to the southern furniture-making tradition.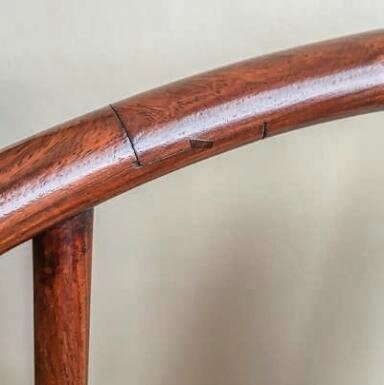 Fig. 7 Detail of lot 150, huanghuali round-back armchair, gooseneck support.
A unique feature of these chairs is the removable seat panel. Soft seats of woven cane required periodic replacement; presumably, independent seat panels would have facilitated such necessity. It is more common that beds were made with removable frames; even today it is still possible to happen upon an itinerant craftsman reweaving such a bed frame along the street side in some parts of China. A notable group of early-style huanghualisouthern officials chairs with thick headrest reinforced with spandrels, high armrests, and straight side posts also share the feature of removable seat panels (cf. fig. 8); these chairs, which are also typically found throughout the Jiangnan and Weiyang regions, may bear some relationship to the round-back chairs. Nevertheless, chair construction with removable seat panels was not a widely adopted practice.
Fig. 8 Huanghuali southern official's chair with removable seat panel, after Weiyang Mingshi jiaju, private collection, Hong Kong.
The present chairs were originally likely part of larger set of eight or more identical chairs that became separated over time. Four from the Robert Hatfield Ellsworth collection were published in 1970, and in 2015, were sold by Christies for a record-breaking price (fig. 9); another pair was published by Giuseppe Eskenazi in the late 90's; the pair in this sale bring the group to eight. Known sets of hardwood chairs rarely exceed four; those of eight are very rare. Notwithstanding, inscriptions discovered by this author on several lacquered chairs indicates that sets of twelve, twenty to thirty were not uncommon; thus, opportunities to reunite such chair sets still exist.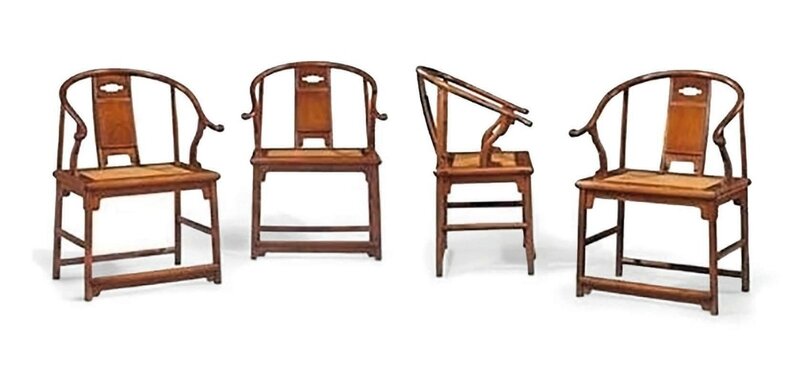 Fig. 9 Set of huanghuali four round-back armchairs, former Robert Hatfield Ellsworth collection.
Finally, the round back chair with cubic base is also a three-dimensional representation of the cosmological concept 'round heaven and square earth' (tianyuan difang). An ancient Chinese proverb also advises "external roundness and inner squareness" (waiyuan neifang)—square inside indicating guidance through noble principles; and round outside referring to the ability to exercise relative adaptability. These seats, which rest upon a solidly grounded base, and above, exhibit a welcoming supple openness, certainly reflect such divine balance.
Curtis Evarts
Independent Academic Consultant
Former Curator of the Museum of Classical Chinese Furniture, California.
Blue Oaks Farm, California
Fall, 2017.
Christie's. Fine Chinese Ceramics & Works of Art, 7 November 2017, London