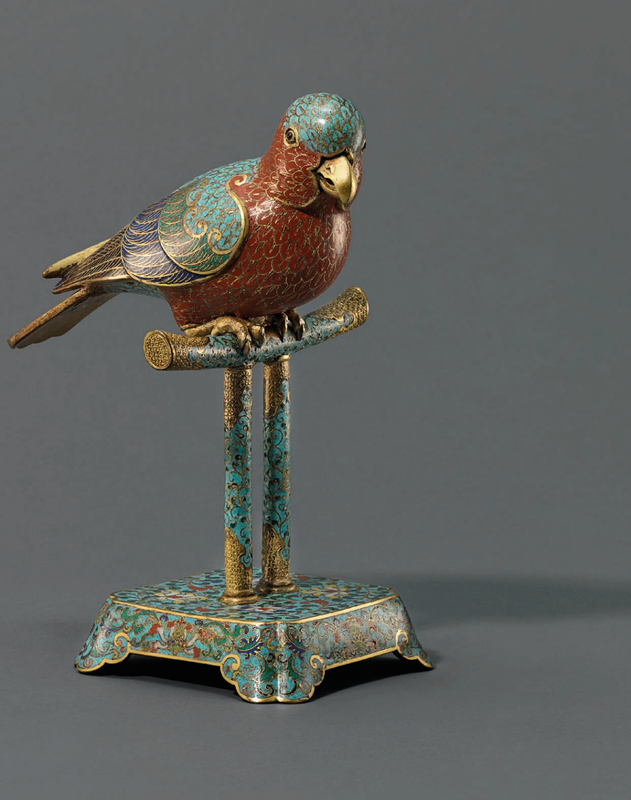 Lot 111. A rare cloisonné enamel model of a parrot and stand, 18th century. 9 ¼ in. (23.5 cm.) high overall. Estimate GBP 40,000 - GBP 60,000 (USD 52,160 - USD 78,240). Price realised GBP 87,500. © Christie's Images Ltd 2017
The parrot is naturalistically modelled with eyes inset with glass beads. The red and turquoise feathers of the body are finely depicted and the wings are infilled with green, blue, and black enamels. The bird is perched on a T-shaped stand decorated with scrolling foliage and finished with patterned gilt-bronze terminals. The square base of the stand is elaborately decorated with stylised lotus scrolls, supported on four ruyi-shaped feet.
Property of a Scottish gentleman.
Note: Though wild parrots and parakeets were native to certain parts of China, they gained popularity in the Tang dynasty and there are records of gifts of exotic parrots from Indonesia and Indochina.
Because of their colourful plumage, their intelligence, and their ability to 'speak', parrots, parakeets and lories have long been admired in China. The parrot is also a symbol of filial piety, featuring in various Buddhist texts, including Guanyin and the Filial Parrot (also known as 'The Precious Scroll of the Parrot' Yingge Baozhuan).
It is likely that the present lot is intended to represent a Fairy Lorikeet (Charmosyna pulchella) or a Chattering Lory (Lorius garrulus), either of which could have been brought to China from Indonesia.
An almost identical slightly shorter parrot (22 cm. high) was sold at Christie's London, 5 November 2013, lot 280.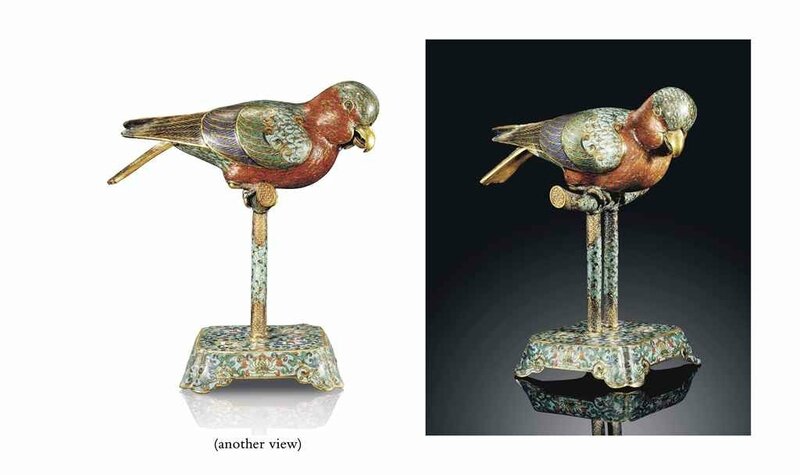 A rare cloisonné enamel parrot and stand, 17th-18th century. 9 in. (22.8 cm.) high overall. Sold for 122,500 GBP at Christie's London, 5 November 2013, lot 280. © Christie's Images Ltd 2013