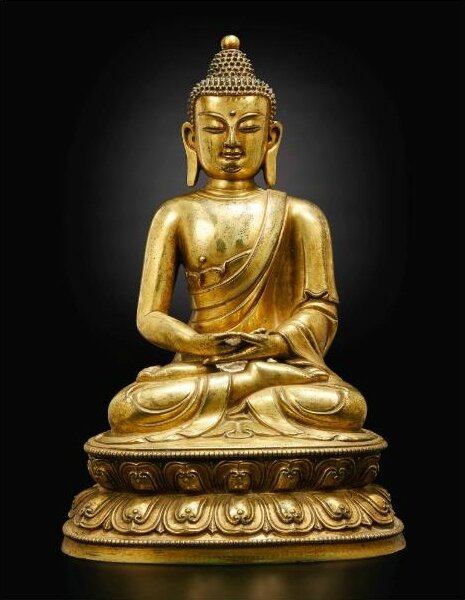 Lot 67. A Gilt-Bronze Figure of Shakyamuni Buddha, Ming Dynasty, Early 15th Century. Estimate £60,000–80,000. Lot sold £187,500 . Photo Sotheby's.
well-cast and depicted seated in vajraparyankasana on a double-lotus base, with hands held in dhyanamudra, wearing a pleated robe draped over the left shoulder and falling in loose folds over his legs, with the undergarment gathered at the chest, the serene face with downcast eyes and a meditative expression flanked by long pendulous ears, the hair arranged in tight curls covering the ushnisha and surmounted by an ovoid jewel, inscribed Qiantang Chen Yanqing Zao (Made by Chen Yanqing, from Qiantang), wood stand. Quantity: 2 - 27 cm, 10 5/8 in.
Provenance: Collection of Ernest Hamilton Sharp (1861-1922), OBE, appointed King's Counsel for the colony of Hong Kong in July 1902.
Note: This exquisite figure is notable for its fine casting and gilding, as evidenced in the naturalistically modelled folds of the robes and in the figure's serene facial expression. Stylistically it follows in the tradition established in the Yuan period, when Tibetan Buddhism became the court religion and a new sculptural style began to appear. Figures with gently smiling faces, full rounded bodies and tiered thrones are depicted in the early 14th century wooblocks made for the monastery of Yanshen Yuan, Hangzhou, and illustrated in Heather Stoddard Karmay, Early Sino-Tibetan Art, Warminster, 1975, pls 26, 29 and 30. It is possibly these images, which reflect the style favoured in Tibet at the time, that craftsmen active in the early 15th century used for inspiration.
This piece is also notable on account of its inscription, which identifies its maker as Chen Yanqing, a sculptor who appears to have been active in Hangzhou from the late Yuan to the early 15th century. Surviving examples of Shakyamuni Buddha signed by Chen are rare, although a slightly larger example cast with very similar features, from the collection of Jas R. Herbert Boone, was sold in our New York rooms, 18th/19th April 1989, lot 150A. See also a gilt-bronze figure of Zhenwu signed Chen Yanqing and dated 1439, from the collection of Robert Sonnenschein II, now in the Art Institute of Chicago, illustrated in Stephen Little, Taoism and the Arts of China, Berkeley, 2000, pl. 103; and one depicting Laozi and dated 1438, in the Metropolitan Museum of Art, New York, illustrated in Daisy Patry Leidy and Donna Strahan, Wisdom Embodied. Chinese Buddhist and Daoist Sculpture in the Metropolitan Museum of Art, New York, 2010, pl. 38.
Chen Yanqing, Daoist God Zhenwu (Perfected Warrior), Supreme Emperor of the Dark Heaven, Ming dynasty (1368-1644), Zhengtong period (1435-1449), dated 1439. Gilt bronze, 34.3 x 24.0 x 16.7 cm (13 1/2 x 9 1/2 x 6 5/8 in.). Gift of Robert Sonnenschein II, 1950.1054 © Art Institute of Chicago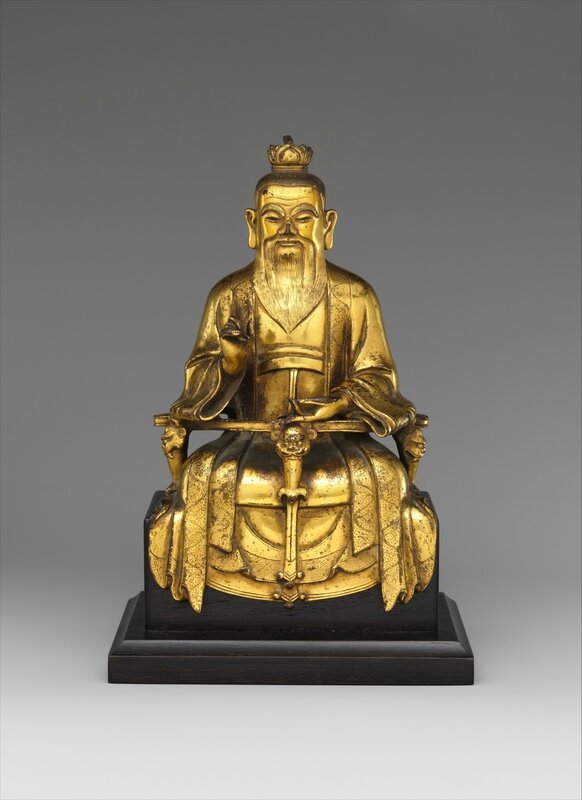 Chen Yanqing (active 15th century), Daoist Immortal Laozi, Ming dynasty (1368–1644), dated 1438. Gilt brass; lost-wax cast. H. 7 1/2 in. (19 cm); W. 4 3/4 in. (12 cm); D. 2 3/4 in. (7 cm). Purchase, Friends of Asian Art Gifts, 1997, 1997.139 © 2000–2017 The Metropolitan Museum of Art.