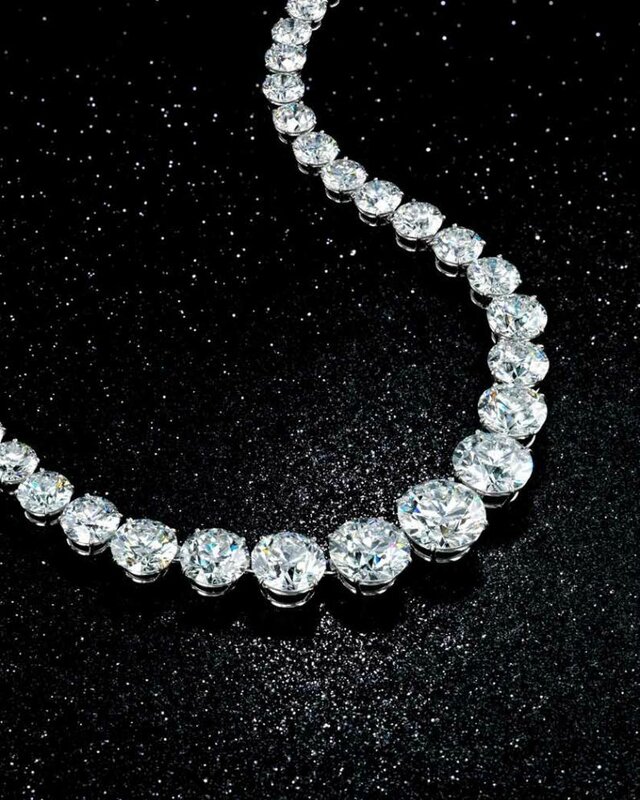 "I never hated a man enough to give him diamonds back", Zsa Zsa Gabor, 1957.
NEW YORK - A magnificent diamond rivière necklace formerly owned by Zsa Zsa Gabor – the women who stated she had never met a diamond she didn't like – is up for auction at Bonhams New York this December (4th December 2017).
The necklace, created by legendary American jeweler Harry Winston in 1964, features 45 graduated round brilliant-cut diamonds weighing a total of 66 carats, and is estimated at US$1,200,000-1,500,000.
Zsa Zsa Gabor was a self-confessed jewelry lover, just about every photograph taken of the actress features her wearing magnificent earrings, bracelets and necklaces, all dripping in diamonds. These sent the jewelry world buzzing with excitement with people asking how many carats she was wearing and the designer behind each piece.
Susan Abeles, Head of Jewelry for Bonhams US, said: "Zsa Zsa Gabor's life was all about 'more is more fabulous' and when it came to jewelry, it was always 'more, more, more'. She was the definition of Old Hollywood glamor, a rare breed of fabulous, and this necklace epitomizes the starlet's personality to a tee: it's not just gorgeous, it is over-the-top gorgeous!
"This necklace is the quintessential center of any collection. Only this necklace takes the classic diamond necklace, which goes with everything, to another level of superior quality, signature and provenance; it is absolutely breathtaking. As a result, we're anticipating that there will be a lot of interest in it given the wonderful provenance of its original owner."
As well as her expensive jewelry habit, the Hungarian-born actress, who died in 2016 aged 99, was known for her razor-sharp wit. She once reportedly said: "Diamonds are a girl's best friend and dogs are a man's best friend. Now you know which sex has more sense!" And one of the most famous lines attributed to her came after one of her divorces when Zsa Zsa was asked whether a lady should give back the ring. Her answer? "Of course dahlink, but first, you take out all the diamonds."
Fortunately for Bonhams, this necklace remained a much-loved piece in her collection and the diamonds are very much in tact with the five central diamonds weighing 8.07, 6.34, 6.33, 5.35 and 4.88 carats respectively. It was worn frequently by the actress at the many glamorous events she attended and features in numerous photographs of her from the early Sixties and throughout her public life.
The actress was cast in dozens of films over the years. One of her most famous was Moulin Rouge in which she out-dazzled the rest of the cast in the sumptuous costumes designed for her by Elsa Schiaparelli.
Outside her acting career, Gabor was known for her extravagant Hollywood lifestyle, her glamorous personality, and her many marriages. In total, Gabor had nine husbands, including hotel magnate Conrad Hilton, and actor George Sanders.
The necklace will be previewed at Bonhams in New York, Geneva, Los Angeles and Bonhams Hong Kong during November and December before the auction which will take place on Monday 4 December at 3pm EST at Bonhams New York in Madison Avenue.
Bids can be placed online on Bonhams' website www.bonhams.com, via telephone, in writing, and also in person on the day of the sale.
Bonhams sells more jewelry lots each year than any other international house and has more dedicated jewelry auctions annually.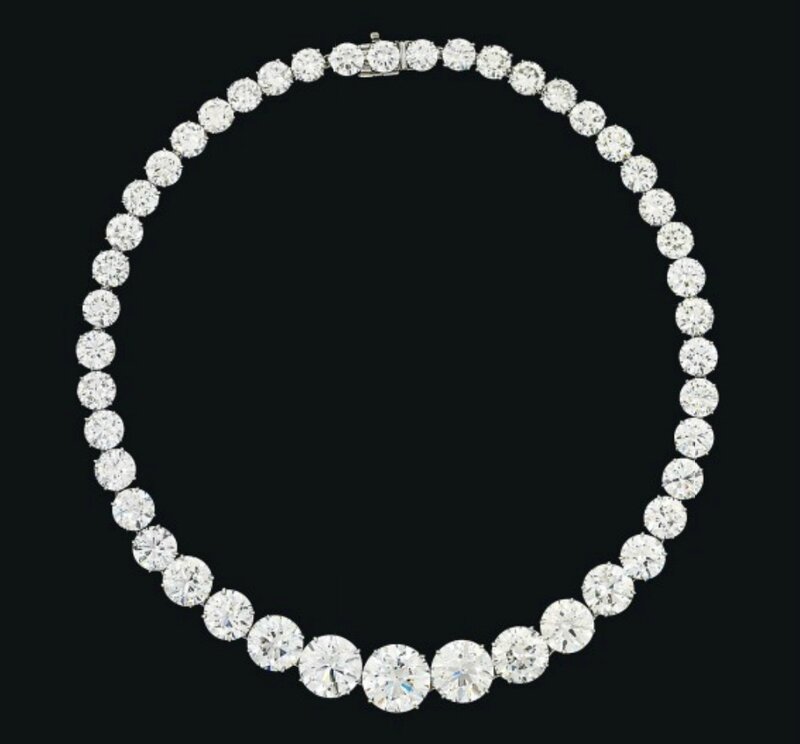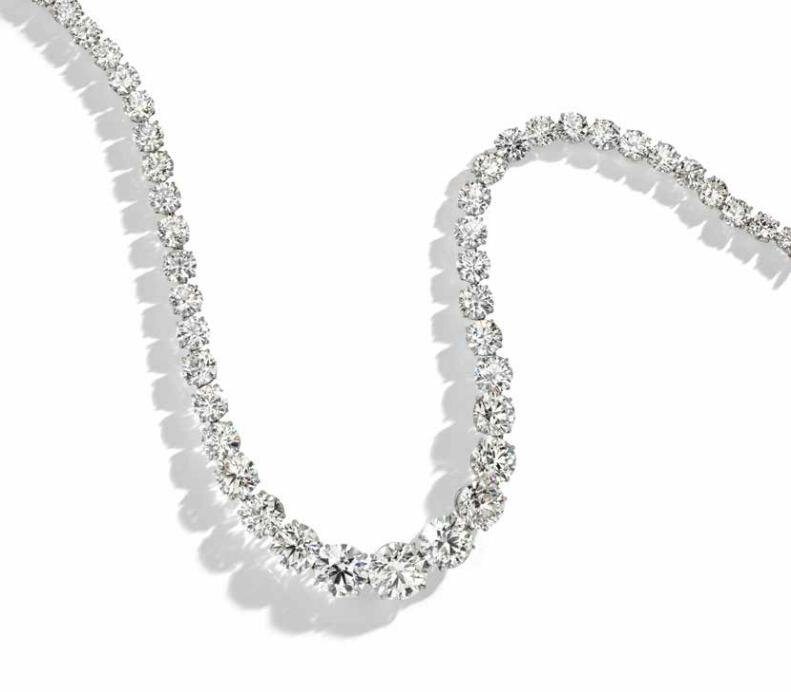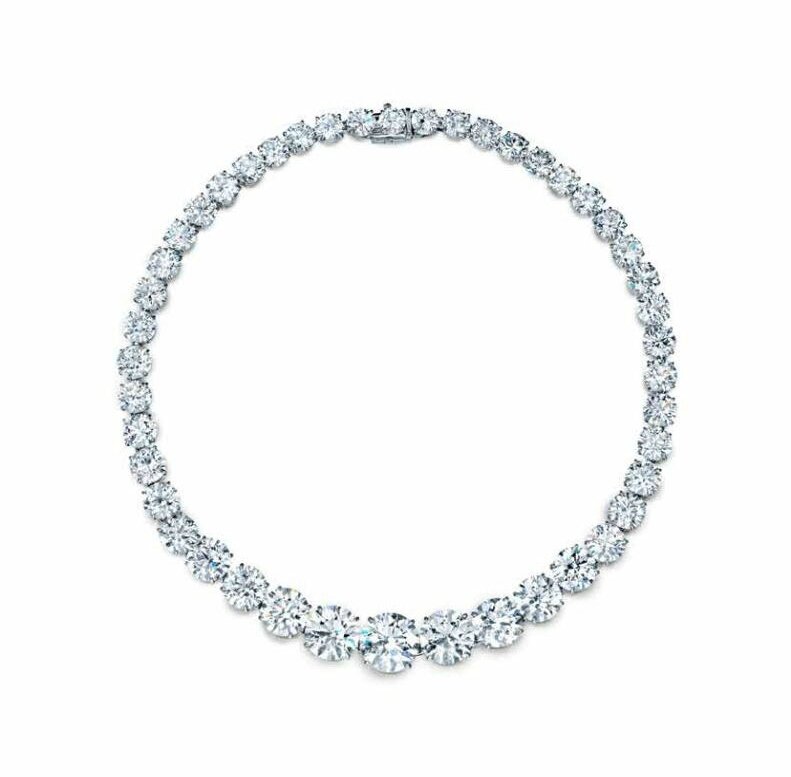 Lot 185. Formerly the Property of Zsa Zsa Gabor. A magnificent diamond rivière necklace, Harry Winston, 1964. Estimate US$ 1,200,000 - 1,500,000 (€1,000,000 - 1,300,000). Sold for US$ 1,272,500 (€1,073,930). Courtesy Bonhams.
composed of forty-five graduated round brilliant-cut diamonds, the five central diamonds weighing 8.07, 6.34, 6.33, 5.35 and 4.88 carats, to an invisibly set clasp; unsigned, no5512; remaining total diamond weight: 66.21 carats; mounted in platinum; length: 14 13/16in.
Accompanied by GIA report # 5151838478, dated January 6, 2014, stating the 8.07 carats diamond as: G color, VVS2 clarity.

Accompanied by GIA report # 1152838447, dated January 6, 2014, stating the 6.34 carats diamond as: F color, VVS2 clarity.

Accompanied by GIA report # 1152838450, dated January 6, 2014, stating the 6.33 carats diamond as: G color, VVS1 clarity.

Accompanied by GIA report # 1152838468, dated January 6, 2014, stating the 5.35 carats diamond as: H color, VVS2 clarity.

Accompanied by GIA report # 2155838453, dated January 6, 2014, stating the 4.88 carats diamond as: I color, VVS2 clarity.

For further information on the remaining reports from the Gemological Institute of American (GIA), please contact the jewelry department.

Accompanied by a certificate of authenticity from Harry Winston, dated August 23 2017.
Note: Zsa Zsa Gabor, was a self-confessed jewelry lover who epitomized Hollywood glamour. Born Sari Gabor in 1917 in Budapest, Hungary. She and her two sisters grew up in an affluent family exposed to jewelry through her mother's family business. At age 13, she was sent to boarding school in Switzerland where she was soon discovered by the opera singer Richard Tauber. He encouraged her to spend time at the Vienna Acting Academy before making her debut in his opera.

In 1937, at the age of 20, Zsa Zsa Gabor married her first of nine husbands, the Turkish official Burhan Asaf Belge, to whom she allegedly proposed. To celebrate her engagement, her parents gifted her a 10 carat diamond. Unfortunately, this marriage did not last long and she filed for divorce after immigrating to the United States in 1941, where she join her sister.

In 1942, after only a few months, she met and married dashing bachelor and hotel magnate Conrad Hilton. Together they had a daughter, Francesca, before divorcing in 1946.

By the 1950's Ms. Gabor's film and television career had begun to blossom, first in 1952 with her movie roll in Lovely to Look At. Yet, she was probably best known for her European glamour. Many of her roles emulated her real life persona of self-indulgence and beauty. She was undoubtedly smart and whimsical, embracing the drama of Hollywood life.

It is not surprising that she frequently visited "the King of Diamonds," Harry Winston. It was there that she felt at home in the salon surrounded by jewels. Zsa Zsa Gabor was patron of this important diamond maison. This magnificent diamond necklace acquired in 1964 represents one of her largest purchases. The riviere initially composed of 47 graduating round diamonds was modified by Ms. Gabor when she removed two diamonds and converted them into diamond stud earrings.

Her love for jewelry and lavish adornment is legendary; and this necklace was undoubtedly a favorite jewel, as it is seen in many photographs.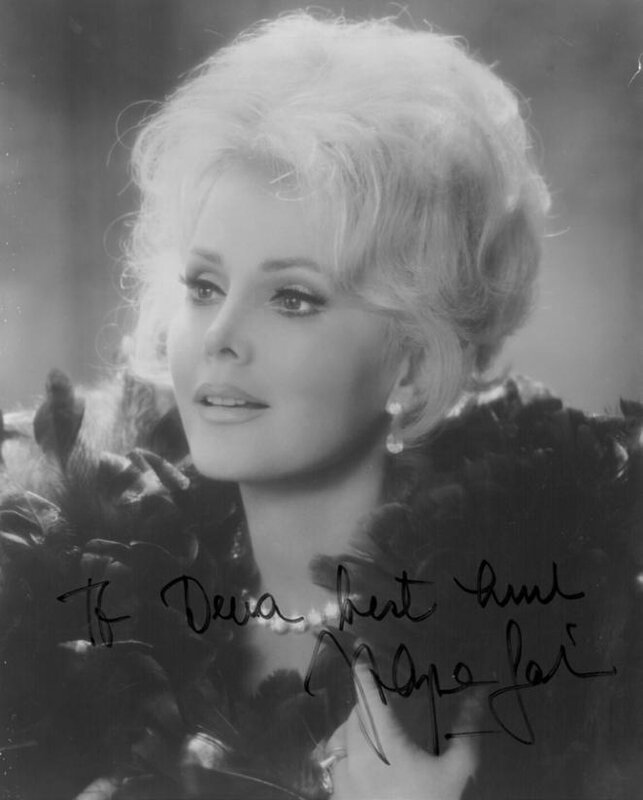 This photograph of Zsa Zsa Gabor to acompany the lot.