Lot 72. A Marble Sigma-shaped Table with Relief Border depicting Birth of Aphrodite & Marine Thiasos, Eastern Mediterranean, late Romanearly Byzantine, Theodosian Period, circa 390-430 A.D. 126 by 122.5 cm. Estimate £400-600,000. Courtesy Sotheby's.
LONDON.- Covering an unprecedented spectrum of objects from Classical Greece and Rome to Ancient Egypt and the Near East, Sotheby's November sale of Ancient Sculpture and Works of Art brings to life past civilisations. With estimates ranging from £800 to £400,000, the sale presents an opportunity for first time buyers as well as seasoned collectors.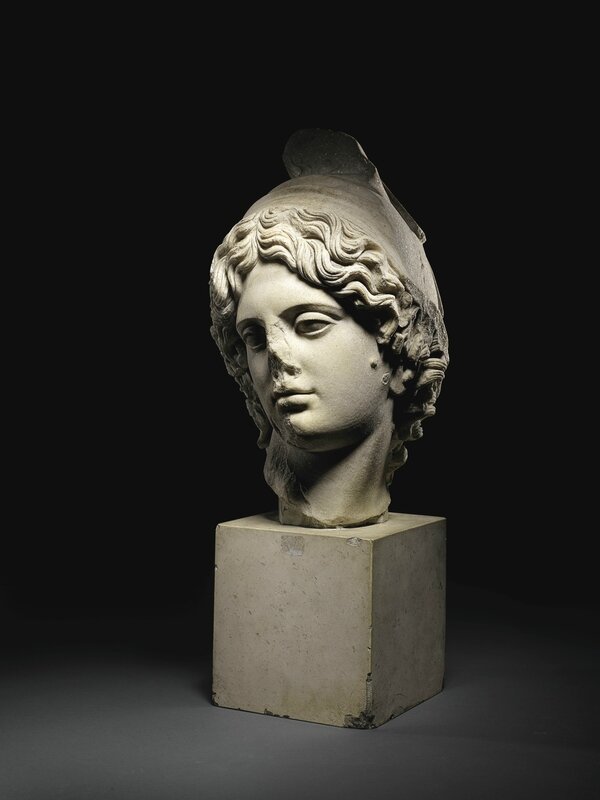 Lot 40. A Roman Marble Head of Ganymede, circa 1st Century A.D. Height 34 cm.; height of face 15 cm. Estimate £250,000-350,000. Courtesy Sotheby's.

One of the most finely carved Roman marble heads to be offered at auction in recent history, this portrayal of divine hero Ganymede is the only known copy of a lost Classical Greek original sculpture. The youthful face is depicted with parted lips and heavy-lidded eyes, his long wavy hair parted in the centre and falling in corkscrew curls over the sides and nape of the neck, the ear-flaps of his Phrygian cap pulled up and knotted at the back.
Lot 72. A Marble Sigma-shaped Table with Relief Border depicting Birth of Aphrodite & Marine Thiasos, Eastern Mediterranean, late Roman-early Byzantine, Theodosian Period, circa 390-430 A.D. 126 by 122.5 cm. Estimate £400,000--600,000. Courtesy Sotheby's.
The most complete of all known Byzantine marble table tops with relief-decorated borders, this extremely rare table is exceptional in a number of respects. It is almost entirely preserved save a few fragments in the central flat area. Indeed, it was never tampered with – the fragments not permanently joined together and the reddish layer of incrustation covering almost the entire surface was not cleaned off. Unusually depicting Aphrodite with maritime themes, it promotes magic, fertility, love and success to be pondered on during feasts and musical or theatrical performances.
Early Byzantine table tops with relief decoration were produced by various workshops along the Eastern Mediterranean during a relatively short period time of about 40 years or so, during a period sometimes known as the Theodosian Renaissance. The subjects of their relief decoration vary from Christian symbols or imagery derived from Biblical episodes, to purely Pagan mythological iconography, such as the deity and fantastic sea-creatures used on this object.
Lot 39. A Roman Black Marble Herm Head of Hermes, circa 2nd century A.D. Height 29 cm. Estimate £35,000 — 45,000. Courtesy Sotheby's.
Son of Zeus and Maia, Hermes is the protector of travellers and the messenger of the gods, for his speed abilities. As their herald, he accompanied the dead in the afterlife, and he was called Psychopompós (conductor of souls). In Rome, he was known as Mercury and was the god of commerce. This sculpture is a typical archaistic representation of Hermes, distant from the classical and Hellenistic representation of gods and heroes. The face is taken up with a long rounded beard composed of four tiers of volute curls ending at his high cheekbones, with wavy hair radiating from the crown.
Lot 28. A fragmentary Onyx Cameo of Athena Parthenos, circa 1st Century A.D., or later. Max. length 7.3 cm.; max. thickness 1.5 cm. Estimate £12,000-18,000. Courtesy Sotheby's.
This miniature jewel-like cameo is one of the most exquisite renderings of the cult goddess Athena Parthenos. The artistic sensitivity is unparalleled, accompanied by a close regard to details – the virgin goddess adorned with a pendant earring and her helmet decorated with a couchant sphinx and prancing horses. The object is a welcome addition to the testimonia regarding the lost but renowned massive gold and ivory statue of the goddess Athena, created by Phidias and housed in the Parthenon in Athens. It stood in the Parthenon until the 5th century AD when it was removed by Romans, and since then only the general appearance can be assessed from images on coins and miniatures.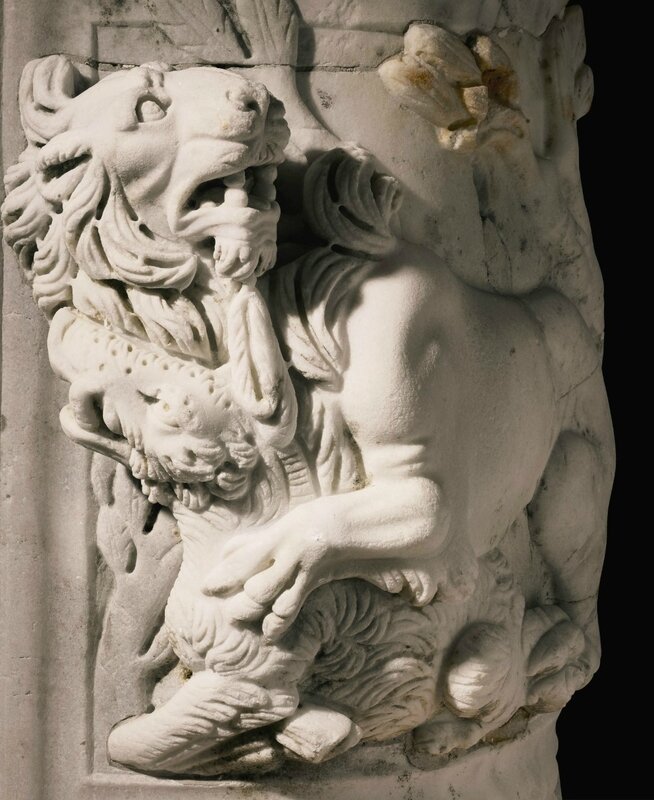 Lot 68. A Roman Marble Strigillated Lion Breakfast Sarcophagus, Rome, with 18th Century Restorations, circa 260-280 A.D. 56 by 242 by 80 cm. Estimate £60,000-80,000. Courtesy Sotheby's.
This fully restored sarcophagus carries carefully cut out ancient figural relief fragments – each lion boldly carved pinning its prey down, one a quadruped, the other a wild boar, and looking back with fierce expressions and gaping jaws.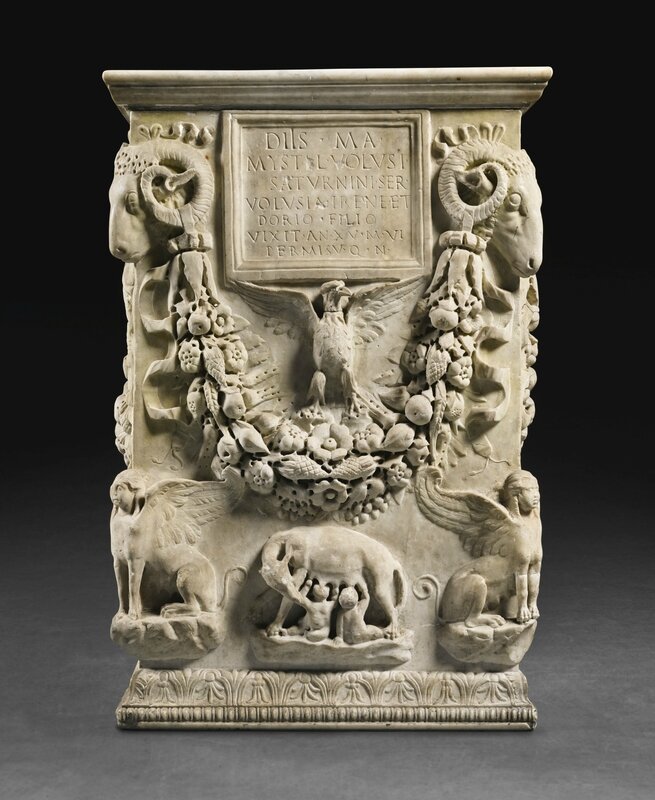 Lot 65. A Roman Marble Funerary Altar inscribed for Mystes and Dorius, 1st Century A.D. 83 by 59 by 39 cm. Estimate £40,000-60,000. Courtesy Sotheby's.
This refined carving is emblematic of the early principate, complete with a carving of twins Romolo and Remo with the Lupa – a central motif in the myth of Roman foundation. The inscription refers to the slave of a prominent noble family in Rome, the Gens Volusia. The object has extraordinary provenance, having been part of two illustrious collections in Rome in the 16th century – the Mellini collection and the Cesi Collection.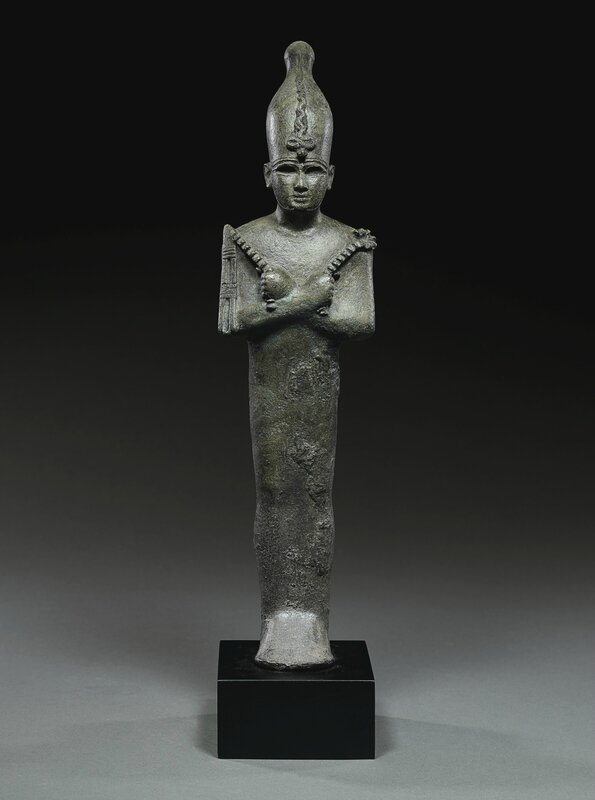 Lot 92. A Large Bronze Figure of Osiris, 1075-716 B.C. Height 42.5 cm. Estimate £40,000-60,000. Courtesy Sotheby's.
This striking figure of the Egyptian god of life, death and the afterlife was formerly in the prestigious collection of Edward Drummond Libbey, the founder of the Toledo Museum of Art in Ohio. It presents the powerful mythological Osiris shrouded in his cloak, holding the crook and flail and wearing the atef-crown.