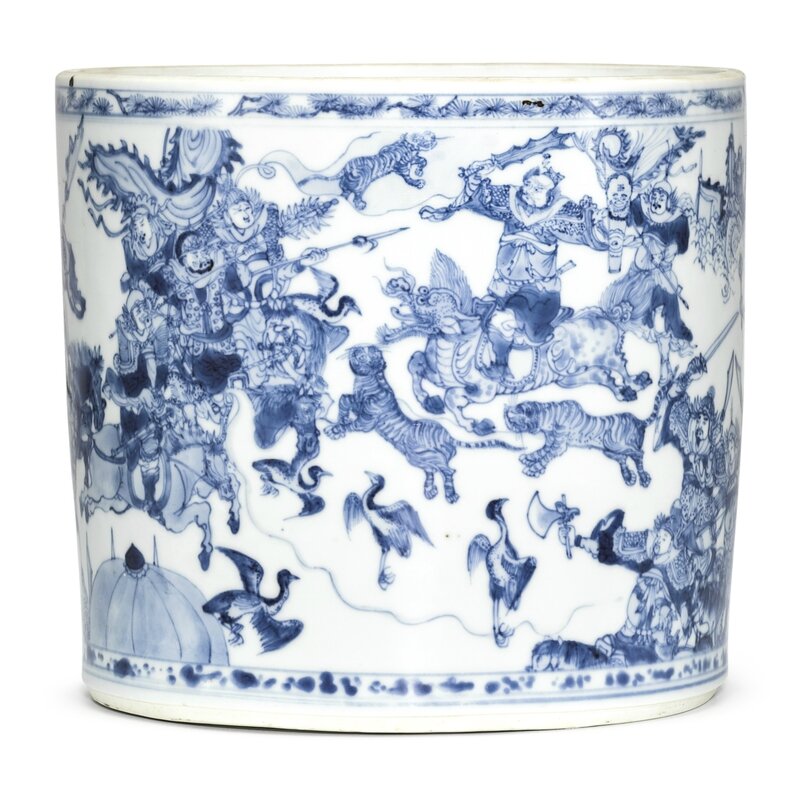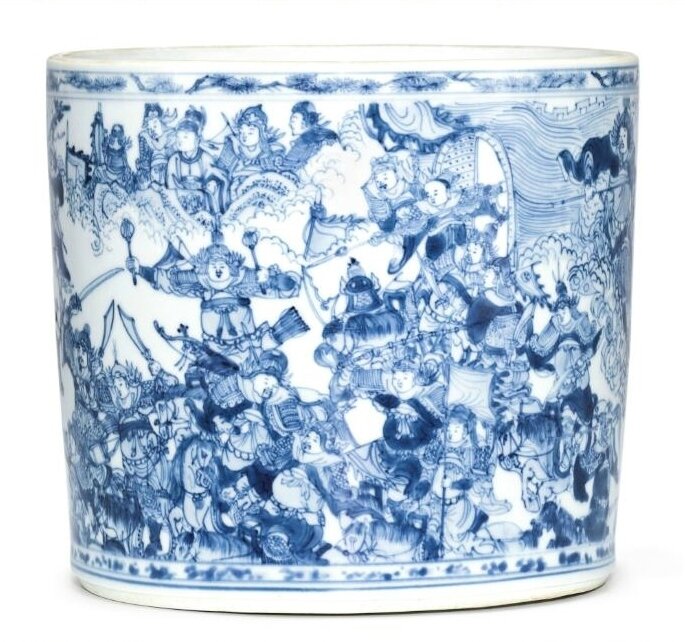 Lot 317. A superb blue and white brushpot, Transitional period. d. 18.6 cm, 7 3/8 in. Estimate 100,000 — 150,000 HKD. Lot sold 1,375,000 HKD (147,783 EUR). Courtesy Sotheby's.
of cylindrical form, the exterior delicately painted in fine details with a scene from the story Fengshen yanyi, depicting Wen Zhong riding on a mo qilin and leading his equestrian soldiers battling against another group of equestrian warriors, all amongst ferocious leaping tigers and soaring cranes before a city gate, the rim encircled by a band of pine branches and the foot skirted with dabs of cobalt-blue splashes.
Provenance: Collection of T.Y. Chao (1912-1999), and thence by descent in the family.
Note: This brushpot is striking for its dynamic and lively design that extends throughout the surface of the vessel. Rendered in fine almost pencilled lines, it depicts a scene from the story Fengshen yanyi/Investiture of the Gods, a major vernacular work written in the 16th century, narrating the military campaigns of the last evil king of the Shang dynasty against the sagacious founders of the Zhou dynasty. The central figure depicts the grand master to the King Zhou of Shang, Wen Zhong, mounted on the mythical animal mo qilin, the strongest among its kind. Although outnumbered by the opposing Zhou entourage led by a variety of deities, magicians and mounted cavalries bearing banners, he demonstrates his military prowess through his spiritual power to summon animals to fight against the enemy. Wen Zhong ultimately became the Daoist God of Thunder, Puhua tianzun, for his unprecedented loyalty and dedication to his people.
Brushpots of this type were often adorned with scenes from popular literature, such as one in the Palace Museum, Beijing, illustrated in Compendium of Collection in the Palace Museum. Ceramics, vol. 21, Shunzhi (1644 – 1661) and Kangxi (1662 – 1722) Period of Qing Dynasty (1), 2013, pl. 181; another sold in these rooms, 28th November 1979, lot 183; and a third sold at Christie's New York, 22nd March 2012, lot 1279.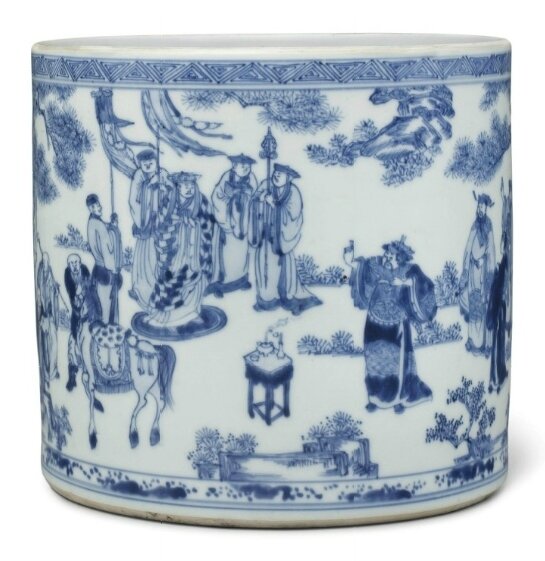 An unusual large blue and white brush pot, Kangxi period (1662-1722). 6 7/8 in. (17.5 cm.) high. Sold for 108,100 USD at Christie's New York, 22nd March 2012, lot 1279. © Christies Images Ltd 2012
Sotheby's. Chinese Art including Selected Works of Art from the T.Y. Chao Family Collection, Hong Kong, 30 Nov 2017, 02:00 PM