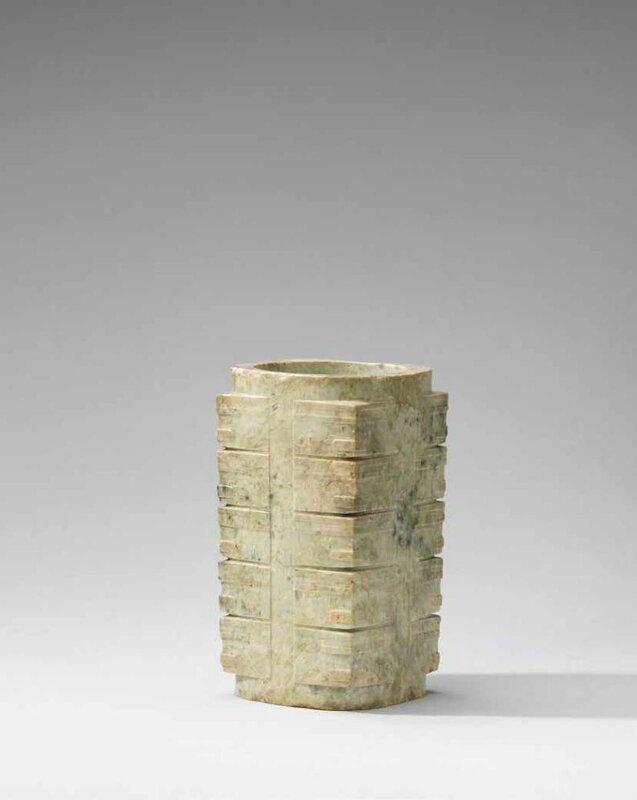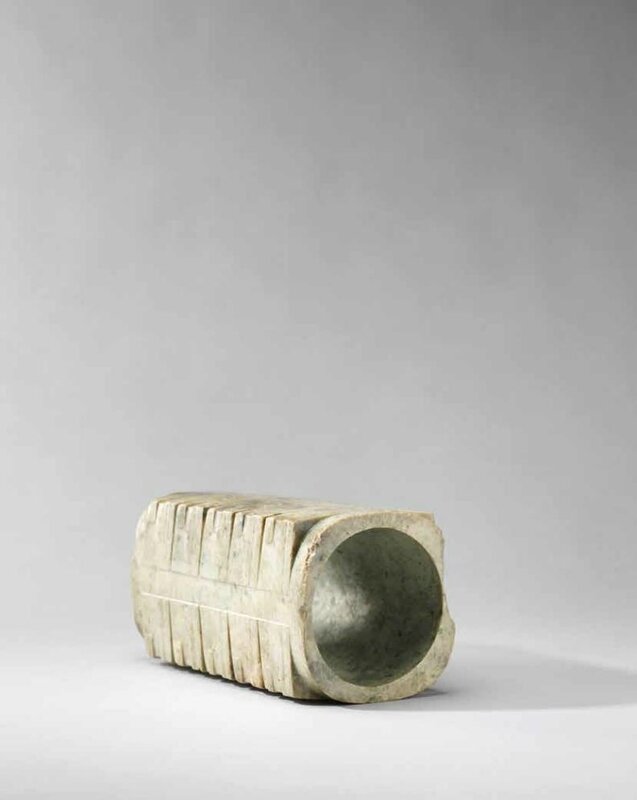 Lot 1. A rare grey and green jade ritual vessel, cong, Neolithic Period, Liangzhu Culture (ca. 3300-ca. 2250 BCE). Estimate HK$ 200,000 - 300,000 (€22,000 - 32,000). Sold for HK$ 4,660,000 (€502,452). Photo: Bonhams.
Of cylindrical square section, each side divided into five registers, each carved with a stylised mask formed by raised bands and finely incised details, the opaque stone of rich pale grey tone suffused with dark olive-green inclusions. 11.1cm (4 1/4in) high
Provenance: The Sze Yuan Tang Collection

Published and Illustrated: Art and Imitation in China, Hong Kong, 2006, no.11

Exhibited: University Museum and Art Gallery, The University of Hong Kong (14 October - 17 December 2006)
Note: The present cong displays the distinctive characteristic of Liangzhu Culture cong vessels, with a square outer section around a circular inner part and decorated with stylised masks neatly arranged on each of the four corners. Particularly notable in the present cong is the fine quality of the delicately incised lines.
One interpretation of the function of cong is that it symbolised the earth. Although the precise meaning and use of the cong is not entirely clear, it was found in extensive numbers in Liangzhu tombs and is believed to be of great significance.
Compare an example of a jade cong also carved with five registers of stylised masks (14.8cm high), Neolithic period, Liangzhu Culture, illustrated in Compendium of Collections in the Palace Museum: Jade 1 Neolithic Age, Beijing, 2011, p.76, pl.31. See also another slightly larger jade cong (14.6cm high), also with five registers, excavated in 1973 from Sidun in Wujin, Jiangsu Province, illustrated in Liangzhu wenhua yuqi, Hong Kong, 1989, p.39, pl.50.
Bonhams. FINE CHINESE CERAMICS AND WORKS OF ART, 28 Nov 2017, 14:00 HKT, HONG KONG, ADMIRALTY