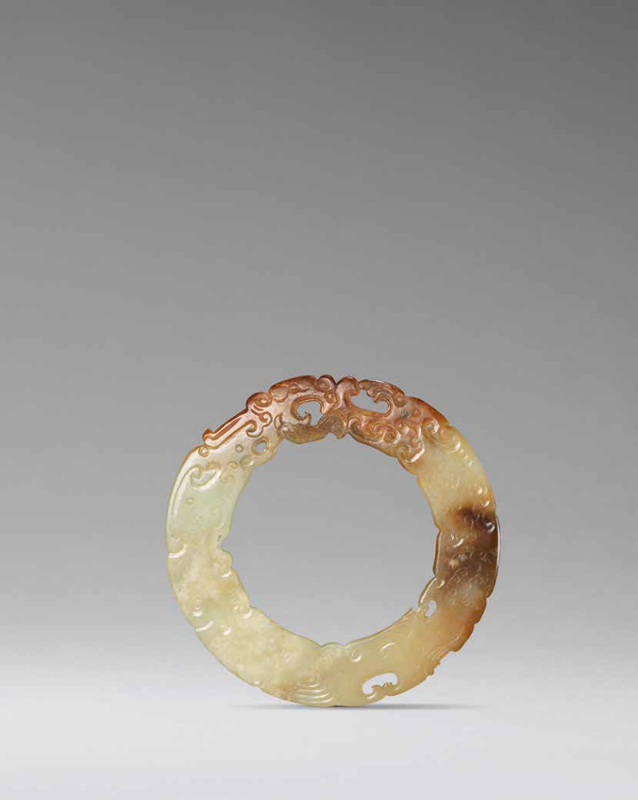 Lot 5. A rare archaistic pale green and russet jade 'double-dragon' disc, bi, Ming Dynasty (1368-1644). Estimate HK$ 80,000 - 120,000 (€8,600 - 13,000). Photo: Bonhams.
Of flattened circular form, carved in openwork depicting a dragon chasing its own tail, the body delicately incised with stylised
kui
dragons and archaistic scrolls, the softly-polished stone of a pale yellow tone suffused with caramel-russet inclusions, box.
11.2cm (4 3/8in) diam.
(2).
Provenance: Christie's Hong Kong, 1 June 2011, lot 3933
Note: The present jade disc with the design of a coiled dragon biting its own tail is based on Shang dynasty prototypes; see an example from the Shang period in the British Museum, London, illustrated by J.Rawson, Chinese Jades from the Neolithic to the Qing, London, 1995, p.208, pl.12:1.
During the Ming dynasty, appreciating and collecting antiques was very much in vogue, as depicted in a painting by Du Jin (active circa 1465-1509), titled Wangu tu 'Enjoying Antiquities', in the National Palace Museum, Taipei, and demonstrated in a woodblock print of a related double-coiled dragon-shaped inkcake, by Fang Yulu in the 1596 edition of Fang shi mo pu, illustrated by Huei-chung Tsao, Jade: from Emperors to Art Deco, Paris, 2016, pp.114-115, fig.1 and no.92.
For related examples of jade discs in the form of a coiled dragon, dated to the Ming dynasty, see Compendium of Collections in the Palace Museum: Jade 6 Ming Dynasty, Beijing, 2011, nos.26 and 298; and see also a disc in the form of an archaistic double-dragon, 15th/16th century, in the National Palace Museum, Taipei, illustrated by Huei-chung Tsao, ibid., p.116, no.93.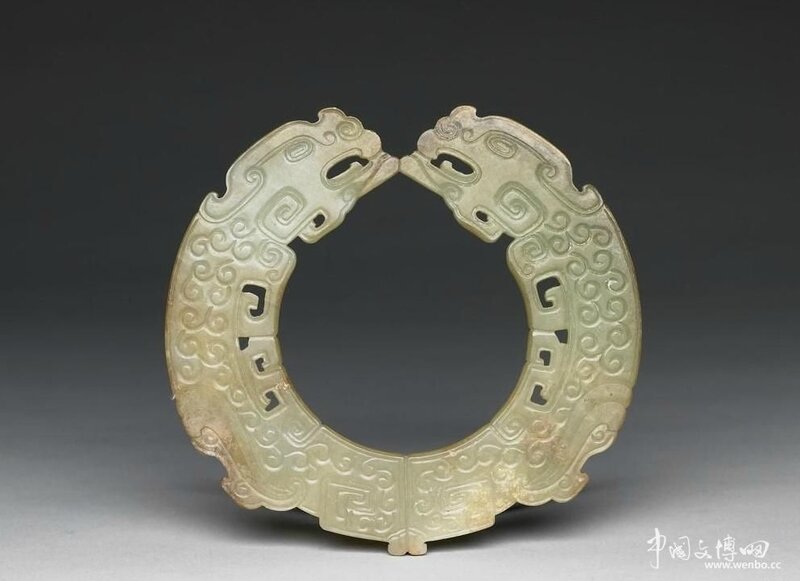 Disc in the form of an archaistic double-dragon, 15th/16th century, in the National Palace Museum, Taipei. Image courtesy of the National Palace Museum, Taipei
Bonhams. FINE CHINESE CERAMICS AND WORKS OF ART, 28 Nov 2017, 14:00 HKT, HONG KONG, ADMIRALTY