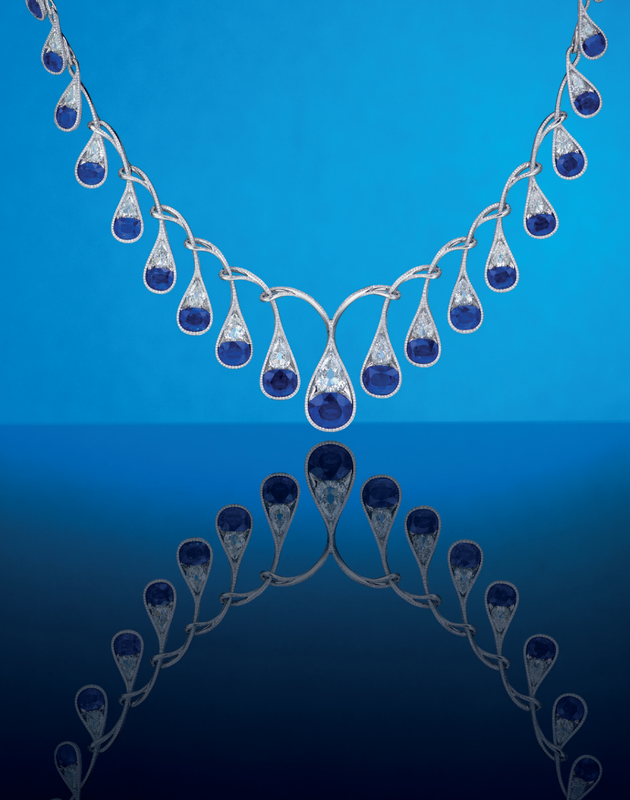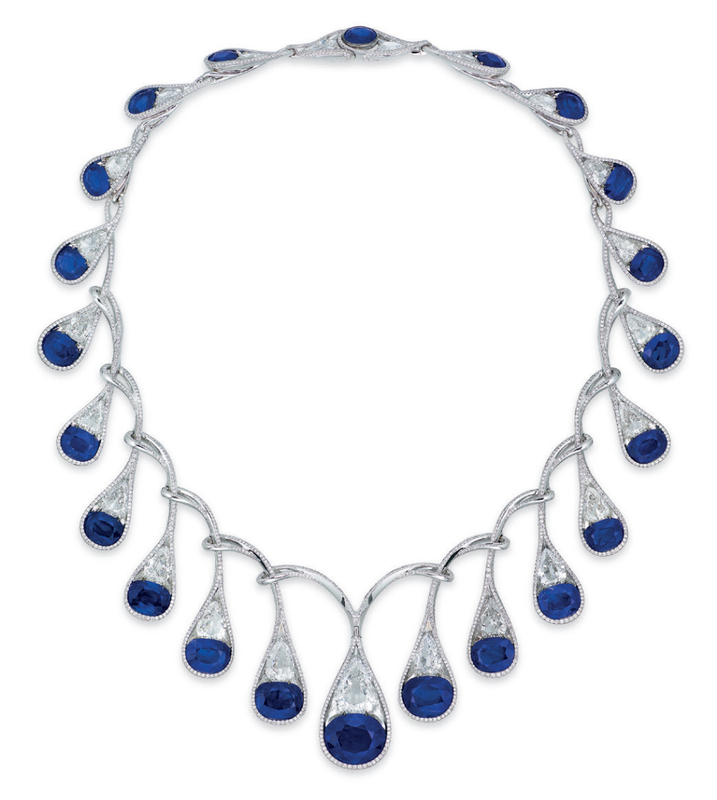 Lot 2063. An important suite of Burmese sapphire and diamond jewellery, by Forms. Estimate HKD 8,800,000 - HKD 12,000,000 (USD 1,100,000 - USD 1,500,000). © Christies Images Ltd 2017
Comprising a necklace, designed as a series of graduated drops, each composed of an oval-shaped sapphire and pear-shaped diamond, lined by circular-cut diamonds, and a pair of ear pendants en suite, mounted in gold, in two red leather Forms cases. With maker's mark for Forms.
Accompanied by premium report no. 96061 dated 12 October 2017 from the SSEF Swiss Gemmological Institute stating that the sapphires are of Burma (Myanmar) origin, with no indications of heating; also accompanied by an appendix stating that the sapphires possess extraordinary characteristics and merits special mention and appreciation. Based on the excellent matching quality and attractive blue color of these sapphires, and to highlight the artistic design of this necklace, this sapphire jewellery set has been poetically named 'Drops of Water'. Assembling a matching selection of natural sapphires from Burma of this quality can be considered rare and exceptional.
The necklace, accompanied by fifteen reports dated from 8 September 2015 to 16 June 2017 from the GIA Gemological Institute of America stating that the 4.07 to 0.90 carat diamonds range from D to G colour, internally flawless to SI1 clarity.
The ear pendants, accompanied by four reports dated from 21 March 2016 to 2 May 2017 from the GIA Gemological Institute of America stating that the diamonds range from E to F colour, internally flawless to SI2 clarity.
Christie's. Hong Kong Magnificent Jewels & The Pink Promise, 28 November 2017, Hong Kong