Lot 8. A very rare Imperial blue and white 'peony scroll' bowl, Xuande six-character mark in a line and of the period (1426-1435); 27cm (10 5/8in) diam. Estimate HK$ 800,000 - 1,200,000 (€86,000 - 130,000). Sold for HK$ 3,700,000 (€398,943). Photo: Bonhams.
Sturdily potted with shallow rounded sides rising from a circular foot, the exterior painted in richly-toned cobalt blue with eight large herbaceous peony blooms borne on a meandering leafy scroll above a band of upright lotus lappets, all encased within double-lined borders and two bands of evenly-spaced flower-heads encircling the rim and foot, the body with a horizontal six-character kaishu mark.
Provenance: Phillip Cobb (d.1954), acquired in Shanghai circa 1930s, and thence by descent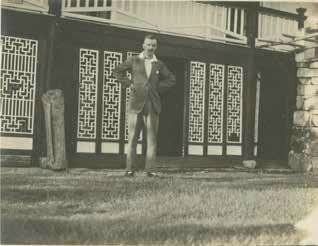 Phillip Cobb.
Phillip Cobb worked in Shanghai for Unilever circa 1930s. The Lever brothers established their first operation in Shanghai in 1923 and soon became the largest soap manufacturer in the Far East.
Note: The present bowl, superbly painted in vivid shades of cobalt blue, is exceptionally rare and only one other very similar example appears to have been published; see a blue and white 'peony scroll' bowl, Xuande mark and period, with similar secondary borders painted with plum blossom florets, but of slightly larger size (29.6cm diam.), illustrated by Liao Pao-show A Panorama of Ceramics in the Collection of the National Palace Museum: Hsüan-te Ware, vol.I, Taipei, 2000, pp.158-159, no.49. Compare also a similar blue and white 'peony scroll' bowl, Xuande mark and period (28.1cm diam.), but with the secondary borders painted with lily florets, from the Qing Court Collection, illustrated in The Complete Collection of Treasures of the Palace Museum: Blue and White Porcelain with Underglaze Red (I), Hong Kong, 2000, p.154, no.146.
The Imperial collections include other related bowls with varying main border designs of lotus or peony blossoms, auspicious fruit, lingzhi fungus, bajixiang emblems, 'Three Friends of Winter', and dragon; and with single or double secondary bands variously enclosing plum blossom or lily florets, cloud scrolls, foliate lily, lappets, classic scroll, and waves; for examples in the National Palace Museum, Taipei, see Liao Pao-show, ibid., nos.41-48, and 50-52; and from the Qing Court Collection, in the Palace Museum, Beijing, see ibid., nos.143-145 and 147-148.
Xuande-marked bowls such as the present lot are typified by their sturdy potting, shallow rounded sides, wide mouth and plain interiors, and the reign mark written in a line from the right to left below the rim. The purpose of the bowls remains obscure, but suggestions range from scholarly brush washers, to containers for playing dice and 'battle fields' for fighting crickets, as discussed in Chinese Ceramics: The S.C.Ko Tianminlou Collection, Part II, Hong Kong, 1987, p.53.
A related blue and white 'lotus scroll' bowl, Xuande mark and period, was sold at Sotheby's Hong Kong, 3 October 2017, lot 3677; and see another example, which was sold at Christie's Hong Kong, 1 December 2010, lot 3112.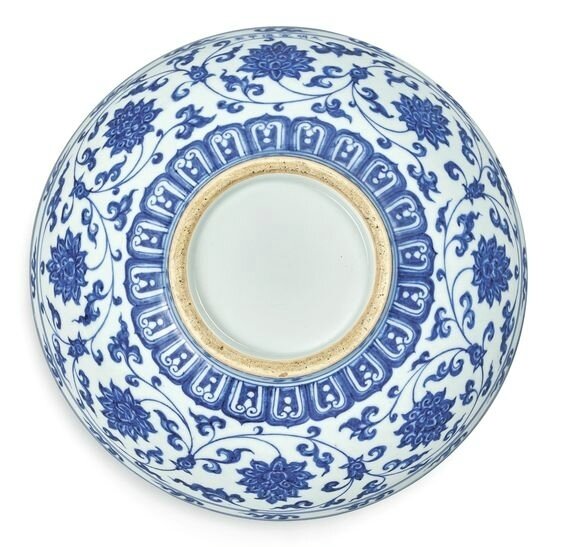 A large blue and white 'Lotus' bowl, Mark and period of Xuande (1426-1435), 29.5 cm, 11 5/8 in. Sold for 3,220,000 at Sotheby's Hong Kong, 3 October 2017, lot 3677. Photo: Sotheby's.
Cf. my post: A large blue and white 'Lotus' bowl, Mark and period of Xuande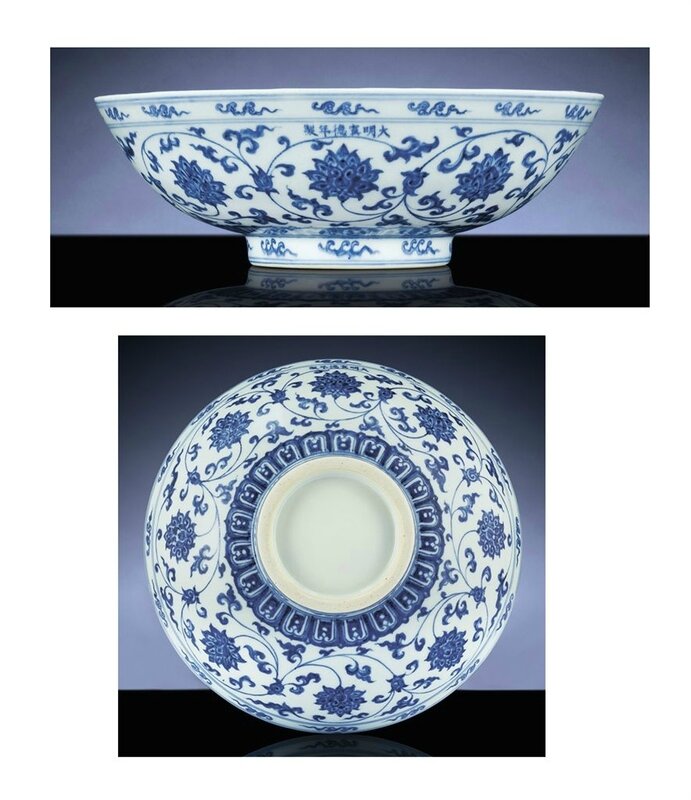 A fine and rare early Ming blue and white fruit bowl, Xuande six-character mark in a line and of the period (1426-1435). Sold for HK$3,380,000 ($437,035) at Christie's Hong Kong, 1 December 2010, lot 3112. Photo: Christie's Images Ltd. 2010
Cf. my post: A fine and rare early Ming blue and white fruit bowl, Xuande six-character mark in a line and of the period (1426-1435)
Bonhams. FINE CHINESE CERAMICS AND WORKS OF ART, 28 Nov 2017, 14:00 HKT, HONG KONG, ADMIRALTY