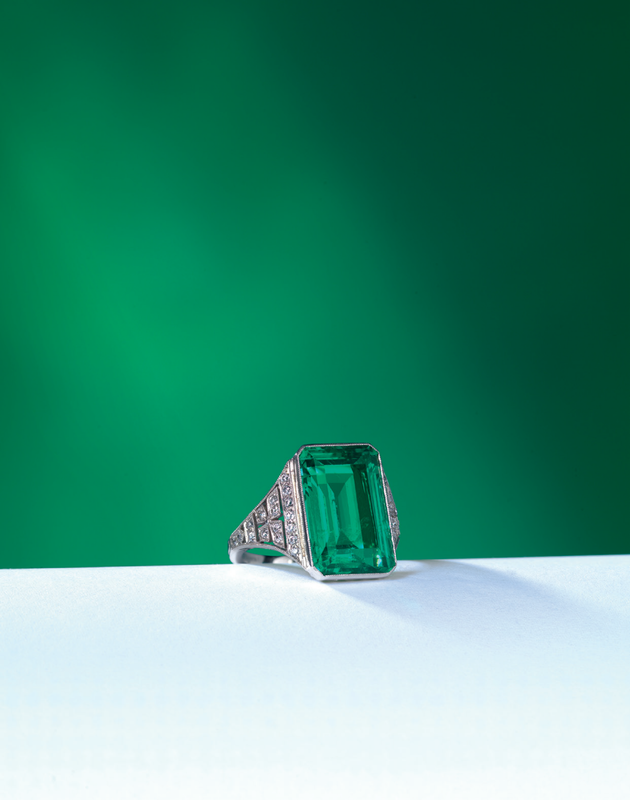 Lot 2079. The Whitney Emerald: An Art Deco 8.51 carats approximately Colombian Emerald and Diamond Ring by Tiffany & Co., New York, circa 1925. Estimate HKD 6,800,000 - HKD 8,800,000 (USD 1,000,000 - USD 1,250,000). Unsold. © Christies Images Ltd 2017
The rectangular-cut emerald, weighing approximately 8.51 carats, to the openwork circular-cut diamond shoulders with four leaf clover motifs, 1925, mounted in platinum, ring size 6 ½. Signed Tiffany & Co. (indistinct)
Accompanied by report no. CS 61380 dated 8 January 2015 from the AGL American Gemological Laboratories stating that the emerald is of Colombia origin, with insignificant traditional clarity enhancement.
Provenance: Helen Hay Whitney (Mrs. Payne Whitney) (11 March 1875 - 24 September 1944)
Sotheby's New York, 9 December 2014, Lot 413
Note: Helen Hay Whitney epitomized the wealth and style of a prominent American family, including having exceptional jewelry. The marriage of Helen Hay and Payne Whitney made newspaper headlines across the country. Their wedding was attended by President Theodore Roosevelt, members of the United States Cabinet and Supreme Court, and the height of American society. A socialite and published poet, Helen Hay was the daughter of John Hay who had been Abraham Lincolns private secretary and served as secretary of state under presidents William McKinley and Theodore Roosevelt. A financier and philanthropist, Payne Whitney was an influential and wealthy member of a prominent American family with roots on the Mayflower. Owned by an important American family and designed by the top American jewelry firm, The Whitney Emerald is an important American Art Deco jewel and will be an exceptional addition to any collection.
Christie's. Hong Kong Magnificent Jewels & The Pink Promise, 28 November 2017, Hong Kong