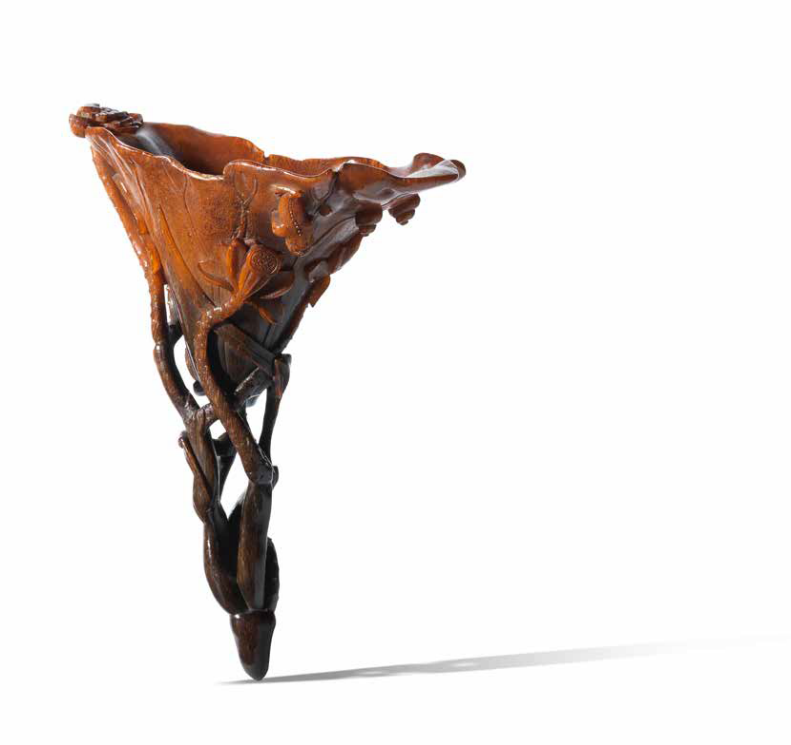 Lot 54. A rare rhinoceros horn 'lotus leaf' libation cup, 17th-18th century. Estimate HK$80,000 - 120,000 (US$10,000 - 15,000 ). Sold for HK$ 750,000 (€81,230). Photo: Bonhams.
The furled lotus leaf cup carved in delicate detail with naturalistic veins running down the exterior, deftly depicting a toad and three snails under the rim issuing from long leafy meandering stems bearing lotus leaves, blooms and pods, the horn of honey-brown tone darkening towards the tip. 19cm (7 1/2in) long
Provenance: Michael K.J. Heihs
Sotheby's London, 18 June 1998, lot 1710
A Hong Kong private collection
Note: Related rhinoceros horn libation cups utilising the full horn, with a primary flower or leaf borne on gnarled flowering branches, can be found in a number of variations: see a mallow-shaped libation cup, early Ming dynasty, in the Qing Court Collection, illustrated in The Complete Collection of Treasures of the Palace Museum: Bamboo, Wood, Ivory and Rhinoceros Horn Carvings, Hong Kong, 2002, pl.109; a cup carved with nandina and narcissus, in the Chester Beatty Library, and another carved with lotus leaf and water plants, in Snowshill Manor, Worcester; see J.Chapman, The Art of Rhinoceros Horn Carving in China, London, 1999, pls.198 and 210; and see a cup with lotus and chi-dragon, in the Arthur M. Sackler Collection, and two others of lotus form, illustrated by T.Fok, Connoisseurship of Rhinoceros Horn Carving in China, Hong Kong, 1999, pls.92 (17th century), 95 (early 19th century) and 96 (18th century).
The present lot is notable for the deft carving of the three-legged toad, which represents the auspicious wish for wealth as it often shown lured by a string of cash held by the Immortal Liu Hai; the seed-bearing lotus pod symbolises fertility, and the two elements combine for auspicious wishes, for wealth and sons.
Compare a related larger rhinoceros horn 'cranes' libation cup, 18th century, which was sold in our London Rooms, 6 November 2014, lot 416; and see also another related example of a rhinoceros horn 'lotus' libation cup, 17th century, which was sold at Christie's Paris, 14 December 2011, lot 206.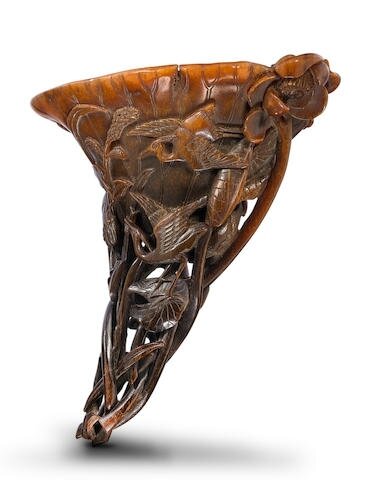 A fine rhinoceros horn 'cranes' libation cup, 18th century. Sold for £117,700 (€133,306) at Bonhams London, 6 November 2014, lot 416. Photo: Bonhams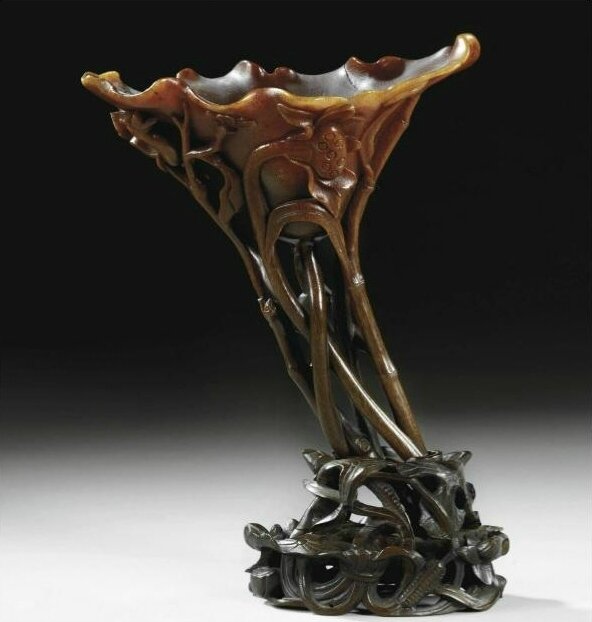 Coupe libatoire en corne de rhinocéros sculptée, Chine, fin de la dynastie Ming-début de la dynastie Qing, XVIIème siècle. Prix réalisé EUR 133,000 (USD 173,742) à Christie's Paris, 14 décembre 2011, lot 206. © Christie's Images Ltd 2011