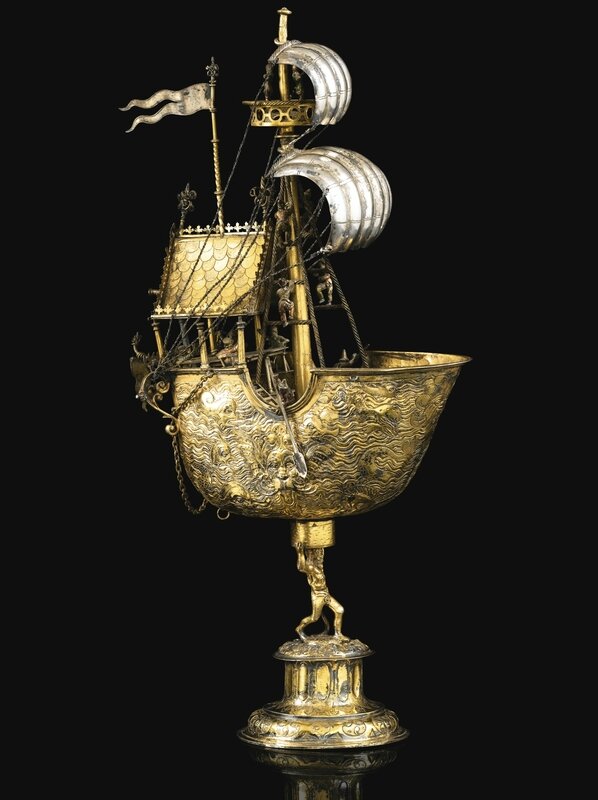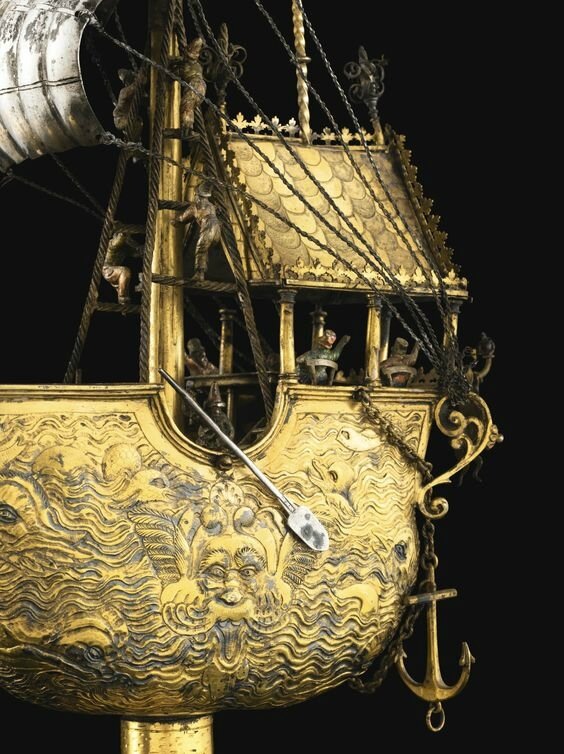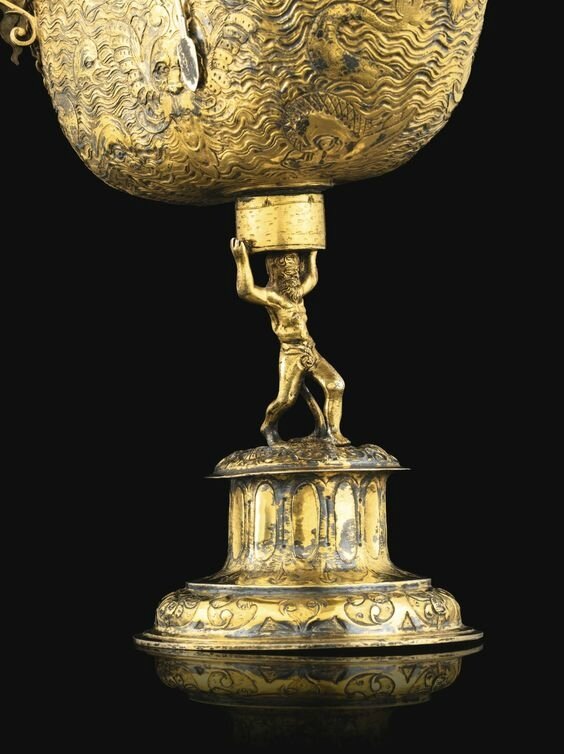 Lot 4. A German parcel-gilt silver model of a nef with enameled figures, Matthaus Bair (Bayr), Augsburg, 1590-1595. Estimate 30,000 — 40,000 EUR. Lot sold 218,750 EUR. Photo: Sotheby's
on a circular base decorated with scrolls and beads on matted ground, the stem shaped as Hercules wearing the Nemean lion skin, the hull with masks and sea monsters on a wavy background, with twelve partly enameled sailors, the two sails not gilt. Haut. 42 cm, 1048 g; 16 1/2 in. high, 33 oz 14 dwt.
Related Literature : Helmut Seling, Die Kunst der Augsburger Goldschmiede 1529-1868, Vol. II, Munchen, 1980, Nos. 161 and 162 ;
Nüremberg Goldschmiedekunst, Vol. 2, Nuremberg, 2007, Nos. 124 and 128, and Vol. 3, No. 880 ;
Charles Oman, Medieval Silver Nefs, exh. cat. Victoria & Albert museum, London, 1963, pl. XV.
Note: The creative ability of the Renaissance German goldsmiths reached its peak in the areas of Nuremberg and Augsburg, during the second half of the 16th century. Drinking cups in the form of naves, with figures of sailors in action, are typical examples of such skilfully-made silver pieces commissioned by the European elite. The sails inflated by the wind, the fine network of riggings meticulously depicted and the diversity of the activities related to navigation - including more anecdotal scenes such as the sailors drinking on board of our nave – bring to life these masterpieces, preeminent feature in Renaissance cabinets of curiosities.
Similar cups, the oldest dating from the last quarter of the sixteenth century, are published by H. Seling (op cit., No. 161 and 162), others are in the collections of the Hessisches Landesmuseum in Kassel and the Schweizerisches Landesmuseum in Zürich (see Nüremberg Goldschmiedekunst, op. cit., Nos. 128 and 124).
The particularly well preserved shimmering of the sailors' clothing enamelled in polychrome is a rare feature that adds to its preciousness. His anthropomorphic stem in the form of Hercules can be found only on a few examples such as the cup of the Kremlin's collections, supported by a naiad (see Nüremberg Goldschmiedekunst, op cit., No. 122), and one formerly in the collection of Carl Mayer de Rothschild (his sale, Paris, 1911, No. 63; fig. 1), its stem being in the form of a satyr. The latter was also attributed by H. Seling to the goldsmith Matthaus Bair (see H. Seling, op.cit., Vol. 3, No. 880)