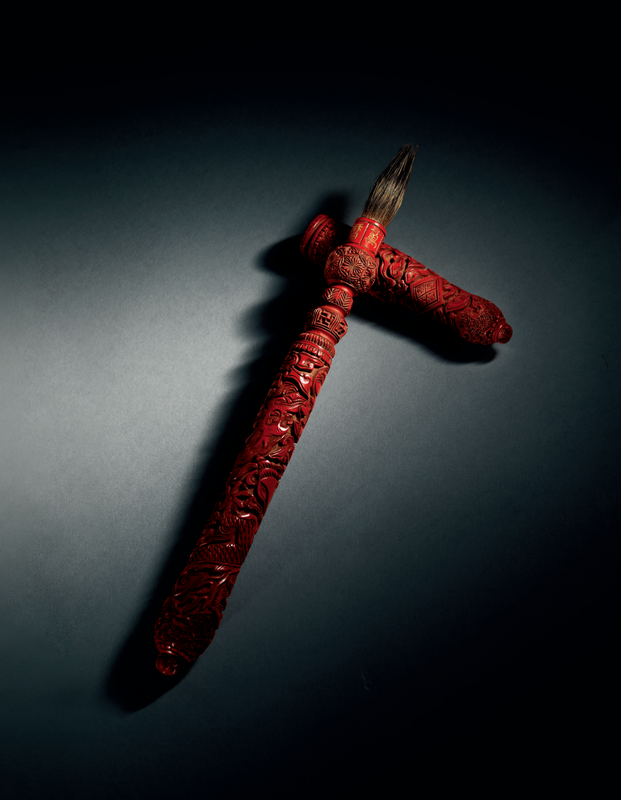 Lot 8103. A rare carved cinnabar lacquer 'dragon' brush and cover, Wanli incised and gilt six-character mark and of the period (1573-1619); 8 3/4 in. (22.2 cm.) long. Estimate HKD 350,000 - HKD 500,000. Price realised HKD 437,500 © Christie's Images Ltd 2017
The shaft is carved with a ferocious five-clawed dragon pursuing a flaming pearl amidst ruyi clouds, fire scrolls and treasures, below a band of trefoil collar enclosing florettes. The terminal containing the hair brush is incised with five cartouches enclosing the six-character reign mark. The cover is carved with further treasures amidst clouds, between two rows of similar florette-enclosing trefoil collars, Japanese wood box
Note: Lacquer brushes bearing Wanli reign marks are extremely rare and the current brush appears to be unique. Two other Wanli-marked lacquer brushes are known, but both are of painted lacquer, each with the reign mark reserved in a rectangular cartouche in a vertical line at the top of the brush. The first example, gilt-decorated on a black ground with a five-clawed dragon (the last claw effaced) pursuing a flaming pearl, is in the Tokugawa Art Museum, illustrated in Karamono, Imported Lacquerwork-Chinese, Korean and Ryukyuan (Okinawa), Japan, 1997, fig. 154. The second example gilt against a red ground with lotus scroll, was sold at Christie's Hong Kong, 30 May 2005, lot 1226. Similar treatment of the reign mark, reserved in a vertical cartouche, can be found on a pair of Jiajing-marked lacquer brushes painted with dragons and pearls, in the National Palace Museum, illustrated in Carving the Subtle Radiance of Colors: Treasured Lacquerware in the National Palace Museum, Taipei, 2008, pl. 94. The rendering of the reign mark on the current brush, incised and gilt within five cartouches forming a horizontal band, is extremely unusual and no other related example appears to be known.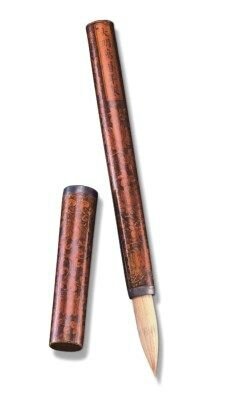 A fine and rare Imperial painted lacquer brush and cover, Wanli six-character mark and of the period (1573-1619); 9 5/8 in. (24.5 cm.) long. Sold for HKD 504,000 at Christie's Hong Kong, 30 May 2005, lot 1226. © Christie's Images Ltd 2005
The depiction of the five-clawed dragon on the current brush is very similar to dragons found on other Wanli-period lacquerwares. Distinctive features, such as the slightly closed mouth, ruyi-shaped snout, and windswept mane on the head can also be found on a pair of five-clawed dragons incised on a Wanli-marked qiangjin and tianqi lacquer brush pot, in the Beijing Palace Museum Collection, illustrated in Lacquer Wares of the Yuan and Ming Dynasties, The Complete Collection of Treasures of the Palace Museum, Hong Kong, 2006, pl. 182.
Christie's. Court, Studio, Atelier Chinese Works of Art and Paintings from The Ming Dynasty Evening Sale, 27 November 2017, Hong Kong