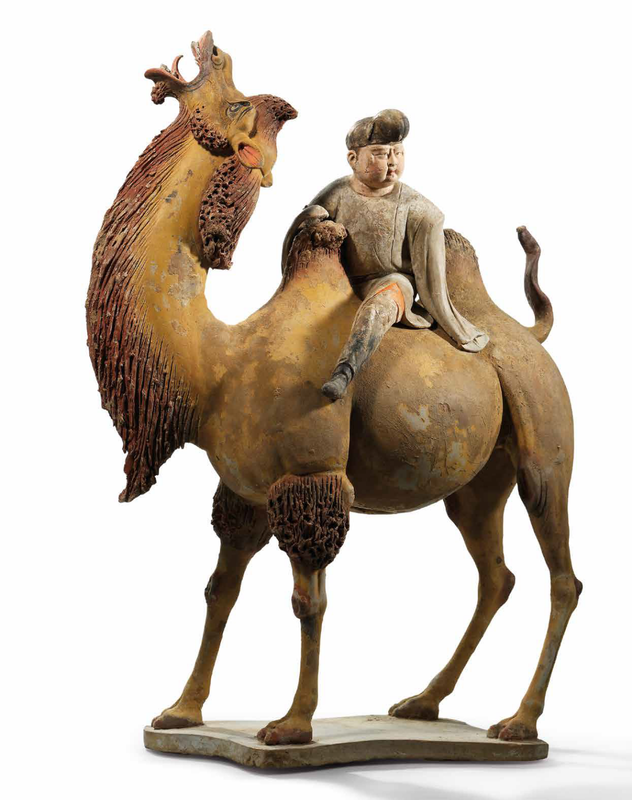 Lot 2919. A finely painted pottery figure of a Bactrian camel and rider, Tang dynasty (618-907); 23 5/8 in. (60 cm.) high. Estimate HKD 5,000,000 - HKD 8,000,000. Price realised HKD 6,100,000. © Christie's Images Ltd 2017
The figure is modelled to show a young rider, dressed in a long sleeved tunic and boots, riding astride a camel, with his body bent slightly to the side. The camel, painted in buff, brick-red and greyish black pigments over white slip, is standing foursquare on a trapezoid base with head raised and mouth wide open as if braying, showing realistically rendered teeth, palate and tongue. It is enhanced with tufted hair on the neck, head, humps and tops of the legs, and has well-detailed eyelashes.
Provenance: The Dexinshuwu Collection, Taipei, 1995
The Chinhuatang Collection, Taipei
Literature: Chang Foundation, Ching Wan Society Millennium Exhibition, Taipei, 2000, p. 157, pl. 62.
Note: This camel appears to belong to a group of Tang pottery that often includes travellers, musicians and camel riders. The present example reflects a world in which Tang China, one of the greatest empires in the medieval world, was marked by successful diplomatic relationships, economic expansion and a cultural efflorescence of cosmopolitan style. At the time, the Tang elites imitated the dress style of the Persians, wearing high boots and short tunics. Nothing is more representative of this cultural milieu than the figure of the Bactrian camel which, not indigenous to China, used to haul goods along the silk roads leading out of China across its Western regions and into Central Asia and beyond. It came to be one of the best known icons of Chinese ceramic art, dating from the early to the mid-Tang dynasty.
These groups of Tang pottery are remarkably realistic and each model appears to be unique, reflecting a growing interest in naturalism during the Tang period. The appearance of Chinese rider in this context is highly unusual. Figures of foreigners, perhaps a Turk or Sogdian, are generally used in such groupings of Tang pottery. A related large painted pottery group of camel and foreign rider, dressed in a fur coat and wearing a large pointed hat, excarated at Changzhi, Shaanxi province in 1954 and now in the Museum of Chinese History, Beijing, was illustrated in Zhongguo wenwu jinghua dacidian: taoci juan, p.154. An example of a Central Asian rider wearing similar clothes, but without tufts of hair on the camel, is illustrated in The Tsui Museum of Art, Chinese Ceramics I, Hong Kong, 1993, plate 96.
Tomb figurine showing a foreigner on a green glazed camel, Tang (618-907). Height of figure 41.6 cm, Height of camel 113 cm, Length 88.7 cm. Excavated in 1956 from Dugusijing tomb, Xian, Shaanxi Province.
For another related painted pottery group of camel and foreign groom, see the one sold at Christie's Amsterdam, 7-8 May 2002, lot 191.
For a discussion on Bactrian camels, see Ezekiel Schloss, Ancient Chinese Ceramic Sculpture, Stamford, 1977, vol. II, p. 220.
The result of Oxford Authentication thermoluminescence test no. C298j91 (11 January 1999) is consistent with the dating of this lot.