PARIS - Le 12 décembre prochain, Sotheby's Paris vous fera découvrir sa nouvelle sélection d'œuvres d'arts asiatiques marquée par les redécouvertes et les provenances prestigieuses, notamment impériales.
Commandes impériales. Imperial commissions and Imperial masterpieces
La vente d'Arts d'Asie comprend des pièces inattendues, comme cet ouvrage rarissime sur le marché, l'album "La Demeure Montagneuse pour fuir les chaleurs estivales" par Matteo Ripa (Estimation : 120.000 – 150.000 €). Composée d'une série complète de trente-six gravures, commandées par l'Empereur Kangxi, cet exemplaire d'une grande rareté est peut-être le dernier existant en mains privées ; très peu d'exemplaires étant connus, même dans les collections publiques. Les gravures représentent le palais de Rehol, demeure d'été de l'empereur Kangxi, qui fut construit au début du XVIIIe siècle. Entourée de montagnes et de paysages époustouflants, bénéficiant de sources chaudes et d'air pur, elle devint rapidement la résidence préférée de l'empereur, qui, pour commémorer sa construction décida de publier une série de poèmes écrits de sa main. C'est le jésuite Matteo Ripa qui fut chargé de graver les illustrations dans un style européen, à l'eau-forte. Ces trente-six gravures sont ainsi les premières eaux fortes à avoir été produites en Chine. La délicate soie jaune recouvrant la couverture indique qu'il s'agirait d'une commande impériale.
L'exacte histoire de notre album reste voilée de mystère, mais grâce à son ex-libris, on peut le rattacher à la collection du célèbre bibliophile et collectionneur du XIXe siècle, Arthur-Auguste Brölemann (1826-1904). Cette véritable redécouverte nous parvient dans un état de fraîcheur extraordinaire et témoigne de la somptuosité de cette demeure impériale.
The Asian Art sale offers fine works of art that are fresh to the market incuding a rare complete set of the " Thirty-Six Views of the Mountain Estate for Escaping the Summer Heat" (estimate: €120,000-150,000) by Matteo Ripa. This set was originally commissioned by the Kangxi Emperor and is possibly one of the last copies in private hands. The engravings show the Palace of Rehol, the Kangxi Emperor's summer residence, which was built at the beginning of the 18th century. Surrounded by breathtaking mountains and landscapes, and with attractive hot springs and pure air, it rapidly became the Emperor's favourite haunt. He decided to publish a series of his own poems to commemorate its construction and asked Matteo Ripa, a Jesuit missionary working at the Imperial court, to execute a set using copperplate engravings. These 36 engravings are thus the earliest etchings ever produced in China. The delicate yellow silk cover indicates that it was an Imperial commission.
The exact history of this album is shrouded in mystery but according to the ex-libris, it can be traced back to the collection of celebrated 19th century bibliophile and collector Arthur-Auguste Brölemann (1826-1904). This important rediscovery has come down to us in extraordinarily fresh condition, and provides evidence of this magnificent imperial provenance.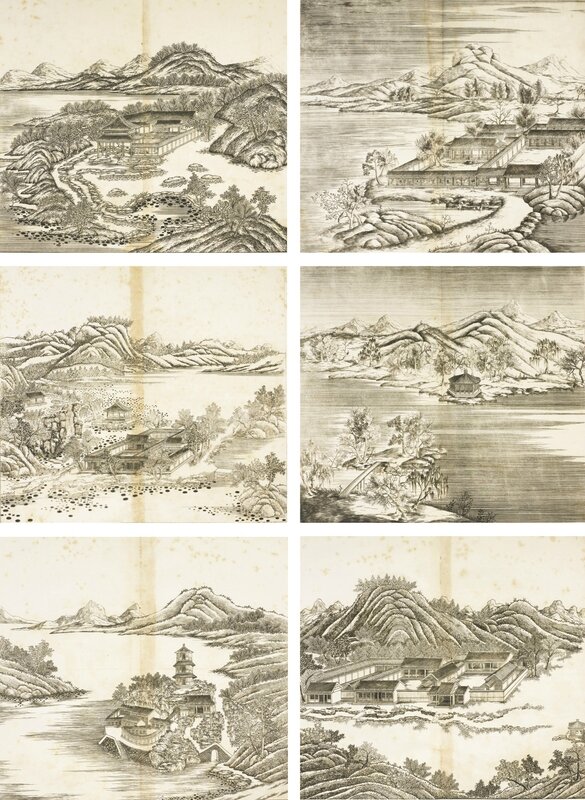 Lot 76. Matteo Ripa (1682-1746), "Trente-six vues de la demeure montagneuse pour fuir les chaleurs estivales", Dynastie Qing, époque Kangxi, 1711-1714, comprenant la série complète des 36 gravures, commandées par l'Empereur Kangxi, gravées par Matteo Ripa d'après les dessins de Shen Yu, in-folio, broché, couverture en soie jaune (36), 30 x 33 cm, 11 3/4 by 13 in. Estimation 120,000 — 150,000 €. Lot sold 162,500 €. Photo: Sotheby's.
MATTEO RIPA (1682-1746), 'THIRTY-SIX VIEWS OF THE MOUNTAIN ESTATE TO ESCAPE THE SUMMER HEAT', 1711-1714, COMPLETE SET OF 36 ENGRAVINGS BOUND IN A WESTERN-STYLE ALBUM WITH YELLOW SILK COVERS, EX-LIBRIS OF ARTHUR-AUGUSTE BRÖLEMANN (1826-1904), LYON.
Provenance: Formerly in the collection of Arthur-Auguste Brölemann (1826-1904), Lyon (according to the Ex-libris on the inside cover of the album).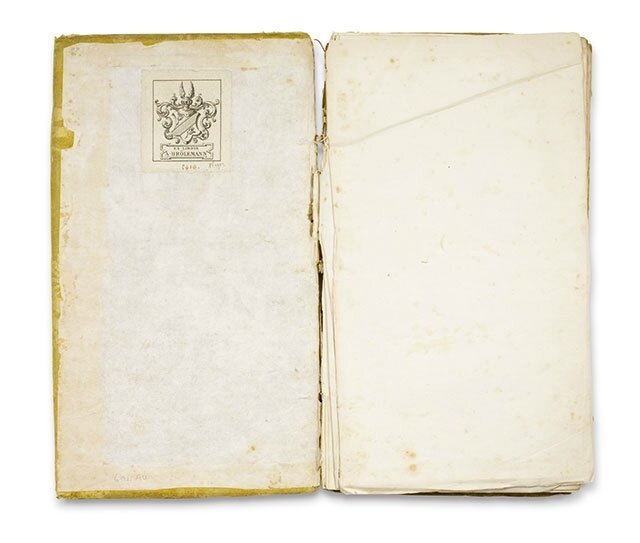 Ex-libris of Arthur-Auguste Brölemann (1826-1904), Lyon.
Note: The present copy bears the Ex-libris of Arthur-Auguste Brölemann (1826-1904), Lyon, grandson of the well-known collector Henry-Auguste Brölemann (1775-1854), Lyon, whose vast collection of medieval manuscripts and rare books he inherited and which was eventually sold by his great-granddaughter, Mme. Etienne Mallet, in our London rooms in 1926. It is quite likely, that this copy was acquired by Henry-Auguste Brölemann or his grandson Arthur-Auguste Brölemann in the 19th century (Fig. 2).