NEW YORK, NY.- The Christie's New York December 6 auction of Magnificent Jewels achieved a total of $62,592,750. The sale sold 88% by Lot and 85% by Value, led by a Superb Twin-Stone Fancy Vivid Blue Diamond ring of approximately 3.36 and 2.71 carats, by Graff which achieved $12,575,500.
Lot 157. A Superb Twin-Stone Fancy Vivid Blue Diamond Ring, of 3.36 and 2.71 carats, by Graff. Estimate $6,500,000 - 8,500,000. Price Realized: $12,575,000. © Christie's Images Limited 2017.
Of crossover design, set with two pear modified brilliant-cut fancy vivid blue diamonds, weighing approximately 3.36 and 2.71 carats, ring size 6, mounted in platinum, in a Graff navy leather case. Signed Graff
Accompanied by report nos. 2181732873 and 2185732862 dated 13 September 2017 from the GIA Gemological Institute of America stating that the diamonds, weighing approximately 3.36 and 2.71 carats, are fancy vivid blue, natural color, VVS2 and VS1 clarity, respectively; each accompanied by a working diagram indicating that the clarities of the diamonds are potentially Internally Flawless.
Sale highlights included an impressive selection of exceptional mounted and unmounted diamonds, along with significant signed period and modern jewels by Buccellati, Bulgari, Cartier, David Webb, JAR, Van Cleef & Arpels, and more. Unique jewels by artists seldom sold at auction performed exceptionally well and sold above estimate including lots by Charles Loloma, Georges Fouquet and Raymond Templier. Noteworthy results were also achieved for private collections included Property From The Collection of Senator Jacob K. Javits and Marian B. Javits, fine jewelry from the Estate of Mrs. Hank Greenberg and Jewels & Watches Formerly from the Dwight D. and Mamie Eisenhower Collection.
The New York auction proudly concludes Christie's stellar global jewel auction season. Blockbuster global sales included The Art of de GRISOGONO, Creation 1, the largest flawless D-colour diamond ever to come to auction, that set a new world auction record for $33,705,994. Additional highlights include the Geneva sale of Le Grand Mazarin, a light pink diamond of 19.07 carats which sold for $14,463,393 and the Hong Kong sale of The Pink Promise for $32,163,932, matching the world record price per carat of a pink diamond at $2.15M.

Highlights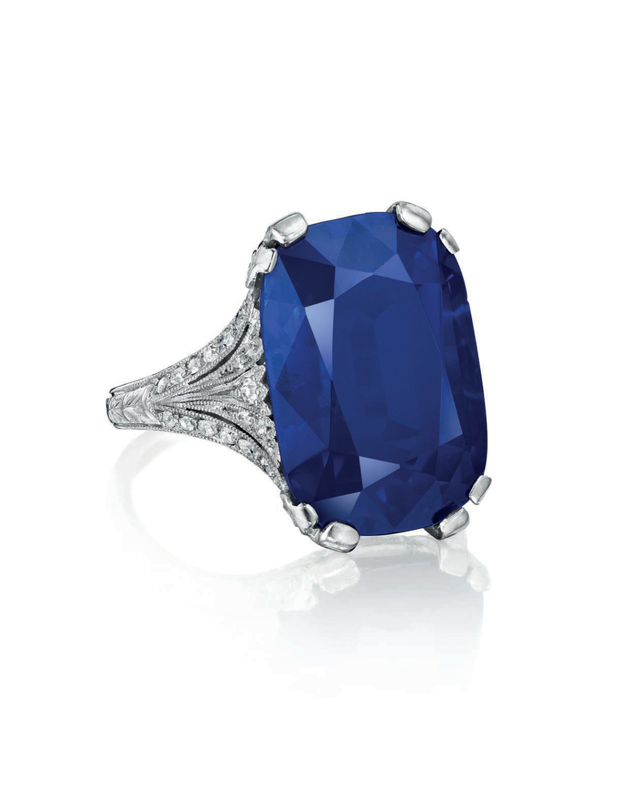 Lot 235. A Fine Belle Époque Kashmir Sapphire and Diamond Ring. Estimate: $700,000-1,000,000. Price Realized: $1,722,500. © Christie's Images Limited 2017.
Set with a cushion-cut sapphire, weighing approximately 11.81 carats, with single-cut diamond pierced shoulders and gallery, circa 1910, ring size 4 3/4, mounted in platinum
Accompanied by report no. 17075111 dated 21 July 2017 fromthe Gübelin GemLab stating that the origin of this sapphire would be classified as Kashmir, with no indications of heating; also accompanied by Information Sheets regarding the rarity of this sapphire and an Appendix which states that this sapphire "possesses a richly saturated and homogeneous colour, combined with a high degree of transparency, and a finely proportioned cut. In addition, this remarkable gemstone has been spared thermal treatment. Such a combination of characteristics is rare in natural Kashmir sapphires of this size"

With report no. 1085383 dated 12 July 2017 from the AGL American Gemological Laboratories stating that it is the opinion of the Laboratory that the origin of this sapphire would be classified as Kashmir, heat enhancement: none, clarity enhancement: none

Accompanied by report no. 2171836000 dated 13 September 2016 from the GIA Gemological Institute of America stating that the sapphire is of Kashmir origin, with no indications of heating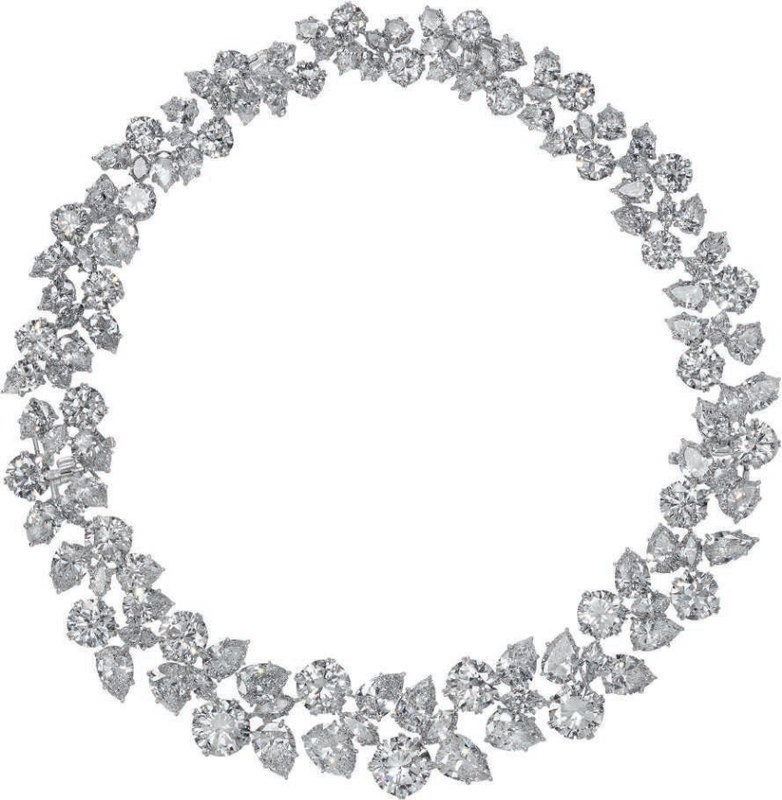 Lot 369. An Exquisite Diamond Cluster Wreath Necklace, by Harry Winston. Estimate $1,500,000 - $2,500,000. Price Realized: $1,812,500. © Christie's Images Limited 2017.
The tapered band designed as a series of pear and marquise-cut diamond cluster links, each enhanced by a circular-cut diamond, the three largest weighing approximately 5.31, 4.92 and 3.91 carats, 1961, 16 1/4 ins., mounted in platinum, may be separated and worn as two bracelets. With maker's mark for Harry Winston
Accompanied by seven reports dated 24 August 2017 from the GIA Gemological Institute of America stating that the round brilliant-cut diamonds, weighing approximately 5.31, 4.92, 3.91, 3.89, 3.75, 3.71 and 2.85 carats, are a variety of D, G, F and I color, VVS2 (Potentially Internally Flawless) to SI2 clarity

With three reports dated 24-25 August 2017 from the GIA Gemological Institute of America stating that the three pear brilliant-cut diamonds, weighing approximately 3.75, 3.71 and 2.85 carats, are D, G, E color, VS1, SI1, SI2 clarity, respectively.

Provenance: Formerly the Property of Joanne Toor Cummings
Previously sold at Christie's New York, Magnificent Jewels & Jewels from the Cummings Collection, 16 April 1996, Lot 360

Formerly the Property of Caroline Ryan Foulke
Previously sold at Christie's New York, A Magnificent Selection of Diamond Jewelry, 22 October 1986, Lot 406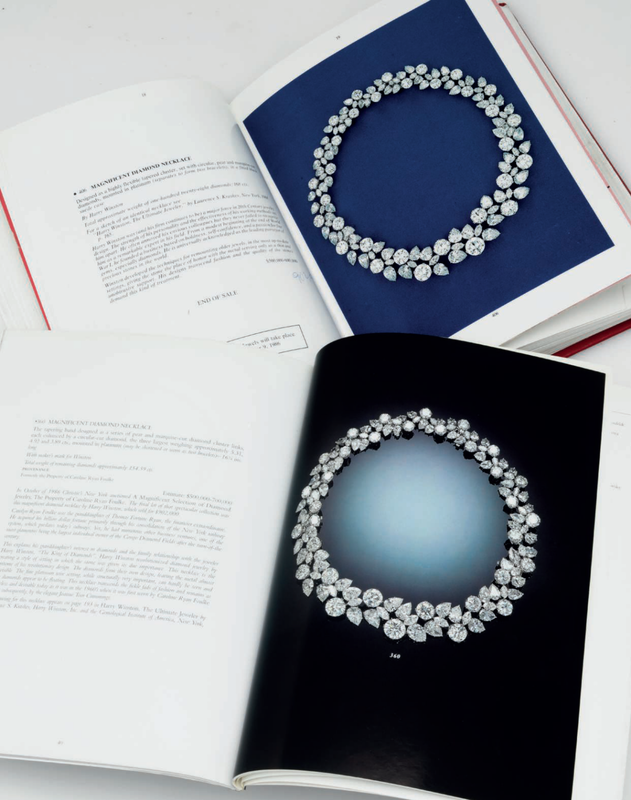 Note: From the 1950s through the 1970s, Harry Winston was the world's most prominent jeweler and his boutiques were the destination of choice for royalty, Hollywood stars and business moguls alike. Proclaimed 'The King of Diamonds', Harry Winston handled the world's most famous jewels including the Indore Pears, the Hope Diamond, the Porter Rhodes and the Jonker.

In 1944, the concept of the diamond wreath necklace came to Mr. Winston as he returned to his Scarsdale, New York estate on a snowy December night. He was mesmerized by the majesty and simplicity of the holly that adorned his door. The manner in which the leaves created the wreath, with branches barely seen beneath, enchanted him.

Mr. Winston revolutionized diamond jewelry by creating a style of setting inspired by this concept. With each diamond creating the overall form of the necklace, the platinum setting is discrete and almost entirely absent when worn. The diamonds are uninterrupted by metal and reveal striking brilliance. Lot 369, once owned by Carolyn Ryan Foulke and Joanne Toor Cummings, is the epitome of this innovative design.

Caroline Ryan Foulke was the granddaughter of Thomas Fortune Ryan, the financier extraordinaire. He acquired his billion dollar fortune primarily through his consolidation of the New York railway system, which predates today's subway system. He also had numerous other business ventures. Most notably, he was the largest individual owner of the Congo Diamond Fields. His part ownership of the diamond fields and his family's relationship with the jeweler Harry Winston, sparked his granddaughter's interest and desire to acquire fine jewels.

Mrs. Foulke curated her collection with excellent taste and an eye for quality. Among these treasured jewels was an iconic Harry Winston wreath necklace, the present Lot 369. In October of 1986 Christie's New York featured a Magnificent Selection of Diamond Jewelry: The Property of Caroline Ryan Foulke. The final lot of Mrs. Foulke's collection was this diamond necklace, which sold for an impressive $902,000.

Following the auction, the necklace was acquired by the elegant Joanne Toor Cummings. Joanne Toor Cummings was a patron of the arts and an avid philanthropist. During her lifetime, she made contributions to many hospitals, including the Mount Sinai Medical Center, New York Hospital and the Memorial-Sloan Kettering Cancer Center. Mrs. Cummings was also passionate about theater and performance art and supported the American Ballet Theatre, the Lyrical Opera of Chicago and countless other organizations.

The Collection of the Late Joanne Toor Cummings was presented at Christie's New York in April of 1996. True to Mrs. Cummings charitable spirit, the proceeds of the auction benefited multiple institutions including various hospitals, colleges, art institutes and theaters. This elegant necklace was the final lot sold from her collection - an exclamation point that concluded a superb assemblage of jewels.

This Harry Winston diamond cluster necklace transcends the fickle fads of fashion and remains as timeless and desirable today as it was in the 1940s when the concept was first conceived. It captures the essence of Mr. Winston's innovative vision and features an exquisite selection of diamonds. Furthermore, the magnificent necklace embodies the refined sophistication of Caroline Ryan Foulke, Joanne Toor Cummings, and its current owner and Christie's is proud to share it with collectors once again.
Literature: L. S. Krashes, Harry Winston: The Ultimate Jeweler, New York, Harry Winston, Inc. and the Gemological Institute of America, 1984, p. 193
Lot 389. An Impressive Fancy Intense Yellow Diamond and Diamond Ring, of 30.45 carats. Estimate: $650,000-850,000. Price Realized: $852,500. © Christie's Images Limited 2017.
Set with a cut-cornered rectangular modified brilliant-cut fancy intense yellow diamond, weighing approximately 30.45 carats, flanked on either side by a modified shield step-cut diamond, weighing approximately 3.27 and 3.09 carats, ring size 7 1/2, mounted in platinum and 18k yellow gold
Accompanied by report no. 14570787 dated 17 October 2017 from the GIA Gemological Institute of America stating that the diamond is fancy intense yellow, natural color, VS2 clarity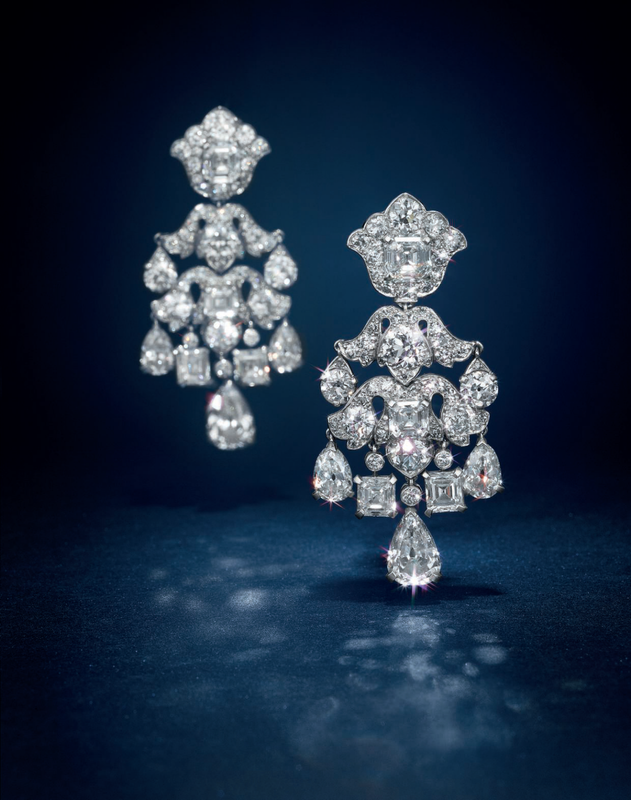 Lot 71. A Pair of Diamond Girandole Ear Pendants, By Cartier. Estimate: $40,000-60,000. Price Realized: $324,500. © Christie's Images Limited 2017.
Of girandole design, each tulip-shaped circular-cut diamond surmount centering upon a rectangular step-cut diamond, suspending two tiers of circular and square-cut diamond plaques, extending a fringe of square-cut and pear-shaped diamonds, the largest weighing approximately 2.41 and 2.36 carats, 2 1/4 ins., mounted in platinum. Signed Cartier, no. 2919567
Property from the Collection of Senator Jacob K. Javits and Marian B. Javits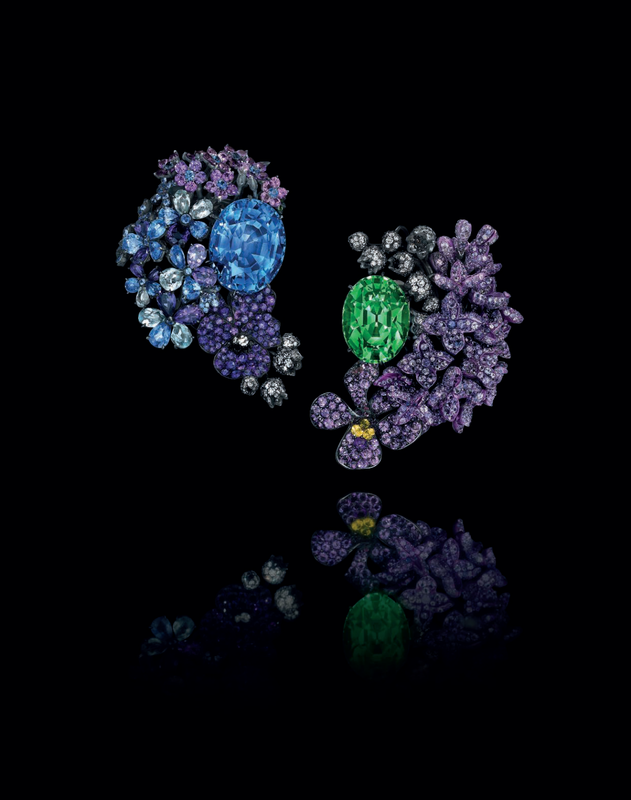 Lot 236. A Pair of Multi-Gem 'Flower' Ear Pendants, by JAR. Estimate: $1,000,000-1,500,000. Price Realized: $1,212,500. © Christie's Images Limited 2017.
Each designed as a bouquet of flowers, one ear pendant centering upon an oval-cut sapphire, weighing approximately 58.50 carats, the other ear pendant centering upon an oval-cut tsavorite garnet, weighing approximately 42.85 carats, each within a floral surround, including violets, forget-me-nots, lilies of the valley and lilacs, set with circular and pear-shaped sapphires, purple and yellow sapphires, circular-cut amethysts, green garnets and black spinels, enhanced by single-cut diamonds, 2013, 2 7/8 ins., mounted in blackened 18k gold, silver and aluminum, with French assay marks, in a JAR pink leather case. Signed JAR, Paris, with maker's marks
Accompanied by report no. 1088098 dated November 2017 from the AGL American Gemological Laboratories stating that it is the opinion of the Laboratory that the origin of this sapphire would be classified as Ceylon (Sri Lanka), with no gemological evidence of heat, clarity enhancement: None

With report no. 1088099 dated November 2017 from the AGL American Gemological Laboratories stating that it is the opinion of the Laboratory that the origin of this tsavorite garnet would be classified as East Africa, with no enhancements

Literature: JAR II, Paris, JAR and the Metropolitan Museum of Art, 2012, no. 45
Exhibited: Metropolitan Museum of Art, New York, 20 November 2013 to 9 March 2014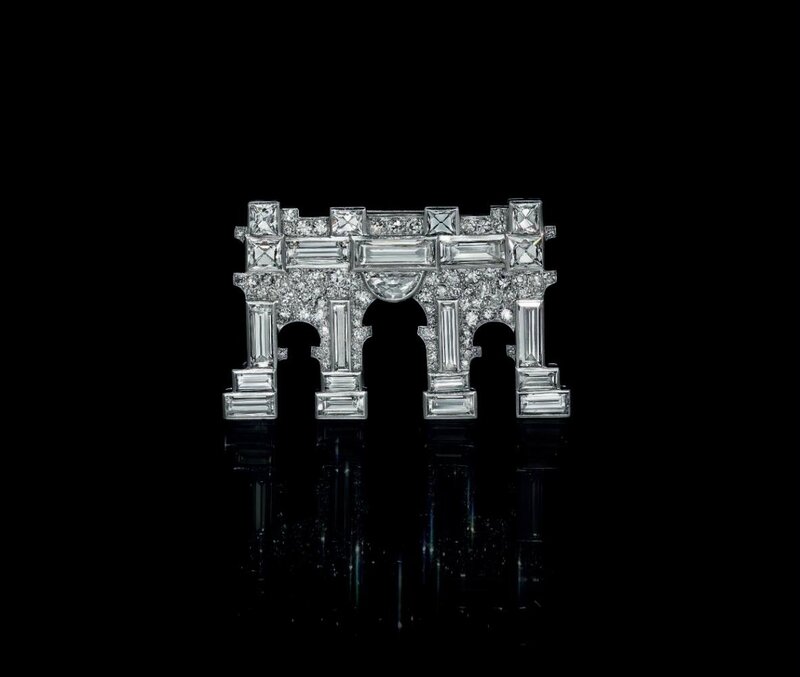 Lot 218. An Art Deco Diamond Architectural Brooch, By Cartier. Estimate: $50,000-70,000. Price Realized: $137,500. © Christie's Images Limited 2017.
Designed as the 'Marble Arch', set with single, old, baguette, half moon and French-cut diamonds, circa 1930, 1 9/16 ins., mounted in platinum. Signed Cartier, no. 2717588.
The iconic architectural brooch motif was introduced by Cartier during the Exposition Internationale des Arts Décoratifs et Industriels Modernes of 1925 in Paris. With brilliant simplicity, these diamond and platinum brooches depict a variety of structures, including temples, arches and pagodas. Vibrant and intense colors appear in many of Cartier's designs at this time, however, the absence of color in this series emphasizes the chic and sophisticated focus on black and white, a prevalent trend of the era.
Lot 218 is a fine example of this motif. The petite brooch, though drastically smaller in size than the architectural landmark it represents, has an unexpected grand appearance. Meticulously skilled diamond-cutters, like the masons responsible for building the triumphal arch, were tasked to cut and shape each diminutive stone to form the structure. With baguette-cut columns, French-cut accents and a single half moon-shaped central arch, the diamonds appear as though each is a keystone, locking the whole of the monument together.
Literature: Cf. F. Cologni, E. Nussbaum, Platinum by Cartier, Triumphs of the Jewelers' Art, New York, Harry N. Abrams, Inc., 1996, page 148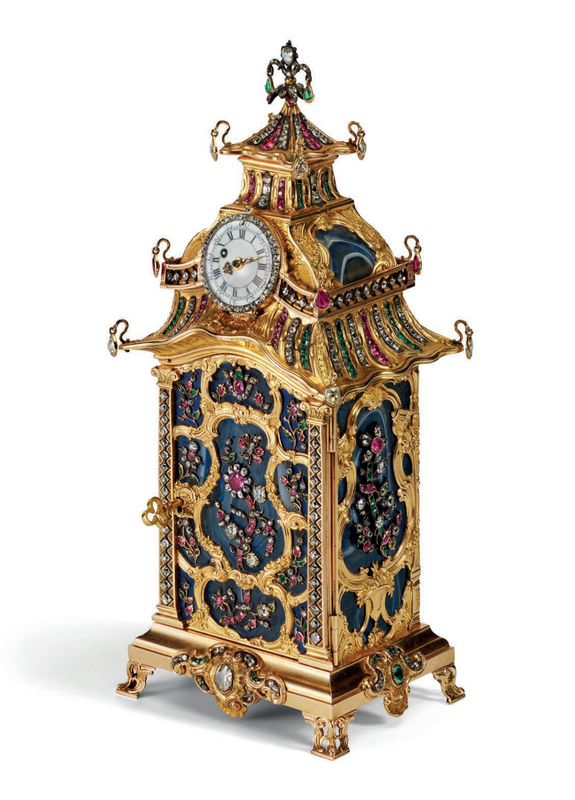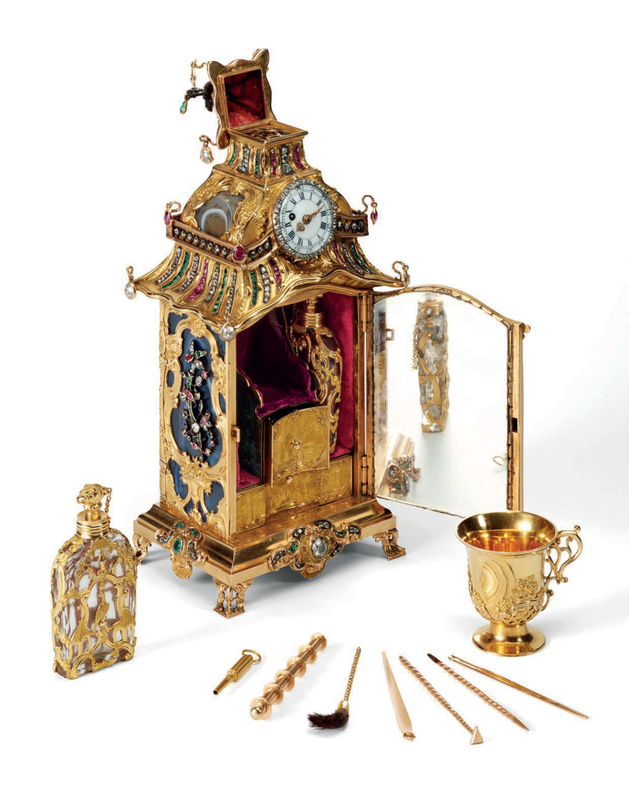 Lot 258. From the Collection of J E Safra. The Rothschild Carnarvon Necessaire. A George III Jewelled Gold and Hardstone Nécessaire and Watch, London, c. 1760, signed on the movement 'Robert Allam, London, no. 396', made for the Chinese market. Estimate on request. Price Realized: $1,572,500. © Christie's Images Limited 2017.
The rectangular upright casket set with panels of banded grey agate, overlaid with chased foliate and architectural gold cagework, applied with silver and gold-mounted vari-colour diamond and ruby-set floral sprays and emerald-set foliage, the double pagoda cover chased with foliage, flowers, scale and diaper-work and applied with alternating rows of diamonds, emeralds and rubies, each corner hung with pendant single stones, the hinged top of the pagoda cover opening to reveal a fitted interior containing various gold implements including, a bodkin, a cotton spool, an ear-spoon, a pen, a burin and a brush, the front door of the base inset with a fitted mirror and opening to reveal a red velvet-lined fitted interior with two rock-crystal scent-bottles overlaid with gold cagework, a gold cup with applied chinoiserie decoration and scroll handle, marked with maker's mark AH probably for Andrew Hogg, two gold sablédrawers chased with chinoiserie landscapes containing a gold ink-well and powder-box, the gold base on four bracket feet and mounted with diamond and emerald-set chased scrolling cartouches, with original gold door key, in later fitted black leather travelling case stamped 'Bulgari'
Diamonds: 374 stones, approx. 31 cts.
Rubies: 109 stones, approx. 14 cts.
Emeralds: 125 stones, approx. 9 cts.
The Watch: White enamel with Roman and Arabic numerals, with winding aperture at 10 o'clock, pierced gold hands, the watch movement gilt-brass, full-plate with cylindrical pillars, fusee with chain, verge escapement, plain brass three-arm balance with flat spring and regulator, gilt brass cock, signed 'Robert Allam London, No 396'
8¼ in. (210 mm.) high
Provenance: Alfred de Rothschild (1842-1917), displayed in the Red Room, 1 Seamore Place, London, W1, and then by bequest to his daughter.
Almina Victoria Marie Alexandra, Countess of Carnarvon (1876-1969), second wife of George 5th Earl of Carnarvon (1866-1923), daughter of Marie Wombwell (d.1913), née Boyer, wife of Captain Frederick Charles Wombwell (1845-1889),
Fine French Furniture, Sevres Porcelain and Objects of art and Vertu, The Property of the Right Hon. Almina Countess of Carnarvon, Removed from 1 Seamore Place, W., to whom they were bequeathed by the late Alfred de Rothschild, Esq.; Christie's London, 19 May 1925, lot 40, (£861 to E. Wertheimer),
Emile Wertheimer (1874-1953), 2 Redington Gardens, Hampstead, London,
The Emile Wertheimer Collection, The Valuable Collection of Fine Gold Snuff Boxes, Watches, Miniatures and other Objects of Vertu, The Property of the Late Emile Wertheimer Esq.; Sotheby's, London, 13 July 1953, lot 159,

With S. J. Phillips, London,

With Bulgari, Rome,

The Art of British Horology; Antiquorum, Geneva, 21 October 1995, lot 60,

The Collection of J. E. Safra
Literature: Rothschild Archive, London, Manuscript 000/174C/2, Christie's Probate Valuation of the Estate of Alfred C. de Rothschild Esq., C.V.O., 1, Seamore Place, 20 April 1918, p. 20, "A George II miniature cabinet wholly fashioned of gold and shaped as a pagoda…"
Country Life, 30 November 1995, p. 51, fig. 3.
"The Carnavon Furniture, China and Objects d'art." The Connoisseur, Vol. LXXII, no. 287, July 1925, p. 173
D. Roberts, Mystery, Novelty and Fantasy Clocks, Atglen, Pennsylvania, 1999, p. 189, fig. 15-28.
I. White, 'English Clocks for the Eastern Markets. English Clockmakers Trading in China & the Ottoman Empire 1580-1815', Ticehurst, 2012, pp. 212-215, fig. 8.3a, 8.3b & 8.3c; p. 370, note 12.
An incuse mark AH with London hallmarks for 1756 are found on a George II box chased by George Daniel Gaab in the Louvre (S. Grandjean, Catalogue des tabatières, boîtes et étuis des XVIIIe et XIXe siècles du musée du Louvre, Paris, 1981, no. 474) and included in the 1984 'Rococo' Exhibition at the Victoria and Albert Museum, London. Richard Edgcumbe in The Art of the Gold Chaser in Eighteenth-Century London, Oxford, 2000, pp. 46-47 writes that 'The mark of the boxmaker (of the Louvre box) is not that registered by Andrew Hogg as a smallworker in 1761 (Grimwade p. 549) but the loss of the smallworker's book for 1739-58 means that this incuse mark could have been registered by him earlier. He was a jeweller and goldsmith in Great Russell Street when he became free of the Drapers' Company in 1749 after an apprenticeship to Joseph Barker, a silversmith'. Hogg is listed as a goldworker in the parliamentary report of 1773 (Grimwade p. 549) when he was at Northumberland Court, Strand. Vanessa Brett in 'Bertrand's Toyshop in Bath. Luxury Retailing, 1685-1765,' Wetherby, 2014, p. 283 says there were a number of individuals with the surname Hog or Hogg who had connections with the Deards family who worked in a variety of specialities linked to the luxury goods market.
Note: The complexity of this Rothschild Chinoiserie Necessaire, its numerous and elaborate fittings, its exceptionally lavish jewelled floral ornament and its exotic pagoda form place it at the zenith of English eighteenth century gold work. The rarity of the present example also lies in the use of solid gold in the construction of the frame, base and canopy, in contrast to the more usual practice employed by James Cox, whose work is discussed below, of overlaying gold sheets onto a base metal frame and lining drawers and other components with gilt-brass. The workmanship is much finer than most documented Cox products. Moreover, the use of real precious stones, as opposed to paste gemstones, eclipses similar items that were made in London during this period.
Comparable rare necessaires set with watches are found in major institutions around the world including the British Royal Collection, the Imperial Palace Museum, Beijing, the Hermitage Museum, St Petersburg, the Metropolitan Museum, New York and the Victoria and Albert Museum, London. They epitomise the wondrous objects that were known in the eighteenth century as toys, the sort of item which Samuel Johnson described as "a thing of more show than use, a petty commodity, a trifle". They would have been made either for export to the Chinese market or sold in a toyshop, which were amongst the most fashionable - if not the most fashionable - shops in London and Bath in the second half of the eighteenth century, see Vanessa Brett, Bertrand's Toyshop in Bath. Luxury Retailing, 1685-1765, Wetherby, 2014. Those wealthy enough to afford such items appreciated the workmanship, technical advances, and new and exotic materials that went into their making. The purveyors of these toyshops, a toy-man or toy-woman did not themselves make anything - he or she was purely a retailer, the equivalent of a French marchand mercier.
The Parisian Corporation des Marchands-Merciers was originally founded in the twelfth century as purveyors of fine fabrics. By the eighteenth century the corporation had grown to become a large body representing purveyors of luxury goods of all kinds, including furniture, bronzes, paintings, gold snuff-boxes and porcelain as well as silk and fabrics. In London several of these toy-men described themselves as "jewelers" and many who described themselves as "goldsmith and jeweler" also sold toys such as necessaires and étuis. Some might have employed a craftsman to work in the shop and carry out repairs and alterations, but most would have sent out such work to a craftsman nearby and bought or commissioned stock from specialists. The most famous of these toy-men, James Cox (circa 1723-1800), claimed in 1773 that for "about seven years past [he had] employed from eight hundred to one thousand workmen". James Cox was a creative genius, he was an inventor, a designer and an entrepreneur. He first made his name as a goldsmith and jeweller but became best known for his incredibly complicated musical automaton clocks and necessaires that incorporated watches, the majority of which were exported abroad to adorn the palaces of the Chinese Emperor and Indian Maharajas as well as the Tsar of Russia and the Ottoman Kings.
The making and marketing of luxury goods involved a complex network of inter-related designers, craftsmen, merchants and retailers. A necessaire such as the present example required the skills of many different trades. The names of several hundred watchmakers, jewellers, goldsmiths, toy-men, lapidaries, and snuff-box makers working in London in the middle decades of the eighteenth century are known, but usually the only visible signature on mounted wares are on those that incorporate a watch. The watch on the present example is signed on the movement by Robert Allam, who was apprenticed in London in 1730 to Thomas Smith, and was a member of the Clockmaker's Company 1742-1765. He is listed in Baillie's Clock Makers of the World as an eminent clock and a watch maker. A craftsman of considerable skill, a number of his watches are mounted in gold and hardstone cases. It is sometimes difficult to decide whether such a signature is the name of a watchmaker, the workshop who assembled the piece, or a retailer. John Barbot (1702-1766) described himself as a tweezer or étui case maker and is also recorded as a silver and goldsmith. His name is on the watch of a pair of gold-mounted agate necessaires set with rubies and diamonds in the Metropolitan Museum of Art, New York. It also appears on a necessaire in the Imperial Palace Museum, Beijing. The Metropolitan Museum collection also includes a jewel cabinet with enamel plaques, surmounted by a watch with the name of James Cox; a watch in the Ashmolean Museum, Oxford, is engraved with the name of the London toy-man P. D. Chenevix. None of these men is recognised as a watchmaker. They engraved their names on the watches to advertise the shop from which the piece was bought. These necessairesincorporated the work of many other specialists: James Giles, for example, is associated with many of the small bottles that are found in them. In London there were numerous other toyshops and snuff-box makers, and those who advertised that they 'make and sell' étuis or équipages.
The leisured classes were fascinated by the virtuosity and elegance of these luxurious mechanical wonders. Cox staged an exhibition at the Great Room in Spring Gardens in the 1770s where "thousands of Londoners [marveled] at sumptuous gilded musical cabinets and clocks with elaborate chiming mechanisms… Three times a day, the musical automata sprang into brilliant sound, a mechanical gala concert…Romanticism and Music Culture in Britain, 1770-1840: Virtue and Virtuosity,
The Chinese Export Market.
The present necessaire is a sublime example amongst the exceptional works of art created by English craftsmen in the eighteenth century for export to China. These highly elaborate objects were presented to Chinese officials – including the Emperors, who developed strong fascinations for Western clocks – to facilitate Britain's trade with China. The insatiable Chinese demand for similar objects, coupled with the immensely lucrative trade which they helped to enable for Britain, led to a burgeoning market for such works in England, and saw the collaboration between highly skilled craftsmen in the realisation of some of the most extraordinary and unusual objects of the eighteenth century.
In the sixteenth century, Matteo Ricci – the first Jesuit missionary given entry to China – presented Western clocks and works of art as tribute to the Chinese Imperial Court. Ricci and his Jesuit confrère, Michele Ruggieri, quickly realized the potential these clocks held in unlocking the Middle Kingdom to the West, and subsequently encouraged a Chinese fascination with European timepieces and objects. This established a precedent of presenting gifts of Western manufacture to gain favour with the Imperial Court, which was appropriated by other Europeans who sought to open trade relations with China from the mid-sixteenth century.
The British East India Company was a major supplier – often via intermediaries – of Western clocks and elaborate works of art to the Chinese Imperial Court. As Britain ever sought to expand its influence in and trade with China, clocks became one of its most important exports to the Far East from the late seventeenth century. The accession of the Emperor Qianlong, who reigned from 1735 to 1795 – during which period the present necessairewas created – marked a zenith in Imperial fascination for such curiosities. This burgeoning interest also encouraged the establishment of private merchants in China including John Henry Cox, son of the aforementioned jeweller and toymaker, James Cox, who established a firm at Canton in the 1780s. Interest in Western clocks and works of art continued in the 19th century, albeit at a considerably more modest scale following the death of Emperor Qianlong.

Alfred de Rothschild (1842-1918)
Alfred de Rothschild, the son of Lionel and Charlotte de Rothschild, was not only one of the wealthiest men of his generation but also a formidable connoisseur and collector of art. His father was head of the Rothschild bank in England, a grandson of the banking dynasty's founder Mayer Amschel de Rothschild and the son of Nathan Mayer de Rothschild, who had settled in England in 1798. The second of Lionel de Rothschild's three sons, Alfred studied at Cambridge, where he was a contemporary of Edward, Prince of Wales (later King Edward VII), who was to remain a lifelong friend. He joined the family bank soon after university at the age of 21, where he was a partner alongside his brothers until his death. He was made a director of the Bank of England at only 26.
The scale of the family's fnancial success was refected in an expanding array of houses in both London and the country. Alfred de Rothschild's grandfather, Nathan Mayer, had acquired Gunnersbury Park in the 1830s, the frst of a series of country houses that members of the family purchased in the following years. Nathan Mayer's four sons each acquired extensive estates close to each other in Buckinghamshire in the Vale of Aylesbury, within easy reach from the bank in the City of London. In the country they could escape from the daily pressures of their business, hunt and entertain in a manner that would help secure access to the inner sanctums of British society.
Within close proximity, the various branches of the family built houses that vied in magnifcence with each other and with those built by their cousins on the continent. Mayer Amschel (1818-1874) constructed perhaps the most remarkable at Mentmore, on the estate that had been acquired from the Harcourt family in the 1850s, whilst his elder brothers Lionel and Anthony built sumptuous mansions at Aston Clinton and Tring. This set a pattern that continued into the next generation with Alfred de Rothschild at Halton, his brother Leopold at Ascott, and his sister Evelina's husband Ferdinand de Rothschild (their cousin from the Austrian branch of the family), and his sister Alice at Waddesdon Manor and Eyethrope.
A passionate collector, Alfred de Rothschild's taste was in many ways similar to that of other members of his family. He acquired the finest French furniture and clocks, porcelain and tapestries, French and English objets-devertu, such as the present necessaire, and also German Renaissance silver. In the feld of Italian and Spanish art he stood alone buying works with a religious subject. His pictures and works of art were displayed both at his London house in Seamore Place and later at Halton, where his decision to build a new house seems to have been partly conditioned by a desire to provide a suitable setting for his expanding collection. Lady Dorothy Nevill thought him the "fnest amateur judge in England of Eighteenth- Century French Art". He was also more widely involved in the art world in England as a Trustee of the National Gallery and a founder Trustee of the Wallace Collection, to both of which he was also an important benefactor.
The estate and original house at Halton had been acquired by Alfred's father Lionel from the Dashwood family in 1853. Alfred demolished the existing building, and between 1880 and 1883 built a palatial new house on the
site in the French style. Many of his fnest 18th century portraits by artists such as Gainsborough and Reynolds were hung prominently in the North or Lady's Drawing Room. Glazed cabinets contained pieces from his silver collection. He commissioned Charles Davis to write a two volume catalogue of his collection. Published in 1884, the Inventory of Alfred de Rothschild's Collection included numerous fnely executed photographs of the works of art. The chinoiserie necessaire is not listed, suggesting it was acquired after the catalogue's publication.
Although his fondness for female company was well-known, Alfred de Rothschild never married, and following his death the pictures and many of the works of art, together with much of his estate, were bequeathed to his natural daughter, Almina, Countess of Carnarvon, wife of Herbert, 5th Earl of Carnarvon, the celebrated Egyptologist.
Almina Victoria Marie Alexandra, Countess of Carnarvon (1876-1969)
Almina, Countess of Carnarvon was born Alice Wombwell, the daughter of French born Marie Wombwell, née Boyer (d.1913), whose father was a Parisian banker. Marie Boyer married Captain Frederick Charles Wombwell (1845-1889), the fourth son of Sir George Wombwell 3rd Bt. (1792-1855) in 1868 but the marriage was an unhappy one. Wombwell was an untrustworthy drunkard. Although they had a son Frederick in 1869, Marie became estranged from her husband and whilst separated from him was introduced to Alfred de Rothschild. The couple shared a love of the theatre and opera. Alfred lavished gifts on Marie and their friendship blossomed. Their daughter was born in 1876. Her mother was called 'Mina' by friends and family and the addition of the first two initials of her true father's first name resulted in the unusual Almina. Alfred remained very close to the family and was godfather to Almina. She grew to become a much admired and charming young woman.
She was presented at court in 1893 when she met the young Earl of Carnarvon. He was struck by her and also by the prospect of the sizable dowry and income Alfred had made known would be paid on his daughter's marriage. The elevation of Almina into the highest levels of the aristocracy would alleviate much of the embarrassment associated with the circumstances of her birth. The couple were married at a service in a lavishly decorated St. Margaret's Westminster in June 1895. Following a reception at Lansdowne House the couple travelled to Highclere Castle, the principal seat of the Earls of Carnarvon. Lord Carnarvon was somewhat reserved in large gatherings of people but had a passion for travel and was a lover of the new motor cars of the day, driving at speed, resulting in a number of accidents. One in 1901 severely affected his health. His doctor's recommendation that he should spend time in a warm climate led to Almina and her husband staying for extended periods in Egypt.
Carnarvon became fascinated by the many excavations of ancient sites. In 1907 he met the young archaeologist Howard Carter. The earl funded his work until the outbreak of war in 1914. Almina spent the war years running Highclere as a highly regarded hospital for injured officers at great cost to her husband and Alfred. It outgrew the confines of the castle and in late 1915 Almina moved the hospital to a leased house in Bryanston Square. It was visited by General Kitchener the month it opened and by the King and Queen the next year.
Following the armistice Lord Carnarvon resumed his sponsorship of Carter's work, with disappointing results until 1922. In November of that year the pair made the greatest archaeological discovery of the 20th century, the almost untouched tomb of the young 18th dynasty pharaoh Tutankhamun. Tragically the earl died in April the next year from an infected mosquito bite and pneumonia. Alfred de Rothschild had died in 1918 leaving Almina his London house, 1 Seamore Place, and its fabulous art collection. Post war taxation and Almina's lavish entertaining could not be funded by the sale of Carnarvon land and chattels alone. Therefore, following the death of the earl, Almina sold a large proportion of her father's collection at Christie's in May 1925. The saleroom correspondent of The Times gave an enthusiastic report of the pre-sale viewing, "Christie's rooms resembled a private view at the Royal Academy, in that it was difficult to examine the treasures because of the great concourse of visitors". The Duke of Connaught and other notable figures attended the viewing. The first day of the sale, led by the necessaire, totalled over £10,000. This and the other auctions of Alfred's treasures alleviated Almina's financial worries for a time, however, she was never able to adjust to her reduced circumstances, remaining faultlessly generous to friends and extravagant in her tastes. She found happiness once more with her second husband Lt. Col. Ian Onslow Dennistoun but he died in 1938. Almina lived until 1969.
Emile Wertheimer (1874-1953)
This magnificent necessaire was acquired by Emile Wertheimer at the land mark sale of the Carnarvon Art Treasures at Christie's in 1925. The Times report of the sale records the lot opening at 100 guineas. A bidding battle ensued with the dealer Blairman. It culminated with Mr. Wertheimer paying the top price of the day, 820 guineas (£861) for the spectacular necessaire. When it was next sold in 1953, following the death of Mr. Wertheimer, it was the day's highlight once more reaching £3,000. The late owner was described in The Times report of the 1953 sale as an American born cinema owner. Wertheimer had been born in New York in 1874, the son of New Yorker Max Wertheimer. He was indeed a pioneer of film in the United Kingdom and was the owner of numerous cinemas. A Punch article from 1953, ('Mr. Wertheimer Didn't Care', Punch, vol. 224, 27 May 1953, p. 639), describes how in 1919 he had "sown the first big cinemas in the West End". He prospered and "the crop increased a hundred fold from year to year". He also had a highly successful film distribution business, World's Master Productions, based in the heart of London's Theatreland at 35 Little Newport Street. The company was at the forefront of early moving pictures. Wertheimer worked with the ground breaking but controversial American film director and writer D. W. Griffith (1875-1948) buying and distributing his films in the United Kingdom. This was celebrated on the company's letter head which proudly recorded Griffith's international successes such as Birth of a Nation made in 1915, Intolerance from the following year and Orphans of the Storm from 1921. Griffith was one of the earliest proponents of the feature film and pioneered the use of close-up shots in his productions. He was a founding member of the Academy of Motion Picture Arts and Science and was awarded a special Oscar later in his career.

Wertheimer had come to London in the early years of the 20th century. The 1901 census records him staying the Hotel Cecil on the Strand. He married fellow American (Callie) Gerome Edwardy (d.1944) in London in 1903. She had been born in Savannah, Georgia in 1880, however, this was not always accurately recorded in her passport applications and in the ships' passenger records for the numerous trips she took to New York. She often shaved a few years off her age, in one instance reducing it by a full decade. It is evident from the Punch article cited above that Emile was devoted to his wife. They never had children and although Emile was highly successful in the world of motion pictures, he and his wife shared a passion for beautiful works of art and paintings, which they collected together for display in their neo-Georgian north London house. Gerome's death in 1944 marked the end of Emile's collecting, being unable to share the joy with his wife. On his death their art collections were dispersed. The funds from the sales, and Emile's £200,000 estate, endowed a personal charity which was to be administered by trustees for 21 years. Any residue after this time was given to the King Edward Hospital Fund for London.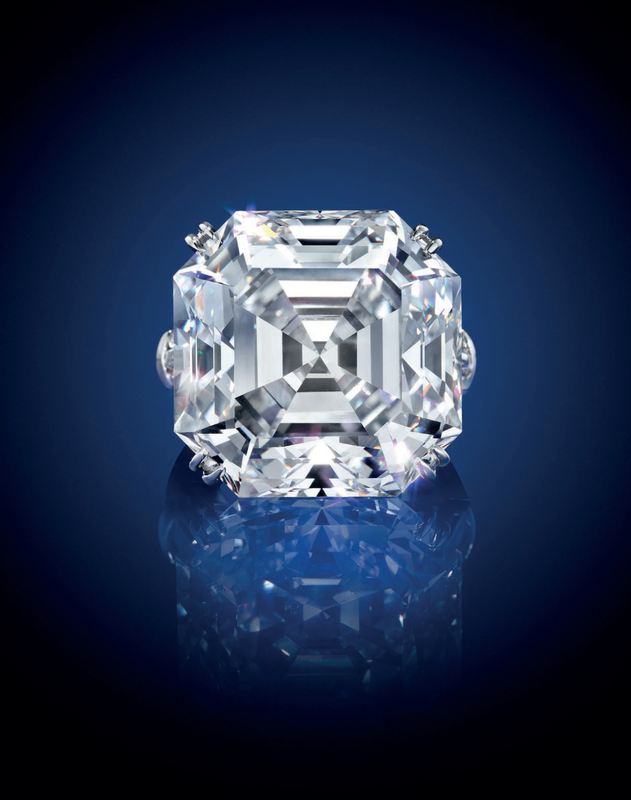 Lot 67. An Impressive Diamond Ring, D Color, VS Clarity, Type IIa, of 38.91 carats. Estimate: $2,500,000-3,500,000. Price Realized: $3,642,500. © Christie's Images Limited 2017.
Set with a cut-cornered square step-cut diamond, weighing approximately 38.91 carats, flanked on either side by three tapered baguette-cut diamonds, ring size 5 1/4, mounted in platinum
Accompanied by report no. 2185692383 dated 25 August 2017 from the GIA Gemological Institute of America stating that the diamond is D color, VS1 clarity
With a supplemental letter from the Gemological Institute of America stating that the diamond has been determined to be a Type IIa diamond. Type IIa diamonds are the most chemically pure type of diamond and often have exceptional optical transparency. Type IIa diamonds were first identified as originating from India (particularly from the Golconda region) but have since been recovered in all major diamond-producing regions of the world. Among famous gem diamonds, the 530.20 carat Cullinan I and the 105.60 carat Koh-i-noor, are examples of Type IIa.
Lot 154. An Art Deco Multi-Gem Bracelet, by Georges Fouquet. Designed by Adolphe Mouron Dit Cassandre. Estimate: $400,000-600,000. Price Realized: $924,500. © Christie's Images Limited 2017.
Designed as a wide openwork geometric bangle bracelet, set with single-cut diamonds and variously-cut lapis lazuli, coral, amethyst, and aquamarine panels, one half of the bracelet within a gold border and the other in platinum, 1925, 6 3/4 ins., with French assay marks for platinum and 18k gold. Signed G. Fouquet, no. 19806, with maker's mark

Literature: Les Fouquet: Bijoutiers & Joailliers a' Paris 1860-1960, France, Flammarion, 1983, p. 116-117
Exhibited: Comité d'admission de l'Exposition de 1925
Paris Exposition 1976
Paris Exposition 1979
A.M. Cassandre and Georges Fouquet
Throughout the twentieth century, French graphic artist A.M. Cassandre produced an oeuvre of travel-related lithographic posters that are now counted among the most iconic and infuential Art Deco designs in the history of the medium.
Born Adolphe Jean-Marie Mouron in the Ukraine in 1901, Cassandre moved to Paris in 1915 where he later began his education at the École des Beaux Arts. Taking inspiration from contemporary avant-garde movements in art, namely Bauhaus, Cubism and Futurism, Cassandre understood that in order to efectively promote the developments in transport brought about by the dawning of the 'machine age' he must employ the use of unadorned linear and streamlined forms to refect the speed and dynamism of his era.
Concurrently in Paris, Georges Fouquet joined his father's jewelry business before the turn of the century. Art Nouveau design became a main focus and their frm; Fouquet ranked as one of the masters of the brief, yet impactful, era. Upon his father's retirement in 1895, Georges took over complete direction of the frm. By 1919 he was joined by his son, Jean, and together they incorporated new elements of style into their craftsmanship and contributed to the shift from Art Nouveau to Art Deco design.
To inspire innovative ideas, Georges Fouquet surrounded himself with decorative artists, including interior designers, furniture manufacturers, textile specialists and poster artists. Until about 1924, Fouquet produced traditional high French jewelry with a focus on the opposition between black and white gemstones and forms. With newfound encouragement, Fouquet began to use hardstones in a sculptural manner, contrasting their matte surfaces with brilliant diamonds and other transparent gemstones. Traditionally these fine gemstones had been the main focus of his jewelry, however, the stark distinction between opaque hardstones and faceted gems enticed Fouquet.
The natural forms and muted colors of the Art Nouveau era disappeared entirely. As the Paris Exposition of 1925 approached, Fouquet was appointed president of the jewelry department and chairman of the selection committee for the exposition. Together with the board, Fouquet created guidelines for submission that urged designers to become inspired by new artistic genres and to explore color, geometric compositions and a variety of materials.
A.M. Cassandre, known for his poster art, typeface and cubist fair, partnered with Georges Fouquet to develop a series of jewels for the Exposition. Cassandre's poster art, like the jewels Fouquet desired to create, featured bold colors with machine age cubist forms. Cassandre's posters from the mid-1920s specifcally focused on movement and progress. The ships, planes and trains in the posters shown here are created through a combination of deliberate shapes. Linear and curved lines are used in a thoughtful manner with only a few select colors. The end result is unostentatious yet impactful.
Lot 154 is an impressive and rare bracelet that was designed by A.M. Cassandre for Georges Fouquet in 1925. An image of Cassandre's original drawing appears in Les Fouquet: Bijoutiers & Joailliers à Paris: 1860-1960. The openwork bracelet plays with light and color, often in a juxtaposing manner, to create a bold and unique jewel. The opaque lapis lazuli and coral panels are fashioned to ft the geometric forms and are deeply saturated in color. In opposition, the faceted aquamarines and diamonds refect light and provide brilliance. The amethysts are cut similarly to the hardstones, but are translucent, a playful balance between the varieties of stones used.
This bracelet is a stunning result of a collaboration between two great creative minds of the early twentieth century. It has remained in the same family since the Exposition of 1925, never before appearing at auction. Christie's is proud to present this piece – both a rare work of art and spectacular jewel – a brilliant embodiment of the genius of A.M Cassandre and Georges Fouquet.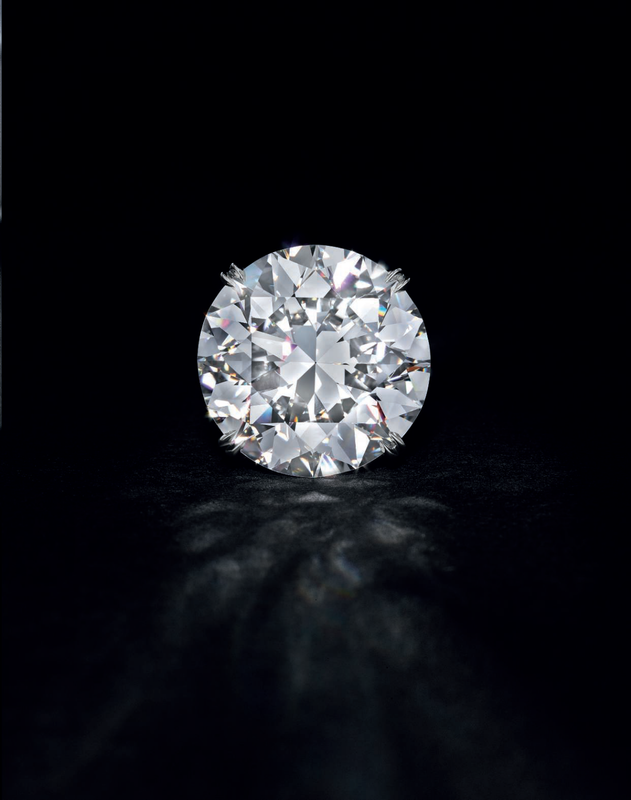 Lot 239. A Diamond Ring, E color, VVS2 clarity, of 23.26 carats. Estimate $1,000,000-1,500,000. Price Realized: $2,352,500. © Christie's Images Limited 2017.
Set with a round brilliant-cut diamond, weighing approximately 23.26 carats, ring size 6, mounted in platinum
Accompanied by report no. 5181570162 dated 5 July 2017 from the GIA Gemological Institute of America stating that the diamond is E color, VVS2 clarity, accompanied by a working diagram indicating that the clarity of the diamond is potentially Internally Flawless.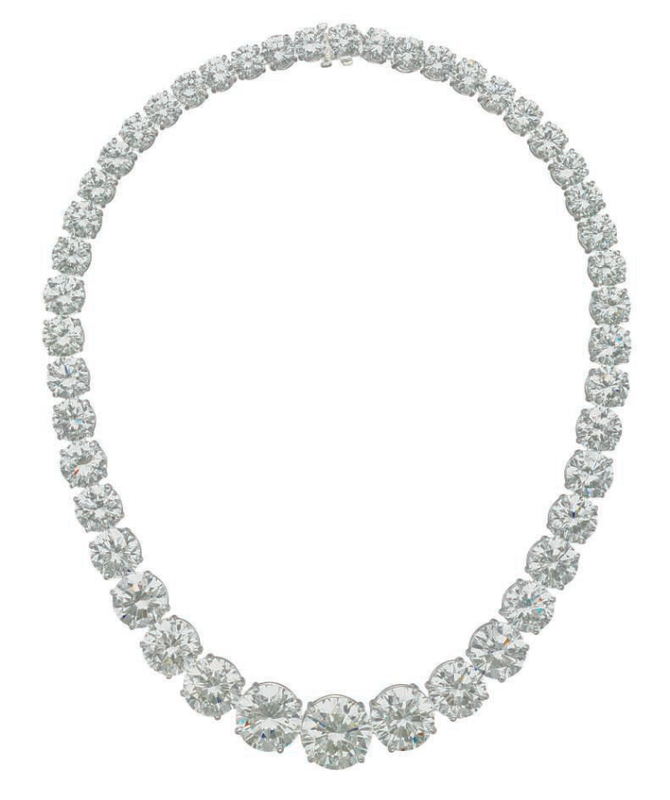 Lot 386. An important diamond rivière necklace, total diamond weight approximately 118.38 carats. Estimate $700,000-1,000,000. Price Realized: $1,152,500. © Christie's Images Limited 2017.
Designed as a graduated series of forty-six round brilliant-cut diamonds, ranging from approximately 10.45 to 1.00 carats, 15 3/8 ins., mounted in platinum. Total diamond weight approximately 118.38 carats
Accompanied by copies of forty-six reports dated from 17 September 1977 to 6 January 1998 from the GIA Gemological Institute of America stating that the diamonds, weighing from approximately 10.45 to 1.00 carats, range from I to K color, and from Internally Flawless to VS2 clarity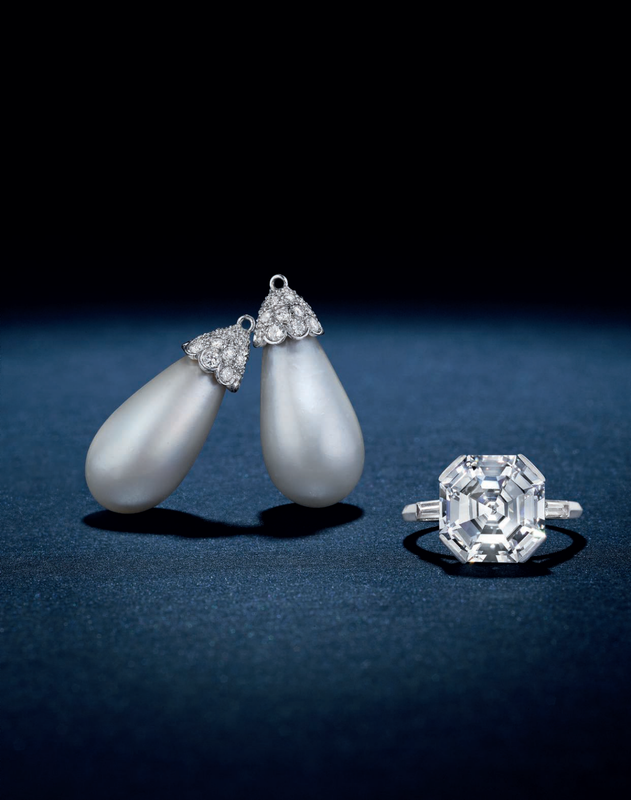 Lot 111. A pair of natural pearl and diamond pendants, by Van Cleef & Arpels. Estimate $800,000-1,200,000. Price Realized: $972,500. © Christie's Images Limited 2017.
Each set with a drop-shaped natural pearl, measuring approximately 11.90-11.95 x 22.50 mm and 11.35-11.40 x 21.50 mm, to the circular-cut diamond cap, with hoops for suspension, mounted in platinum, in a Van Cleef & Arpels green suede pouch. Unsigned
Accompanied by a copy of a Valuation for Insurance from Van Cleef & Arpels dated 18 May 2011
With report no. 94095 dated 26 July 2017 from the SSEF Swiss Gemmological Institute stating that the analysed properties confirm the authenticity of these saltwater natural pearls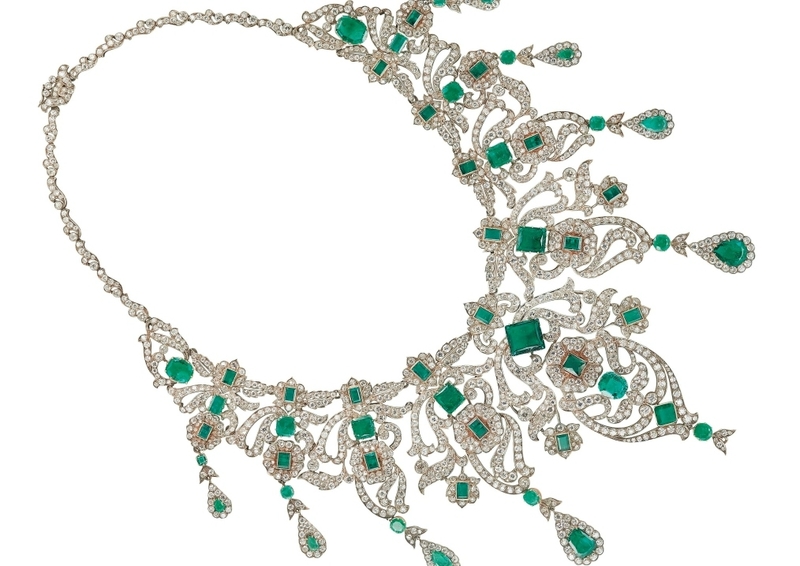 Lot 257. A Belle Époque Colombian emerald and diamond bib necklace, circa 1910. Estimate $350,000-500,000. Price Realized: $756,500. © Christie's Images Limited 2017.
Of foliate scrolling design, set throughout with old-cut diamonds and variously-cut emeralds, circa 1910, 23 1/4 ins., mounted in silver and gold, center pendant deficient
Accompanied by report no. 95168 dated 8 September 2017 from the SSEF Swiss Gemmological Institute stating that the origin of the 15.71, 8.47, 7.25 and 6.24 carat emeralds is Colombia, the three largest with minor amount of oil, the smallest with moderate amount of oil.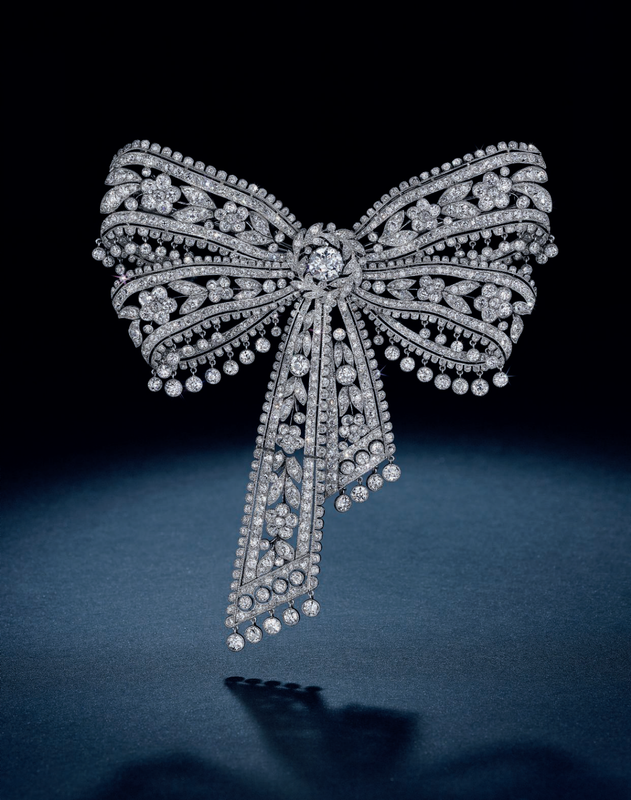 Lot 72. A fine Belle Epoque diamond bow brooch, by Cartier. Estimate $450,000-650,000. Price Realized: $492,500. © Christie's Images Limited 2017.
Designed as an articulated openwork double-bow with old-cut diamond flowers, with a collet-set diamond trim and fringe, centering upon an old-cut diamond knot, within a diamond-set leaf surround, suspending a detachable articulated staggered ribbon of similar design, circa 1904, 4 3/4 x 4 1/4 ins., mounted in platinum, in a Cartier red leather case. Unsigned
Accompanied by a Certificate of Authenticity from Cartier, dated 31 August 2010
Provenance: Previously sold at Christie's Jewels: The New York Sale, 20 October 2010, Lot 307