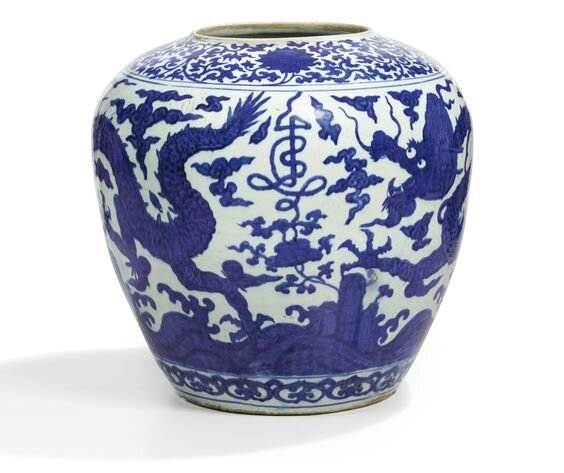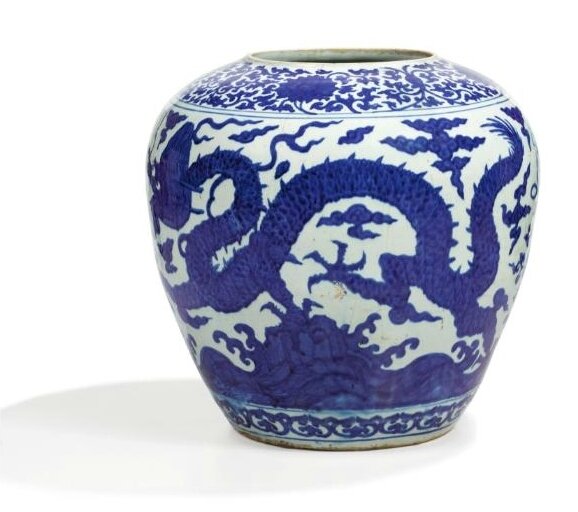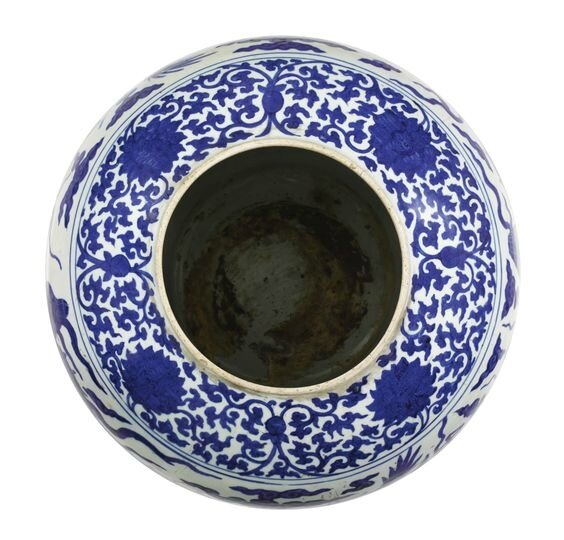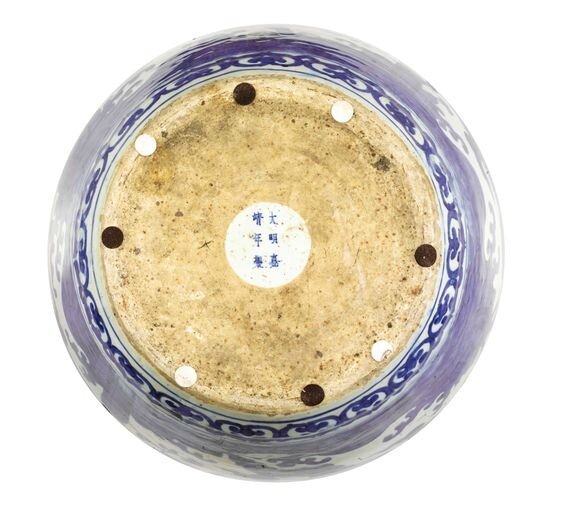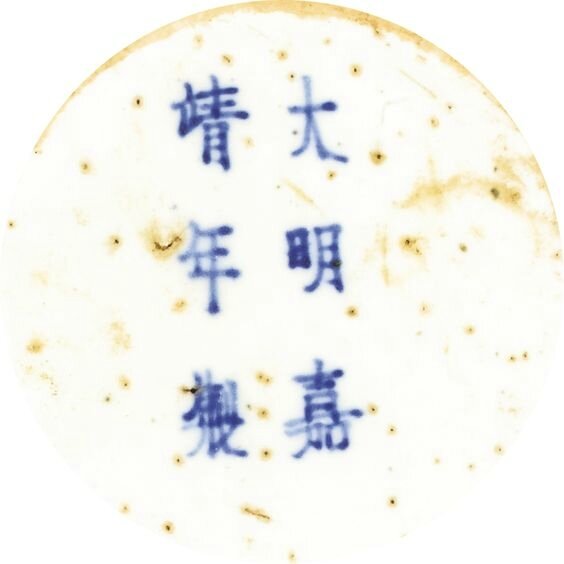 Lot 75. Rare grande jarre en porcelaine bleu blanc, Marque et époque Jiajing (1522-1566); 51 cm, 20 1/8 in. Estimate 40,000 - 60,000 €. Lot sold 75,000 €. Photo: Sotheby's.
A rare large boldly painted blue and white 'dragon' jar, Jiajing mark and period (1522-1566)
de forme ovoïde, le pourtour peint de deux dragons à cinq griffes en bleu de cobalt profond aux tons violets, alternés de caractères shou stylisés formés de branches noueuses de lingzhi émergeant de rochers saillants, le pied entouré d'une bande de ruyi, l'épaulement peint d'une large bande de rinceaux feuillagés chargés de lotus, le col coupé et poli, marque à six caractères en bleu sous couverte à la base dans un médaillon contre un fond sans glaçure
Note: The present jar is noteworthy for the boldness and strength of the design of two strong curving dragons with lumpy brows and google eyes, haloed by sharply fringed lashes, with thick tresses sweeping back beneath the necks into high coiffures, all painted in bright tones of a dark cobalt blue. Both the particular shade of blue and the quirky style of dragon identify this particular jar as part of a small group of Jiajing or Wanli-marked jars of similar size and design.
According to Harry Garner, the potters active during the Jiajing reign were able to achieve, partly by the use of imported colour and partly, no doubt, due to improved methods of purifying the cobalt ore, the brilliant dark purplish-blue which is regarded as typical of this period. Because of his attachment to Daoism, there is a strong Daoist influence in the subjects chosen for the decoration of blue and white porcelain, namely a peach tree with its trunk twisted into the form of the character of long life (shou), see Harry Garner, Oriental Blue and White, London, 1954, pp. 30-31.
Several large blue and white jars of this design are known, two of them complete with cover, one of them illustrated in Rene-Yvon Lefebvre d'Argence, Chinese Ceramics in the Avery Brundage Collection, San Francisco, 1967, pl. LIV; another jar in the Baur Collection, Geneva, is illustrated in John Ayers, The Baur Collection Catalogue, Geneva, 1969, pl. A156, no. 170. Compare also an example in the collection of the Palace Museum, Beijing, published in The Complete Collection of Treasures of the Palace Museum, vol. 34, Blue and White Porcelain with Underglazed Red (I), Hong Kong 2008, cat. no. 96. Compare another example in the collection of the Victoria and Albert Museum, London, illustrated in R. L. Hobson, Chinese Pottery and Porcelain, Vol. II, London, 1915, pl. 34, and another jar in the collection of the Musee Guimet, Paris, published in Oriental Ceramics, The World's Great Collections, vol. 7, Tokyo, 1981, pl. 81.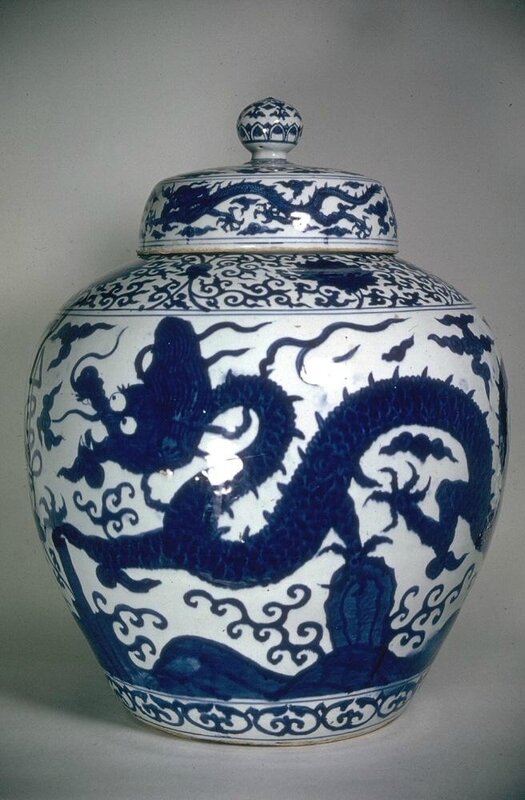 Large jar with a lid, Ming dynasty (1368-1644), Reign of the Jiajing emperor (1522-1566), China, Jingdezhen, Jiangxi province. Porcelain with underglaze blue decoration. H. 26 in x W. 20 in. The Avery Brundage Collection, B60P99+.a-.b © 2017 Asian Art Museum Chong-Moon Lee Center for Asian Art and Culture
Blue-and-white Covered Jar with Cloud and Dragon Designs, Marked with a Chinese Character for "Longevity" (Shou), Jiajing reign (1522-1566), Ming dynasty (1368-1644) © The Palace Museum
Jar, porcelain painted in underglaze cobalt blue, China (Jingdezhen), Ming dynasty, Jiajing mark and period (1522-1566). Height: 53 cm, Diameter: 51.5 cm. Given by Mr Andrew Burman, C.118-1911 © Victoria and Albert Museum, London 2017.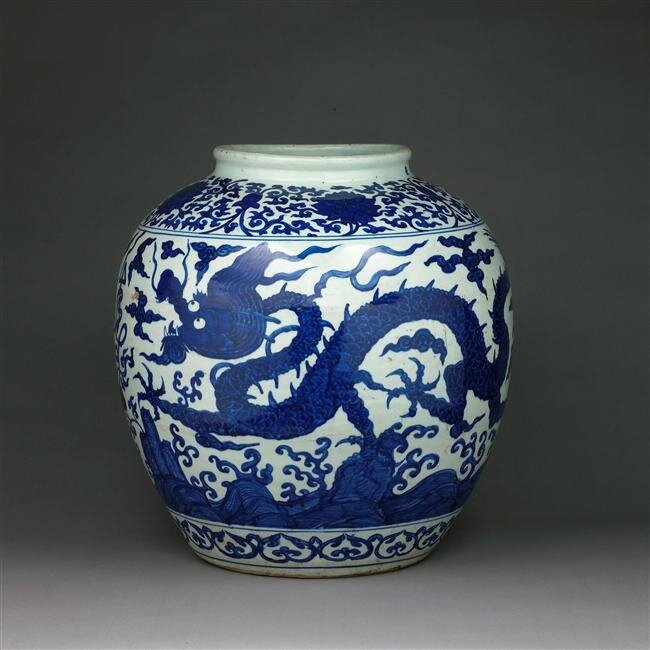 Grande jarre à décor dragons, règne de Jiajing (1522-1566), porcelaine à décor bleu et blanc, ancienne collection Ernest Grandidier, Paris, musée Guimet - musée national des Arts asiatiques, G4325. Photo © RMN-Grand Palais (MNAAG, Paris) / Thierry Ollivier
Sotheby's. Arts d'Asie, Paris, 12 déc. 2017, 10:30 AM