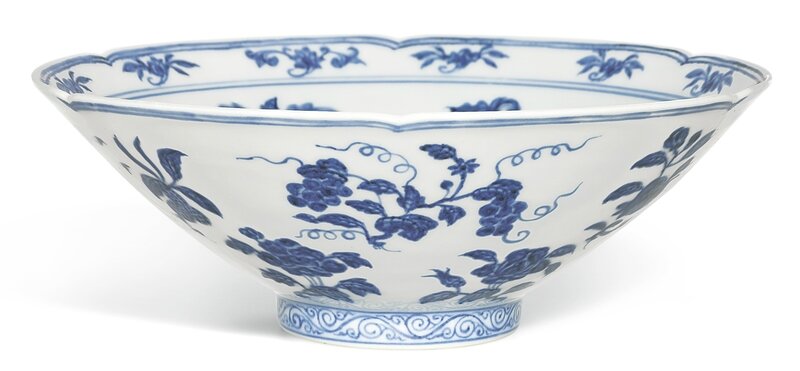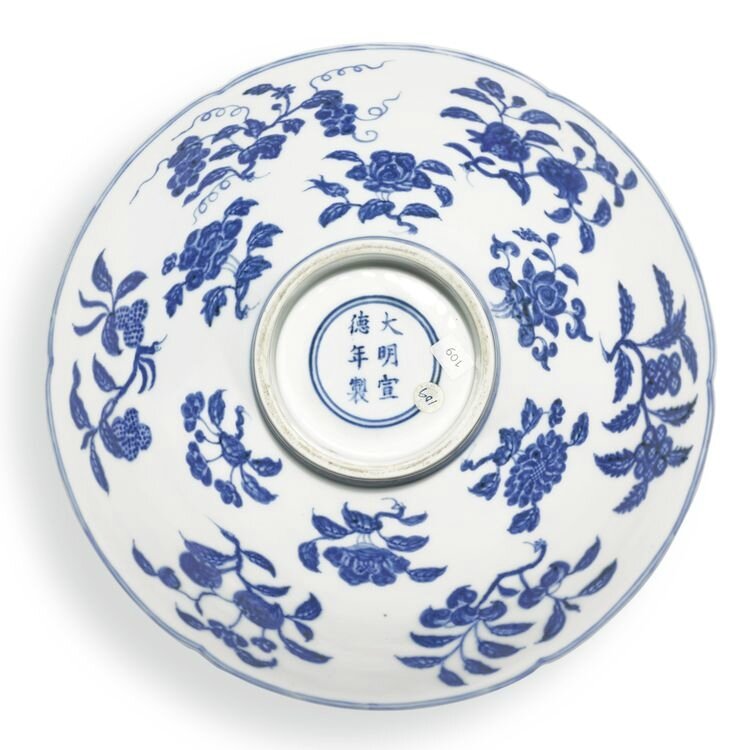 Lot 20. A fine and rare blue and white lobed 'fruit and flower' bowl, Mark and period of Xuande (1426-1435); 22.5 cm, 8 7/8 in. Estimate 4,800,000 — 5,800,000 HKD (541,880 - 654,772 EUR). Sold 11,480,000 HKD (1,480,002 USD). Photo Sotheby's.
of conical form, the flaring sides rising from a gently pointed base to a six-lobed rim, all supported on a neat, slightly tapered foot, the interior centred with a medallion containing a flowering and fruiting peach branch, surrounded by three sprigs of lotus flowers alternating with sprays of tree peony, chrysanthemum, and herbaceous peony, all beneath a row of small floral sprigs at the rim, the exterior painted with six fruit sprays comprising peach, cherry, loquat, pomegranate, grape, and lychee, alternating with six small floral sprays below including camellia, chrysanthemum, lotus, rose, and peony, the foot further encircled with a classic scroll, the base inscribed with a six-character reign mark within a double circle.
Provenance: Collection of H.R.N. Norton (d. 1961-62).
Sotheby's London, 5th November 1963, lot 166 (£2000).
Bluett & Sons Ltd, London, 1963 (£2000).
Collection of Roger Pilkington (1928-69), from 1963 (£2000).
Note: Conical bowls of this fruit-and-flower design can be counted among the most successful blue-and-white bowl patterns of the early Ming dynasty (1368-1644) and belong to the classic repertoire of the Xuande (1426-35) imperial kilns. They reflect the newly awoken interest of the Chinese court in fine blue-and-white porcelains. Whereas Yongle (1403-24) blue-and-white is still characterised by many large items created for export, in the Xuande reign the products of the imperial workshops were geared for the imperial house both in size and in taste, exquisitely finished and inscribed with the imperial reign mark.
The conical shape of this bowl with its six delicate rim lobes evokes memories of Song dynasty (960-1279) monochrome white prototypes, as made by the Jingdezhen kilns before they had become imperial manufactories. The diverse fruit and flower sprays were in the Yongle reign often used on other shapes. The present design appears to be specific to the Xuande period, although one apparently unmarked bowl of this design was included in the exhibition Mingdai chunian ciqi tezhan mulu/Catalogue of a Special Exhibition of Early Ming Period Porcelain, National Palace Museum, Taipei, 1982, cat. no. 20.
A bowl of this design in the Palace Museum, Beijing, from the Qing court collection, is illustrated in Geng Baochang, ed., Gugong Bowuyuan cang Ming chu qinghua ci [Early Ming blue-and-white porcelain in the Palace Museum], Beijing, 2002, vol. 2, pl. 146, where it is stated that this design was frequently copied in the Kangxi (1662-1722) and Yongzheng (1723-35) periods, and where a Xuande-marked copy attributed to the Kangxi reign is illustrated, pl. 179; two such bowls in the National Palace Museum were included in the Museum's exhibitions Ming Xuande ciqi tezhan mulu/Catalogue of a Special Exhibition of Hsuan-te Period Porcelain, Taipei, 1980, no.36, and Mingdai Xuande guanyao jinghua tezhan tulu/Catalogue of the Special Exhibition of Selected Hsüan-te Imperial Porcelains of the Ming Dynasty, Taipei, 1998, no. 62.
A bowl reputedly from the Summer Palace, Beijing, and later the collections of K.L. Dawes, J.F. Woodthorpe and Frederick M. Mayer, was sold in our London rooms, 20th May 1949, lot 84, and 6th April 1954, lot 90, and at Christie's London, 25th June 1974, lot 90; a second bowl from the Woodthorpe collection, sold in our London rooms 5th June 1956, lot 112, was included in the Venice exhibition 1954 together with a bowl from the collection of Sir Harry and Lady Garner, sold in our London rooms, 21st November 1961, lot 36, see Mostra d'Arte Cinese/Exhibition of Chinese Art, Palazzo Ducale, Venice, 1954, cat. nos. 642 and 643; another sold in our London rooms, 24th March 1964, lot 98 and now in the collection of Asia House, New York, is illustrated in Denise Patry Leidy, Treasures of Asian Art: The Asia Society's Mr. and Mrs. John D. Rockefeller 3rd Collection, New York, 1994, pl. 176; one from the collection of Major L.F. Hay was sold in our London rooms, 16th June 1939, lot 92; one from the R.H.R. Palmer collection and later the Tsui Museum of Art, Hong Kong, was sold at Christie's Hong Kong, 17th January 1989, lot 567, and 3rd November 1996, lot 546; a bowl from the collections of President Herbert Hoover, Mr. and Mrs. Allan Hoover, and Ira and Nancy Koger was sold in our New York rooms, 27th November 1990, lot 6; one from the Su Lin An collection, was sold in these rooms, 31st October 1995, lot 315; and a bowl from the Manno Museum, Osaka, was sold at Christie's Hong Kong, 31st May 2010, lot 1856.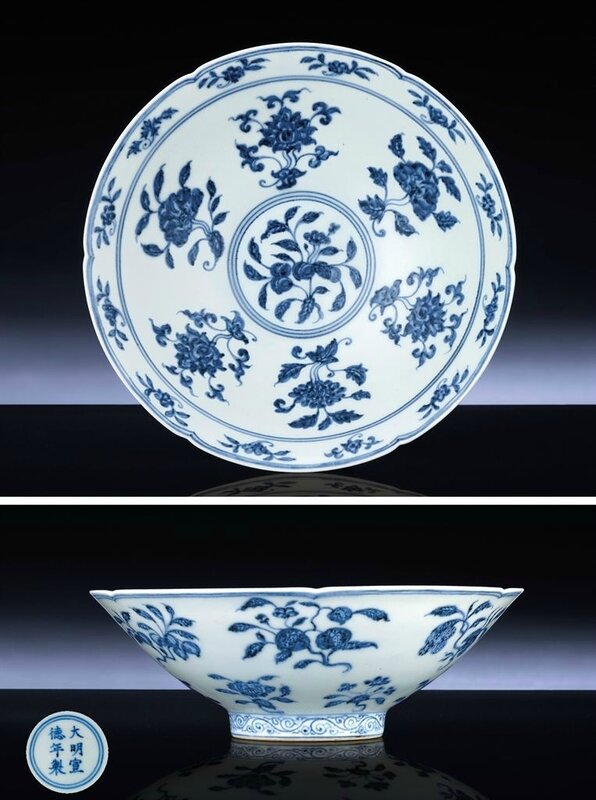 A rare early Ming blue and white hexafoil bowl, Xuande six-character mark within double-circles and of the period (1426-1435), 8 7/8 in. (22.6 cm.) diam. Sold for HKD 9,020,000 at Christie's Hong Kong, 31st May 2010, lot 1856. © Christie's Images Ltd 2010
Cf. my post: A rare early Ming blue and white hexafoil bowl, Xuande six-character mark within double-circles and of the period (1426-1435)
Like many other pieces in the Pilkington collection, this bowl comes from the Norton collection; for a biographical note on Norton see lot 15.
Sotheby's. The Pilkington Collection of Chinese Art, Hong Kong, 06 avr. 2016, 10:00 AM